At Autodesk University in 2021, the most interesting product announcement wasn't from Autodesk, but from GIS (Geographic Information System) developer Esri. After four years of development, the Esri-Autodesk Partnership has finally delivered its first offspring
---
At Autodesk University in 2017, Autodesk CEO Andrew Anagnost and Esri president and co-founder Jack Dangermond sat on the mainstage to announce that the firms would be working together to build a bridge between AEC and GIS and, more specifically, between BIM and GIS.
The initiative was a genius combination of effort from the world's biggest AEC and GIS software houses. The aim was to work together to better integrate their respective technologies, sharing APIs, and to develop integrated workflows between their products, as well as doing some joint development.
In October 2021, Esri finally announced ArcGIS GeoBIM, the first product based on the agreement, fusing Esri's ArcGIS mapping service with Autodesk cloud-based BIM data.
For those that don't know Esri, it's the global leading mapping and spatial analytics firm. The company's flagship application is called ArcGIS, which is a server and online GIS system. It was originally launched in 1999 under the Arc/Info brand.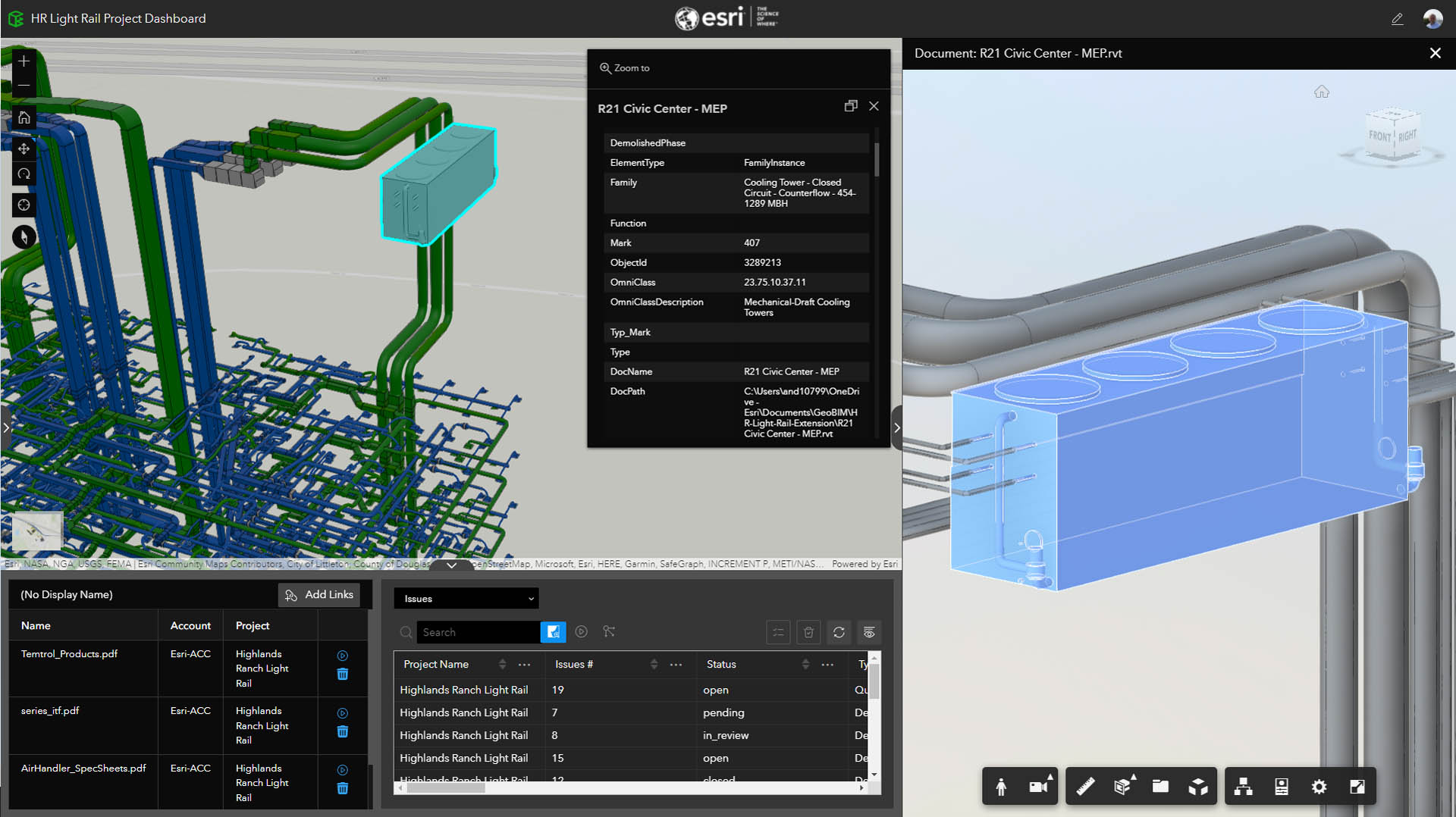 While Autodesk once dabbled in mapping, with AutoCAD Map (and Map 3D), it has never really held any serious pretentions to getting into the professional GIS space, with the two firms keeping to their own markets.
With convergence, accelerated by digitisation and an increasing appetite for spatial data, the partnership made perfect sense. Even before the announcement of the partnership, Esri had delivered a free plug-in for AutoCAD in 2014 called 'ArcGIS for AutoCAD', which brought maps, imagery, and geographic features from ArcGIS into the AutoCAD drawing environment. However, with the widespread adoption of BIM and 3D, and the rise of digital twins and city scale modelling, Esri has pursued a development strategy to get its tools to play better with BIM data.
Linking BIM and GIS Esri
Esri ArcGIS GeoBIM links projects and workflows by interconnecting Esri ArcGIS with the Autodesk Construction Cloud and / or Autodesk BIM 360. Within the application, users create GeoBIM projects, which combine ArcGIS features with Autodesk records, mutually served over the cloud and delivered in a lightweight 3D viewing application, powered by Autodesk Forge. ArcGIS GeoBIM offers filtering, analytics and query tools. Autodesk Construction Cloud and BIM 360 hosts data created in AutoCAD, AutoCAD Civil 3D and Revit.
In many respects this is one of the first applications we have seen which blends cloud services from two significant vendors, to deliver a new and unique service. ArcGIS GeoBIM displays ArcGIS infrastructure layers and building scene layers, alongside the corresponding Revit model, displayed side by side for coordination.
GeoBIM 'apps' can be run on the loaded datasets, including: documentation, site context evaluation, progress review and design and construction coordination. There is also an 'issues' dashboard, where project managers can monitor project progress.
One of Esri's examples showed that, while you can link single projects, you can also look at a portfolio of assets, making connections to multiple BIM projects within Autodesk Construction Cloud.
Here the dashboard can give you progress across 5, 7, 10 projects. You can see how many issues are open, closed, been completed or pending across all of your projects. This kind of captured project information is useful for future planning and early problem identification. Esri feels ArcGIS GeoBIM can help raise this rich project information to management level.
It shows the benefits of Autodesk partnering with Esri, the capabilities of Autodesk's Forge development platform and what the brave new world of pure cloud driven thirdparty developer applications can do
AEC Magazine spoke with Anthony Renteria, GeoBIM's product manager at Esri, "People want to use the cloud-tocloud integration but we first wanted to make sure that we released something that is actually going to solve some problems," he said. "Esri and Autodesk hired Brockwell IT consulting to build a prototype and we demonstrated the use of it on the mainstage of our 2018 Esri User Conference.
"It was part of a demonstration analysing a water project in the greater New York area. The idea being to help show the vision for the future. From that point on, it was about gathering information from the customers. That's when we started to hear from some of our early adopter customers about the inclusion of support for BIM 360, as they were using it to track issues.
"We have tried to use capabilities within BIM 360 and Autodesk Construction Cloud, without having to shift information back and forth between the two systems all the time, because one of the things that we've heard about is this tracking of issues is a key aspect and understanding what are the problems? We didn't want to recreate a new system to do that when there was already one being used within Autodesk products. So that was part of it, to rely on what's working well within each of the systems and just start to blend it together to make it more easily usable."
The array of cloud data management tools that are available from Autodesk enable clash coordination for design and core collaboration.
As users store their models in the Autodesk cloud, then it makes sense to link across to the information that's being created by the GIS team. GIS is used for environmental analysis of existing conditions, surveys, and a lot of other types of information. There might be reality capture datasets as well, overlays such as photogrammetry, and mapping imagery information, ArcGIS GeoBIM is the tool that enables the connection of those datasets with the design data that resides on Autodesk side.
Obviously GeoBIM has its origins in the partnership with Autodesk but there are other formats and vendors. Renteria explained, "We obviously have a partnership with Autodesk. But at the same time, we also want to make sure that we're also listening to our customers who are asking for other data formats as well. We've had DGN support for quite a long time and we're actually revamping it this year. We're a part of the BuildingSMART initiative for IFC and introduced the ability to direct read IFC files for the building schema."
Licensing is a tad complicated. Users of GeoBIM will need a licence for ArcGIS and an Autodesk licence and username for Autodesk Construction Cloud. To author projects from the ArcGIS side, assembling and piecing together links to create the GeoBIM experiences, users need a $200 extension ($200 per creator per year). Those who are just viewing require at least a viewer licence of ArcGIS with the GeoBIM extension, as well as access to an Autodesk subscription. By using the named user authentication, the system can limit what information each user has access to, relying on Autodesk information management structures.
Conclusion
ArcGIS GeoBIM is a first release and it's got huge potential. It's more than a proof of concept but has a long way to go in terms of capabilities which can be added. It shows the benefits of Autodesk partnering with Esri, the capabilities of Autodesk's Forge development platform and what the brave new world of pure cloud driven third-party developer applications can do.
It will be interesting to see if this is more adopted by Esri's existing customers, extending their reach, or if it will create demand in new market areas who have yet to deploy GIS applications.