Allplan has helped many companies design their projects faster thanks to efficient BIM workflows and automated tools – and the newest version has even more to offer
---
With its efficient coordination and collaborative workflows, Allplan is a popular choice. Now, the 2023 version of Allplan acts as a connecting platform for multidisciplinary collaboration between architects, engineers, precast plants, and construction companies. The multi-material solution covers everything users require for delivering masonry, cast in-situ concrete, timber, steel, and – the newest addition – precast concrete design and construction, all from one solution.
"Our corporate vision is to make Allplan the most widely used central platform for the global AEC industry, enabling users to realise sustainable, functional and outstanding buildings and infrastructure," said Eduardo Lazzarotto, SVP Products and Strategy at ALLPLAN. "Our clients are already delivering projects faster and easier, and the new updates will help them even further." Here's how existing projects have already benefitted.
Expanded multi-material support
Coordinating different materials and construction methods in one common model supports sustainability goals and enables time, cost, and material savings. Architects can analyse the economical use of building materials earlier in the process. Engineers and contractors can then build directly on the architects' design and use it as the basis for their work.
For example, the multi-material support was instrumental in helping the construction company Nägele, based in Austria, save time on their Aglaya garden high rise project. By using Allplan Precast, the company managed to save approximately 206 working hours through automated processes, corresponding to an increase in efficiency of around five working weeks. They created 824 plans and manufactured 1,770 precast elements.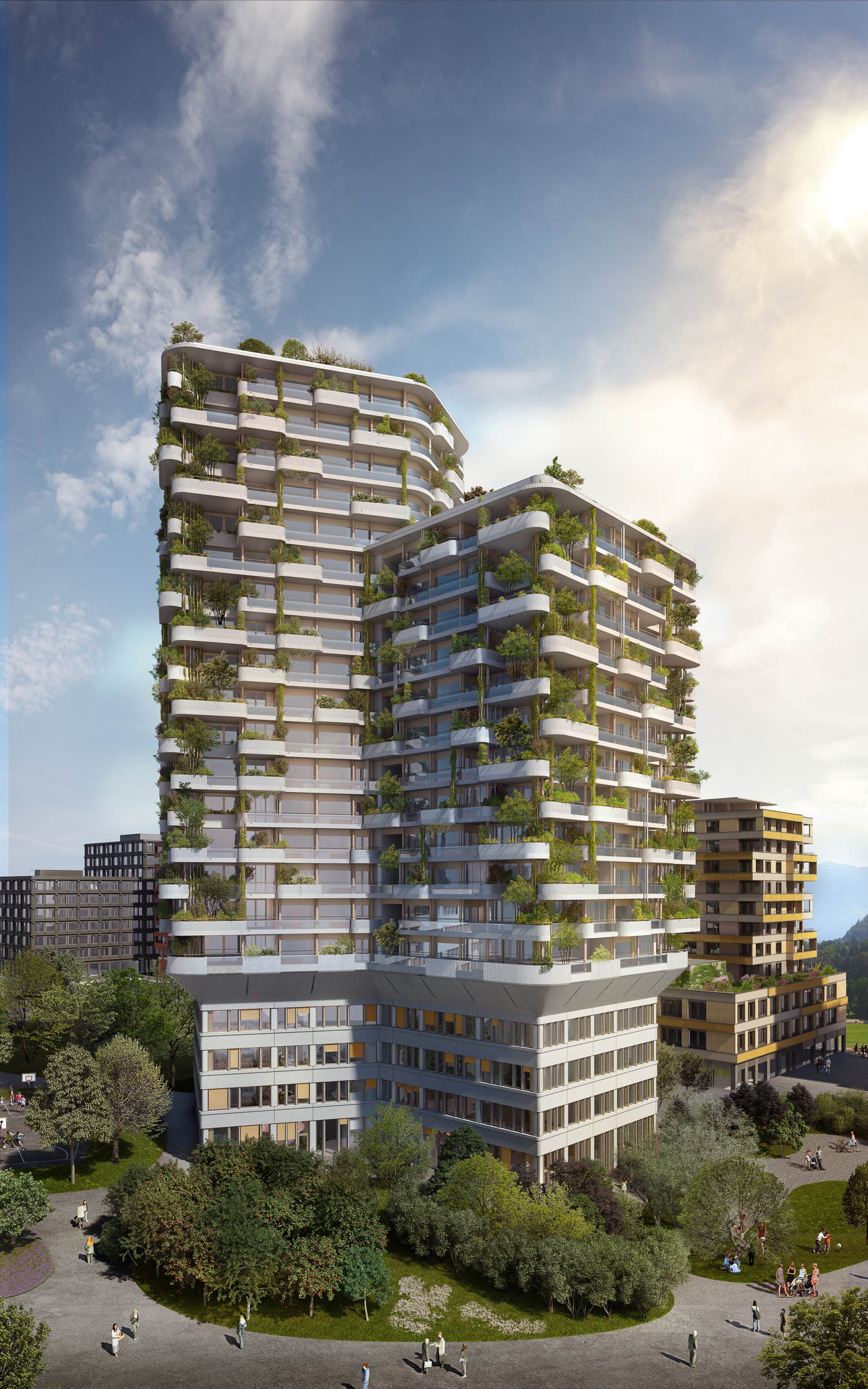 "We managed to design all the precast elements very efficiently and precisely thanks to our experience and our Allplan software. What we find particularly great about Allplan is the 1-click reinforcement and the automated generation of the shop drawings," says Raphaela Breu, Operations Management and Project and Site Management at Nägele.
With extensive precast functionality now integrated in Allplan 2023, engineering offices and precast plants can easily create even complex precast components in one platform. This simplifies project coordination and enables more efficient workflows.
For steel, the improved steel framework modelling workflow means more detailed frames can be created quicker and more accurately, improving communication with other BIM stakeholders.
Design buildings even more efficiently
Productivity is the goal of every Allplan release, particularly for designing buildings. "We focus on the delivery of buildings and infrastructure, equipping our clients with increased efficiencies in design-to-build workflows," continues Lazzarotto. Tools such as terrain and point cloud survey support, BIM attribution, integrated rendering, and automated reinforcement modelling have always been stand-out features of Allplan, and these have been strengthened even further.
For example, leading architects Schmidt Plocker modelled an entire hospital building in 4-6 weeks. Specification and attribution were key for this BIM project. In order to have certainty and to ensure the necessary quality, they used Allplan BIM software.
"With the model created in Allplan, we were then able to collaborate efficiently with the various specialist disciplines. For the MEP-specialist consultancy, for example, it is enormously important to have an attributed overall model. This enables them to implement their specialist design throughout and for the entire building," says Alexander Dill, project manager and partner at Schmidt Plöcker.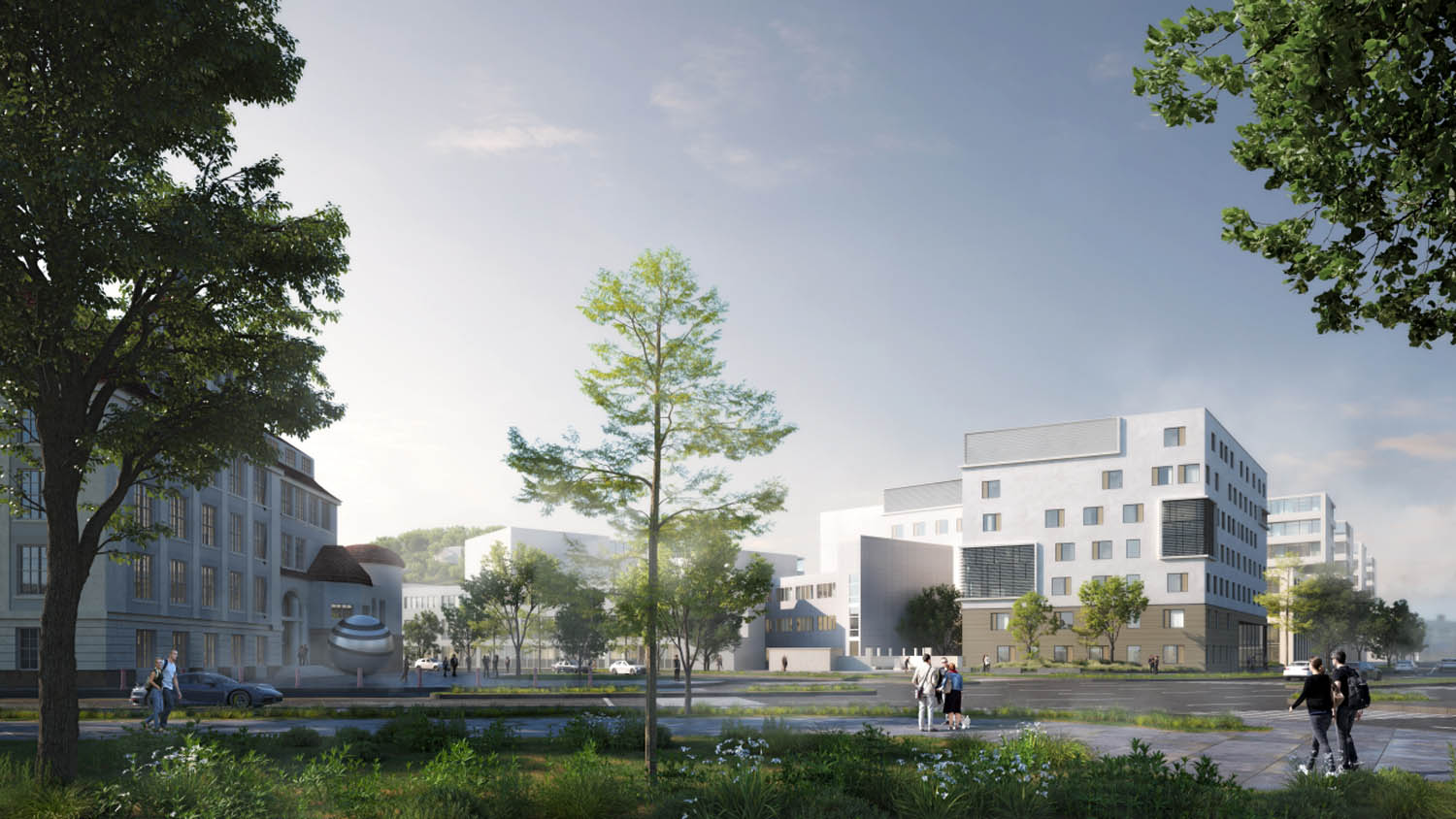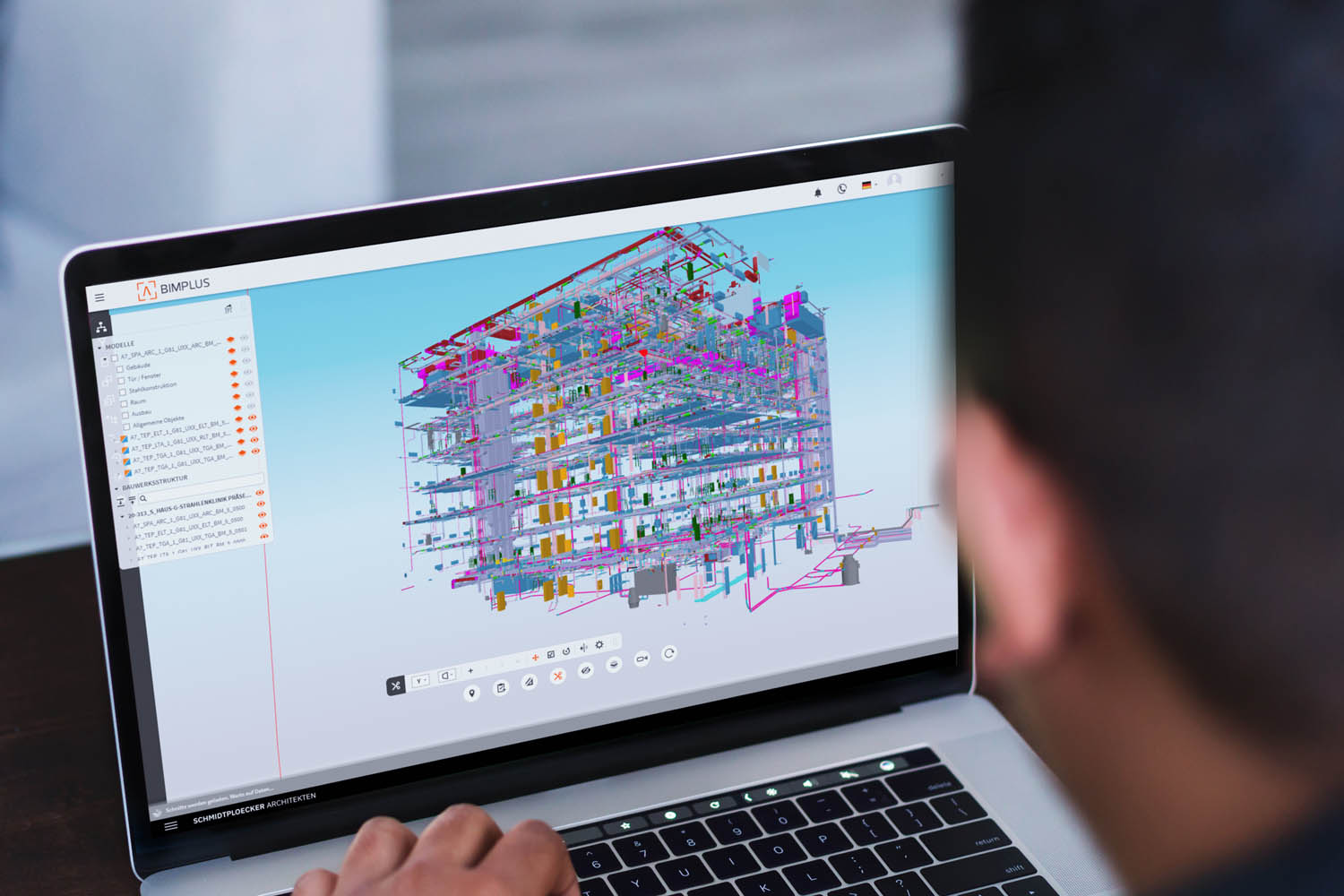 Now, Allplan 2023 processes terrain and point cloud survey data directly on the graphics card so that large volumes of data can be handled without time delays or memory limits.
Reinforcement can be designed and detailed much more quickly by reinforcing identical walls and columns at the same time. Reinforcement attribution has been extensively revised, and the cycle-accurate ordering of reinforcement improved.
Allplan 2023's powerful visualisation options have been further enhanced to include visualisation effects. The visualisation workflow has also been improved with the Lumion LiveSync connection.
Enhanced support for infrastructure design
Allplan excels at infrastructure design, particularly for roads and bridges. Take the Highway 24 in Germany, for instance. In a model project, the planning, execution, and maintenance are being carried out with BIM from a single source for the first time. As an open BIM project, interaction between different solutions was vital.
"The model-based method of working was able to highlight both spatial and schedule collisions early on in the project and the Allplan model could be integrated into the federated overall model without any problems. Similarly, 4D construction sequence planning could be created without any problems on the basis of the Allplan model. Using the IFC interface, the Allplan data could be exchanged via BIM coordination software and linked to the schedule from MS Project," says Thomas Tschickardt, BIM manager at Wayss & Freytag Ingenieurbau AG.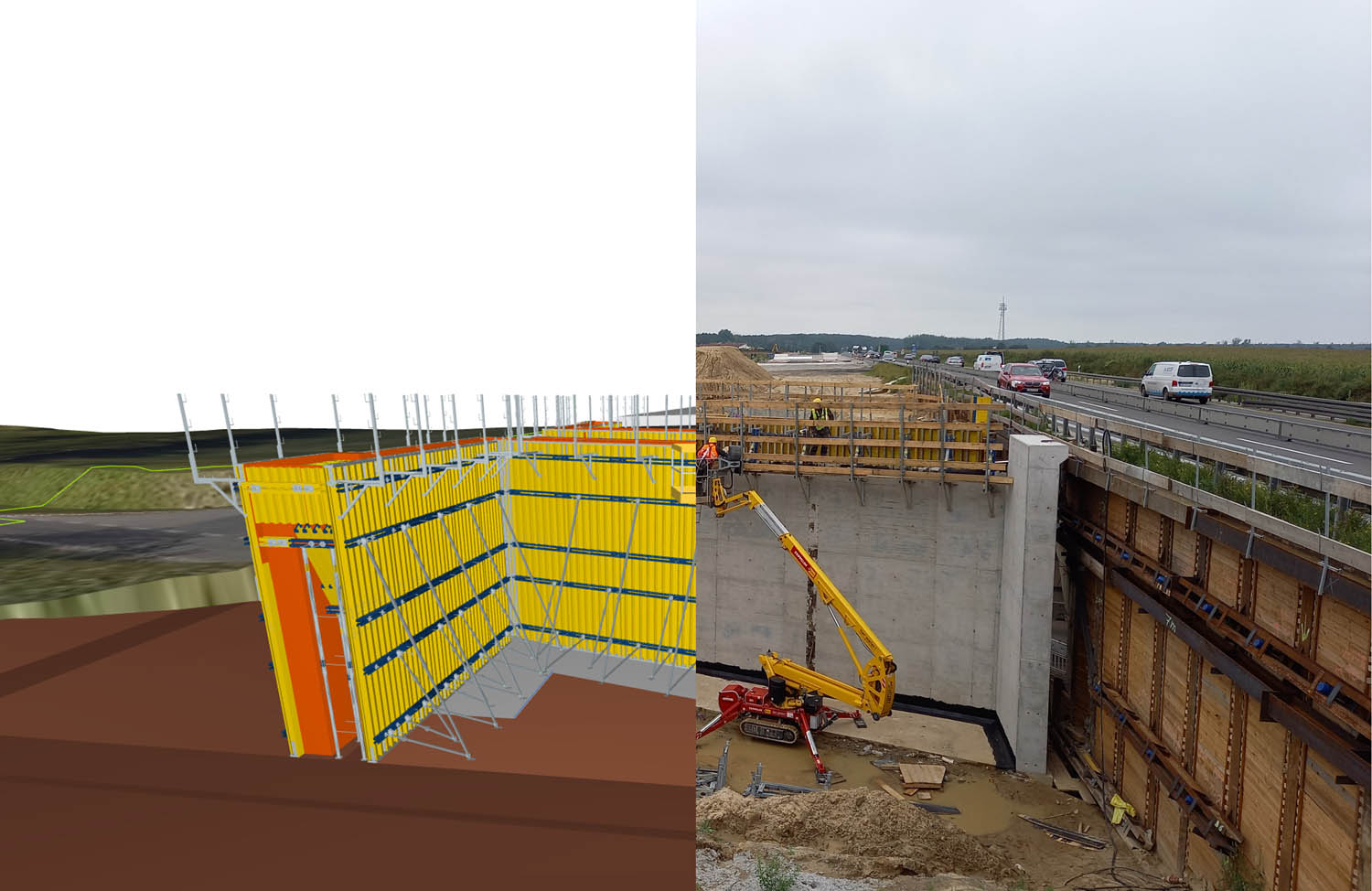 Now, users can create road and terrain plans faster with Allplan 2023's improved and automated plan rendering. An IFC road-compatible building structure and attributes have also been added.
For bridges, Allplan Bridge 2023 now includes the free parametric modelling of basic shapes such as prisms, as well as associated Boolean functions. Users can create and modify bridge components, bridge abutments, and integral bridges with maximum efficiency. Calculation options have also been enhanced, and now include components such as external tendons.
Improved construction site planning
Planning construction sites is now easier than ever. With Allplan 2023, users can undertake the detailed design of accurate excavation shoring, including bored pile and soldier pile walls, and ground anchors. Intelligent placing of cranes, containers, or fences is included, with collision detection and capacity checks for cranes. Manufacturer data like dimensions can also be included, for easy, centralised access.
A complete AEC platform
Alongside the powerful planning tools, users can manage issues more seamlessly with the Solibri BCF Live Connector without needing BCF files. However, sharing information is easy with the updated interfaces, libraries, and newest file formats. "With Allplan 2023, we have a comprehensive platform for efficient coordination and multidisciplinary collaboration that covers the entire design and construction process, from initial design to execution planning for site and precast design. Allplan is your AEC platform to design and build together," concludes Lazzarotto.
For more information, visit: https://www.allplan.com/allplan2023