---
From performance and thermal management to customisation and durability, we explore what makes a mobile workstation stand out from a standard business laptop
---
With today's flexible working environment, architects, designers, engineers and construction professionals can work from anywhere. But splitting time between office, home and construction site doesn't have to mean compromises when it comes to computing hardware.
The modern mobile workstation is not only massively powerful, but extremely portable, reliable and durable. But what makes these 24/7 mission critical machines stand out from a standard business laptop?
Built for design professionals
Architects, designers and engineers are some of the most demanding users out there. Whether designing in Building Information Modelling (BIM) software, rendering an animation, or processing a laser scanned point cloud, mobile workstations are key to providing a fast and reliable experience.
Lenovo ThinkPad P Series mobile workstations are purpose-built to handle the most demanding compute- and graphics- intensive workflows. Powerful workstation-class Intel processors and dedicated GPUs deliver phenomenal levels of processing that simply can't be matched by a standard business laptop.
With up to 128 GB of super-fast memory, the ThinkPad P Series has significantly more capacity than typical laptops and can handle the most complex architecture, engineering and construction (AEC) datasets.
With high-speed NVMe Solid State Drives (SSDs) data can be fed to the CPU very quickly. And with dual SSDs, drives can also be configured in a RAID 0 array to boost performance further. Alternatively, mirror the drives in RAID 1 to protect from data loss in the rare event of a failure.
Pro-grade features of ThinkPad P Series also extend to the display. For colour-critical work at high-resolutions, such as design visualisation, optional 4K displays are colour calibrated in the factory. This helps ensure colours on screen are as close to the intended reality of an architectural interior.
The workstation processor advantage
The ThinkPad P Series features workstation-class Intel processors which are heavily focused on performance.
Unlike business laptops, which often feature low wattage processors, the ThinkPad P Series offers processors with the highest frequencies and lots of cores. This is critical for both single threaded workflows such as CAD and BIM, and multi-threaded workflows such as rendering, point cloud processing and photogrammetry.
Intel's workstation-class processors can also deliver other benefits. Select models support Error Correcting Code (ECC) memory to help protect against data corruption errors. This can be particularly important for reality modelling, as hours could be lost if a crash occurs in the middle of registering multiple point clouds.
Some Intel processors are also purpose built for flexible business environments. With Intel vPro technology, for example, IT managers can remotely maintain, protect and repair machines, even when off, and reduce workstation maintenance and administration.
Cool operator
Mobile workstations not only feature powerful components, but they must be able to maintain the highest levels of performance for extended periods of time. For design visualisation, for example, it could take several hours to render out a flythrough animation. And no one wants their system to throttle, or even shut down completely, because it can't be kept cool.
With an advanced thermal design, ThinkPad P Series mobile workstations have been specifically developed to handle the most demanding processor-intensive workflows.
Larger vents at the side and rear ensure maximum air flow, while dual fans and heat pipes dynamically spread the thermal load. This can help ensure the CPU stays in 'Turbo' for longer, maximising single or all core frequencies depending on workload. This level of cooling is simply not available on a standard business laptop.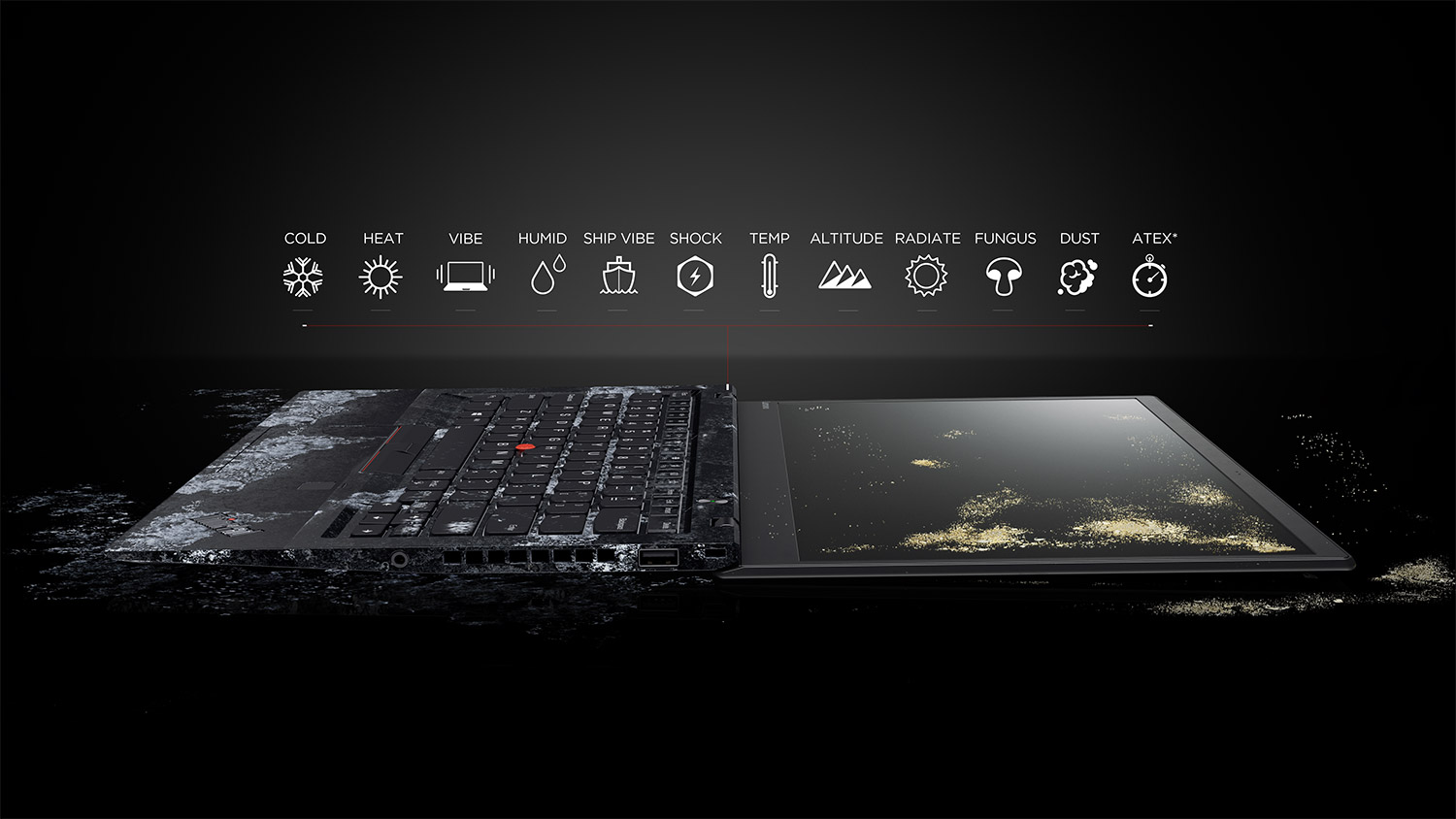 Test, test and test again
Such meticulous attention to detail can be seen in all aspects of a ThinkPad P Series mobile workstation portfolio. Build quality is of paramount importance, and Lenovo designs, tests and optimises all its systems to help ensure long term reliability and durability from the office to the construction site.
Lenovo's in-house 'torture tests', refined over the 30-year history of the ThinkPad brand, include dropping the laptop from different angles, subjecting the LCD panel to stress, testing hinge reliability with thousands of cycles, and even spilling coffee / cola on the keyboard.
To demonstrate their toughness, the entire ThinkPad P Series is also put through the US Department of Defence's MIL-STD 810G standards, which include tests for mechanical shock, humidity, cold, heat, sand & dust, vibration and more.
Tuned for pro workflows
All product development software is different and can put stresses on various parts of the system. As a result, ThinkPad mobile workstations are highly customisable. To help architects, designers and engineers maximise performance and make the most of their IT budget, there is complete flexibility when specifying CPU, GPU, memory, storage and display, among other components.
Lenovo works closely with Independent Software Vendors (ISVs) to certify ThinkPad mobile workstations for a wide range of professional applications. This can help ensure critical software runs reliably, provides optimal performance and delivers a high-quality user experience. It also helps Lenovo understand which combinations of components work best with specific software and then engage with customers to help them decide which configurations might work best for them.
Of course, with 3D design, all datasets are different. Customers can even share their actual workloads, allowing Lenovo to test with numerous different configurations, analyse system performance, and provide detailed reports to help customers make the right decisions.
It could be that maxing out memory and striping SSDs in RAID 0 dramatically brings down import / registration times in point cloud processing software. Likewise, a customer might find a cost saving on key components without missing out on tangible performance.
Conclusion
At first glance, a mobile workstation might look like any other laptop, but on closer inspection there are many important differences, exemplified by the Lenovo ThinkPad P Series.
ThinkPad P Series mobile workstations are designed specifically for demanding applications like CAD, BIM, reality modelling and visualisation. And with a huge emphasis on thermal performance, build quality, durability, and customisation, they can make a massive difference to architects, designers, engineers and construction professionals wherever they choose to work.
---
Lenovo ThinkPad P Series mobile workstations come in a range of form factors from thin and light performers to fully expandable powerhouses. All laptops can be configured for a range of different workflows.