In AEC Magazine's AI Special Edition we began our journey to better understand how artificial intelligence will impact design and construction. In Swapp, Martyn Day finds a contender for the most audacious AI tool yet for automating detail design work and producing drawings
---
Maybe I'm getting old, but the future seems to be coming faster at me every day. Swapp is a cloud-based application that can automatically generate an entire Revit model with all the necessary detail drawings, from a simple space layout and without any indication where doors or windows should be.
For a simple residential building, all this happens in the time it takes to get a coffee. For an office block, you might need to wait a little longer. After lunchtime, maybe. Either way, this is going to be game-changing — and it's only just started.
Throughout 2022, this magazine has focused on identifying start-ups that look set to move the industry forward and deliver new productivity benefits. One thing that I have observed is a general acknowledgement of a move towards the 'templatification' of certain building styles. And most agree that this will be achieved through the use of solvers, algorithms, artificial intelligence (AI), machine learning (ML) and as yet undefined genius.
Four-year-old, Israel-based Swapp is on a mission to automate the drudge work of repetitive design, modelling and documentation when it comes to predictable building types.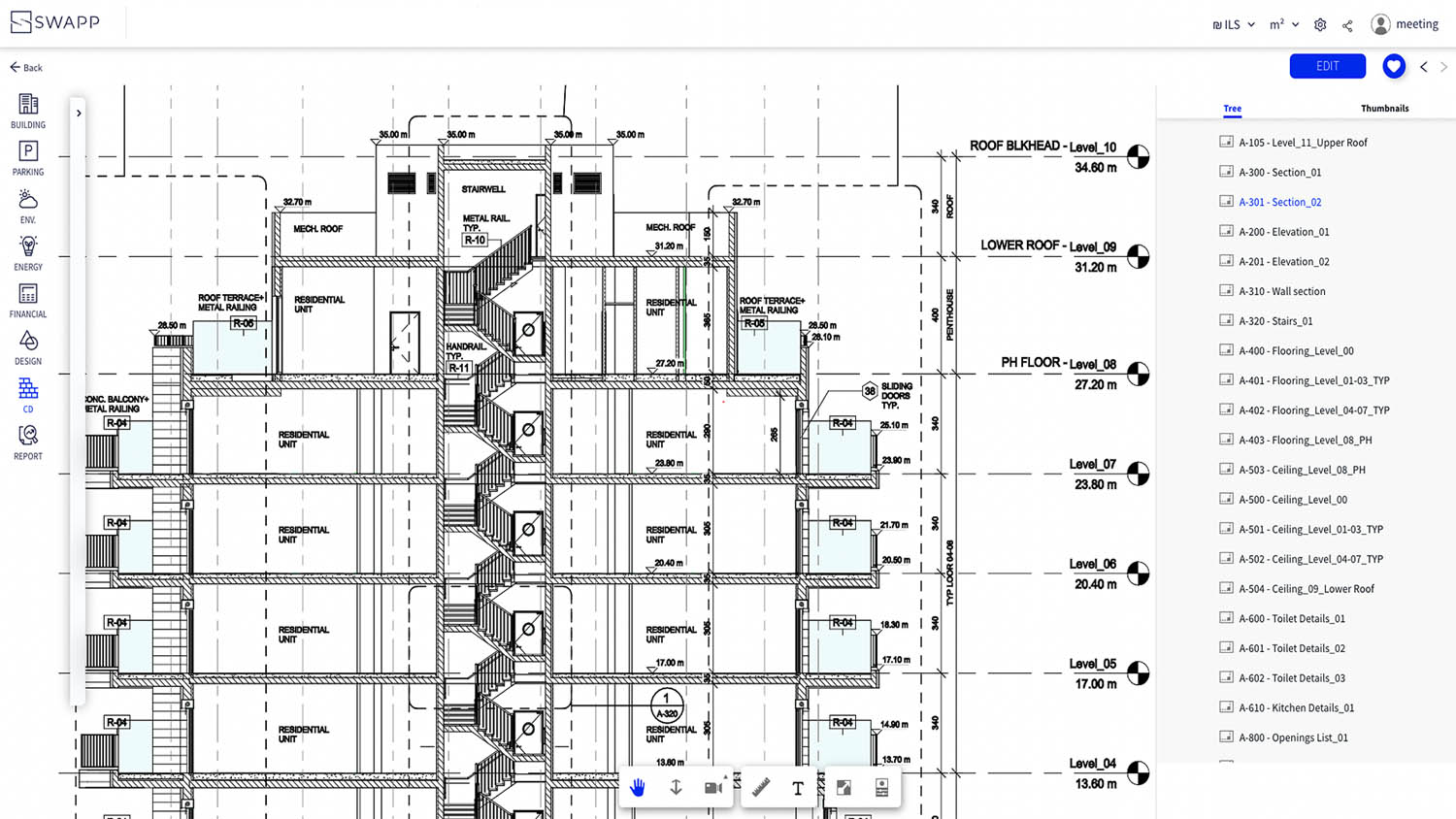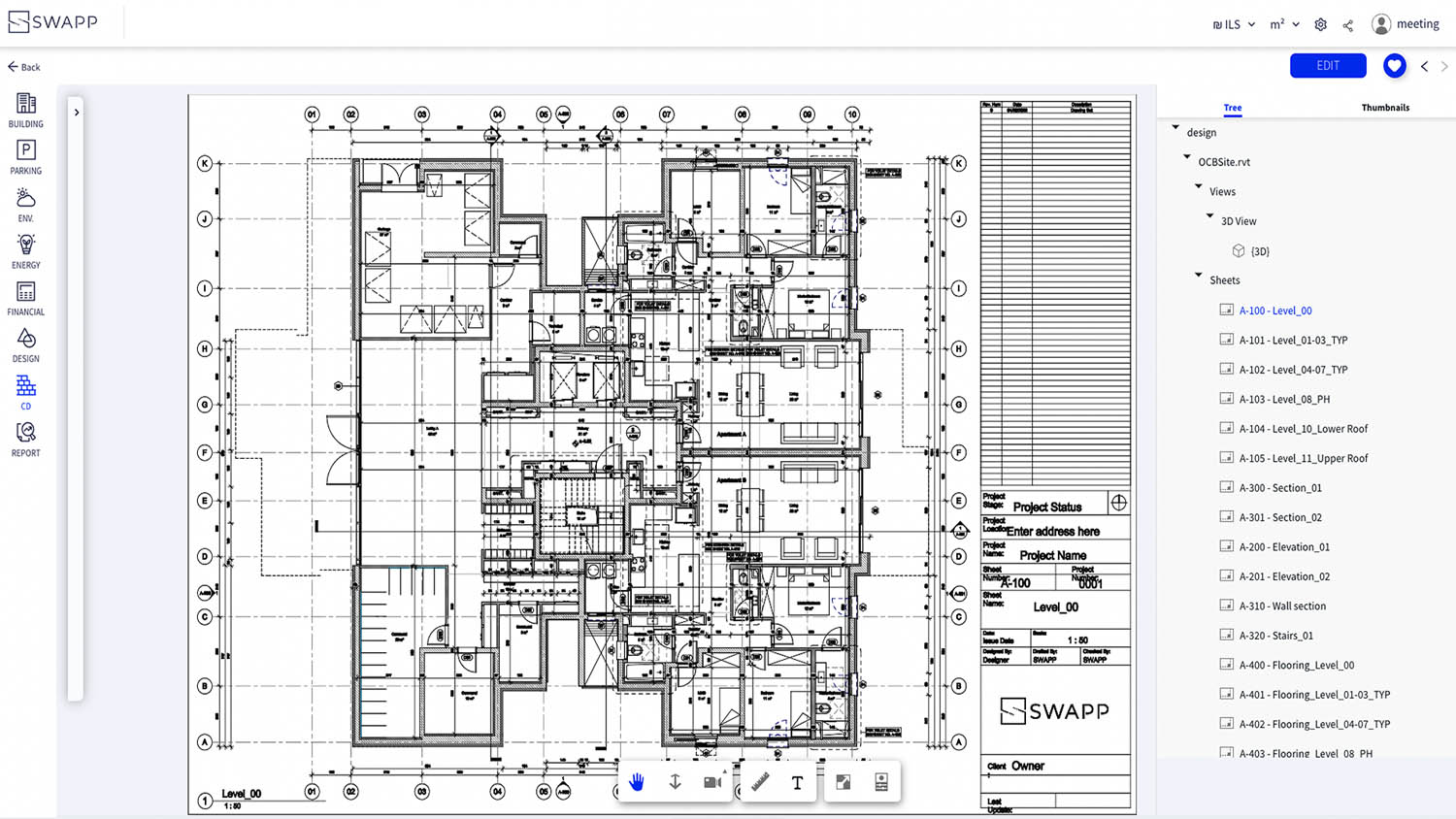 We might talk emotionally about the design and construction of buildings as unique and discrete processes, but if you boil it down, these are mainly based on tried-and-tested recipes. In other words, they are driven by parameters and by common methodologies that operate within the constraints of building regulations.
Swapp breaks down this process and learns by analysing previous Revit models. It then formulates 'recipes' it can apply to subsequent projects. Once the system is trained, it can automate designs that range from simple schematics through to full sets of construction documents. It achieves this using an AI planning and documentation rule system, hosted in the cloud.
This start-up's 'secret sauce', meanwhile, is its Design Decision Language (or DDL), which encapsulates the core rules of architecture. This is linked to user-specific data and libraries which contain furniture, rooms, families, materials and building details.
Starting with a grid and a set of Revit spaces, the code identifies where spaces meet; what wall construction and finishes are typically used for each use case; typical door styles; and the furniture load for each room type. The final output is a full, code-compliant Revit model.
But Swapp doesn't stop there. It also captures the print set styles that you prefer, in order to create a complete set of construction drawings that are automatically loaded into Procore. Now, this system may not fare well with a Foster + Partners airport design, but for buildings that are predictable and boxy, such as residential units, student accommodation and some office designs, Swapp can do in a day what might take you weeks or months to achieve.
Origins and aims
Swapp co-founders CEO Eitan Tsarfati and chief science officer Adi Shavit are veterans of the AEC industry. Tsarfati started his career as an architect before moving into the technology business, he explains. His first start-up was Homestyler, where Shavit was also a cofounder. This company was subsequently acquired by Autodesk, which Tsarfati and Shavit both joined as part of the deal.
"At Autodesk, we got more and more responsibilities, more products," Tsarfati explains. "It became the home and building platform, which I headed up. Adi became the head of algorithm, as his specialisms are AI and computer vision."
Having worked at Autodesk, the pair felt that the solutions that the company was providing to architects were insufficient, he says. "We understood that either we were going to re-do Revit, which is not something that a start-up should think about, or that we could try to practically solve the problem with what exists today, with what we can add to the equation."
The architecture industry gets overlooked by many entrepreneurs and venture capitalists, he says, because they mistakenly believe that architects don't have any money. As a result, 80% of today's start-ups in AEC focus on job sites and try to solve construction issues. "But that's a mistake, in my opinion," he says. As a former architect, he understands the upstream pressures on architects, the lack of time for drawings, the tedious aspects of the job.
"Architecture has many functions, from feasibility studies, test fits, schematic design, VDC, DCA, you name it. But construction documents are the most tedious work, and this is the part where architects spend most hours, from the DD to CD stage," he says.
"I think this is what makes us different from the rest of the start-up ecosystem, because most of the ecosystem — and I'm excluding Higharc here — are mainly doing feasibility studies. We are not going to do another parametric design system; we hate the terms 'generative design' and 'optioneering'. We're a very solution-oriented platform for construction documents. This is what we do."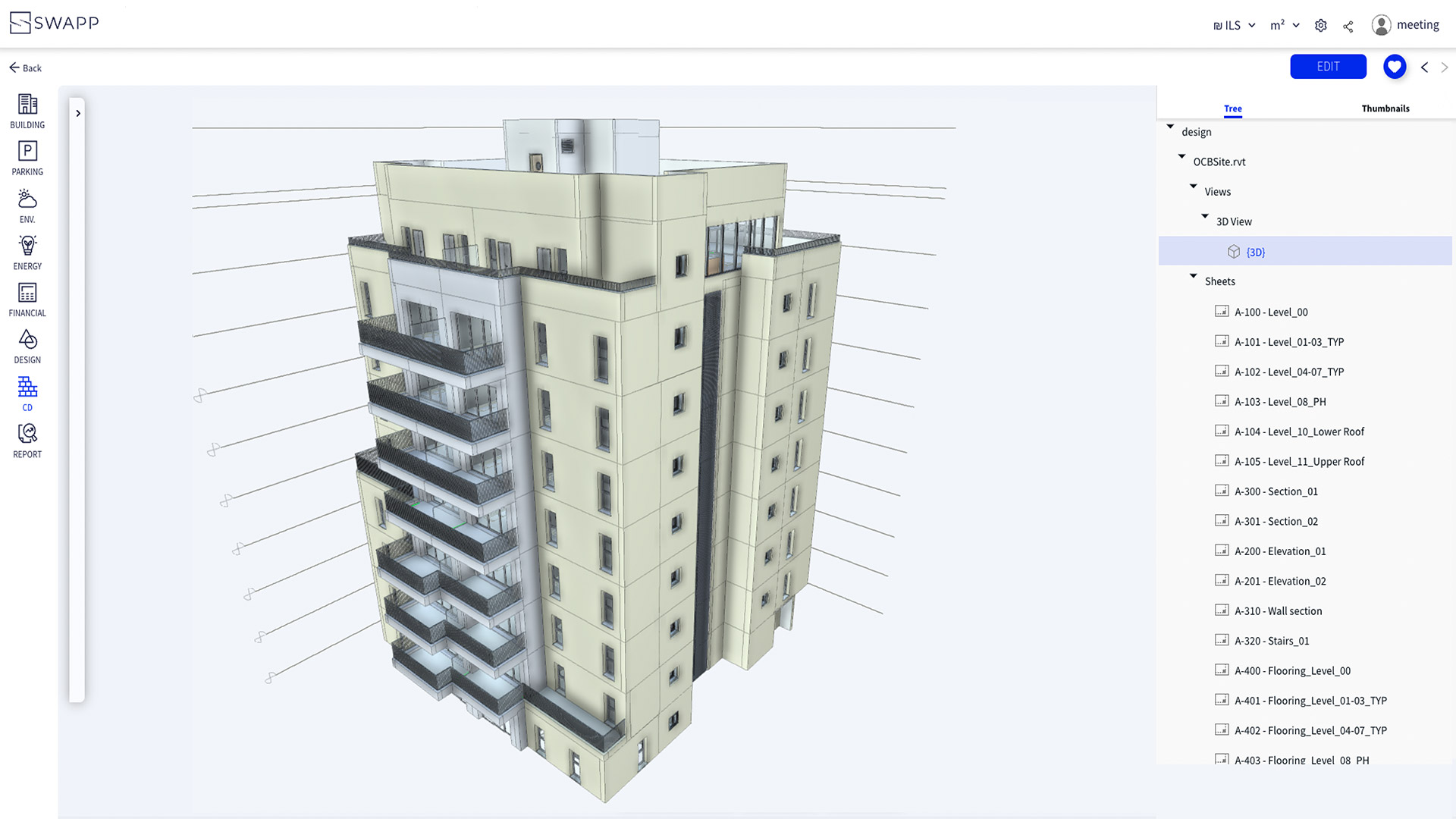 Off the grid
Working through an example, starting in Revit, a typical Swapp building starts off with a grid layout. The architect then designates areas for rooms, spaces, corridors, lifts and so on. These room-bounding components create an adjacency diagram which indicate to the AI where walls should go.
"There are some algorithms that can generate building plans like this, but I don't believe that this should be the work of an algorithm. It's actually the planning part. It's where humans can think and make important decisions," he says. "I mean, it's architects who talk to the customers. The algorithm doesn't!"
The process starts with a schematic design, one for each project, he explains. For each project, there are data libraries and design decision roles driven by Swapp's design decision language.
"For example, in multifamily, you might say that all the walls between the restroom and the living room will look like this and will belong to a specific Revit family. On one side, wall finishes are ceramics, and on the other side, you'll have gypsum, or plaster, or whatever it is," he says.
The industry is somewhat hooked on selling billable '' hours and charging clients for changes. A piece of software that can model and document in 45 minutes, what would take an architectural practice months to achieve, changes the rules of engagement
The rules are specific to the way an architecture office works and to the type of project. A school design, for example, will work from different rules in the design decision language. "How do we know? We look at our client's past models and how they have done it before. Swapp's AI understands what kind of doors you put in this type of mid-rise, multi-family block, in this current multifamily building. We also have a lot of best practices already built in, should you not have any past models," says Tsarfati.
A key aspect of AI, and its ability to learn anything, is that you don't feed it rubbish. As the saying goes, 'Rubbish in, rubbish out.' But Revit users vary wildly in their capabilities and adherence to standards, so Swapp has developed a suite of tools to learn from even badly organised Revit models and understand what went wrong.
Once a schematic is loaded into Swapp's cloud, where the company has its own BIM modeller, the AI planner gets to work. Model and drawing generation is automatic. Decisions about where windows and balconies go, for example, are made. Everything is done by the Swapp algorithm, based on the basic layout from the architect's plans, plus past project data. (By the way, this frees up your Revit licence to go and do something else, such as create another space layout for another job.) Typical processing times are between 40 and 50 minutes. The results are then translated back into RVT.
The resulting building may not win any awards, but the model will be highly detailed, each corresponding space loaded out with furniture content as defined in standard layouts. While the model is typically code compliant, Tsarfati explains that the architect should still 'be an architect' and check the model for themselves.
"We have the option to do all the energy loads and simulate that. We produce a very detailed model. We can do load calculations, we can do environmental analysis, we can run it through anything that we want, because we know everything about this building, even to the sub-layers of the paint on a wall," says Shavit. A model that takes 45 minutes with Swapp, including all the layout sheets, might take three months in the real world, using human effort, he adds.
"If you think about details," Tsarfati explains, "basically it's the solutions for a typical intersection of two materials in the building. This is what it is, roof and wall, wall and floor, window and wall. So again, we work with companies, we take their data and we add it to the system, so the next time you use it, we have the details ready to add."
To date, Swapp has focused Revit workflows and seems to have clients mainly in the US. But the target BIM system doesn't have to be Revit, according to Shavit. "None of our processing happens in Revit. It happens in the Swapp projects cloud system. We only use Revit as the input and output," he says.
"We already have automatic conversions, import and export for IFC, and since our model is as detailed as a Revit model can be, it's very, very rich. Not just modelling, many systems actually use a 3D model. They don't need the sheets. So, we could export to any compatible system, if the business makes sense."
A bold game
It's early days, but Swapp is attempting to do bold, game-changing things here. While the company's leaders talk mainly about automating construction drawings, they almost bypass the fact that they, by the way, do a large chunk of the architectural detail design too.
And while it might appear that the architect's job is reduced to simply arranging some conceptual rectangles in 2D, the model they get back is still Revit, and fully editable.
It's the drudge work that has been done. The model and design can still be finessed. Users also get to reuse the knowledge and effort that has been put into the creation of families. And, since Swapp has multiple clients, they also get to benefit from everything Swapp learns from the common 'hive mind' of the industry.
This is a start-up that throws up all sorts of questions. It's a bit of a curve ball. After all, the industry is somewhat hooked on selling billable hours and charging clients for changes. A piece of software that can model and document in 45 minutes, what would take an architectural practice months to achieve, changes the rules of engagement — but it's open to everyone, including your competitors.
And what happens when clients get wind of the fact that your practice uses AI to achieve new heights of productivity? Will they expect to see that reflected in your fees? And finally, what about jobs? In other words, many firms globally have too much work and too few staff, so an AI-driven boost in productivity could be a massive benefit. But at some point, firms need to consider what a technology like this means in terms of team size, if and when the world returns to some level of normality.
It will be extremely interesting to see where Swapp ends up and how much traction it gets along the way, and in which markets. Perhaps it will build its own market as word spreads? Or maybe it will get snapped up by Autodesk to keep the Revit customer base happy? Adi Shavit has an invite to come and speak at AEC Magazine's NXT BLD event in London on June 20. We'll be looking forward to hearing more on the company's progress between now and then.
---
AI plays Minecraft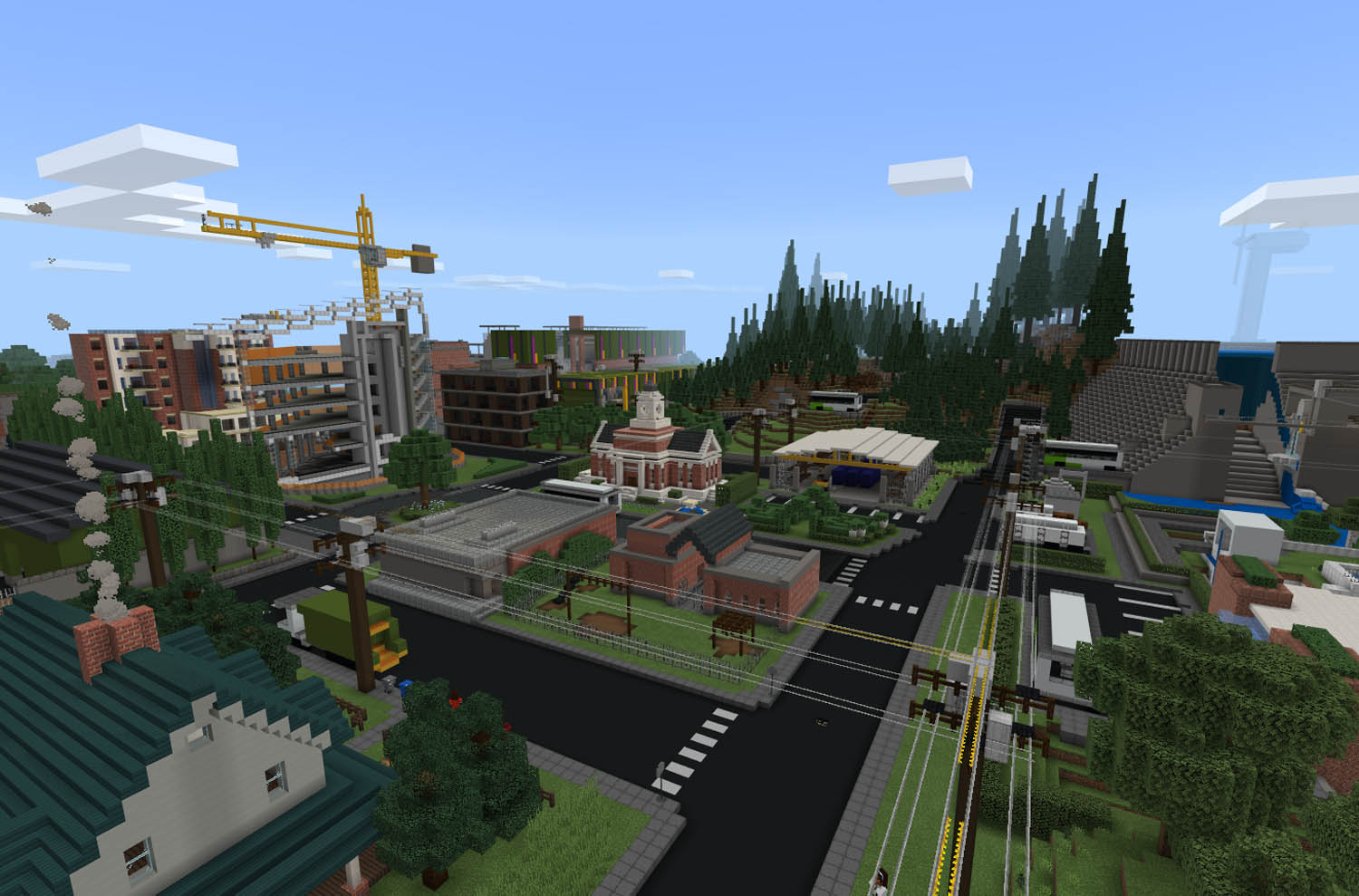 If Swapp hasn't already given you enough food for thought, you might be interested to know that Daniel McKenzie, senior data scientist at Life Time, recently sent me an article from the MIT Technology Review. In it, we learn about how OpenAI has built an AI-based game playing bot, which watched 70,000 hours of people modelling in Minecraft. The technique it uses is called Video Pre-Training. This lets an AI neural network train itself just by watching humans, a step up from the trial-and-error reinforcement approach to learning. Researchers at OpenAI hope to use this to teach bots to achieve in 3D space what GPT-3 has done to imitate human text.