At Graphisoft's 40th anniversary event, held at its Budapest headquarters, the company set out a roadmap for its technology development for the first time. CEO Huw Roberts also took on the press in a Q&A
---
When it comes to telling the world about new capabilities developed for Archicad, Graphisoft has traditionally done this once a year, at the launch event of the latest release.
Other than for beta testers, the focus of Archicad development is usually a surprise. This year we had something very different. We were treated to not just a whole new release, but also four roadmaps of focus areas spanning 2022 to 2025.
The change probably has a lot to do with CEO, Huw Roberts, who has been steadily making changes to the way Graphisoft communicates and goes to market. There is also the fact that there is industry concern about the development futures of Archicad's biggest competitor, Revit, and the fact that Archicad is undergoing significant software architecture changes to better prepare it for tomorrow's hybrid computing requirements, as well as broader, more multi-disciplinary vertical developments. This is the start of a metamorphosis.
Multilane roadmap
If we have ever seen an Archicad roadmap before, it would have been for one product. Now that core Archicad is going to be the host to multiple verticals, and the offerings will be expanded through additional products and services, this means multiple roadmaps.
Zsolt Kerecsen, vice president of product development and Shesh Gorur, vice president of product success took us through the various roadmaps.
The key areas focus are:
Architecture: which covers design, document, visualise and collaborate.
Multi-Disciplinary Design: featuring OpenBIM, integrated design and DDScad (Graphisoft's MEP solution).
Design Team Collaboration: including BIMcloud, BIMx, OpenBIM & BCF, and CDE connections.
Productive Ecosystem: which is the support services – Graphisoft Forward, Graphisoft Learn and Graphisoft Community.
Graphisoft gave us a roadmap for each area of focus. Starting with Architecture in 2022, the company will focus on providing well-connected BIM workflows. This will include addressing issues with OpenBIM and easy information exchange.
In 2023, the key topic area for Architecture, will be integrated BIM data systems, expanding shared models, integrated design and data reservation. In 2024, development of integrated user experiences will look to create shared capabilities, align interfaces and offer simplified training. The final road map date is 2025 in which Graphisoft will address integrated enterprise management, looking at shared resources, multitiered management and orchestrated administration.
The upcoming capability highlights for architecture include dynamic design editing tools, design options and variants system, an attribute management system, reflected ceiling plans, design stage level of detail, and an analytic integration system.
For the building systems category, 2022 brings us easier information exchange, BIMcloud integration and the DDScad viewer. 2023 will focus on integrated data and workflows facilitating common data models, integrated workflows and broader geographic reach. 2024 addresses integrated user experiences, interface consistency, shared capabilities as well as simplifying training. 2025 delivers on integrated enterprise management, which will support the multi-tier management system, orchestrated administration and global reach.
Graphisoft believes the cloud should be used for what it's best for and customers should not be forced to make compromises
Design Team Collaboration in 2022 will focus on OpenBIM and easy information exchange. 2023 will bring Team to Team collaboration, with cross discipline integration, dynamic hyper model publishing and additional CDE connectivity. 2024's theme is Dynamic Teams Management with enhancements to shared capabilities, aligned interfaces and dynamic CDE integration. 2025's focus is Managed Enterprises and will further support multi-tiered management and orchestrated administration.
In more depth, users will see multiple CDE integrations, including BIM 360, BIM+, Aconex, and Projectwise etc.
Finally, under the Productive Ecosystems banner in 2022 this will enhance the Graphisoft Forward community and Graphisoft Learn (for support and learning). In 2023, under Administrative Simplicity, there will be licencing enhancements, upgrade enhancements and third party expansions. . In 2024 the company will deliver 'instant upgrades', enterprise licensing and resource management systems. 2025's release will offer multi-tiered management and orchestrated administration.
A new licence system will deliver better file format persistence, automated migration, an expanded third party programme, resource deployment and access management capabilities, plus an additional courseware community and consulting to add value.
Adaptive Frameworks
While some vendors think that everything will be centralised on the cloud, Graphisoft has a different prediction. It believes that customers will use a mix of devices throughout the day. It also believes that sometimes it could make more sense to work on the desktop, sometimes in the cloud, and even using both. To better prepare Archicad for this hybrid way of working, Graphisoft has started rearchitecting Archicad's technology stack.
The foundation layer, which Graphisoft calls the microkernel, fulfils basic tasks such as log in, loading, licence management and security. On top of this is the general BIM authoring layer, into which the individual vertical discipline applications will plug-in. Graphisoft envisages the following verticals: Architectural, Mechanical, Plumbing, Structural, Electrical and others. In addition to this, Archicad will define internal services, external services, as well as plug-ins, which can be called on by the general BIM authoring layer or the vertical discipline layers.
Users will be able to decide if they want to run some processing locally or in cloud services. Archicad will be eminently 'integratable' and will be able to take advantage of cloud services, desktop plug-ins, as well as add-on libraries and customisations. Being able to choose to process online or offline will be unique in the industry and aims to offer the most flexible architecture for all users needs.
This work will also mean that when disruptive technologies come along, Graphisoft has multiple entry points to add in new capabilities – in-house, third party, or acquired, such as augmented reality, AI, blockchain, algorithmic design, generative design, robotic process automation, through API, desktop or cloud services.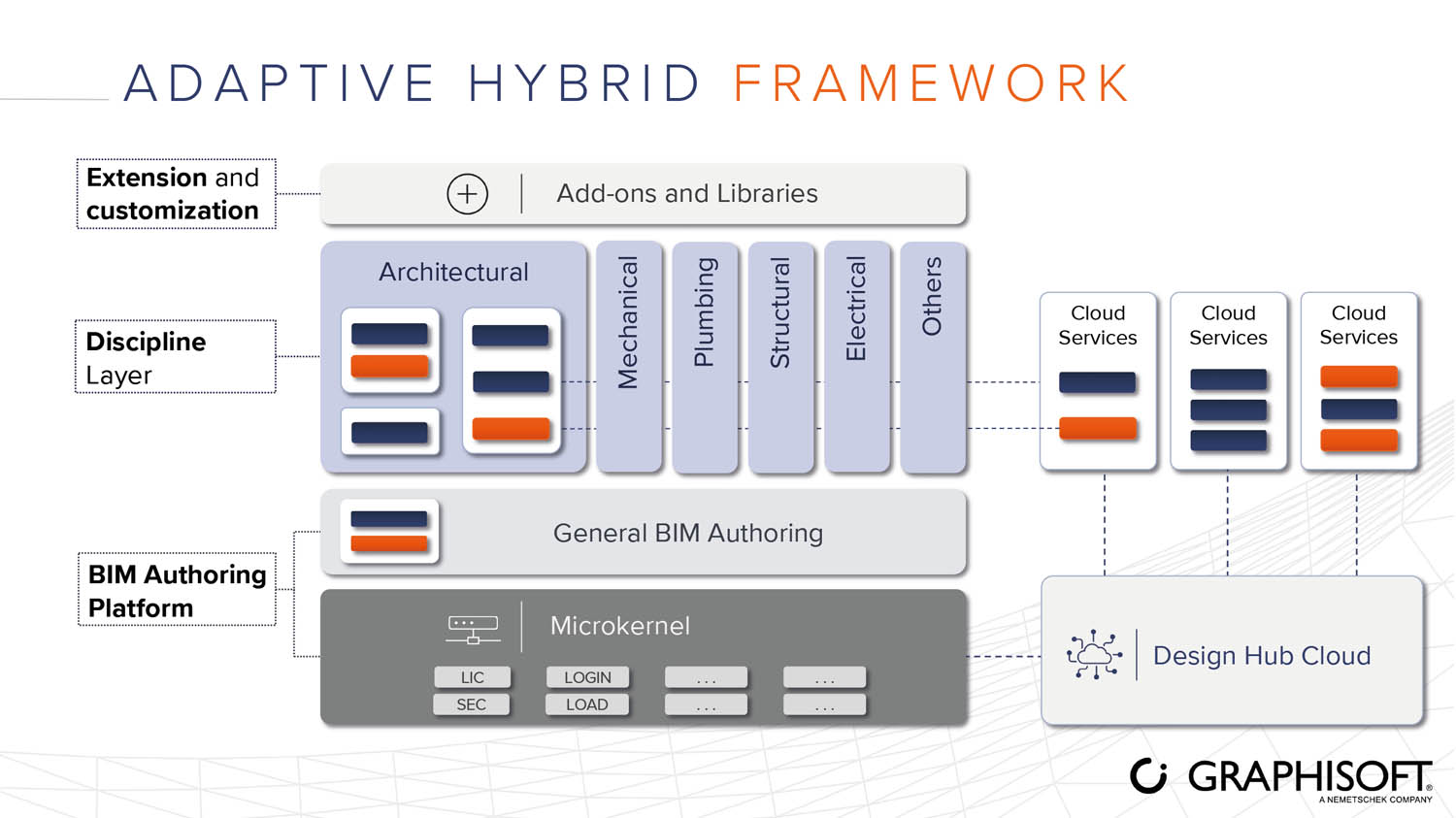 Cloud BIM?
While having dinner on the final night of our stay in Budapest, the conversation turned to cloud and if the future is ultimately all online. We were fortunate to have Zsolt Kerecsen on our table, who explained why a pure cloud play was not on the cards at Graphisoft. The first issue Kerecsen raised was the security issues that arose from using modern browsers. He felt they were too much of a security risk and a weak entry point.
The next key issue was one of performance, just getting acceptable lag times was difficult enough and software developers with high graphics loads were building thick clients because the cost of using cloud GPU was punitive and nobody would pay that premium. The cloud should be used for what it's best for and customers should not be forced to make compromises. This view flies in the face of developers like Jon Hirschtick (General Manager of Onshape, one of the leading mechanical CAD SaaS cloud applications and original founder of Solidworks).
But it is true, when it comes to true cloud-based graphics-intensive applications like CAD – exceptional examples are few and far between. None of the cloud-based CAD applications lead on market share from desktop apps.
Conclusion
There have been a number of new hires at Graphisoft, notably Ron Close VP marketing (ex Solidworks and Shapr3D). This has given Graphisoft some industry experience from more competitive and corporate markets. From conversations at the event, these appointments appear to have brought more purpose and focus into taking on the competition that I have been used to.
That, combined with the new possibilities that DDScad would bring the multi-disciplinary go to market, meant it felt like a different, emboldened Graphisoft.
It was perhaps predictable that Graphisoft would come up with a different solution to tomorrow's complexities. The truth is, while some computer scientists in software companies feel the cloud is the destination for all software and services, customers aren't clamouring to move lock, stock and barrel to the cloud.
Graphisoft is happy to play it cool and architect its product to be as flexible and extensible as possible. We really look forward to seeing a demonstration of this when implemented, opting for local or cloud processing on the same data.
---
Graphisoft at 40
After the Second World War, the Soviet Union incorporated Hungary into the communist bloc, which placed it behind the iron curtain. This limited trade opportunities and access to IT equipment. Despite this handicap, Gábor Bojár set up a private company when it was first made legal, and officially launched Graphisoft in 1982. It had started developing a CAD system which would eventually become Archicad, while assisting in the installation of a new nuclear power plant.
Recruiting the best programming talent from local universities, Graphisoft set about creating modelling software with access to limited processing power and memory, a constraint which made the team get the most out of low power machines. With the launch of the Apple Lisa, the company managed to port its code and Bojár went to a trade show in Germany in 1984 and met Steve Jobs. Impressed with the work they had done, Jobs gave computers and financial help to Graphisoft and agreed to distribute their software globally. The first official version of Archicad came out in 1987.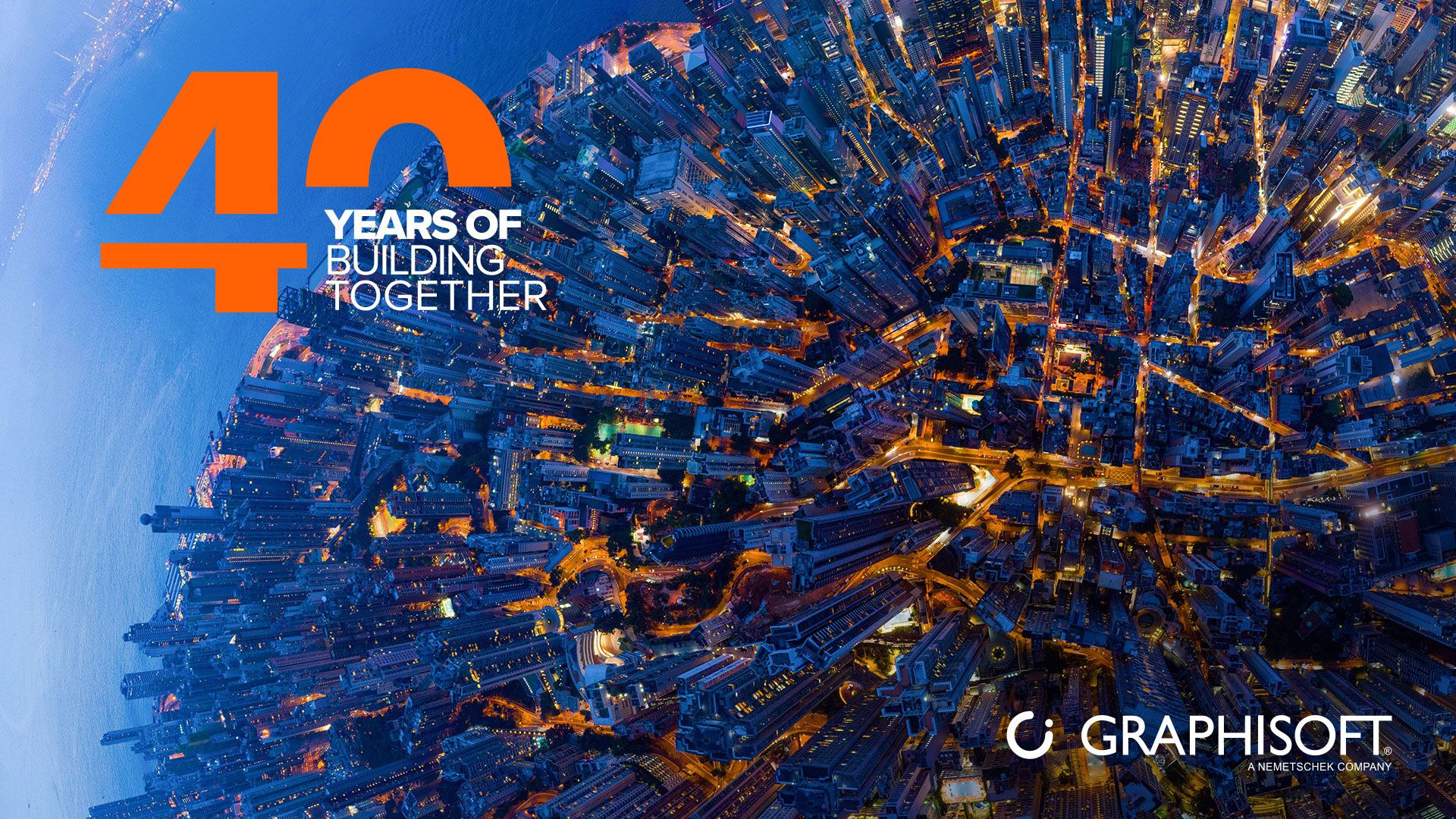 In 1996, Bojár decided to build Graphisoft's own HQ and bought an area of land on the banks of the Danube. The company moved there in 1998 and even built housing accommodation for visiting programmers, as the company was recruiting all over eastern Europe. Since then, Graphisoft Park has seen Microsoft, Apple, SAP, Canon and many other firms take up residency.
In 2007, German design software company Nemetschek Group acquired 54% of shares of Graphisoft for around $68 million. As is the way with Nemetschek, Graphisoft operates independently as a business unit, alongside other firms such as Solibri, Bluebeam and Vectorworks.
While Graphisoft did not invent 3D modelling for architecture, or what has since become known as BIM (see BDS, RUCAPS, Sonata, Reflex), it is undoubtedly the longest running, commercially available BIM application on the market. It precedes the introduction of Revit by 13 years (Revit was acquired by Autodesk in 2002 for $130 million).
Since Bojár, the company has been run by Ray Small from 2002-2003 (Gartner), Dominic Gallello from 2003-2009 (ex-Autodesk), Viktor Várkonyi from 2009-2019 (a Graphisoft employee from 1992) and is currently run by Huw Roberts (formerly of Bentley Systems).
To celebrate the company's 40th anniversary, Bojár, Várkonyi and Roberts were on hand to host a garden party at Graphisoft Park, mixing press and employees in the warm Budapest summer sun. The mainstage presentation from the founder, past CEO and current, looked through historic photographs and moments in the company's history and they were there to, of course, cut the birthday cake. The night finished with an amazing drone display over the park.
---
Q&A with Huw Roberts, CEO of Graphisoft
Question: Archicad is going to become a multi-disciplinary platform. How does that contrast with the name Archicad?
Huw Roberts: Our approach is that we recognise that what our customers have always done for all of our 40 years, is work in teams, alongside other professionals doing related work. Architects working with structural, mechanical, electrical, interiors, all sorts of disciplines. We have, through our OpenBIM approach, had great workflows and connectivity to all of them. And we're still committed to that. We also recognise that there are aspects where that integration can really benefit from a short-cycle integration in the workflow.
When we introduced integrated design two years ago, we showed how that can affect the structural discipline. There are elements in a building that are part of the design process of more than one discipline. So, a column is of interest to an architect because it's there, in the space, and the architect needs to know where it is. It's also of interest to a structural engineer, because it's holding up the floor upstairs. Both disciplines need to interact with that model element. But they care about different aspects of it. The architect doesn't really care about the forces inside; he does, but he doesn't deal with them. The structural engineer doesn't really care about what colour is painted. Rather than have two separate columns that are in two different workflows in two different systems, why not share that model element and deal with the aspects of it in real time as you do your own work in a shared integrated experience? That's the essence of our integrated design technology and approach.
With DDScad, MEP and beyond into other disciplines, our ambition, goal and plan – as you'll see on the roadmap – is to have that same approach across all disciplines. Because a light has electrical power, that also generates heat that affects air conditioning. That also has an architectural component about it and is the right kind of light in the room, etc. We want to support that multidisciplinary workflow, team and technology approach and we have some technology architecture that will help us do that.
DDScad is not in Archicad. It's in Graphisoft and will increasingly share a technology platform with Archicad. However, it's a separate thing. In fact, DDScad is actually a modular collection of things you can buy, depending on what your company does, and what your role is. I think the technology answer doesn't have to match up with the 'productising' answer. The interesting part for us is that there's full flexibility for both.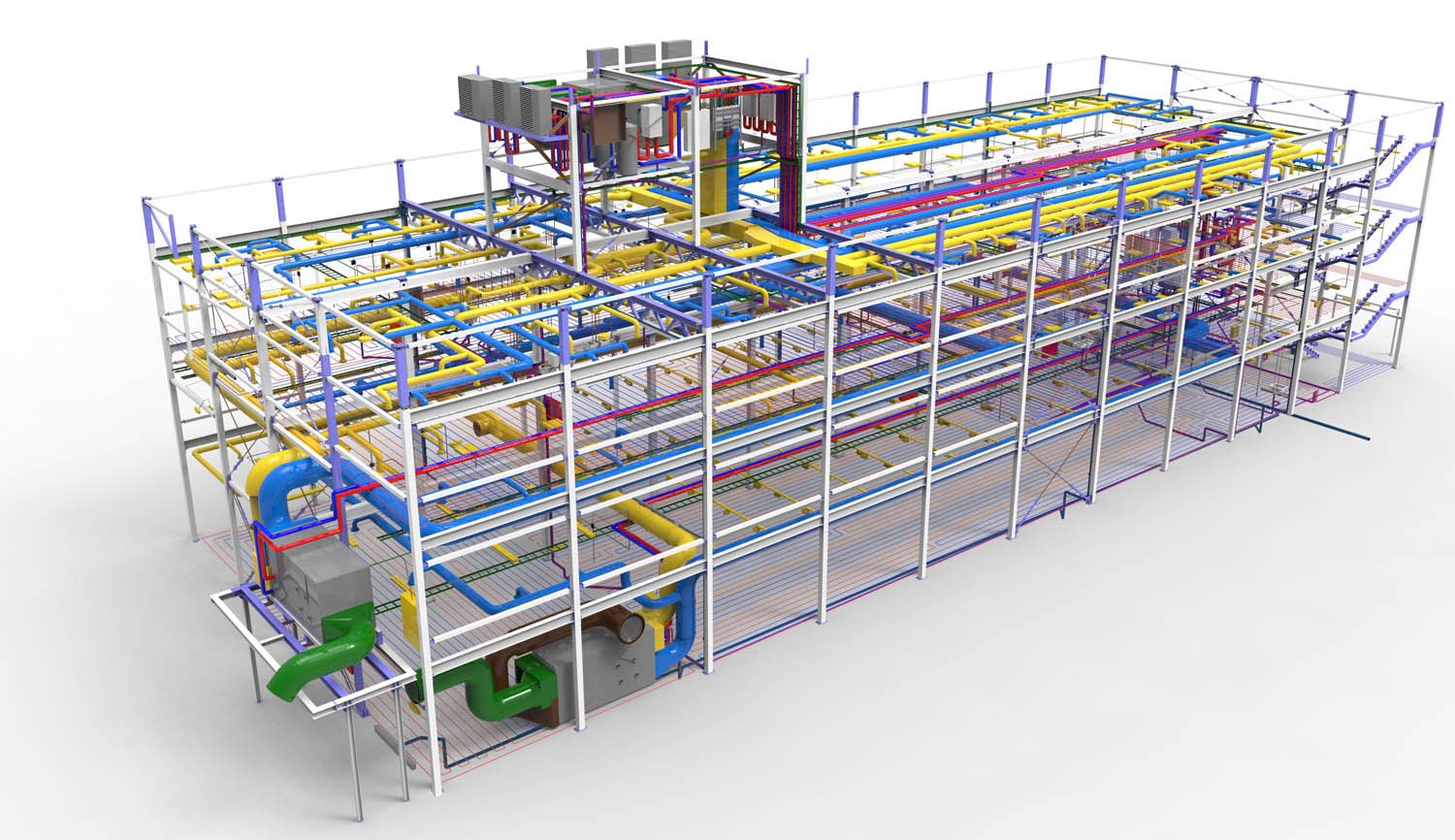 ---
Question: There seems to be a kind of a differential, starting to be seen with the cloud in BIM. Autodesk is going to move its applications and the data to a cloud. Users will store their data in the cloud and access their apps through thin or thick clients. Graphisoft seems to be pursuing a data centric approach where you are putting DDScad models and Archicad models in BIMcloud, but you're still keeping the desktop application idea where you are still using the software locally.
Huw Roberts: We're saying that there are arguments for almost any combination you can think of – separating the application from the data, from the workflow and from the connections, between workflows, between data sources. It's a very complex puzzle. Our approach generally is we want to have the data and the computing and the interface, be where it needs to be for what you're doing, and we designed it in a way that we can actually present it to you on your desktop, or in the cloud, or have things on the desktop that are actually doing some things by talking to and leveraging services in the cloud.
You'll see in the product approach. If you're designing an architectural building, you're not doing that on a phone, or an iPad. If you're doing anything real, you've probably got two giant monitors in front of you and you're immersing yourself where you've got an Oculus headset on. You're going to need heavy local computing power to deal with that. But you're probably integrating data from all over the place. Yes, you're going to want to talk to the cloud and you may want to process something in that workflow that could use massive computing in the cloud, to run that process, but you're experiencing it here on your desktop. So why not have your desktop talk to the cloud to do that thing?
That doesn't mean you need to take everything to the cloud, just the one thing that you're dealing with. Our approach is a very hybrid approach, to leverage the cloud, to extend your experience, and leverage a mobile device to provide another interface point into the experience and leverage the technologies to be present in the right place at the right time.
Graphisoft has no plans for Archicad as a SaaS, but definitely plans on leveraging the power of SaaS to extend and enhance Archicad. But we have no plans to lock up the data or the experience in a proprietary way in that ecosystem. We're still fully committed to OpenBIM, which was implied in the first part of your question.
---
Question: What AI and machine learning initiatives do you have
Huw Roberts: You'll see some hints in our demos, but I don't really want to let too many cats out of the bag too soon, as they say. I think what's interesting is not necessarily the examples, it's the approach to leveraging that technology. As we are part of the Nemetschek group, we have been investing in AI research and some start-ups, which have been great sources for us to learn and grow from. AI, machine learning, generative tools, sustainability, specialised analysis tools – there's a whole bunch of technologies out there that we could take multiple paths on how we use them. We could have our own AI, connect it and build it in and have it tightly tied to certain functions, like having AI make stairs for you. Or we could have our system connect to APIs that are out there on the cloud to do something. What we want to do is make sure that we have the flexibility in our software to pick each of those paths at the right time for the right function. We don't want to build it in so that we lock in and limit flexibility for how we use it, or how it progresses or which other system you're connecting to. We want to make sure we have the right technology interface so that we can plug that technology – and not just AI but any technology – into our platform and ecosystem as quickly, with predictable impact and as minimal risk on existing code as we can.
Graphisoft has no plans for Archicad as a SaaS, but definitely plans on leveraging the power of SaaS to extend and enhance Archicad. But we have no plans to lock up the data or the experience in a proprietary way

Huw Roberts, CEO of Graphisoft
---
Question: You haven't mentioned digital twins once? Are you avoiding buzzwords or did I miss it?
Huw Roberts: I am not a big buzzword fan although sometimes we have to use them as a shortcut. I think the digital twin idea is a fantastic direction for this industry. Again, at Graphisoft and Nemetschek, we are heavily investing in what this means and how we can do things for this.
There is a lot of digital twin 'washing' going on. In order to have a digital twin, you need the digital. A robust, intelligent, informed model to connect to the live systems and sensors and controls and, and all the other things. Our part in that equation is to make sure that we make that and that we are building this digital version which is robust and as connectable as possible. That means data architecture, it means APIs, it means connectors, it means protocols support, and we're already in a very strong place. We have a really great set of APIs and a bunch of different languages, we have a very strong and robust data architecture.
We are extending that with a new approach to our attributes and data management in Archicad 26 and this is where the 'digital' gets the twins up with something real. Our role is to focus on that. Now in the Nemetschek Group, we span the whole lifecycle of buildings, and we have a great sister company called Spacewell. They are very much focused on the operational part of the building, like how do you tie sensors and systems from the real world into this universe? We work with and have a great integration. But there's multiple sides to the issue, our responsibility and our commitment, and our focus is on how we make sure we have that digital container, and system and protocols to support that.
---
Question: What kind of speed benefit can people expect to get from Mac silicon version of Archicad?
Huw Roberts: Obviously Graphisoft is well known for being Macintosh friendly, and multi-operating system. There has been a significant change in the hardware side, on the Apple front with the M1 and now M2 and Ultra Apple Silicon processors. We have done a lot of work in re-architecting Archicad to make the most of these things.
I don't [know] offhand but yes, speed and performance is a big, big improvement with the new Mac hardware. We have the new Apple silicon support going into what we call a preview release in about two weeks. We expect the commercial availability that in Q4 of this year.
---
Question: Can you elaborate on your CDE strategy?
Huw Roberts: CDE is one of those buzzword terms, that means different things to different people. But as a Common Data Environment, there are a bunch of systems out there that architects, engineers, construction companies use to manage the information in the workflow of their projects, and they come from a whole bunch of vendors. Some are model centric, some are drawing centric, some are workflow centric, some are leaning towards construction, some are leaning towards an affiliation with a certain product. We see that the best path for our users is a great collaborative and information management platform, BIM Cloud. We look to connect BIM Cloud to as many CDEs that are out there. Because the reality is, regardless of what we do, our customers are going to find themselves in work environments where they must connect to all of these CDEs, either to just exchange information or because that's what's dictated by the owner, or their business partners.
Our strategy is to support that reality that they will all coexist. Just like OpenBIM, we must be open in our connectivity to all of them. Now we can add extra value of our own within our BIM Cloud and collaboration and support for our part of the ecosystem. We want to be able to offer some of those into some of these other broader ecosystem places. We've got a great sister company in Bluebeam, that has a lot of capability that we also integrate well with. It's really a very open strategy. We don't want to make a complete general CDE – that's not in our business plans – but we want to support our customers in managing and getting the most out of their collaboration and information in all of these contexts.
---
Question: Your biggest competitor killed perpetual licences and enforced subscription. You run a model which you offer, subscription or perpetual. Could you go on the record as saying that you will never enforce customers into a particular business of subscription or perpetual?
Huw Roberts: Our view is that if you look at Graphisoft, everything we do, we recognise that choice and options are critical. Subscription is the largest growing part of our business and there's a lot of demand and a lot of reasons why subscription is a good thing, but perpetual offers value in having the equity of your software. My mother told me to never say never but we have no plans, no expectations of forcing a business model change on to our customers.