---
Perhaps the most significant update to the IFC standard is the inclusion of extensions for infrastructure entities in IFC 4.3, as Emma Hooper, associate director and head of R&D at Bond Bryan Digital, explains
---
IFC has received many updates over the years. This year sees the finalisation of the much-anticipated IFC version 4.3, a major update of the IFC4 schema.
It's a significant milestone in the history of IFC and has been a huge team effort, involving many countries and organisations. Highlights of the updated standard include:
A more agile process and, for the enduser, full transparency of the live schema through development;
Updated IFC documentation (found online), with much clearer definitions and a new search function;
The inclusion of extensions for infrastructure entities – the most significant update and the main focus of this article.
From an infrastructure perspective, IFC provides that standardised digital language to be used throughout the facility's lifespan, as it already does for buildings. This will help to reduce the variation in conventions that currently exists across the globe (for example, in rail alignment).
Ultimately, it will mean wider collaboration and knowledge-sharing, particularly for cross-border projects. It gives a standardised method for information exchange and managing processes.
Despite the common perception that infrastructure is just 'a building on its side', it really isn't. It's so much more. Infrastructure, in fact, is what joins up the vertical world of buildings.
There is also a big focus in IFC 4.3 on the integration between IFC and open standards such as GIS (geographic information system).
Previous versions of the IFC schema could be used for infrastructure projects to a certain extent. IfcBuildingElementProxy could be used in lieu of any predefined entities, for example. However, fundamental updates to the schema were needed to make it more infrastructure-inclusive. These include alignment, entities with specific relationships, and a review of the overall hierarchy which was previously very building-focused.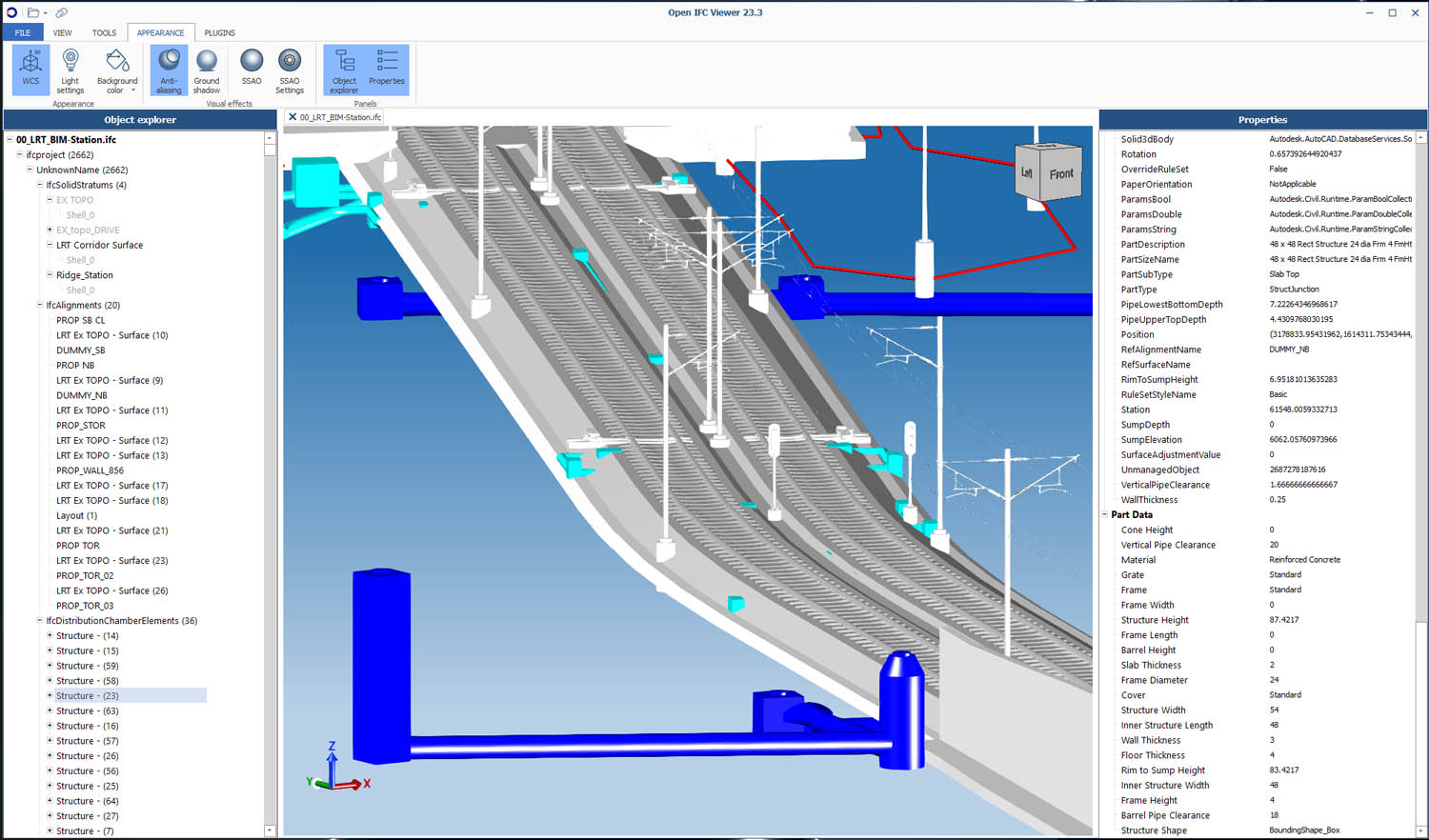 Work to date
IFC Alignment was critical to establish early on in the journey, in order to extend IFC into the infrastructure sector, enabling linear definition of horizontal assets, such as the centreline of a road, the kerbline or rail track. This allows offsets for associated assets to be defined, as not all positioning in infrastructure is carried out using Cartesian (x, y, z) coordinates. For example, an engineer can place street furniture such as a road sign a set distance to the right of the centreline of the road rather than giving the coordinates. Should the road profile move, the sign (and other elements such as lighting and barriers) can subsequently be repositioned according to that offset, and not by calculation of new cartesian coordinates.
Similarly, the use of an alignment definition helps where linear and vertical constructions intersect; for example, a road/railway bridge. The bridge construction is analogous to a building, where there are retaining walls and beams to support the deck – but all of this has to follow the profile of the road/rail that it is supporting. If engineers decide to move the road/rail, then through use of a shared alignment, the bridge moves to meet the new position of the road/rail.
IfcAlignment has been substantially updated during the development of IFC 4.3 from its early 4.1 release to reflect new considerations such as cant, segment, horizontal and vertical alignment (see box, Further Information).
The Infrastructure Room led a series of further collaborative projects involving industry specialists, owner representatives, software providers and buildingSMART experts. During the early definition of requirements for infrastructure extensions IFC rail was identified as a substantial domain and due to large engagement from the owners was spun off into a separate Railway room. Significant work also took place between the Infrastructure and Railway rooms, focused on defining common schema elements such as embankments or drainage.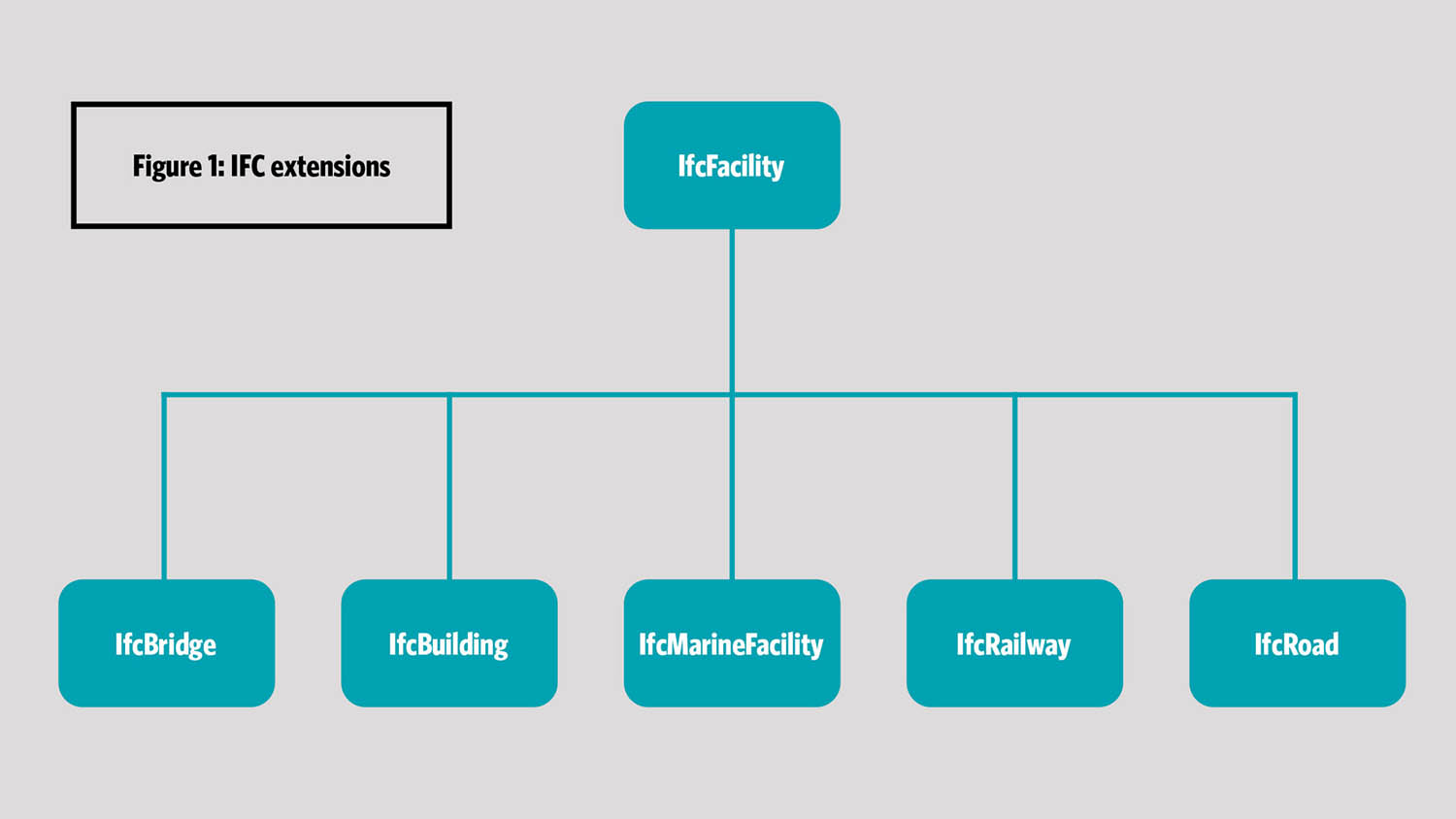 A final necessity was to also modify the vertical extensions. One such update is that IfcBuilding has been moved down the hierarchy and replaced by the new entity IfcFacility, as seen in figure 1.
Only the start
This is only the start, and the work will keep developing. Further work on the IFC Tunnel project is underway, as well as work to improve the interoperability between IFC and geotechnics to make use of the XML data from geotechnic models, in particular OGC Geoscience Markup Language (GeoSciML). There is also work underway on aligning properties and feeding into data dictionaries and developing more extensions.
In order for IFC 4.3 to be finalised as a builidngSMART standard (hopefully by Autumn 2022), a final project is underway for the development of the base MVDs (model view definitions) which enable the IFC schema to fulfil defined exchanges, to enable consistent implementation within software and subsequently for software to be certified against the schema.
Software vendors have been part of the IFC 4.3 process throughout; for example, Autodesk Civil 3D has beta support for IFC4.3 import and export available, which can be updated to meet agreed exchanges once the MVD project is finalised and certified accordingly.
A further dependency necessary before clients can confidently specify IFC 4.3 for project information exchanges is for it to complete its ISO 16739 approval. This process is currently underway and is expected to be completed in 2023.
The IFC 4.3 series of extensions has been a huge collaborative effort that has led to some owners in Europe and China preparing to adopt it.
For example, in the European rail sector, the likes of ÖBB of Austria and SBB of Switzerland have been very active, as has the China Rail BIM Institute, where there is a plan to complete 30,000km of high-speed rail investment in a timescale an order of magnitude faster than has been achieved before. By adopting standardisation of rail element definitions, which IFC 4.3 provides, these owners and their projects can reduce risk through greater consistency and reliable exchange of information.
There is a huge opportunity in the UK to utilise IFC4.3 for infrastructure. To date, IFC 2×3 has been successfully trialled on larger infrastructure projects, such as Hinckley Point C and HS2. With the introduction of infrastructure-specific definitions, these pilot benefits can increase substantially. In fact, due to how infrastructure projects are procured using alliances and frameworks, there is the opportunity for the infrastructure community to really embrace IFC and take it to new levels.
Over the next 18 months, the official release of IFC 4.3 and its ISO certification will be the catalyst the industry needs to move from trials with the IFC 2×3 schema to infrastructure helping to lead the way. BuildingSMART UK&I sees itself as fundamental to helping the UK and Ireland in this transition.
Acknowledgement: Author Emma Hooper would like to thank Marek Suchocki, global business development executive at Autodesk and Lawrence Chapman, lead information manager on HS2, for their input on this article.
---
Watch Emma Hooper's NXT BLD 2022 talk on Information Models and the future of IFC. Register here
---
The IFC timeline
The following dates indicate roughly when work was finished, but it's worth remembering that each task took many years of hard work to complete.
2011 – IFC for infrastructure project is conceived
2013 – BuildingSMART InfraRoom is established
2015 – IFC Alignment is developed and published as IFC 4.1
2016 – Collaboration with Open Geospatial Consortium (OCG) brings alignment between the IFC and GIS schemas (in particular OGC LandInfra / InfraGML)
2017 – IFC Alignment is updated as IFC 4.1 v1.1 2017 – Work is undertaken to update parts of the existing IFC schema that share common definitions with infrastructure
2017 – BuildingSMART Railway Room is established
2018 – A common schema is established to harmonise IFC 4.3 infrastructure extensions
2022 – IFC extensions are developed for IFC 4.3, including IFC Rail, IFC Road, IFC Bridge and IFC Ports & Waterways (IFC Tunnel IFC 4.4 extension is currently in progress)
2022 – BuilidngSMART International final IFC 4.3 standard is established
2023 – ISO 16739 release 3 status expected for IFC 4.3
---
Further information
If you would like to understand more about the technical aspects of IFC for infrastructure, this whitepaper is also useful.
---
Click here for more information about buildingSmart UK & Ireland.
---
This article is part of AEC Magazine's

IFC Special Report – Enabling interoperability in the AEC industry.
To read the other articles in this report click on the links below.
Industry convergence
From sustainability to new business models, and from wellness to emerging technologies, IFC can be a force for good, driving the AEC industry to new levels of achievement
Inside buildingSMART
What is buildingSMART and what can it offer industry practitioners?
IFC: what is it and why is it needed
Emma Hooper, Associate Director and Head of R&D at Bond Bryan Digital, provides a useful overview of the IFC data model specification
Native OpenBIM, and the rise of open source in AEC
OpenBIM can deliver on the promise of a digital world for the built environment where information and data are truly valued
IFC at Hinkley Point C
By Tim Davies, digital engineering manager, BYLOR JV – Hinkley Point C
Tackling the Gen Zero Project
The UK Department for Education's Gen Zero project showcases how IFC can be used as the underlying data standard for a large, complex project, from start to finish
buildingSMART certification
By Phil Read, program lead at bSUKI and managing director, Man and Machine