Revit has predominantly occupied the design / documentation space of BIM. Strucsoft extends its capabilities to driving fabrication through several applications covering timber/steel framing, floors, trusses and CNC fabrication.
---
Montreal-based Strucsoft certainly falls into the category of developing expert systems. Its flagship applications have typically worked inside Revit, turning low-fidelity models into highly-detailed frame-based designs. Called Metal Wood Framer (MWF), the platform offers, as you would suspect, a structural system for automatically producing wood or metal framed designs.
North American residential is very much based around timber frame, while metal framed construction has been increasingly popular in the last decade. The drive to 'mass timber' has also seen an increase in timber frame to meet low carbon building needs.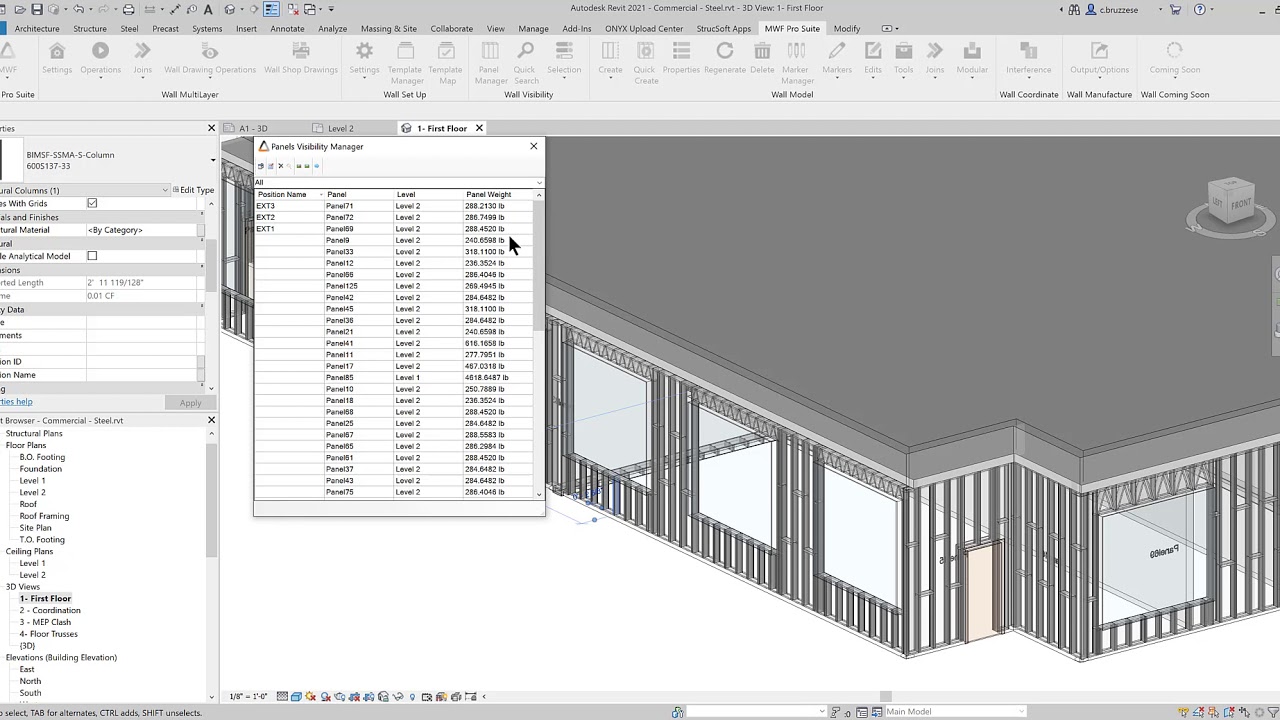 Strucsoft predominantly sells to engineering firms, contractors, sub-contractors, design build firms and component manufacturers (off-the shelf building products). With the move to off-site construction, frame-based design is spreading globally as it's easily digitally cut and fabricated.
Extending Revit
Being based in Revit, the advanced flavours of Strucsoft's framing tools provide a lot of deep fabrication detail, automatically converting Revit components to frames.
With all disciplines included, Strucsoft does clash detection between elements and automates the production of framing components. This benefits co-ordination and saves clients' money by minimising alterations on site.
The MWF comes preloaded with libraries of standard components from manufacturers, accurately models connections such as bracing straps and hangers (as well as ceiling, roof layouts frame trusses, soffits and floors) and produces full BoMs (Bill of Materials). There's also an MWF module for SIPS (Structural Insulated Panel) including placement and numbering.
While Revit was never intended to drive CNC (Computer Numerical Control) machines, Strucsoft's MWF CNC module can send wall, floor and truss fabrication information to light gauge roll formers, wall panel machines, as well as automated wood saws.
There is also a module to import from DXF and AutoCAD, as well as popular MCAD tools Solidworks and Autodesk Inventor. Alternatively convert design data to DSTV CNC format, which can drive drills and plasma cutters. Strucsoft also has a free viewer for DSTV files.
While timber frame and, to a degree, steel frame, are still non-standard construction formats for residential housing, especially in the UK, the move to mass timber and pre-fabricated modular design is already driving increased use of these methodologies into the next generation of construction.
Strucsoft's latest product is called Onyx, a cloud-based production management tool which manages all the jobs, panel data, shop drawings, CNC code etc.
Designs that started in Revit are taken into the cloud and Revit is no longer required to edit, view, update or sequence. The aim of Onyx is to manage the whole downstream manufacturing process.
While Strucsoft still relies on Revit for the initial design the move to the cloud liberates it from the limitations of Revit file size and speed and low utilisation of GPU. In many respects Onyx is the next generation platform for the company.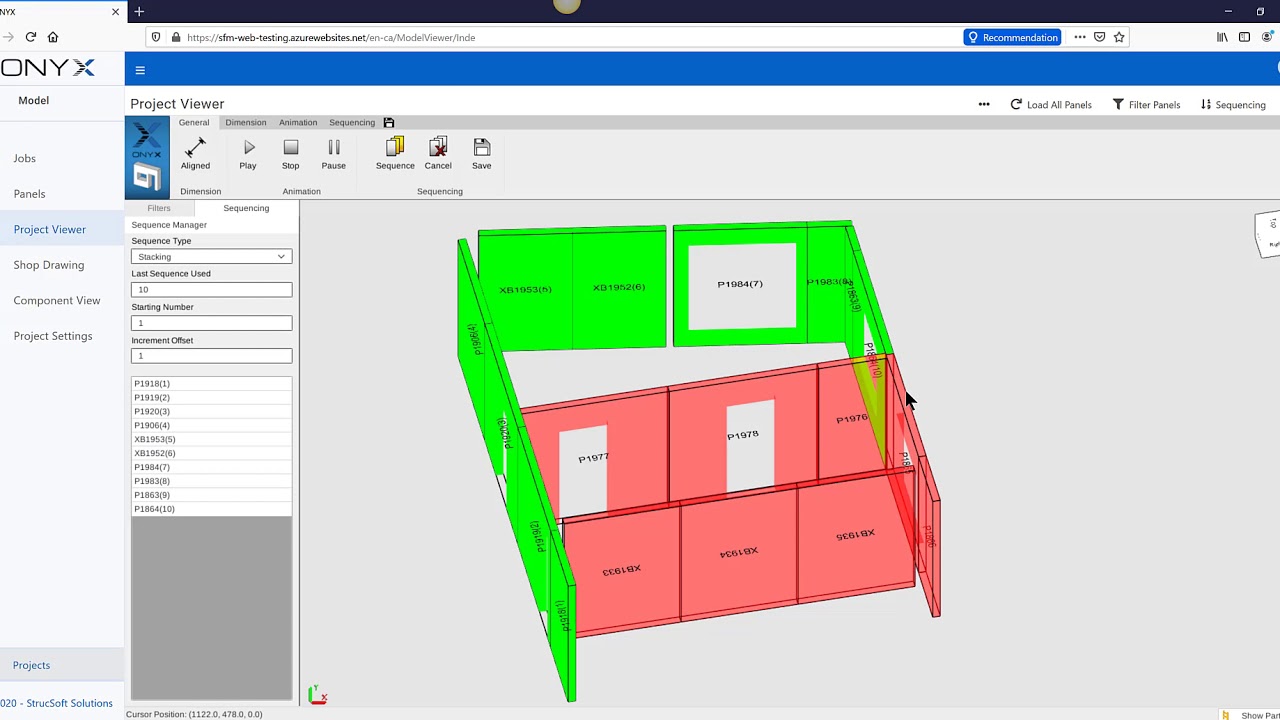 Strucsoft's view
AEC Magazine talked with Byron Starnes, EMEA & VDC director at Strucsoft Solutions.
We asked Starnes what types of companies Strucsoft usually sells to. He explained, "On top of our actual software and the products we offer, we also offer our services for construction, usually principal contractors or, as they say in the US, general contractors, in creating the digital designs for offsite construction – essentially creating framing systems from the architect's work, producing the fabrication drawings, manufacturing outputs and coordination as well."
As we are seeing, DfMA (Design for Manufacturing and Assembly) is being picked up by fabricators and modular / offsite firms, not by architects, which creates a problem if there is to be a 'design' for manufacture process.
Starnes agreed, "I think it's a two-pronged problem. The architects are kind of out of the loop and, for the manufacturers, their vision is narrow. The best scenario I've seen, is where you involve the manufacturing team, the detailing team early on in the coordination process. We can't expect architects to account for the precision and accuracy that a model built for manufacturing would have. I think that would be unreasonable, except for very, very select circumstances."
While Strucsoft relies heavily on Revit early in the process, the level of detail and file size creep make it too cumbersome downstream for a manufacturing model. We asked Starnes about the capabilities of the new Onyx system.
"This is our cloud-based solution that we're developing. It is commercially available now, although it's still under heavy development. Onyx takes a framed model up into the cloud and from there, you can then start to sequence the steel that that's going to be rolled, or wood to be cut. You can then start creating your panel bundles, you can assign specific machines to certain parts of the construction process. You can examine each and every connection.
"Onyx allows us to better focus on the process. With MWF, we produce our fabrication drawings, we produce manufacturing outputs. But where does it go from there? How do you control your factory? What goes where? What steel gets placed? How do you track it when it goes off site? How do you know that panel has been delivered?
"All of this ties into what we do. With Onyx, now we can start to tie those loose ends. Our future is a lot of focus and energy on the cloud, and on our onyx platform, and just a better overall manufacturing solution for our clients."

Conclusion
It's interesting that from having an initial North American focus, and catering to North American building styles, Strucsoft's knowledge is actually going to be ideally applicable to offsite digital preconstruction pretty much everywhere.
Strucsoft operates in the grey zone between BIM and fabrication, having to take low detail architectural drawings and produce detailed fabrication models and CNC code. The move to the cloud gives the company the opportunity to connect design and fabrication teams, as well as overcome some of the limitations of our current generation of design tools.