Twinview is a configurable browser-based digital twin platform designed to extend BIM into the property sector, connecting data from real time building systems to a 3D model view on a single dashboard.
---
When it comes to digital twins, one might have assumed it would be one of the big software companies that would democratise the technology. After all, large global firms have all the resources, access to millions of customers, deep pockets and long arms.
However, to date, the most accessible and obvious contender for a rounded digital twin 'product' comes from Newcastle upon Tyne in the UK.
Space Group is one of the few architectural practices that truly understands that programmers can solve problems in construction, and if it can develop something which benefits its business, it will probably be useful to others too.
Space Group's Twinview is a cloud-based digital twin platform which works with data from most construction applications. While it started out life in the UK, since its launch in 2020 it has gone global, with resellers in Australia, New Zealand, Vietnam and Portugal.
The initial feature set was directly targeted at Facilities Management, which we explored in this 2020 article.
However, over the last 18 months it has expanded to also focus on carbon reduction and helping owners understand how buildings are actually used.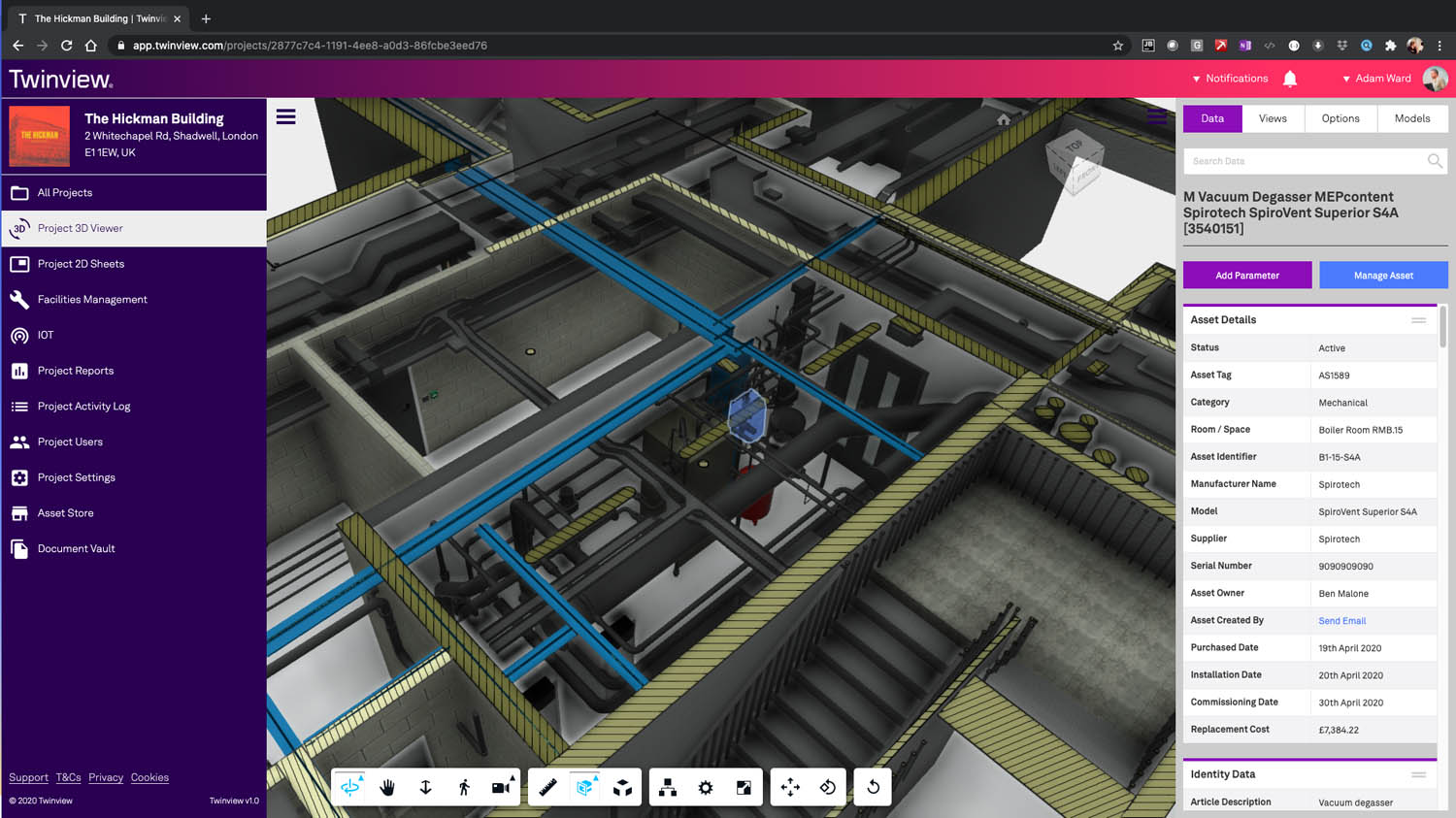 Lots of commercial clients are now becoming really concerned by carbon output. Real estate investment trusts are looking at environmental, societal and governance aspects. Shareholders want to see increases in efficiency and reductions in carbon before they invest.
This means that the buying audience for digital twin technology is not so blinded by the hype but has very definite definable outcomes to monitor performance for deploying twin technology.
Last year, Internet of Things (IoT) connections to Twinview were still experimental but now the company has a number of clients with its Building Management Systems (BMS) wired into Twinview services. We asked Space Group's Adam Ward how definitive IoT devices were to saving money for clients.
"We know, at a device level, at a room level, at a floor level, on a building level, on a portfolio level (which has multiple buildings), all that data. With Twinview, everything we do is based on building the data from the asset level up. For example, if we have a sensor on a boiler, we'll have temperature, water flow rate etc. That data streams on an asset level, that asset belongs to a room, that room sits on a floor level, that floor level sits in a zone, that zone sits in a building, that building sits in a portfolio of a building. Because we have that data structure, we can look at all the energy use in the kitchen, on level seven, down to a particular asset."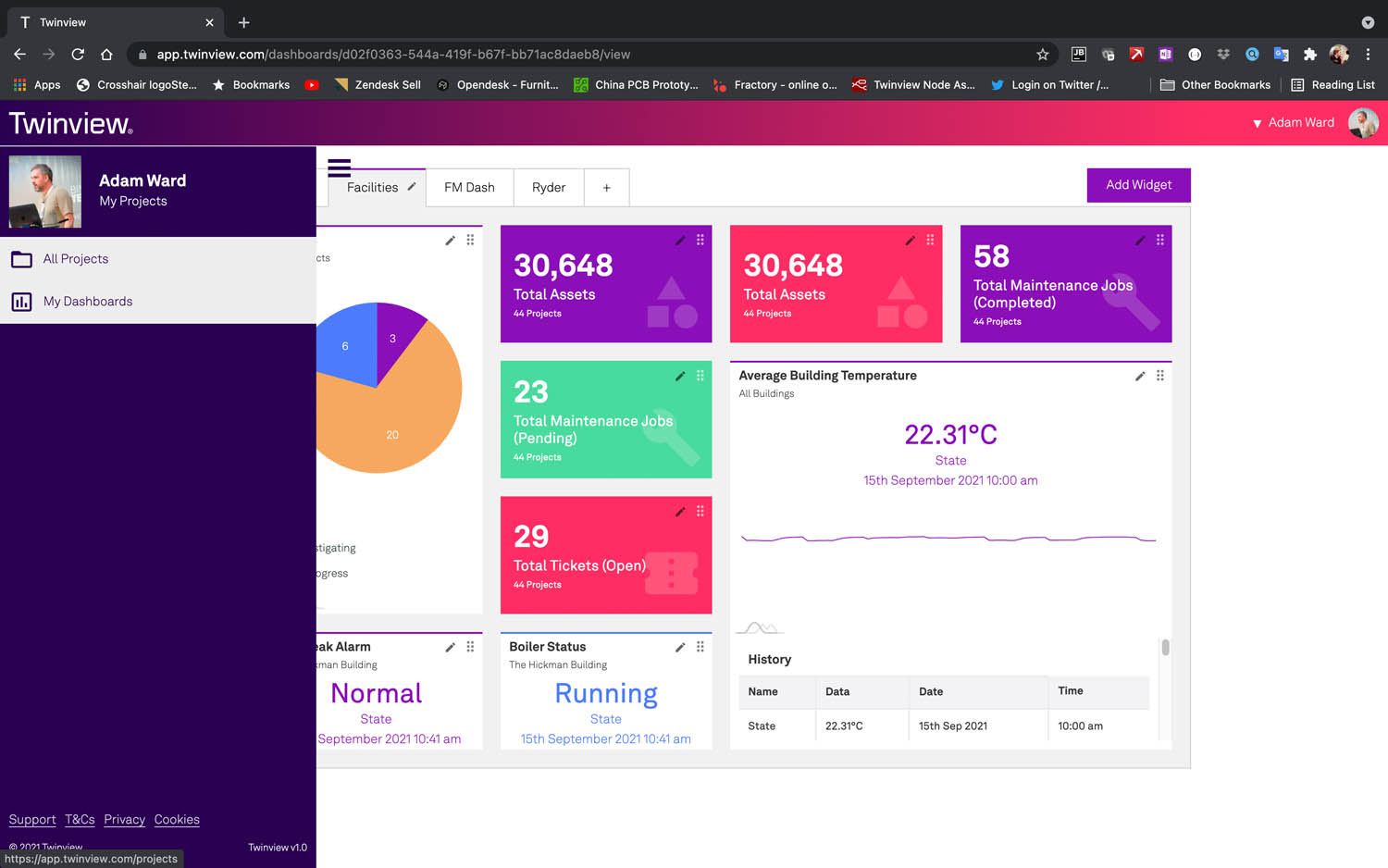 Most new builds are now coming with BMS built into many of the key components – boilers, heating and ventilation systems. The problem is that, traditionally, access to the sensors has been locked away and, apart from servicing, if there is an issue, it is only identified when something goes wrong.
Twinview can be wired up to these systems through APIs, to get data across all assets in a building, even controlling the devices as well such as turning valves on or off.
Ward was quick to highlight the benefits of this, "We can hardwire your triggers so if the temperature drops below 20° in our node assistant engine, we can create a rule that automatically raises a ticket to alert facilities management." "The real super value is doing something with this data," explains Space Group CEO Rob Charlton. "At the moment, it's static in that we're using it to turn things on, turn things off, looking at performance.
"In a couple of years, or sooner, there will be some really interesting machine learning around the autonomous controls on buildings. We are working on it now with universities. It will be basically merging building performance with building usage, to learn from the building and use AI to optimise it. Ward added, "We are already able to see when there is a 97% chance that the boiler is going to break in the next six months. We know the failure curves from many of the manufacturers.
"These will tell you that if you run a boiler at 30 degrees at 90% capacity for more than 24 hours a day, its failure rate is 'x'.
"If you take that failure rate data and combine it with how the assets are maintained and used in the building, information available through our FM system, then you can train a machine learning system to make failure predictions."
New features for 2021
Capture is the fourth module within Twinview – the others being Access, Manage and Analytics. It is designed to replace the manual and error-prone process of defining, collating, and validating asset data. Firms first define who is responsible for what data and at what stage. The system then emails the consultant a login to populate their data as defined in the AIR (Asset Information Requirements). Capture then validates that the data is correct, provides reports capabilities and audit logs and can output BS1192:4 (COBie).
Document Vault is a new Common Data Environment (CDE) for documents and Operations and Maintenance (O&M) information, whether associated with an asset or not. If a document is associated with an asset it can be tagged, meaning it then appears as an asset attachment in Twinview. This could be a test certificate or warranty.
Field app is an iOS and Android app which brings the desktop capabilities to mobile. It's possible to raise tickets and attach photos. Users can get asset information on demand filtered by their location, or with QR codes, and even access data streams.
Dashboards have been improved. In the first release they were only able to show data on a single project. Users can now create their own dashboards for their own requirements and can include data sources from multiple projects. There's a widget library to quickly create bespoke widgets for dashboards too.
QR codes can now be created on the fly and these can be printed off and put on every maintainable asset within building. It's then possible to use your mobile device to scan each asset and pull up relevant documents, performance, maintenance history etc.
Bluetooth Beacons are now supported in Twinview. There will be instances when assets are not accessible or within reach of a QR scan. When placed in a room each beacon makes Twinview mobile instances self-aware and you can get information streamed to your phone about all assets near your position.
Database enhancements are designed to make the system more efficient. With the ability to be connected to so many live IoT devices, which collect and store data every second, 10 or 20 seconds, any database could soon become bloated. Twinview gets around this by only storing data when it changes.
Conclusion
Twinview's development is progressing at quite a pace. While it was initially aimed at facilities managers, it has diversified dramatically into a platform for many building performance and monitoring needs, digging deeper and wider as customers give their feedback. It's interesting that traditional facilities management has been slower to climb aboard the digital twin bandwagon, with areas such as energy efficiency and carbon emissions starting to drive feature development.
It's worth pondering just how far ahead Space Group is with its Twinview functionality versus Autodesk's Tandem. It's like night and day.
Talking with Rob Charlton and Adam Ward, their enthusiasm for machine learning and AI is infectious. It doesn't sound like we're all that far off a time when computers, our benevolent overlords, will be running building operations autonomously.
---
Space voyage – becoming a software developer
Rob Charlton, the CEO of Space Group, explains how the North-East architecture firm accidentally morphed into a software developer
In my early career as an architect, the most significant innovation was the advancement in Rotring pens, from the bottled inks of Isograph to the cartridges of Rapidograph.
At Space Architects, it was only with the introduction of parametric software in the early 2000s that we started to experience exponential change. And, ever since, we've been using technology to find new ways to design better buildings with more predictable outcomes.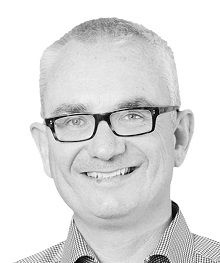 Technology quickly became such an integral part of what we do, that it led to the formation of Space Group, a design and technology business focused on the built environment, which also includes Bimstore, BIM Technologies and, more recently, Twinview.
At Space Architects we originally used parametric software to address a resource shortage in the industry. After being asked regularly for advice on using software and other emerging technologies, we then launched BIM Technologies, one of the first BIM consultancies globally.
Our architects were also struggling to find manufacturer content for their models, which led to the development of bimstore.
We realised we were entrepreneurial, but we did not plan new businesses; instead we were interested in improving processes that became a service and, ultimately, a company.
The market has generally driven the need for separate businesses. Within the group, however, we operate as a single team. The individual companies compartmentalise what we do for the outside world to understand.
Internally we call this One Space, where the value is when we connect everything.
Not all software or processes we have developed have become businesses. For example, in 2014, we developed Warboard, an issue management tool still used by the BIM Technologies team every day.
In 2007 we launched Digital Synergy, our strategy to connect data in a single model for continued improvement in design, construction, and operation.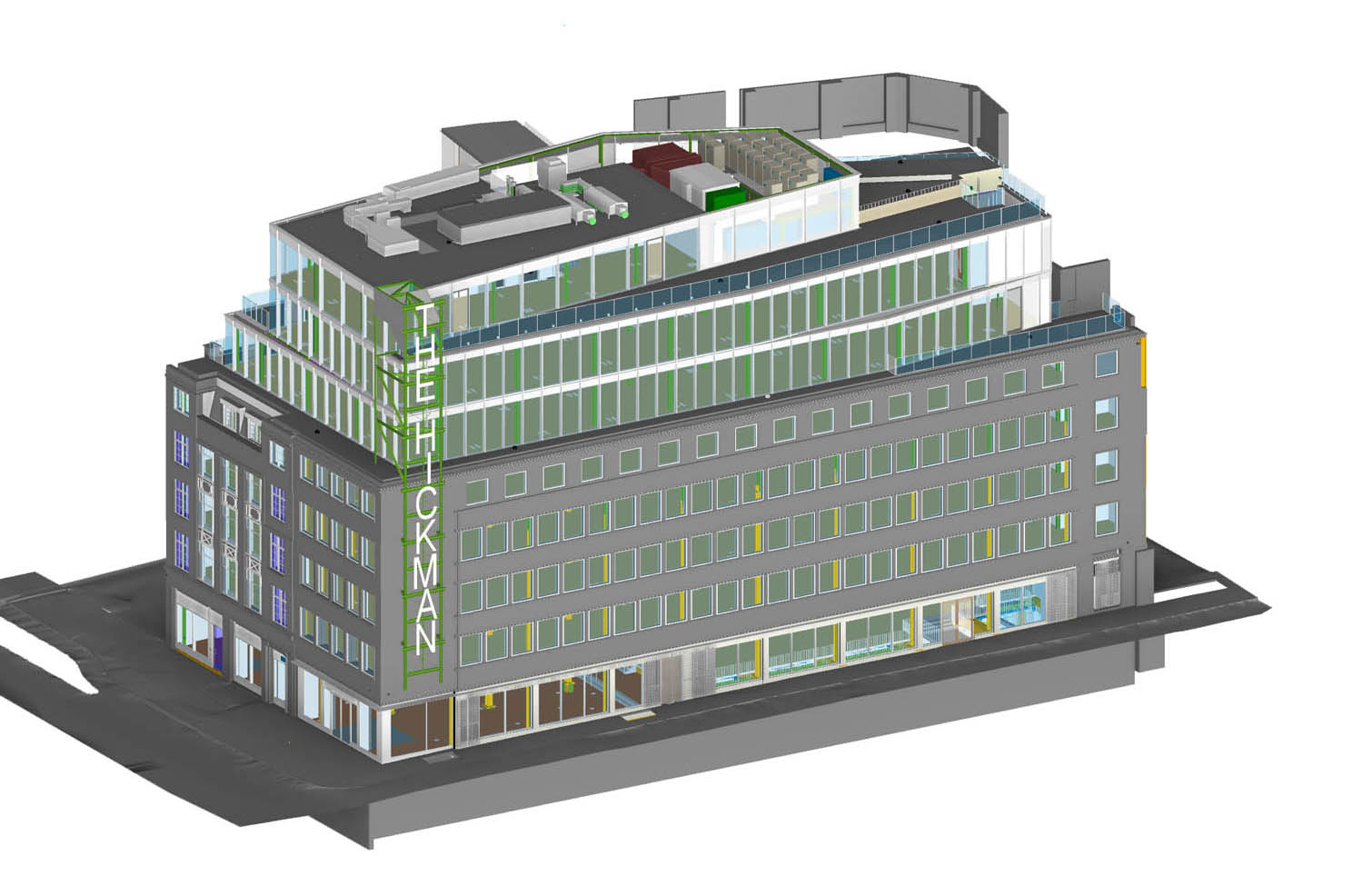 From BIM to digital twins
We quickly foresaw the value of collecting data through the building lifecycle, which became the driver for developing our digital twin platform, Twinview, which launched in 2019. Twinview is a browser-based platform providing access to models and data collected through design and construction. Having consistent data that can be connected to existing Building Management Systems enables design models to become a digital twin.
As with bimstore and BIM Technologies, Twinview is now a business in its own right. Fifteen years after its inception, the Digital Synergy strategy is now a reality.
The data collected during design and construction is now used in the operational stage allowing property owners to optimise their buildings whilst improving future development.
Our current focus is to use Artificial Intelligence to learn how our buildings operate to predict and optimise performance.
We have certainly come a long way since the invention of the Rapidograph. While the role of the architect might not have changed much since the 16th Century, the way in which buildings are designed and delivered is barely recognisable – from complexity and culture to procurement and (especially) technology.