For the launch of HP's new 36-inch DesignJet printers, Greg Corke caught up with HP's Daniel Martinez to talk security, multi-media workflows, sustainability, and the trend to decentralisation
---
Speed increases are a given for any new large format printer, and HP's latest DesignJets – the T850 and T950 – deliver significantly more A1/D prints per hour than the T830 they replace (90 and 120 PPH, compared to 82). But throughput didn't even get a look in at the launch event at HP's Palo Alto headquarters. Instead, the spotlight was very much on productivity, security and what HP is doing around sustainability.
The HP DesignJet T850 and T950 are large-format technical printers designed to serve small workgroups of around ten architects or engineers. Both models are also available as multifunctional printers (MFP) with built-in scanners.
The HP DesignJet T850 and T950 offer a single roll of media, up to A0, but the real innovation comes when handling A3-A1 documents.
"What used to happen, especially in small offices, they were printing the A1s on the large format printer and the A3s on the laser, but if you look at the results, they're completely different. You don't get the level of precision on a laser that you get on an inkjet," explains Daniel Martinez, general manager, global head of large format printing, HP.
---
Find this article plus many more in the September / October 2023 Edition of AEC Magazine
---
HP went some way to solving this issue a few years back with the DesignJet T830. The MFP supported A3 and A1, but the user needed to manually select media for each print, which took more clicks. There was also no automated stacking, so A3 and A1 prints fell into the same basket requiring manual sorting.
The new DesignJets offer what Martinez describes as seamless printing across A1 and A3. You can send different types of files at once and you don't need to specify the media size.
The software automatically selects the right paper (A1 from a roll and A3 from a tray), and the prints are then sorted and stacked (N.B. sorting is standard on the T950 and an optional extra on the T850).
This streamlined workflow only works with PDFs. Any number of PDF files can be dragged and dropped into the 'HP Click' desktop application and, with a single click, the software does the rest. HP Click is available for Windows, but a Mac OSX version is in development. According to HP, it's significantly easier to print PDFs with HP Click than it is with Adobe Acrobat or Reader.
Users can also print direct from CAD applications using the standard HP DesignJet driver, but that needs more clicks and automatic switching is not supported.
---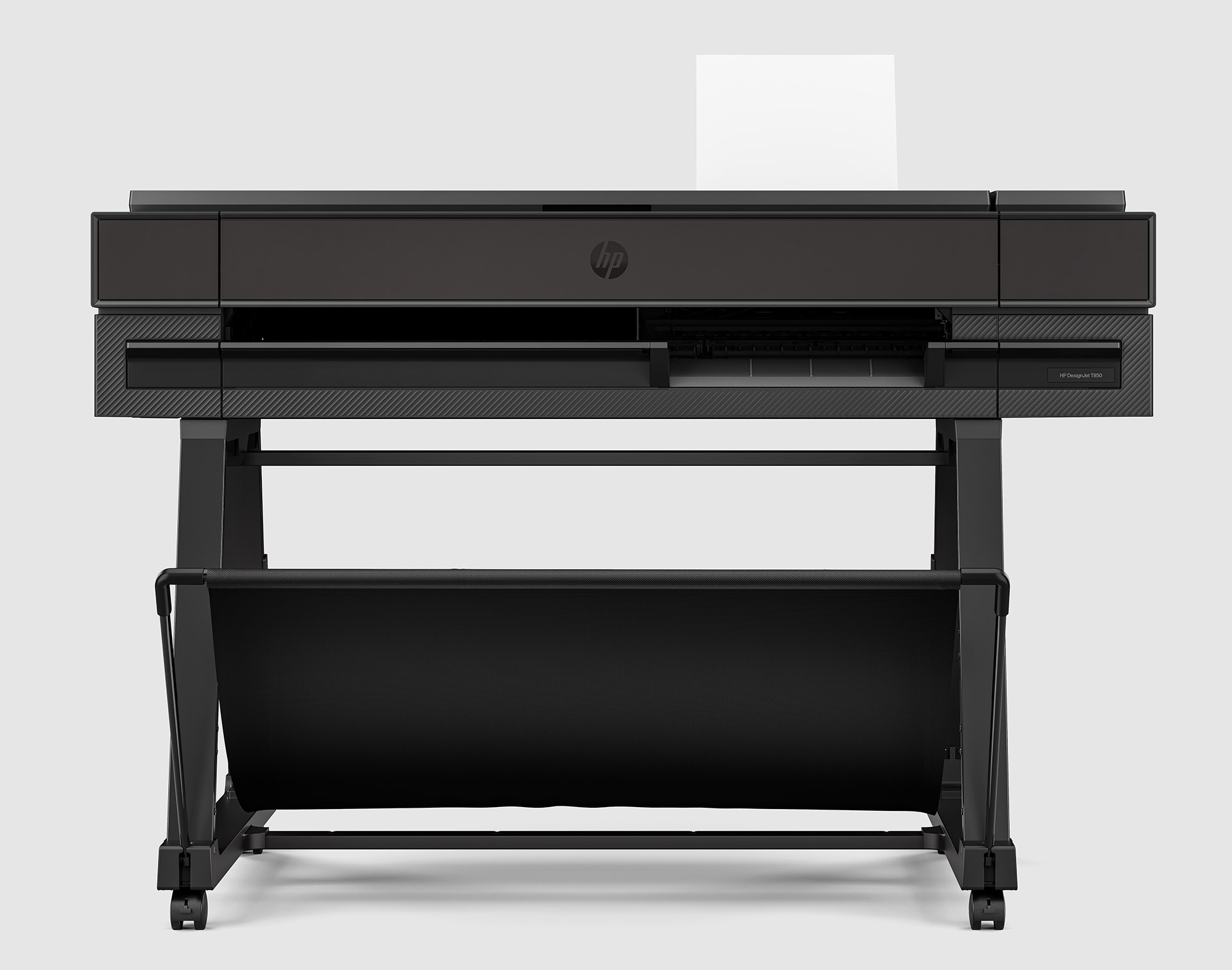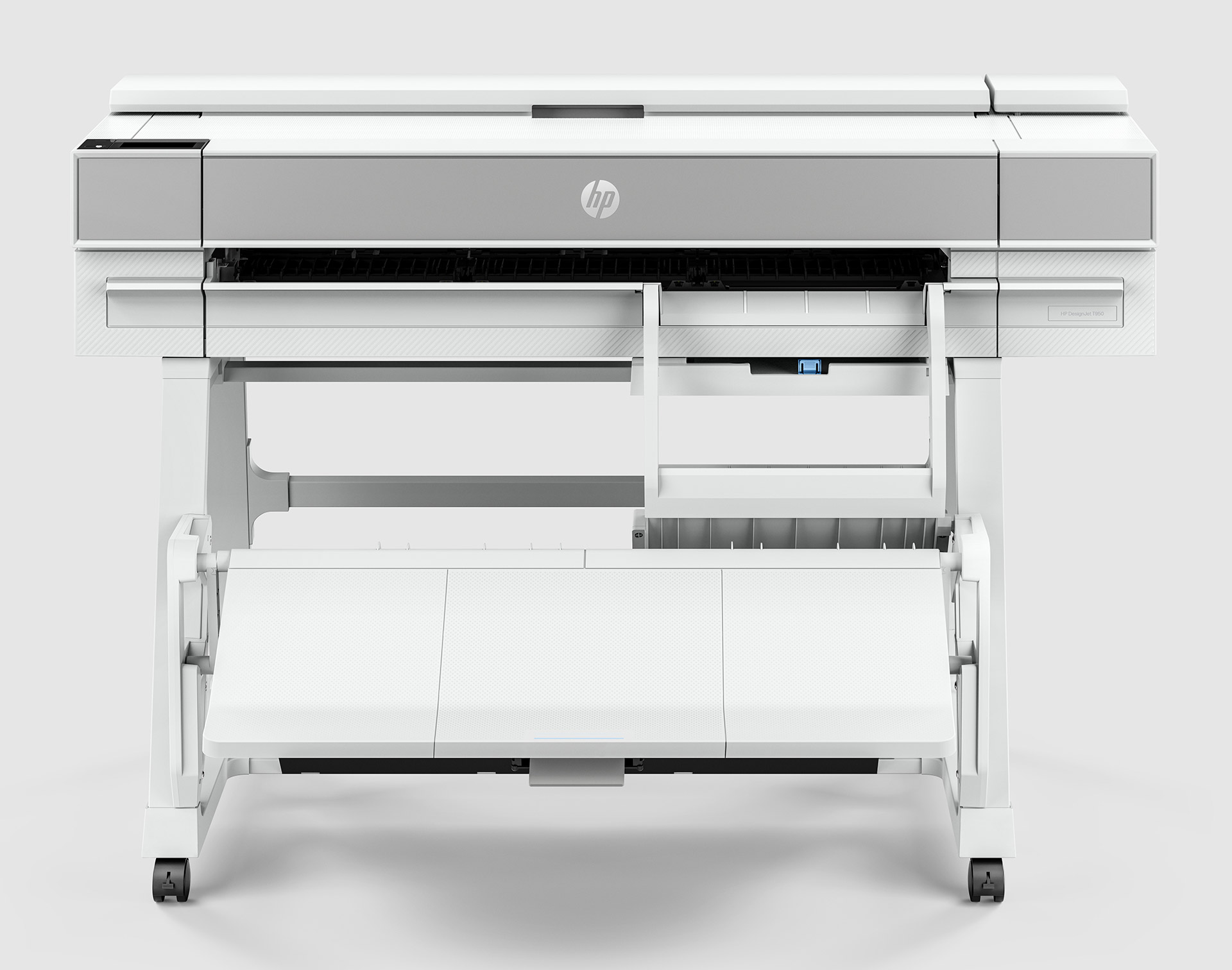 Security
Security is a rising concern in the AEC sector. Indeed, a recent survey by Egnyte and Dodge Construction Network (DCN) found that 59% of design and construction firms had experienced a cybersecurity threat in the last two years.
The DesignJet T850 and T950 are the first large format printers to have HP Wolf Security protection built in, for 'endpoint protection and resiliency'. The same technology is used in HP workstations and laptops, which are obvious targets for attacks, but as Martinez points out you're only as strong as your weakest link.
"69% of IT managers tell us that they don't necessarily think about large format printers as a potential risk. And a lot of these machines are going to SMBs that don't really have an IT manager, so therefore it's even more important for us to make the products more secure, so that they don't have to worry about it," he says.
"With HP Wolf, we're basically moving from a defensive play which is trying to avoid these attacks, to now being able to detect an attack because we're monitoring the network from the device. And those cases where the threat actually reaches the printer, we're able to isolate that threat, and the printer will automatically reboot into a secure state."
Sustainability
Printing is very much in the spotlight when it comes to sustainability, and HP is addressing this both in use and in the manufacture of its printers. The DesignJet T850 and T950 are part of HP Forest Positive, a partnership with the World Wildlife Foundation, as Martinez explains, "All the prints that are printed through our printers, we're restoring and managing forests for that and that's critically important for architecture firms who have sustainability goals and are at the forefront of that change.
"The printers are also made from 40% recycled plastics, on the device. 80% of plastics that are visible to the end user are recycled. We've renewed our packaging as well to basically remove all plastic bags, so now paper bags," he adds.
Decentralised printing
When COVID hit, many AEC firms were forced to abandon established paper-based workflows and accelerate adoption of digital for processes such as design review and mark-up. But how did this impact the business of printing?
"Definitely there's a trend towards digitization," says Martinez, "but at the same time, paper isn't going away. What we've seen is more of a decentralisation of printing, and rather than printing all of your plans where you would have packs for registration, for archiving and so on, that part has been impacted by COVID.
"On the other hand, we've seen a lot more of architects were at home, so they were buying devices to have at home and those devices are still there."
"There's definitely a need for large format printers when it comes to collaboration, when it comes to meeting presentations, that sort of thing. We're seeing demand changing from very high-end units that were printing very high volumes to more decentralised printing. We're also seeing a lot more printing on the construction site. OK, so lower volumes per job, but the equivalent amount of pages."
---
The HP DesignJet T850/T950 will be available at the end of October. HP has also launched the HP DesignJet XL 3800, which is designed for high throughput environments including copy shops and enterprise architects. The dual roll printer and scanner offers six colour A1s per minute and first page out in 20 seconds.