Monitoring the progress of a large data centre using reality modelling helps keep everyone on the same page and prevent a gas line rupture
---
Minneapolis – based Mortenson is a construction company with over 67 years of experience in construction, solar energy, and infrastructure. In May 2018 the company was hired as a general contractor for a data centre project in Eagle Mountain, USA. The data centre currently consists of three buildings, each of which will be approximately one million square feet when finished.
Working on a large project like this inevitably has its challenges. Obstacles such as planning and logistics, dangerous underground utilities, site progress tracking, and lack of up-to-date data are only a few of the issues Mortenson's team has faced.
Expansive site
As the site is spread over 500 acres, this presented a logistical challenge for Mortenson and its trade partners working on the project. On top of that, construction of the three buildings did not start at the same time which made it harder to monitor project progress.
The solution was to do this from the air, so Mortenson flew a DJI Phantom 4 RTK drone to capture the site. Around 1,200 – 1,400 images were taken each week and processed in the Pix4Dcloud platform to generate a reality mesh.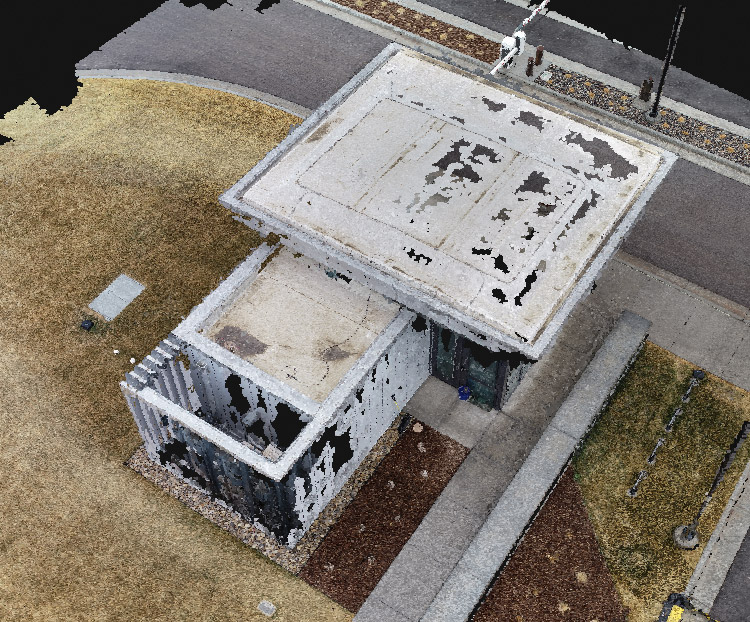 "Pix4Dcloud is helping us to remotely track the progress of each building and to share it easily with the trade partners over the cloud, as each building is at a different stage of construction. We also use the data from Pix4Dcloud during briefings to specify who needs to work where. Logistically, it worked out very nice that way," says Ryan Fluckiger, senior integrated construction coordinator and reality capture lead at Mortenson.
Tracking site progress and planning
The project's general contractor, Mortenson is responsible for overseeing and coordinating construction. and keeping everything on track.
"We use the Pix4Dcloud data to verify that the project is progressing according to the schedule," explains Fluckiger.
"Being able to plan and weekly track the progress of the project has been invaluable to our superintendents which are coordinating and planning the work."
As this is a big project and the team is moving millions of cubic yards of earth, small miscalculations can have great consequences. That's why the Mortenson team is constantly keeping track of cut and fill volumes of stockpiles.
"Within the Pix4Dcloud software we can verify how much dirt we have moved, before and after, if everything was correct or we miscalculated – pretty fast and hassle-free," comments Fluckiger.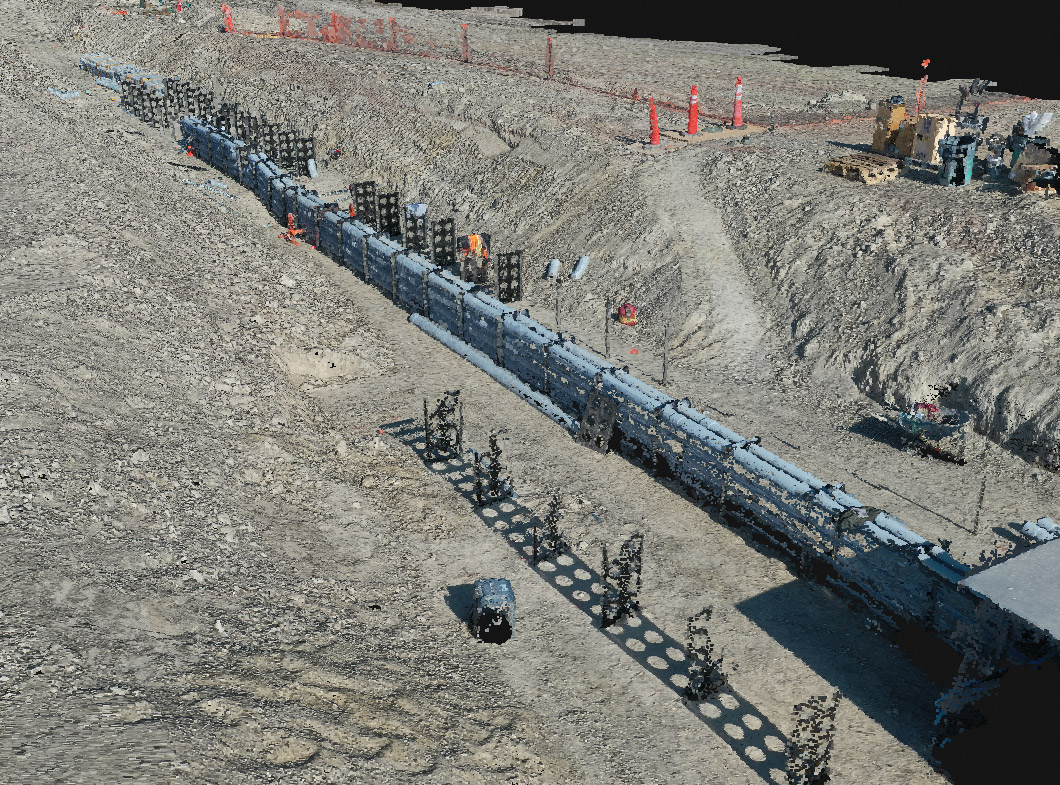 Project collaboration
Throughout the project lifecycle the Mortenson team works with different subcontractors and for every single one, having up-to-date information of the as-built is important to be able to complete the job.
The trade partners use the project data delivered from the Pix4D platform to verify their work and to avoid encountering underground utilities while the owner of the project keeps an eye on the overall progress.
Working with many subcontractors requires the Mortenson team to be able to properly track the work done by each subcontractor so that they can get paid for what they did respectively. For example, the team used Pix4Dcloud to check the installation of fences on site.
Utility detection
To ensure the safety of the general public and construction workers, it is crucial for the Mortenson team to locate and avoid damaging utility lines before starting any groundwork.
That's why Mortenson's team was very careful with the underground utilities of the project and was verifying their location within Pix4Dcloud. "On a weekly basis, the superintendent was overlaying a CAD file with a utility map on top of the orthomosaic and sharing it with the trade partners online," explains Fluckiger.
The superintendent was overlaying a CAD file with a utility map on top of the orthomosaic and sharing it with the trade partners online. They could see right away where the utilities are on-site and avoid encountering them
"They could see right away where the utilities are on-site and avoid encountering them. This was happening while they were planning or digging on-site."
In 2020 while excavating the site, damaging a gas pipe could have cost people's lives. "The subcontractor company received a CAD file and was told that it contained the latest data of underground utilities, but it did not. Luckily, by using Pix4Dcloud they were able to see that some lines looked like gas, which was subsequently confirmed on closer inspection.
"If the gas line was not spotted in time, anything could happen – from explosion to severe injuries," adds Fluckiger. "This is not only a hazard to people working around but it could disrupt the service because we have a live data centre on-site. That would shut down all the utilities. It would cost money and time but also people's lives which is the worst outcome."
To further verify utilities, the Mortenson team is exporting the point clouds to Navisworks. "The process is fairly easy – click, download, and upload to Navisworks. It takes a couple of minutes," explains Fluckiger. "We also upload the orthomosaics to Bluebeam for demonstration purposes and to Revit to further plan and optimise the logistics on site. That is one of the reasons for choosing Pix4D – many options for downloading outputs and also the file formats we need."
---
The Eagle Mountain data centre is due to be completed on schedule in September 2021. All operations will be supported by 100% renewable energy and will reach a net zero emission.