How can a commodity mobile device like the iPhone or iPad be used to capture reality on the construction site? Greg Corke caught up with LiDAR scanning software developer SiteScape to find out more
---
It's sometimes easy to forget that the iPhone is only 14 years old, and its role as a 'phone' has now become secondary to all the other things it can do.
It's a personal assistant, video player, games console, shopping portal and sat nav among many other things. It also completely changed the way we take photos. Now we can capture every single moment of our lives, rather than just those special occasions usually reserved for our bulky cameras.
Last year the iPhone got another string to its bow. With a built in LiDAR sensor, the 'Pro' models can now be used to scan a space, generating point clouds with millions of points. To someone who grew up with rotary dialling and tangled cords this modern incarnation of the 'phone' is frankly mind blowing.
Not surprisingly, it didn't take long for the AEC industry to jump on board. In December 2020 we saw the launch of SiteScape, a free iOS app that offers 3D scanning to anyone with a LiDAR-equipped iPhone or iPad.
The software was designed to make LiDAR more accessible to architecture, engineering and construction professionals. It raises the question: why use an expensive laser scanner or handheld SLAM, or make do with pen and paper, when you can use a commodity device to capture certain aspects of a site very quickly?
Once captured, scans can be exported to the .PLY or .E57 file formats (and soon RCP) and brought into CAD, BIM, point cloud or collaboration software such as Revit, AutoCAD, Archicad, Sketchup, Navisworks, Recap, CloudCompare, Revizto and many others.
The one thing that SiteScape didn't have at launch was an obvious business model. The software was (and still is) completely free to use with seemingly no restrictions. With a free account, users can capture and export unlimited scans from the mobile app.
But it's not just about the data – it's what you do with it – and SiteScape founder Andy Putch sees a big opportunity for streamlining workflows, as he explains, "The capture side, just being able to create the content, is increasingly becoming a commodity. For us, it's really about providing a full end-to-end solution, specifically for construction."
That solution has now arrived in the form of SiteScape Pro, announced today. It's essentially a subscription service that allows users to sync their 3D scans to the cloud. From there they can be securely viewed or shared with collaborators on any device (desktop or mobile on iOS, Android, Mac, and PC) via a shared link. Users can also annotate scans with comments and measurements.
"We're taking the scan out of the silo that is your iPhone or iPad and centralising it on the web so that all the various stakeholders can have really easy access. There's now a single place to find all that information," says Putch.
Those with a free account can still sync a single scan to the cloud and access all the Pro features. However, syncing additional scans automatically replaces the previous one. But that doesn't mean your data gets deleted. Users can unlock unlimited scans in the cloud, and access all past projects by upgrading to SiteScape Pro.
Mobile scanning
Sitescape is described as a digital spray can. You simply point the iPad or iPhone Pro to scan a space. The software can capture thousands to tens of thousands of points per second. There is currently a limit of around 12 million points per scan, which can capture over 2,000 square feet, but the team is working on taking that up to around 20 million.
There are best practices for scanning, such as following a set path or keeping the device steady, but as Putch explains, "You can really just kind of wave it around, and still get workable data."
To help ensure users get full coverage of the as-built reality, the system uses Augmented Reality to provide real-time feedback on what's been captured. "As you're capturing those points, what you see on the iPad are the actual points themselves tracked in AR and then overlaid on top of their real-world space. You can see the gaps being filled," he says.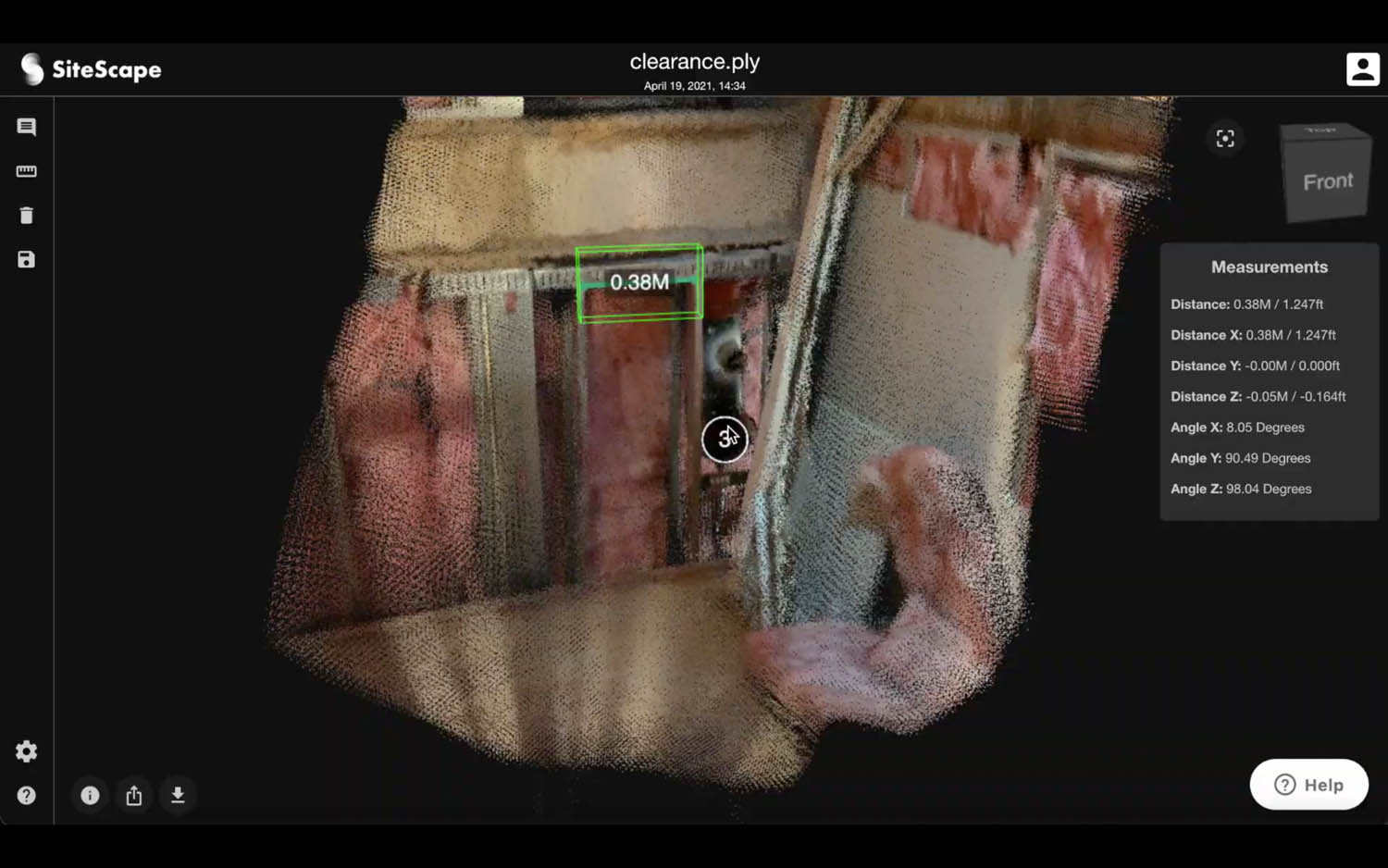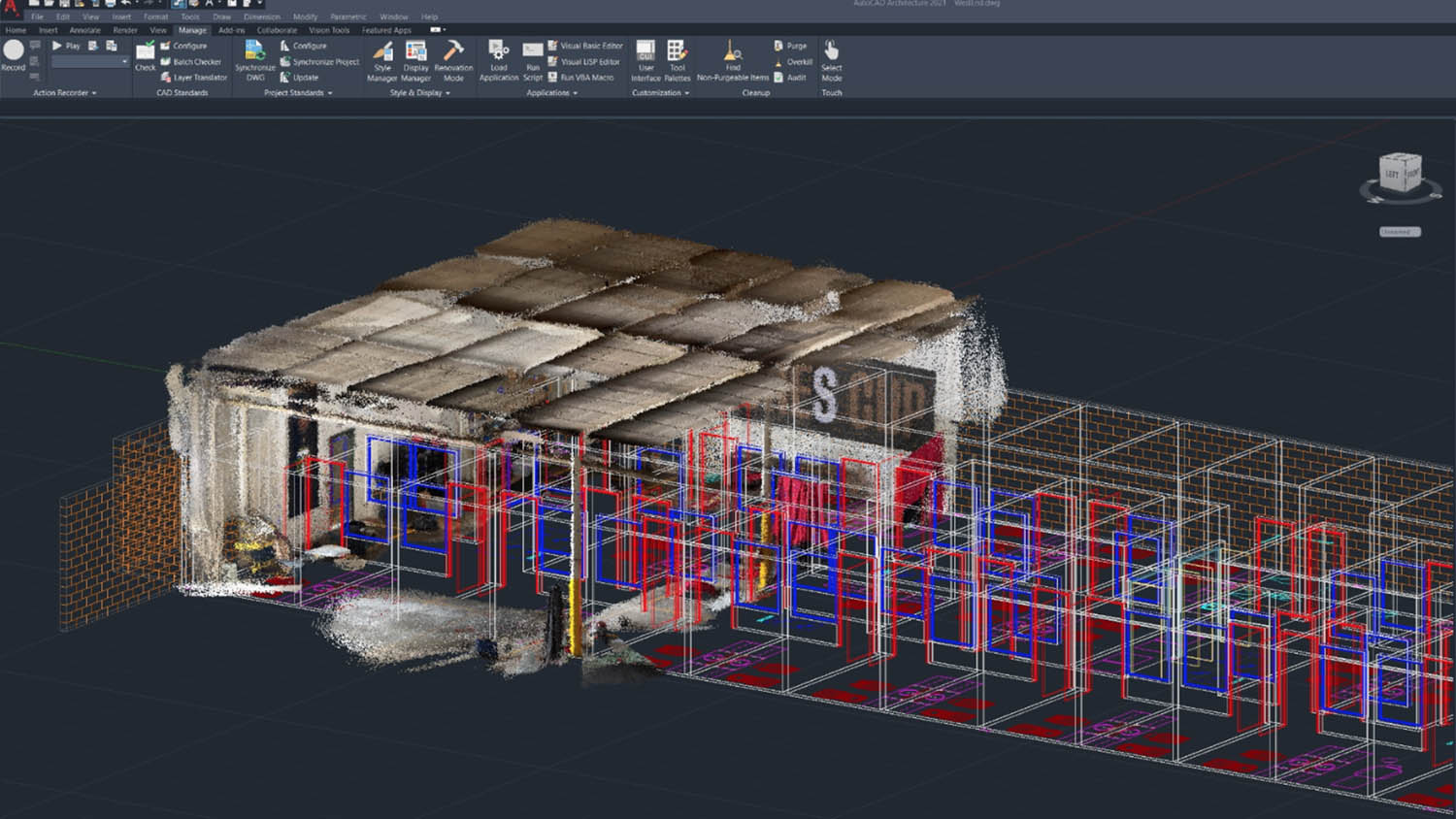 Accuracy
SiteScape allows users to quickly capture high-resolution 3D scans that, on average, are accurate to within +/- 1 inch. This is pretty good, but nowhere near as accurate as high-end laser scanners. Drift can be an issue, admits Putch, but this can be minimised by performing multiple scans and stitching them together in a third-party app.
"It's really important to us that we set the right expectations for the types of decisions that can be made with this data and where the limits really are," says Putch.
"You're not going to go through and scan an entire commercial building and try to piece that all together.
"You're honestly better off going with a system like NavViz that's really built for that. But for us, it's about capturing areas of interest, specific conditions, or documenting as-builts on the job site," he explains.
When SiteScape first came out there was a big focus on architecture. Nabney Plans, for example, was one of the first architectural firms to adopt the software, using it on several small-to-medium scale residential projects. To capture as-built conditions on site, the company scans one or two rooms at a time and then compiles the resulting point clouds inside Archicad to use as a visual reference.
One year later and the areas in which SiteScape is being used has expanded massively, particularly into construction with workflows like progress monitoring and as-built documentation. Putch is keen to prove out the technology in industry and has been working with several different firms to explore the following three use cases.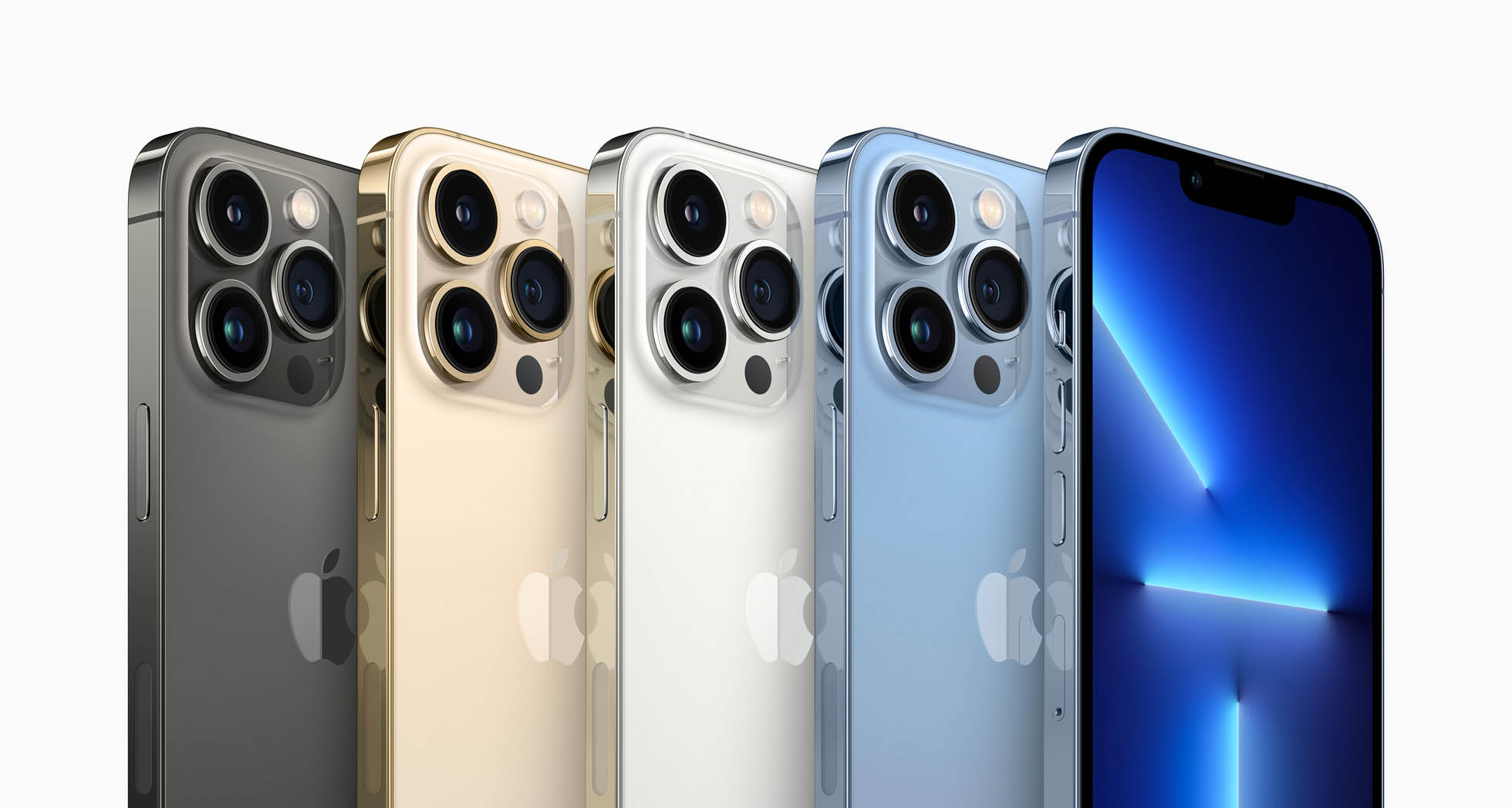 Early-stage design
At the beginning of a project, particularly for renovation or retrofit work, Putch explains that an architect just needs to take stock of what's there and get that into their design. It can help manage their understanding of the physical space so they can make informed decisions on what's going to stay, what's going to be taken out, and what new things need to come together.
"I like to equate SiteScape to 3D tracing paper," he says. "You take a quick point cloud, bring that into CAD, and then you can just trace directly on top of that model.
"Unless you're paying for a higher-end scanner, there are no alternatives to just sketching things out on paper, taking some laser Disto measurements, a couple of photos, and then using all those to piece things back together.
"We have customers in architecture that will be in the office, working on a design and trying to remember where that HVAC return was. 'Was there one up in that corner? Was it over on this side?' It's general things like that.
"They don't need to know that it was two inches away from the ceiling. At some point they do but [at the early design stage] they just need to know was it there or not and which part of the room it was in.
"Of course, if you have specific mechanical or electrical equipment that have to fit in tight spaces, then you're going to go in and want to do an actual survey to make sure that you know you're ordering things [correctly] and everything is going to mesh together nicely."

Solving issues on site
SiteScape is currently being used by a top 100 construction firm to help resolve issues that are encountered on site when retrofitting buildings.
Putch recalls one of the issues recently encountered in a basement, "They took out all of the walls and the ceiling and found that there were these undocumented large precast concrete beams and tees that were directly orthogonal to all of this MEP work that was scheduled to go into that ceiling."
As the schedule was tight, they had to work quickly to find a solution, he adds. "They were able to use SiteScape to capture where those tees were in the context of the rest of the room, send the scans out to each of their forming, mechanical, fire suppression subcontractors, and then everyone was able to reroute parts of their system around these obstructions within the 48 hours that work was scheduled to commence in that area."
It's all about giving everyone situational awareness, he says, adding that the contractor in question explained that 'it's not fabrication or precision information, but it gives you a clear idea of where the problem is and where things are going to be tight and where they're not.'
Capturing as-built conditions
SiteScape can also be used at the end of a project to capture as-built conditions and check that what was supposed to be installed has actually been installed. He references a recent project at the University of Alberta (read the case study below), where SiteScape helped architectural firm Holo-Blok confirm that not only was some HVAC ducting installed in a different position, but there were various other installed conditions, not evident from design documentation, that also needed to be confirmed and documented. According to Holo-Blok, this gave the owners a much better record of their assets at the end of the day.
Putch admits that when it comes to something like building code safety or LEED certification, where the stakes are really high, SiteScape is not the best solution as firms have to put in extra effort to make sure everything is verified, very precisely.
However, when it comes to simply documenting MEP and utility spaces, he believes SiteScape has a very important role to play. "At least knowing where those components are and making sure that they're roughly documented in the right space, it's better than nothing.
"A lot of times, things will get undocumented because the cost of verification traditionally can be quite high. So, we're providing another way to facilitate that.
"The only real way to do this today, without any kind of scanning hardware, is for a project engineer or someone on site to come in and look at the plans on an iPad and then the actual conditions and try to tease out where things are off, if they're off.
"And then manually going and validating if there are deviations from that spec, red lining up the plan, sending them back to the architect or engineer, who then goes into Revit or AutoCAD and makes those changes, so that they have an accurate set of handover documents."
Putch also makes the important point that sometimes multiple sub-contractors need to verify installations. "[With a SiteScape scan] you don't necessarily need each of those individuals to come in and document their piece, you can just capture all the complexity, everything that's going on in there."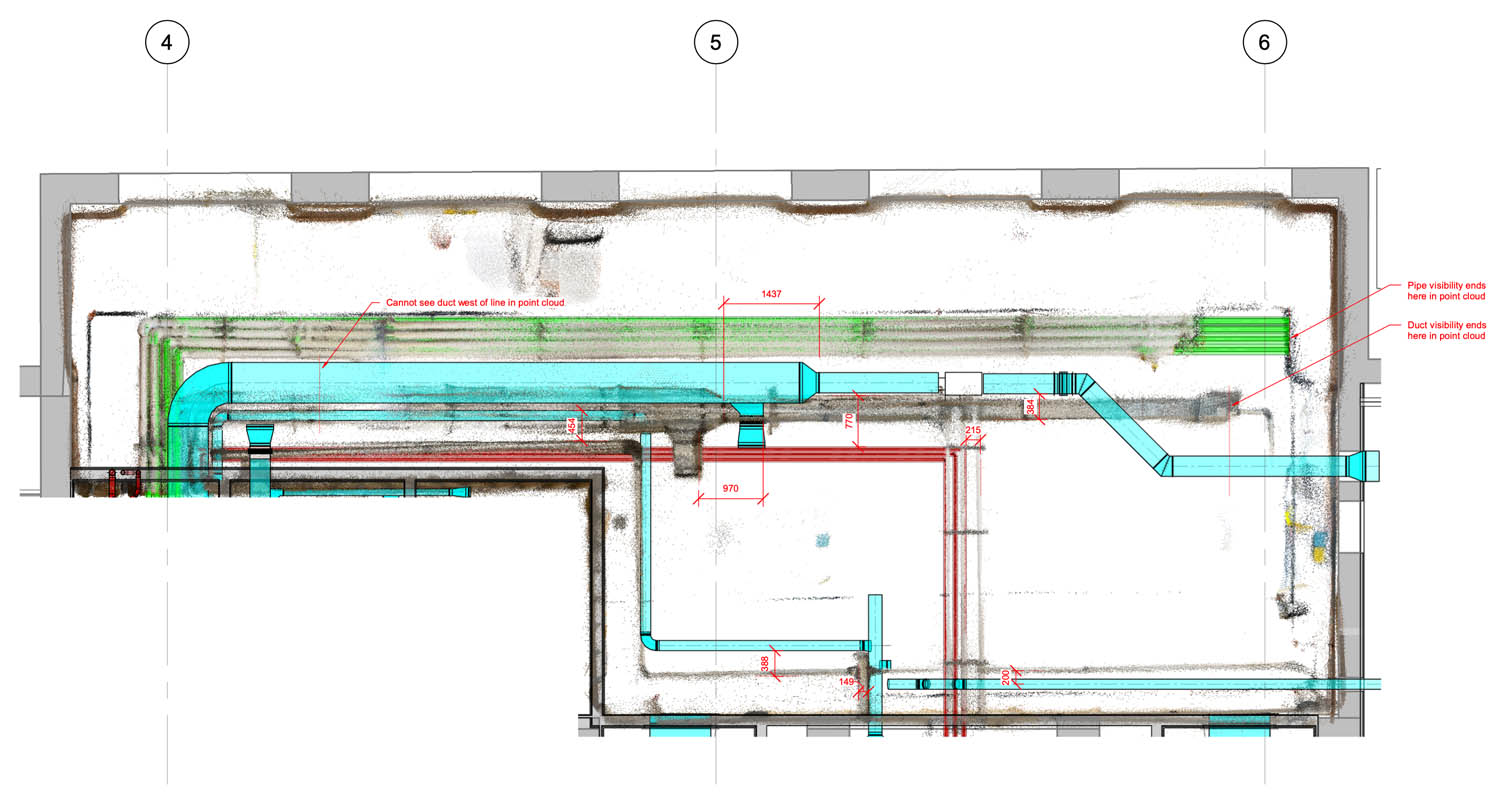 Going mainstream
Beyond proving out and solidifying these three core use cases, the next step for SiteScape is to extend the reach of its software and improve workflows through integration with established tools like Procore, PlanGrid (part of Autodesk Construction Cloud), and Bluebeam.
"That's where you find all of the plan drawings, all of the RFIs, project operations, field reports and everything else," says Putch.
"What they all do quite well, is give the project team all the information they need at their fingertips to solve challenges, whether that's design coordination or construction operations.
"And we're plugging into that and saying, 'the value here is in the time you're spending to manage and share, and actually use the scan data to best effect.'"
Of course, a central part of SiteScape's strategy is the iPad and iPhone, commodity devices that can easily be taken on site.
"Today, it's almost the norm and it's expected that that's how a lot of document management in the field is done – taking photos or for reports. The iPad is the right form factor for that type of work."
At the moment, LiDAR scanning is limited to the iPhone 12/13 Pro, Pro Max, and 2020/21 iPad Pro. But, as Putch explains, if the technology trickles down to mainstream models "there's no barrier for those iPads and iPhones that are already on site."
Our thoughts
It's an exciting time for reality capture in the AEC sector. Point clouds and reality meshes are being used more widely in many different workflows, from scan-to-BIM and design visualisation to construction verification and as-built documentation.
Like photogrammetry, SiteScape gives AEC firms a different option. Yes, the scans are less accurate than traditional laser scanning or SLAM, but providing they understand the limitations of the SiteScape datasets and use them in the right context, there appear to be many useful applications.
SiteScape can either deliver a low-cost alternative to highly accurate reality capture workflows, or augment or replace basic photography and manual measurements with 3D data that gives a more complete record and better insight into as-built conditions.
Most importantly, the software is low-cost and runs on commodity hardware that is becoming more prevalent on the construction site.
In its current form, even with the 'Pro' cloud subscription, SiteScape is probably better suited to small to medium-sized firms. For the technology to become more widely adopted, it would certainly benefit from integrating it with in established workflows and platforms with single sign on, user roles and permissions.
The company rightly seems to be focusing on enterprise platforms like Procore and PlanGrid, but we think there's also strong potential for integrations in more widely accessible tools like Revizto. It's still very early days but we're excited to see how things develop.
SiteScape Pro is available now, starting at $39/month for unlimited storage and unlimited collaborators.
---
Case study: University of Alberta Dentistry Pharmacy Project
With SiteScape's mobile 3D scanning, Holo-Blok was able to capture as-builts and translate record drawings more than 10x faster, saving over 100 hours in one project
Canadian architecture firm Holo-Blok prides itself on using technology in novel ways to bring new efficiencies to its work. Its team traditionally spends hours producing final record drawings of major architectural, HVAC, plumbing, and electrical components on large commercial projects which are largely based on ambiguous and incomplete as-built markups.
In the summer of 2020, as it was beginning a new project – the Dentistry Pharmacy Building Redevelopment at the University of Alberta – the Holo-Blok team decided to trial a new workflow using SiteScape to replace as-built drawings and better produce record models.
On previous projects, it would normally take each trade discipline 1-2 hours (there are normally dozens of trades on a given project) to mark up each room of a building and then a technologist another 2-4 hours in Revit to interpret the markups and adjust the model to reflect the markups depending on the extent of deviations.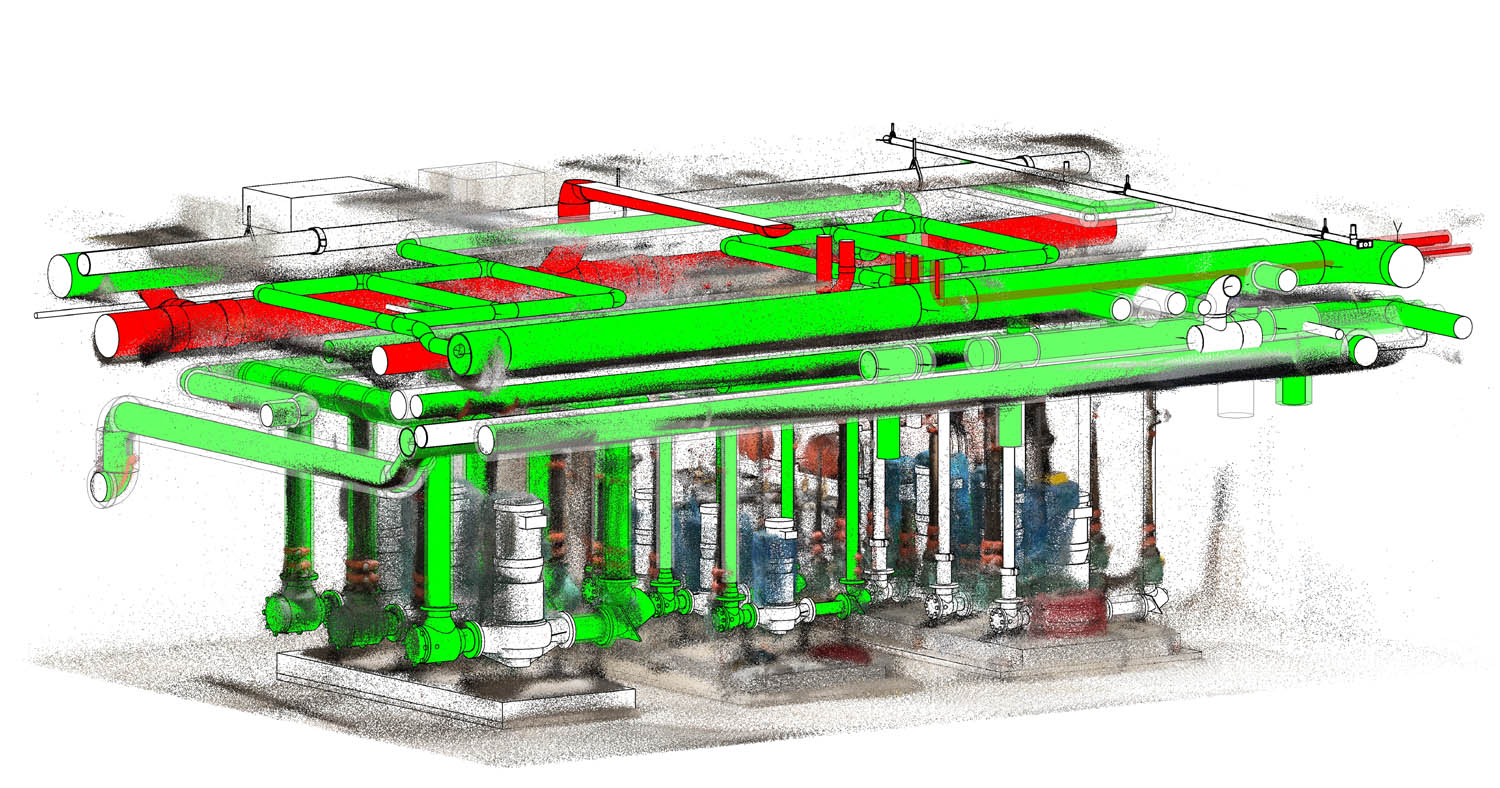 For the Dentistry Pharmacy project, Holo-Blok selected a block of 17 rooms with a similar size (approximately 225 square feet), with a combination of MEP components, layout, and complexity.
With SiteScape, the tradespeople were able to scan each room in 60 seconds and sync the scans to the cloud where they were immediately available to the Holo-Blok team.
Holo-Blok then downloaded the scans, imported them into Revit, and aligned each scan in the Revit model. From there the team could use the scans to align the location of components that deviated from the original drawings, add additional components where required, and directly measure and annotate the discrepancies between the two.
Including scanning time, this process took two hours for the sample of 17 rooms. The savings realised is between 48 and 95 hours between the trades and Holo-Blok. This is further increased when accounting for the other trades who would now also not need to provide as-built PDF markups and the efficiencies realised when consolidating as-built markups in a single location.
For this sample project, the total area that needed to be documented was 3,825 sq ft. The old process would likely require a total time of 51-100 hours for each trade discipline. That translates to 48-96 seconds per sq ft to capture as-builts and produce record models. With SiteScape, they were down to an average of three seconds per sq ft with 'zero lag' in information transfer.
According to SiteScape, with the average size of 20,000 sq ft for new commercial buildings, this could yield a savings of at least 500 hours between the different trades / consultants or ~$50k per project. For much larger projects with many trades and consultants involved, those savings grow exponentially in relation to the project cost through gained efficiencies.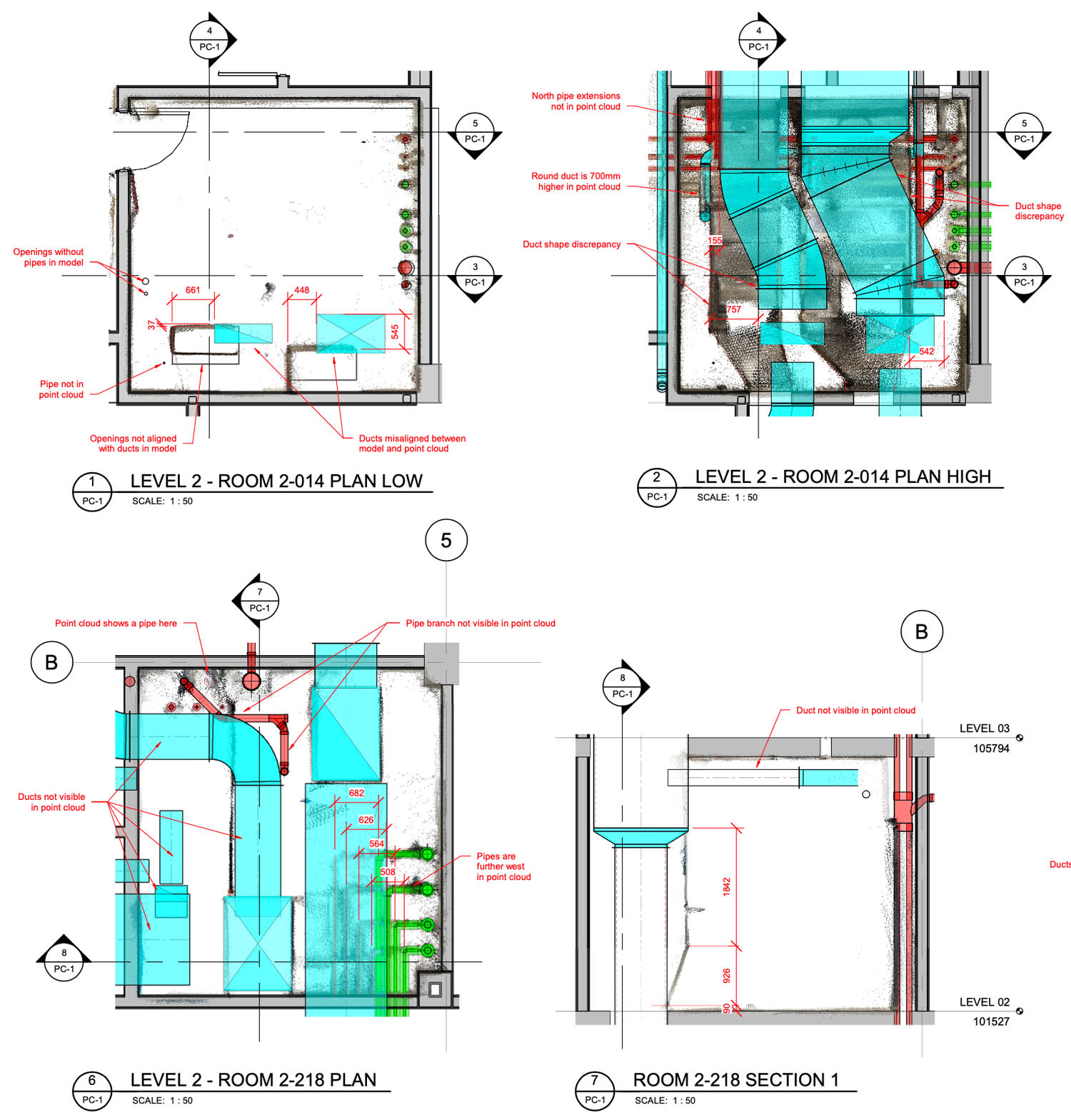 SiteScape explains that commercial grade scanning is expensive and while there is a place for it, on the majority of projects, it's difficult for the project team to justify spending $1k-$2k per hour for laser scanning services at various key milestones of the project. According to SiteScape, this means that as-builts are generally inaccurate, incomplete, and highly generalised. They are premised on manual measurements with a tape measure and individually recorded by each discipline by marking up existing PDF drawings in the field. Something invariably gets missed.
SiteScape was easy to use for Holo-Blok and its trade partners. Trades were able to scan upon installation of key components and send those scans instantly to Holo-Blok. There were no issues of concealment occurring before as-builts could be recorded and the collective effort of several trades was combined into a single effort that provides more data and context for the Holo-Blok team to complete its record model.