With the launch of Vectorworks 2022, Martyn Day caught up with company CEO Biplab Sarkar and CTO Steve Johnson to get their take on a range of issues, from Apple Silicon to the cloud.
---
Nemetschek is an anomaly in the AEC space. It owns three BIM modelling companies – Graphisoft (Archicad), Allplan and Vectorworks – which compete against each other, as well as the rest of the market. Each firm retains distinct management, different cultures and sales networks. While Graphisoft and Allplan are big in Europe, Vectorworks has always been the strong Nemetschek BIM brand in the US.
Archicad, from its inception, was all about the 3D model, from which to derive 2D drawings; Vectorworks has had a more traditional, evolutionary development journey from 2D draughting to 3D BIM functionality. To achieve this there has been a lot of 'under the hood' development work over the years from a very capable software development team keeping Vectorworks available on both Apple Mac and Windows platforms.
In this cycle, Vectorworks has performed the Herculean task of updating Windows and Apple Mac versions, while totally reworking the Mac variant to natively support Apple's 'system on a chip' M1 Silicon.
Vectorworks is the first BIM software developer to bring out a true Apple Silicon version, both supporting native CPU (ARM) and native GPU (Metal). While you may think that a software developer could do all this work in-house, the reality of modern software development is that many sub-components of the software are developed by niche providers and are licensed, such as the Siemens Parasolid solid modelling kernel.
To achieve the rapid development of Vectorworks on Apple Silicon would have required a major effort across multiple contributing software companies all developing discrete components native to the new Apple ARM processors. It really isn't as easy as you would think and getting all the component developers to have their code ported for new operating systems is akin to herding cats.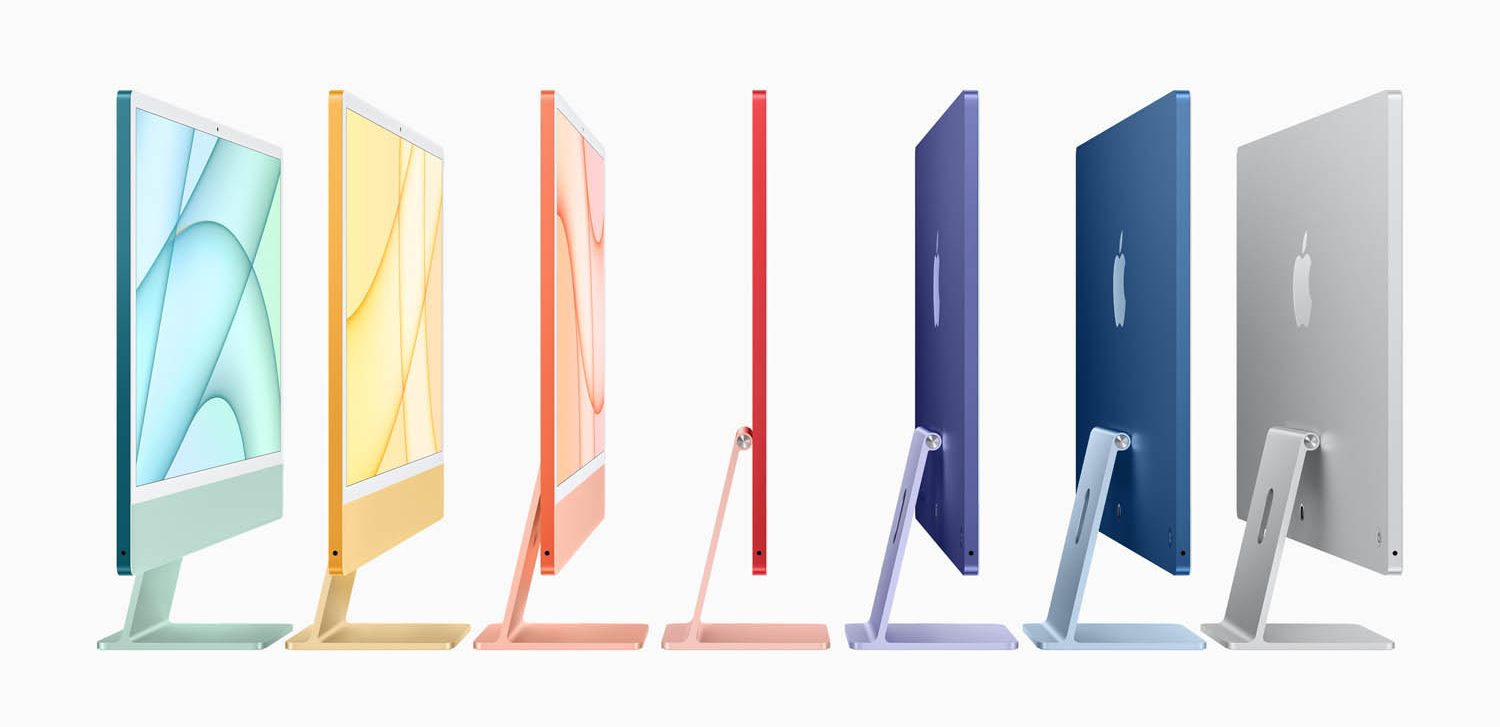 Vectorworks 'C' level team are very technical and CEO, Biplab Sarkar, was formerly the company's CTO. This always makes it great having conversations about 'under the bonnet' developments, as well as hearing about the efforts to push developers such as Siemens to better understand the needs and wants of the AEC market, in terms of geometry. With Parasolid at the core, Vectorworks has embedded possibilities in the 'design to fabricate' world of Design for Manufacture and Assembly (DfMA) and digital fabrication.
AEC Magazine: Could you explain the effort required to get Vectorworks 2022 on Apple Silicon only eight months after Apple's launch?
Biplab Sarkar: We identified which components were our dependencies very early on. And of course, started communicating with these vendors of our intentions. The Parasolid modelling kernel (owned by Siemens) was obviously a big one. They just very recently gave us the final piece. That actually came in almost as we were packaging up the final product! But it is stable and, I must say, Apple has done a good job on providing development tools.
We were thinking that there would be a lot of variances between the Intel version and the ARM chip version, but Apple has done something really nice in terms of maintaining the stability and performance. We are probably running like 40% faster than Windows machines. A one gigabyte model which we would [previously] have had difficulty in navigating through, now it just flies!
AEC Magazine: We have found that some applications written for Apple Silicon might still rely on plugins that are running in Intel emulation mode, slowing everything down.
Biplab Sarkar: Vectorworks is now totally native on Apple Silicon.
AEC Magazine: How does Apple Silicon manage memory? How is it special?
Biplab Sarkar: The basic architecture of the system, the way it transports data on the data bus, from one place to another, uses fantastic optimisation. This means the RAM is communicating with the CPU very well. And of course, you have to do the Metal transformation from OpenGL graphics.
AEC Magazine: What components have you had to get upgraded to natively support Silicon?
Biplab Sarkar: We have, ODA (DWG) core component, Adobe PDF, Google Chromium and of course Siemens Parasolid. The first time you launch Vectorworks on an Apple Silicon Mac, the biggest thing you notice is the startup time – it's just so impressive. File open and operations like that, are instant.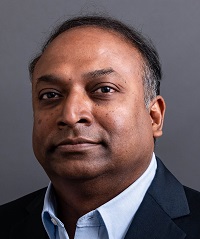 I think the only component we have had to work around was Trimble's for SketchUp. So we're using Apple's technology to communicate to the Intel process for that component. But it's just used when importing SketchUp, so it's really not a system wide thing. It definitely is a performance match of what was before.
It's a hard to make a like for like comparison, but we definitely know that to compare an Apple Silicon machine vs an Apple Intel machine, which is probably comparative to Windows, is 2x or faster in general. You just feel like the speed limit went from 70 mph to twice that – especially on start-up and when you do workspace switches.
Steve Johnson: The paging out to memory is quick. The unified memory model enables the SSD to communicate superfast because it's physically so close to the chip. Apple has impressive engineering. It's kind of an interesting story for the consumer machines (those currently available) that are limited by how much RAM you can have.
We can put bigger BIM models in because of this efficiency, and all of that silicon, and it can work above capacity in a sense. It's an interesting New World.
It's hard to compare (to a Windows machine), because there's a 16 GB maximum limit on these first Apple systems. But we have big graphics capability with Metal, and we have file I/O and all the UI controls, all optimised for Apple Silicon. Apple's engineering seems to be quite impressive, with their development tools, and then we had to organise, to get third party people to get it all together. But when it comes together, it's pretty impressive.
AEC Magazine: The BIM software industry seems to think the cloud is where the future of software is. What's your view on that?
Biplab Sarkar: We are hearing a lot from our users that they would like a cut down version, like a browser version. I don't think it's the architects that need a browser version but most of the other people, like contractors, subcontractors or even founding partners – the upper echelon of architectural firms – think they would love a cloud / browser version.
We already are running Vectorworks on a cloud for our 'Nomad' services. Users submit their Vectorworks file from their desktops to the cloud, and it does the conversion, and it shows you the model, and the drawing sheets – everything. That is already happening, but it doesn't offer much more interactivity than just markup and viewing. Now we are hearing customers want to actually edit.
AEC Magazine: With this release you are obviously focusing very heavily on rendering again, with links to Twinmotion and Maxon Redshift.
Biplab Sarkar: Yes, you should check out Redshift. It's not really real-time rendering yet but it is pretty impressive in the sense that it's a GPU-only photorealistic render. If you've got it – Nvidia RTX – it really flies. If you're doing a panorama that may take one hour to generate in normal Maxon software, in Redshift it might need just half that time.
Our link with Epic continues and we're giving out Twinmotion for free for a year. So that is also good for our customers. One benefit here is Epic's Apple support. 55% of our users are on the Mac and Twinmotion is the only [real time arch viz] product now that has that supports both platforms.
AEC Magazine: You have a continued push on with GIS and Esri development again this year. Can you explain how that works?
Biplab Sarkar: We are part of their partner network and it's a nice symbiotic relationship. Last year we integrated the raster image with the geospatial information capability with Esri. This year, it's features like highway maps, or the underground sewer system maps. We have done a lot this time with GIS workflows. IFC files and DWG files can have geospatial information, and we are now supporting that for both import and export. You can bring these into Vectorworks, do your modelling and then upload bi-directionally with Esri products.
AEC Magazine: What's the development plan going forward? Archicad is getting MEP and already developing structural workflow loops. Will Vectorworks get MEP and structural and start pushing the solids capabilities?
Biplab Sarkar: Yes, I think the biggest thing that we need to do and what our customers were asking for is the structural members, beams and the columns. In Japan, they call it the 'Ramen structure', because it's all noodles! We don't have it well enough integrated with our architecture package right now. We have the architectural elements like columns, walls and beams which can interact. But the actual simulation and structural calculations we can't yet do.
---
Vectorworks 2022 – what's in the new release?
Vectorworks 2022 comes in three flavours: Buildings, Landscapes and Entertainment, so there's a version for architects, another for landscape architects and a third one for the niche profession of stage and theatre design.
While playing second fiddle to Archicad in mainland Europe, Vectorworks is Nemetschek's top installed BIM solution in the USA. With a paucity of applications for landscape architects, Vectorworks stands head and shoulders above the competition, although that competition is likely to just be vanilla AutoCAD. With such a focused, niche lighting and stage design product, Vectorworks is the number one solution for entertainment.
While Apple Silicon support is obviously some big news especially for those looking for more performance, there are a range of enhancements to capabilities and features. It seems that in economic downturns, and now in pandemics, software developers tend to look for crowd-pleasing functionality as opposed to adding substantial new capabilities. Uncertainty drives the need for certainty.
---
Redshift
Vectorworks has, for some time, supported CPU-biased rendering technologies from Maxon with Renderworks, but new support for Maxon Redshift means users can now render with their workstation's GPU.
This has two benefits: One, it takes the pressure off the CPU and two, it can take advantage of massive speed improvements from the latest GPU designs like Nvidia RTX, even in complex scenes with reflections, volumetric effects, camera effects, and anti-aliasing.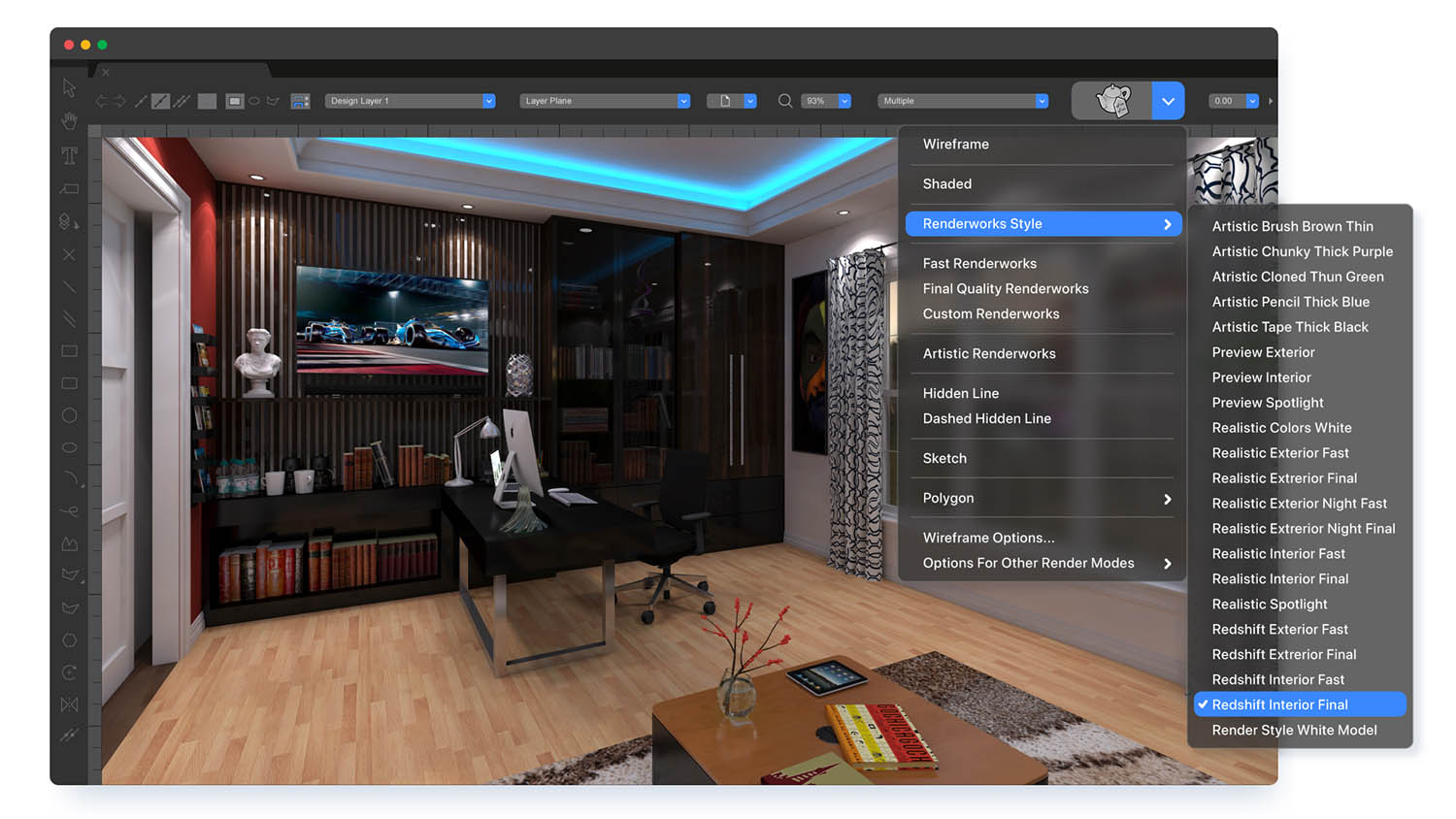 ---
Twinmotion
It's now possible to directly link Vectorworks models with Twinmotion from Epic Games. Vectorworks has incorporated the Datasmith link into the standard toolset. As designs progress, updates can be sent at the push of a button, ensuring Twinmotion has the latest design, with no additional set-up required.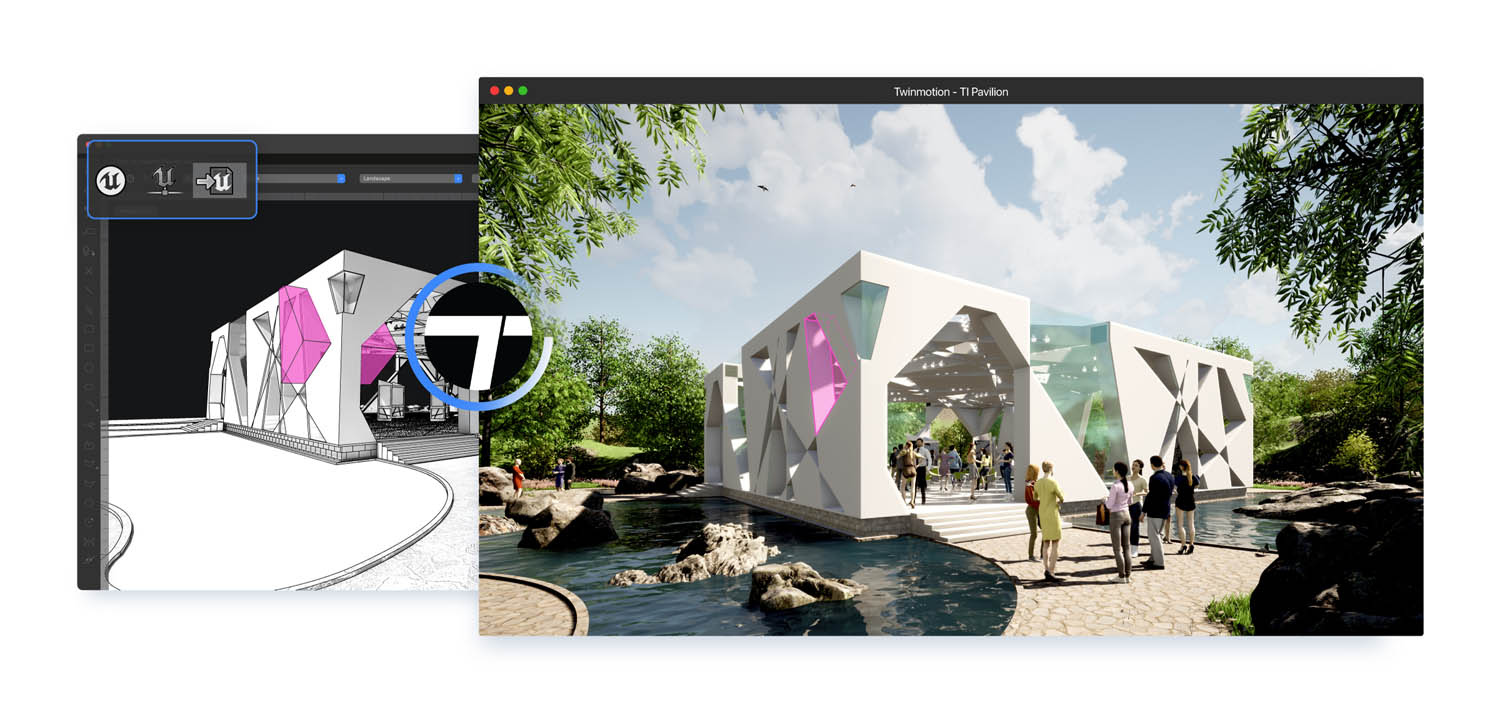 ---
Surface texturing
Upgrades to the texturing workflow add the ability to map textures to different faces of the same solid object, and to rescale on the fly.
The render tab has been updated to view and manage the textures on the faces of any selected object.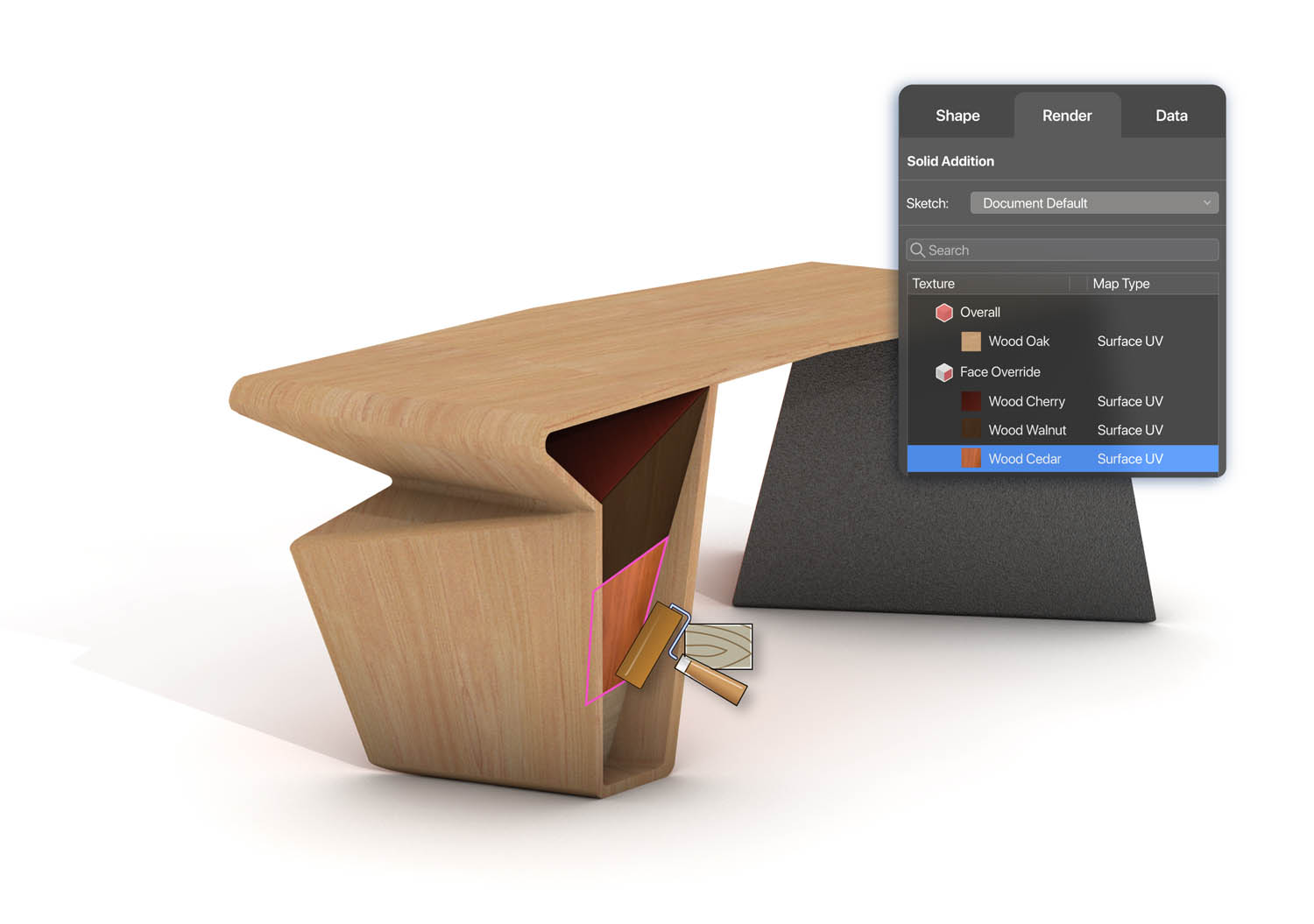 ---
Direct editing stair tool
Always a crowd pleaser, the stair tool has been radically enhanced in Vectorworks 2022 to enable direct modelling in both 2D and 3D, using control points or simply grabbing the boundary box of the stair component.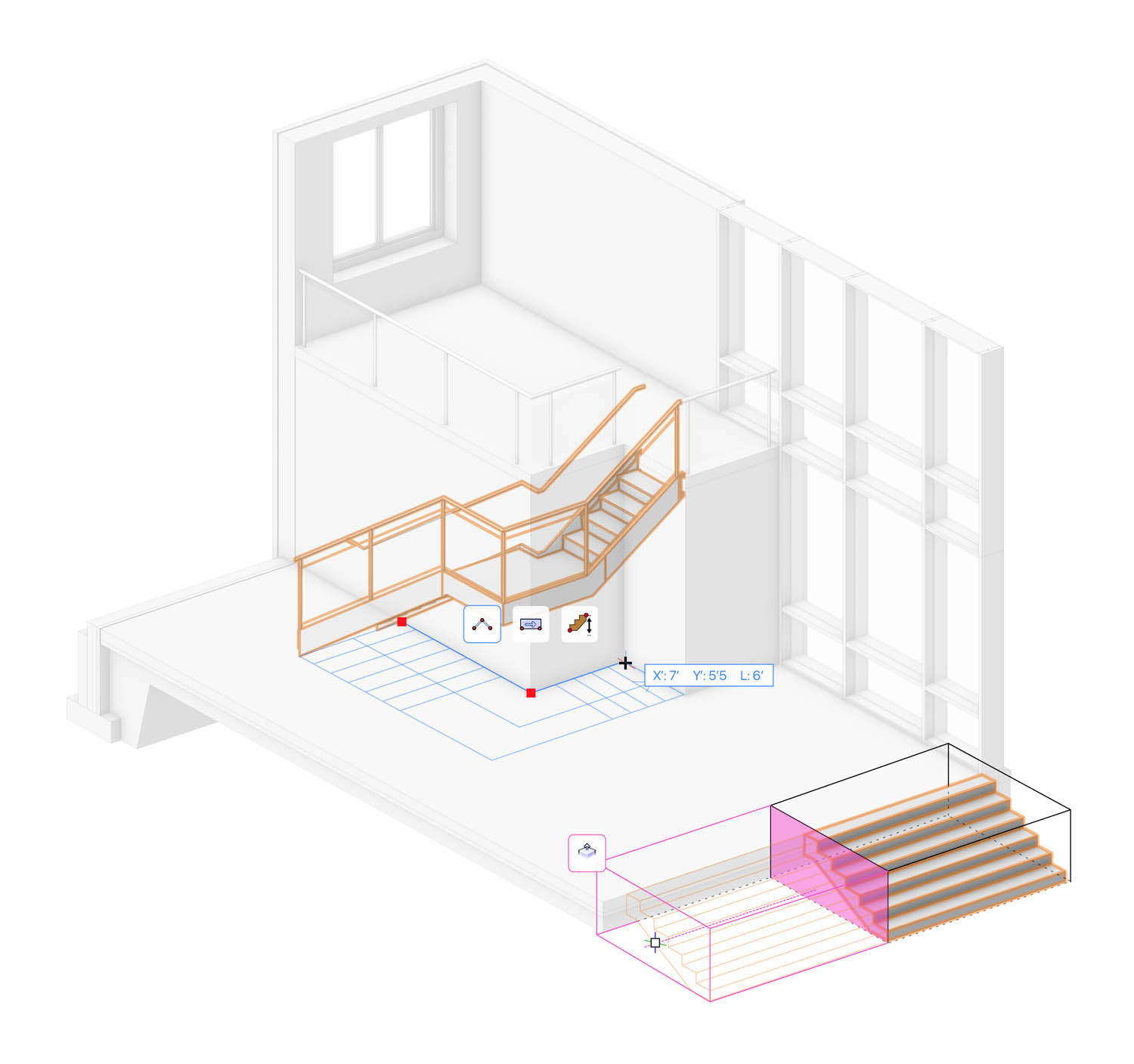 ---
Wall objects
the wall tool has been redesigned to enable greater precision and more accuracy in the visual representation of walls and their sub-components. Straight and round walls have been combined into a single object type. There are enhancements to wall assemblies, enabling more complex designs, while giving more control over their representation within drawings.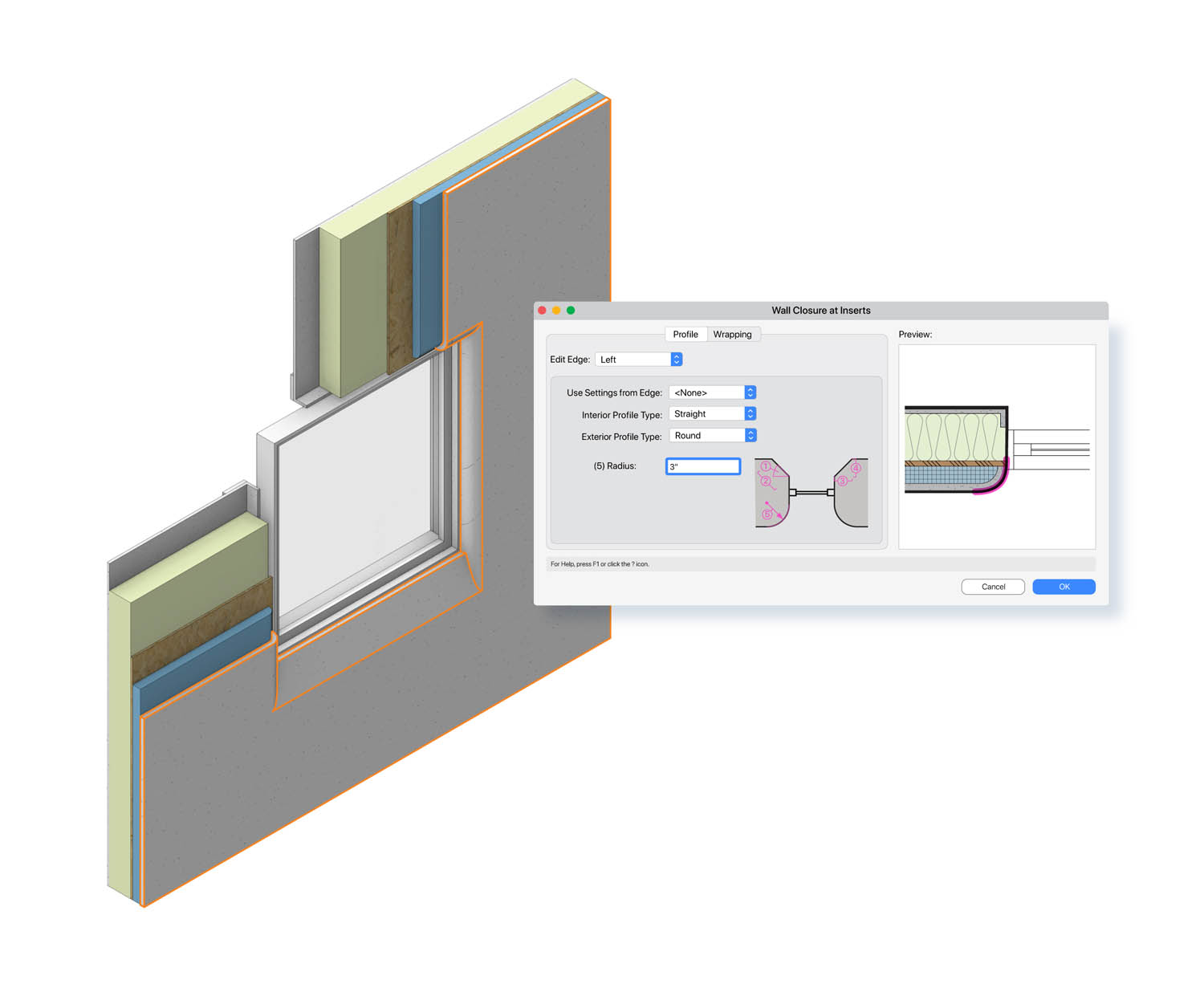 ---
Data worksheets
UI improvements in Vectorworks 2022 make it easier to generate targeted reports, schedules, and material take offs for complex objects. Worksheets creation is easier with clearer UI, a new search function interface, and an improved formula bar.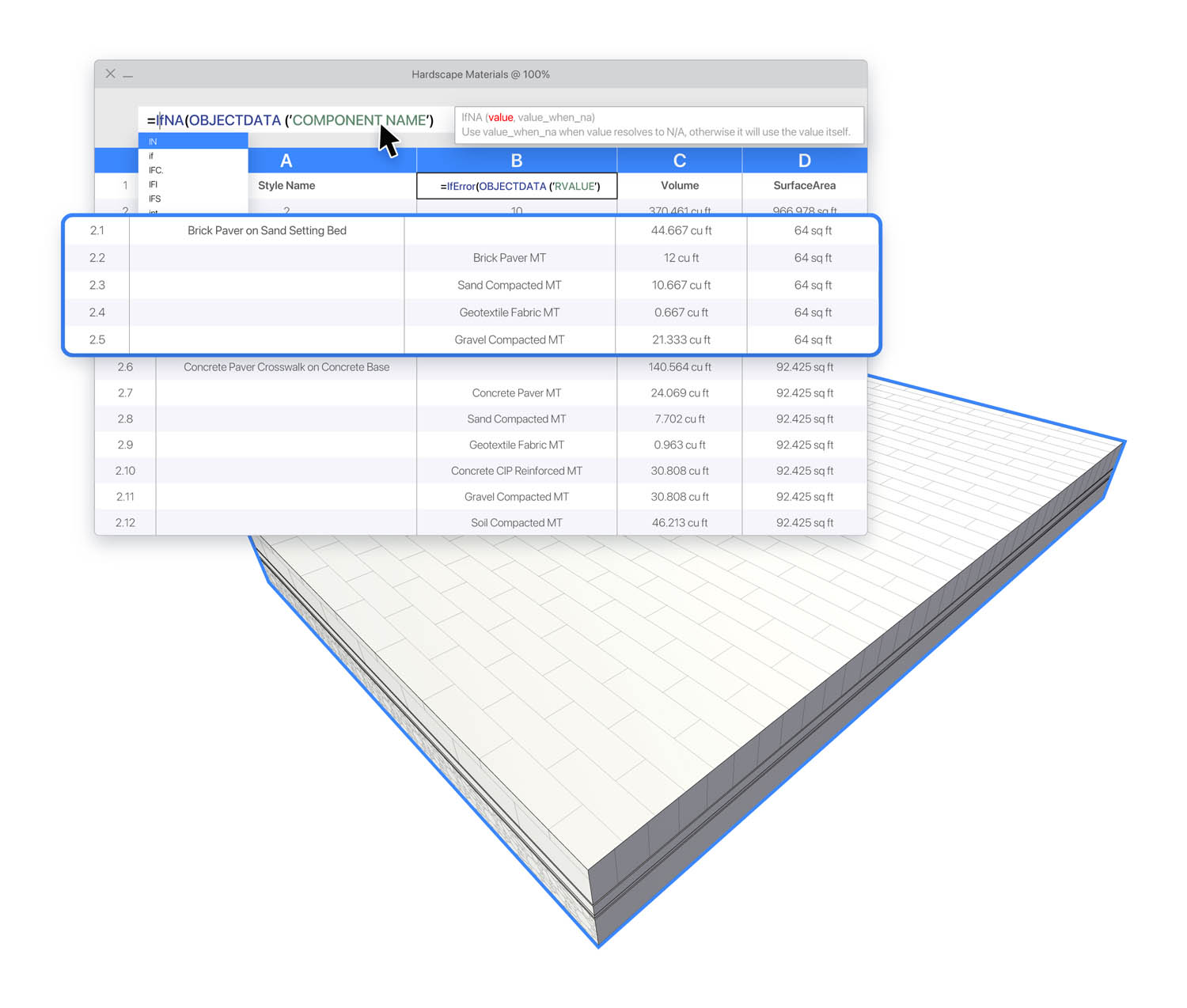 ---
GIS
Vectorworks 2022 better supports georeferencing in IFC and DWGs, improving coordination and alignment. Bi-directional support for ArcGIS layers will enhance collaboration. Vectorworks now supports GIS-based tree survey information.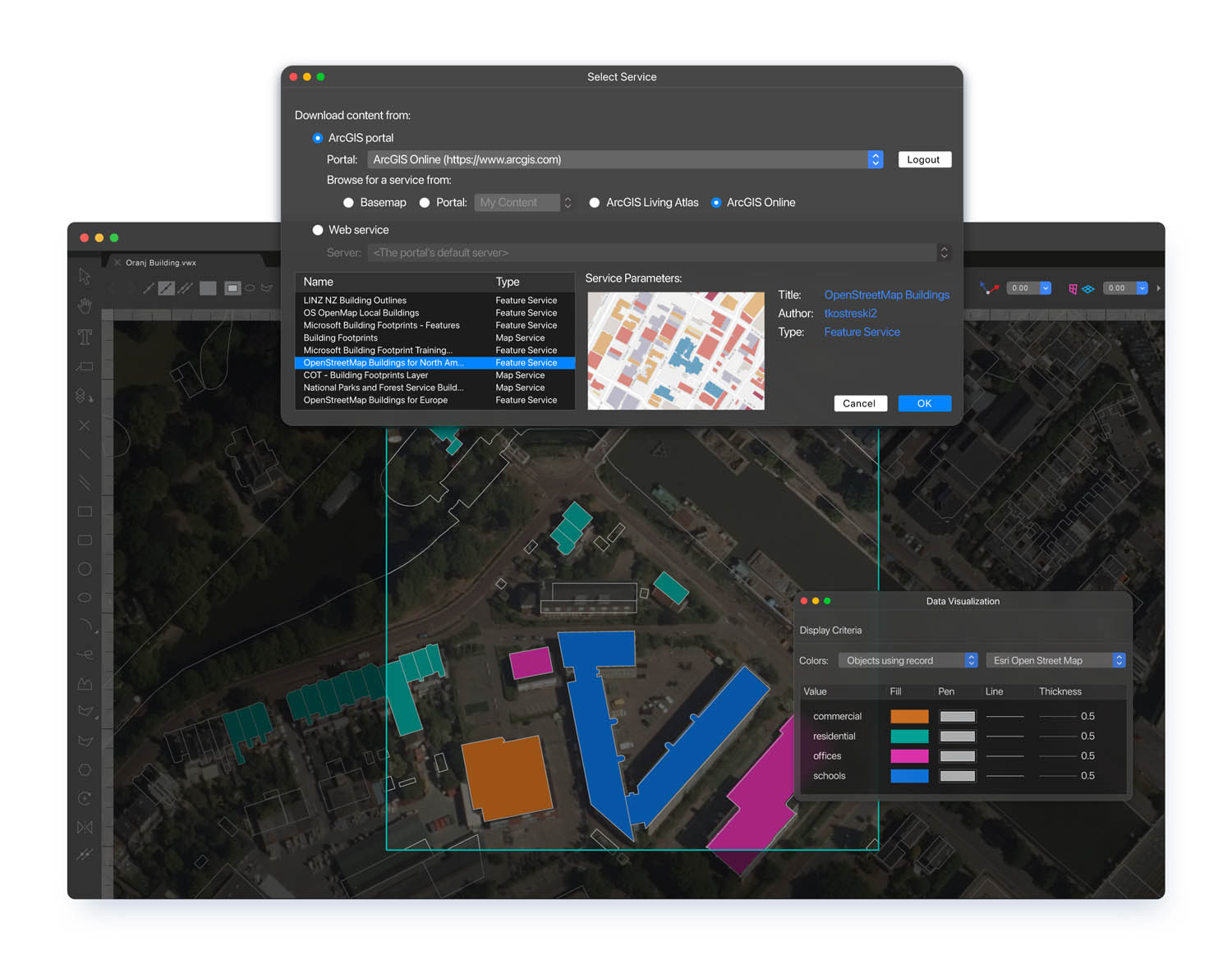 ---
There is also a range of other enhancements such as: support for Autodesk Civil 3D, the ability to define subsurface geological strata, as well as cable and power planning.