Cloud-based XR streaming technology also gets support for Apple iOS devices (iPad / iPhone) and Magic Leap
---
Nvidia CloudXR, which is used to stream VR, MR and AR content across 5G and Wi-Fi networks, is being rolled out at Amazon Web Services (AWS) and Microsoft Azure.
At Nvidia GTC this week, Google will also present a session that showcases CloudXR running on a Google Cloud instance.
The XR streaming solution, which can run in the cloud or local datacentre, allows users to connect to a variety of untethered head-mounted displays without having to be physically connected to a workstation.
CloudXR is now available on Amazon Marketplace as an Amazon Machine Image (AMI), using Amazon EC2 G4 and P3 instances with Nvidia T4 and V100 GPUs.
Nvidia has also announced the 'Early Access' of the CloudXR platform on Nvidia GPU-powered virtual machine instances on Microsoft Azure.
The Gettys Group, a hospitality design, branding and development company based in Chicago, is an early adopter of CloudXR on AWS. Gettys frequently partners with visualization company Theia Interactive to turn the design process into interactive Unreal Engine VR experiences.
When the coronavirus pandemic hit, Gettys and Theia used Nvidia CloudXR to deliver customer projects to a local Oculus Quest HMD, streaming from the AWS EC2 P3 instance with Nvidia Virtual Workstations.
"This is a game changer — by streaming collaborative experiences from AWS, we can digitally bring project stakeholders together on short notice for quick VR design alignment meetings," said Ron Swidler, chief innovation officer at The Gettys Group.
"This is going to save a ton of time and money, but more importantly it's going to increase client engagement, understanding and satisfaction."
CloudXR on more devices
Nvidia is adding support for iOS in the soon to be released CloudXR 2.1, so users can access Apple AR devices, including iPads and iPhones. The CloudXR iOS integration will soon be available in Nvidia Omniverse, a collaboration and simulation platform designed to streamline 3D production pipelines.
"This iOS client is built on top of AR kit provides all the positioning, orientation information, the tracking data that we need to render frames on the remote system. And then, based on that virtual camera information, pass it back to AR kit and stream," explained an Nvidia spokesperson,
"So imagine being anywhere, in the comfort of your living room, looking at a photorealistic physically accurate model of a car, a building, whatever the case may be, all streaming to a device that doesn't even need a GPU, on a network that's going to become more and more ubiquitous like like 5G."
Also on the hardware front, Magic Leap has developed a CloudXR client application for its Magic Leap 1 headset.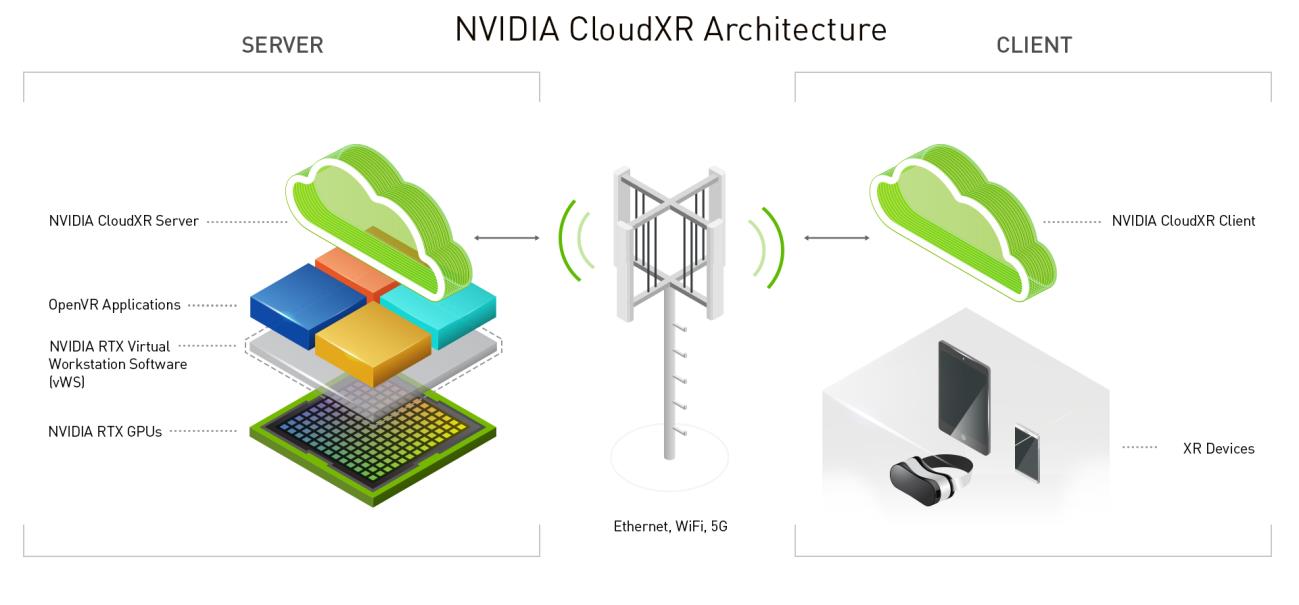 Redefining the XR experience
With 5G networks rolling out, streaming XR over 5G from the cloud has the potential to significantly enhance workflows across many industries. But the big challenge with delivering XR from the cloud is latency — for people to have a great VR experience, they have to maintain 20ms motion-to-photon latency.
To deliver the best cloud streaming experience, Nvidia has fine-tuned Nvidia CloudXR, working with the large cloud providers as well as Qualcomm Technologies and Ericsson.
Nvidia has also introduced Variable Rate Supersampling (VRSS) 2, a new version of the technology that allows rendering resources to be focused in a foveated region where they'll have the greatest impact on image quality.
The first VRSS version supported fixed foveated rendering in the centre of the screen. The new version integrates 'dynamic gaze tracking', moving the foveated region where the user is looking.
The Nvidia CloudXR streaming solution includes Nvidia RTX hardware, Nvidia Quadro Virtual Workstation (QvDWS) drivers, and the CloudXR software development kit (SDK).