New high-end desktop GPU will help ease supply issues for pro viz customers, while new mobile GPUs expand reach of RTX into entry-level pro laptops
---
Nvidia has launched the Nvidia RTX A5500, a new professional desktop workstation GPU with 24 GB of GDDR6 memory. The company also announced six new 'Ampere' RTX GPUs for mobile workstations, including the Nvidia RTX A500, RTX A1000, RTX A2000 8GB, RTX A3000 12GB, RTX A4500 and RTX A5500.
The Nvidia RTX A5500
With the launch of the desktop Nvidia RTX A5500, Nvidia now offers a total of five professional workstation GPUs with which to target the mid- to high-end pro viz market. This includes the single slot Nvidia RTX A4000 (16 GB), and the dual slot RTX A4500 (20 GB), A5000 (24 GB), A5500 (24 GB) and A6000 (48 GB).
The introduction of the Nvidia RTX A5500 (and the RTX A4500 in November 2021) is as much about improving supply of product, as it is about providing customers with more choice to hit different performance levels.
As with many workstation components, supply of the Nvidia RTX A5000 has been patchy over the last year. According to Nvidia, the RTX A5500 enables it to use components from different products to deliver more pro GPUs to the market," as Bob Pette, VP of Nvidia's professional visualization business unit explains. "If we struggled with inventory and supply on the [RTX A]5000 we [now] have the [RTX A]5500.
"One of the things we could have said is 'sorry, just go buy the [RTX A]6000.' But the 6000 is burdened with cost from a 48 GB frame buffer that maybe not everybody needed. So, it's really about giving customers choice."
Memory capacity aside, the RTX A5500 has specs that are closer to the RTX A6000 than the RTX A5000 (see chart below). Nvidia says the RTX A5500 offers twice the performance of the previous generation 'Turing' Nvidia RTX 5000.
The Nvidia RTX A5500 is available now with an estimated street price of $3,600. Workstations from BOXX, Dell, HP Z, Lenovo and Supermicro with the Nvidia RTX A5500 will follow.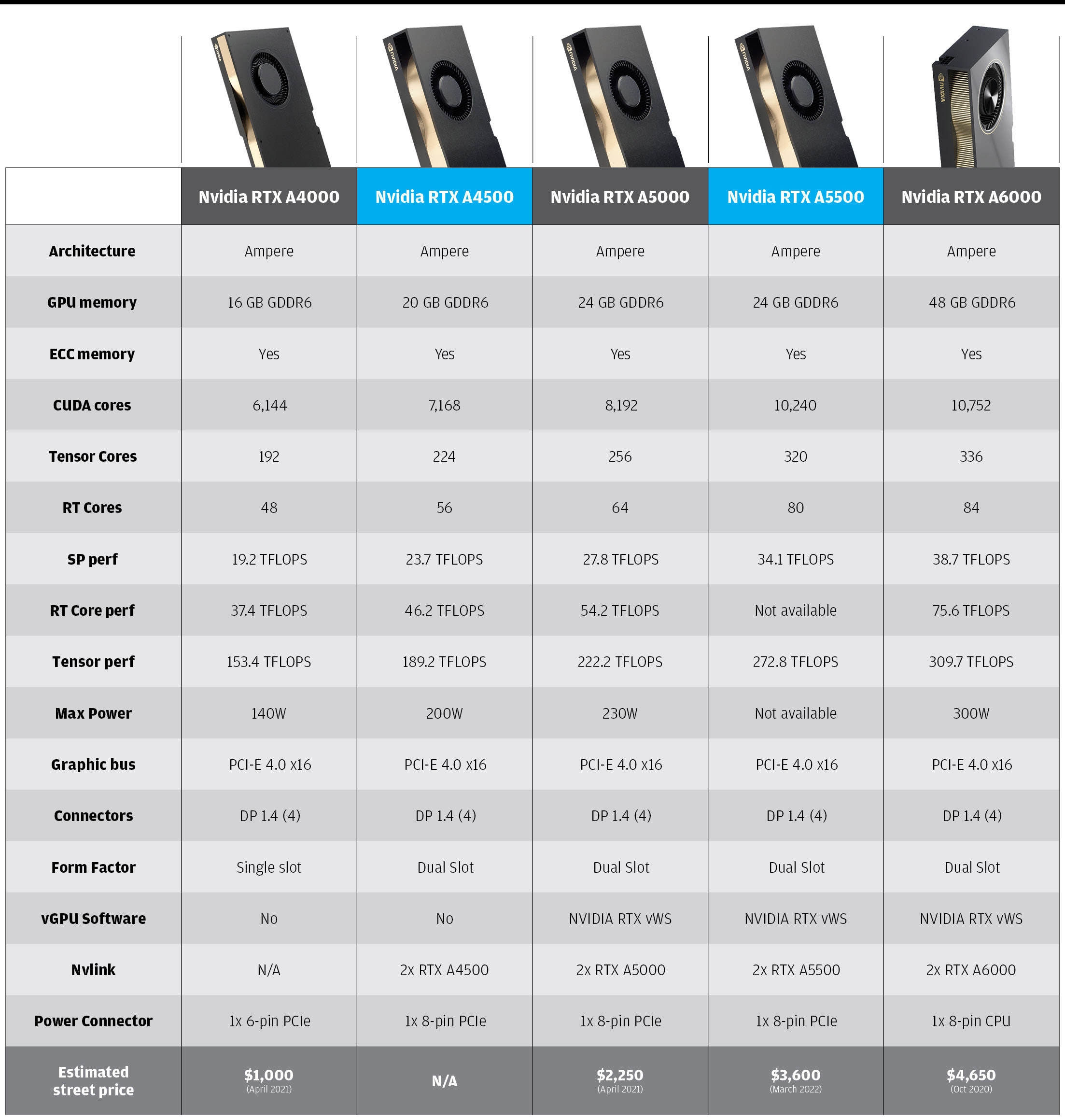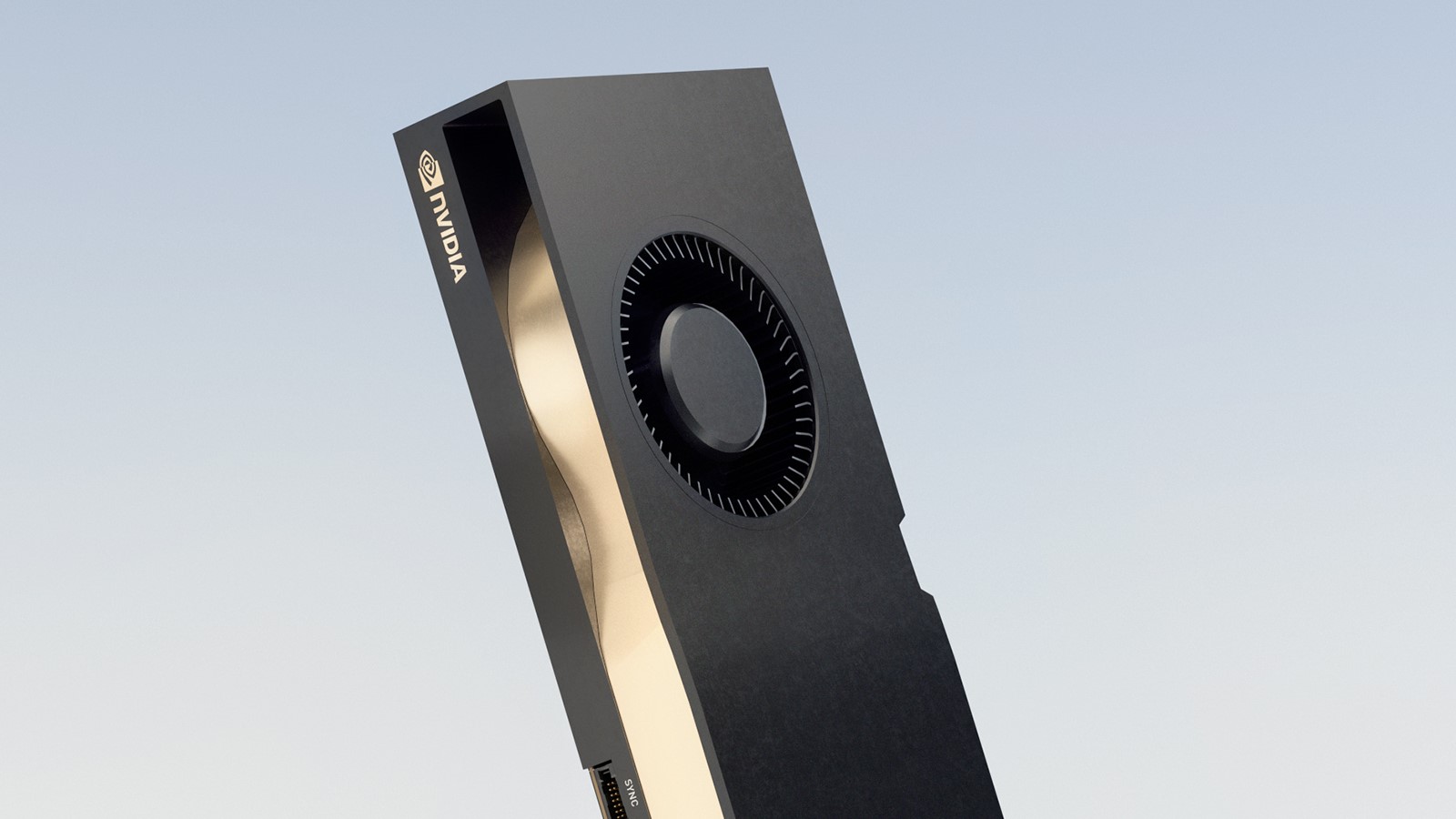 New 'Ampere' mobile Nvidia RTX GPUs
The Nvidia RTX A5500 will also appear in mobile workstations with 16 GB of memory and fewer CUDA, RT and Tensor cores. There are also five other new pro laptop GPUs including the RTX A500 (4 GB), RTX A1000 (4 GB), RTX A2000 (8 GB), RTX A3000 (12 GB) and RTX A4500 (16 GB).
The big news here is that RTX technology will now be available in a much broader range of mobile workstations, from entry-level to the high-end.
In particular, the Nvidia RTX A500 and A1000 will give a much lower-cost of entry for those looking to adopt AI and ray-tracing technology in their AEC workflows.
While the A500 and A1000 will unlikely be powerful enough for those serious about design viz, they should offer full compatibility with next generation graphics engines for CAD and BIM software, based on the Vulkan and DirectX12 graphics APIs. The new engines will combine rasterization with ray tracing techniques to deliver a much more realistic viewport. The idea is that CAD users will be able to flip into 'ray traced' mode, in much the same way they currently do with shaded, wireframe and realistic.
For more information, see Autodesk's new One Graphics System, which should make its way into Revit, Inventor and other Autodesk applications, and Dassault Systèmes' Project Romulan for Solidworks.
Nvidia has also doubled the memory capacity on its mid-range mobile GPUs. The Nvidia RTX A2000 now offers 8 GB instead of 4 GB and the RTX A3000 offers 12 GB instead of 6 GB.
The new mobile GPUs will be available in mobile workstations starting Spring 2022.