This sleek ultra-portable 15.6-inch laptop is an impressive machine for CAD on the go, but it struggles a little to stand out from its predecessors, writes Greg Corke
---
The ThinkPad P1 was Lenovo's response to the ultra-portable 15.6-inch mobile workstations that had been flying out the doors at Dell and HP. This year's Gen 3 model is more evolution than revolution, featuring the same chassis as the Gen 1/Gen 2, but there's still plenty for CAD users in search of a good balance of performance and portability from their mobile workstation.
Stand-out features of the Gen 3 model include a new super-bright 600nit UHD (3,840 x 2,160) LCD display, optional LTE WWAN for mobile broadband and enhanced cooling. In terms of core specs, there's a choice of 10th Gen Intel Core CPUs up to eight cores and 5.3GHz, a small improvement over the 9th Gen Intel Core CPUs in the ThinkPad P1 Gen 2, but the same choice of Turing-based Nvidia Quadro T1000 or T2000 GPUs.
Sleek & Minimal
The ThinkPad P1 Gen 3 is a stylish machine. It's thin (18.4mm) and light (starting at 1.7kg) and comes with a new matt black 'anti smudge' soft-touch finish that significantly reduces marks from greasy fingerprints, a bugbear of the Gen 1/Gen 2 models. There's an understated carbon fibre weave on the rear of the panel to show off the premium materials.
Like its predecessors, the ThinkPad P1 Gen 3 has been designed to withstand (and is Mil-Spec tested for) cold, heat, vibration, shock, dust and other hazards. Built with a magnesium chassis, the laptop has a really solid feel to it: the hinge is firm, the display is rigid and the keyboard has very little give. All of this is trademark ThinkPad.
The keyboard is seamless, so it blends in with the palm rest, but there's no numeric keypad. There's just about the right amount of travel on the keys, making typing a pleasure, a reminder of just how unimpressed I am with my 2019 MacBook Pro's 'butterfly' keyboard. Equally, the glass touchpad has the perfect amount of resistance with full multitouch support.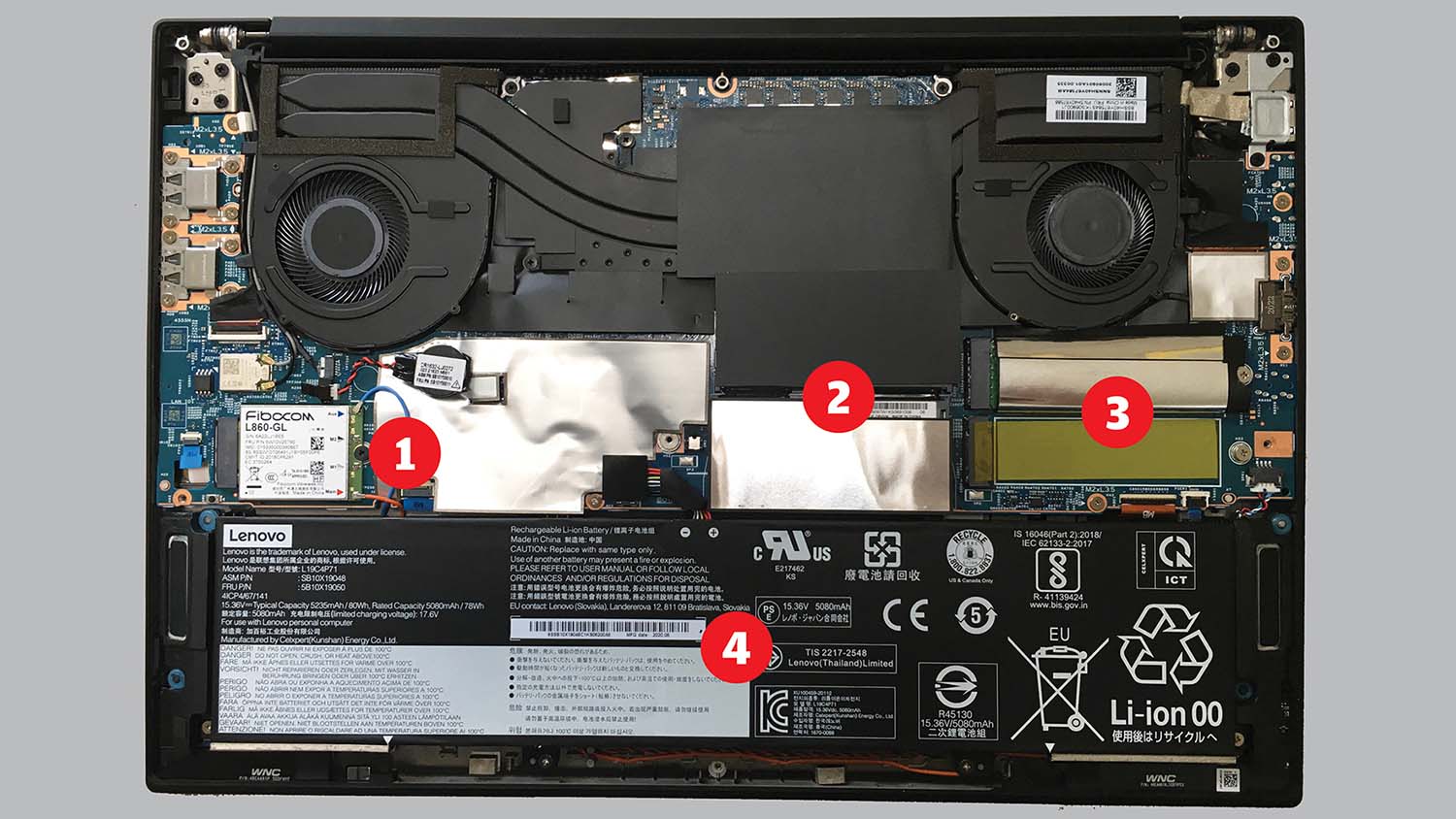 For those who prefer their input device to be old school, there's the classic trackpoint, along with three physical mouse buttons. To the right of the keyboard, there's a fingerprint reader that uses touch rather than swipe for easier authentication, and Windows Hello technology is built into the optional Hybrid IR camera, complete with privacy shutter. The Dolby Atmos speaker system is said to be an improvement over the Gen 2. The clarity is superb and volume loud, which is great for video calls, but it lacks bass.
The Gen 3 comes with a choice of 15.6- inch panels — two FHD (1,920 x 1,080) and two 4K (3,840 x 2,160). Our test machine's new colour-calibrated 4K LCD IPS 600nit panel is a thing of beauty, delivering incredible brightness, super-sharp detail, and an impressive range of colour and contrast, with support for Dolby Vision HDR and 100% Adobe. The bundled Pantone X-Rite Color Assistant software allows you to choose between colour profiles, including sRGB, Adobe RGB and DCI-P3. Blacks appear really black and, with an anti-glare finish, there's virtually no reflection. It really is a joy to behold.
Connectivity is bang up to date with integrated Wi-Fi 6, a relatively new WiFi standard previously called 802.11ax. It replaces 802.11ac (Wi-Fi 5) and not only boasts faster speeds (up to 9.6 Gbps compared to 3.5 Gbps) but is also said to work much better on congested networks with lots of connected devices. Of course, you'll need a Wi-Fi 6 router to take advantage.
Wi-Fi 6 was also available on the Gen 2, but the new model increases the connectivity choice with an optional LTE WWAN card for mobile broadband – simply insert a Nano-SIM card on the side of the machine, just as you would for a mobile phone. You can of course tether the laptop to your smartphone via Bluetooth or WiFi, but the builtin card is a much more elegant solution for those frequently on the road.
The ThinkPad P1 is eminently serviceable, with a metal and carbon fibre bottom panel that's attached with seven captive Phillips head screws. There are two slots for RAM and two for M.2 SSDs, as well as access to the WiFi/WWAN and the 4 cell Li-Polymer 80Wh battery, though this is quite fiddly to replace. Rapid Charge Technology means you can go from zero to 80% charge in 30 mins and from zero to 40% in 15 mins after plugging in.
Finally, the ports: there's a decent selection, including two USB-A 3.2 Gen 1 (one of which is always on), two USB-C Thunderbolt 3 and HDMi 2.0. The machine is too slender for a full-sized Ethernet port, so Lenovo bundles a USB-C to Ethernet adapter instead.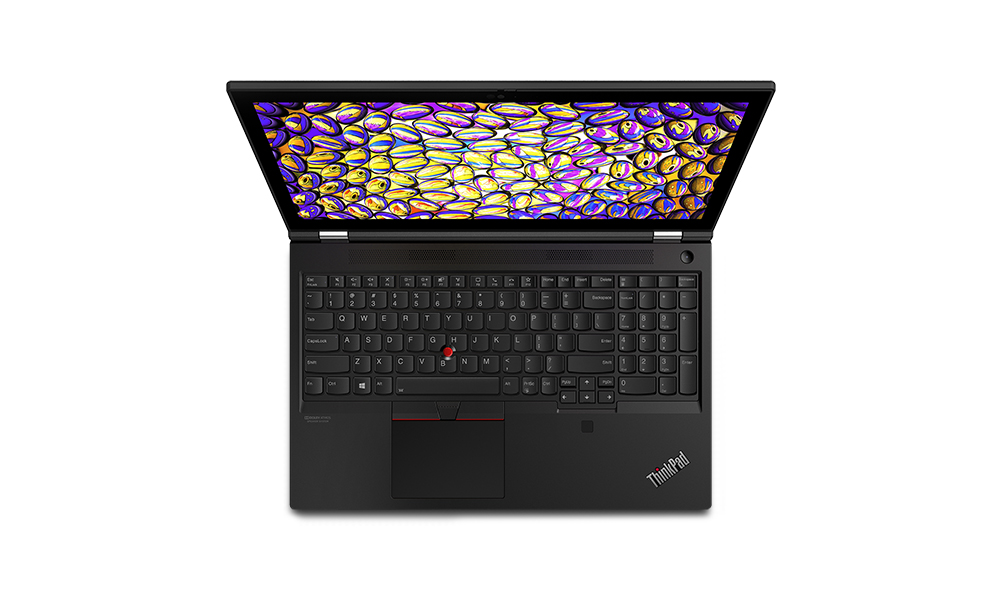 Specs and performance
For a machine of this size, you get a decent amount of processing power, although it's not a marked improvement over the ThinkPad P1 Gen 2 — the main difference being 'Comet Lake' 10th Gen Intel Core CPUs instead of 'Coffee Lake' 9th Gen. Our test configuration is one of the highest performing models, equipped with an Intel Core i9-10885H processor (eight cores, 2.4GHz, 5.3GHz Turbo), 32GB of DDR4 (2 x 16GB) memory, an Nvidia Quadro T2000 GPU, and a 1TB NVMe SSD.
On paper, the Core i9-10885H might have a 5.3GHz Turbo, but this is a theoretical maximum and in our single-threaded Solidworks benchmark, we mostly saw it hovering around 4.6GHz/4.7GHz, with very occasional bursts of 5.0GHz. But performance is good. It took 79 secs to export our IGES test model, three seconds quicker than a 'Coffee Lake' Intel Xeon E2286M in a Dell Precision 7540 and only 4 secs slower than the Intel Core i9-10900K, which is the current fastest desktop CPU for single-threaded workflows.
In our multithreaded render tests, the ThinkPad P1 Gen 3 did well, on par with the Dell Precision 7540, which has a much larger chassis so more substantial cooling. But don't expect to get similar performance to an equivalent desktop CPU, which can clock much higher when all eight cores are in use. That said, the ThinkPad P1 Gen 3 does run steady and maintained an all-core frequency of around 3.30GHz, even when rendering for well over an hour. Impressively, fan noise was quite acceptable and the chassis — the palm rest in particular — remained cool to the touch.
Importantly, the P1 also performs well when running off battery, completing our render test in 442 secs, only a touch slower than the 397 secs it took when plugged into the mains.
In the point cloud processing software Leica Cyclone Register 360, the P1 did well, but as this multithreaded application is heavily dependent on available RAM, it would have done a lot better if the machine was configured with its maximum 64GB. It imported and registered our 100GB test dataset in 3,843 secs, 28% slower than an equivalent 8-core desktop CPU, also supported by 32GB RAM.
The Quadro T2000 GPU is a Max-Q Design variant, which means it's clocked slower than a standard T2000 in a larger mobile workstation like the ThinkPad P15 or HP ZBook 15. However, it's still perfectly adequate for 3D design work, particularly as most CAD and BIM applications are CPU limited so they can't even take advantage of a more powerful GPU.
3D performance will likely fall short in real-time viz applications, not just in terms of processing power but also in terms of GPU memory (4GB), though this can be offset to some extent by dialling down the display resolution or increasing scaling. In real-time arch viz tool Enscape, for example, we got an unworkable two frames per second at 4K resolution, but this jumped up to 24 FPS when the display was scaled to 250%. But this means you won't get the most out of the beautiful 4K display. Or, you could buy a FHD panel instead.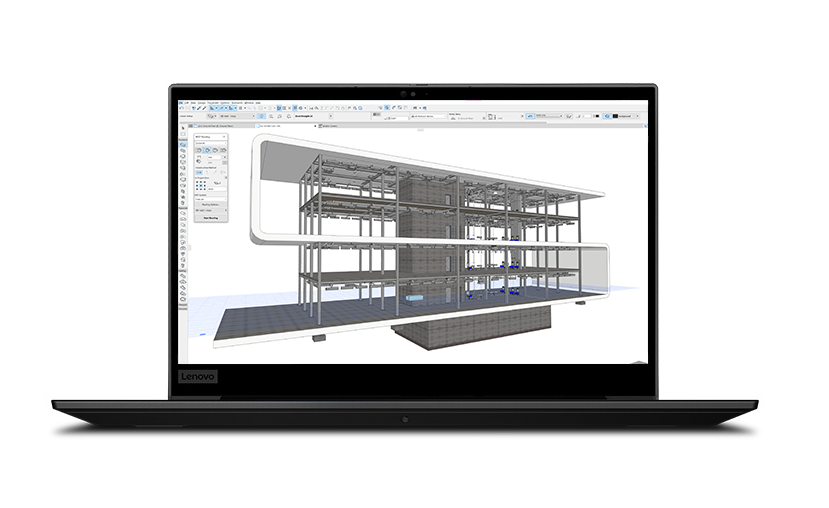 Ultra Performance Mode?
When Lenovo first announced the ThinkPad P1 Gen 3, it made a lot of noise about a new Ultra Performance Mode that would allow users to dial up system performance as and when required, by effectively pumping more power into the CPU and GPU. Unfortunately, Lenovo ran into problems during testing and validation, which meant the system didn't perform as hoped. As a result, for this Gen 3 release, UPM isn't the market differentiator that Lenovo was aiming for. The company puts this down to the fans, which wouldn't spin fast enough to take advantage of the new cooling solution.
Lenovo told AEC Magazine that UPM still offers some benefits in this current iteration, mostly during longer duration workflows, which may explain its relatively high clock speeds when rendering. It added that it has already sourced a higherpowered fan for the next generation and the UPM design philosophy will continue going forward.
Conclusion
The ThinkPad P1 Gen 3 is an impressive pro laptop for CAD on the go — powerful, thin, light and extremely well-built. It's a great upgrade from a bulkier mainstream 15-inch mobile workstation, but if you already own a ThinkPad P1, then it's a harder sell. An improved display and WWAN support will be important to some, but in terms of raw performance, it won't be a huge step up.
Product specifications
■ Intel Core i9 10885H CPU (8 Cores) 2.4GHz, 5.3GHz Turbo
■ Nvidia Quadro T2000 GPU (4GB GDDR5 memory)
■ 32GB (2 x 16GB) DDR4 memory
■ 1TB NVMe SSD
■ Intel Wi-Fi 6 AX201 + Bluetooth
■ Integrated Mobile Broadband 4G LTE-A, Fibocom L860-GL
■ 15.6"UHD (3,840 x 2,160) LCD IPS 600nit, Anti-Glare 100% Adobe panel
■ From 1.7kg
■ 362 (w) x 246 (d) x 18.4mm (h)
■ Windows 10 Pro for Workstation
■ 3 year warranty
■ £2,933 (ex VAT)
---
Remote boost: when laptop processing power isn't enough
Mobile workstations, even slimline models like the ThinkPad P1, are perfect for 3D CAD and pretty much offer the same performance as a powerful desktop workstation.
But it's for more demanding workflows like ray trace rendering, realtime viz, or simulation that laptops often fall short.
Even models with more powerful GPUs like the ThinkPad P15 can't truly compete and you'll always be limited by an 8-core CPU and 128GB of memory.
Some users get round this by having a meaty desktop in the office and a laptop for remote work. But, in this day and age, this is a bit of a luxury, and with Covid-19, the definition of office is becoming increasingly fluid.
There is another way to do this and that is to give laptop users a boost with a remote resource. This can be done via the cloud, through on-demand access to a GPU-accelerated virtual machine, but this capability can also be brought in-house with an on-premise data centre solution.
The Lenovo ThinkStation P920 Rack is a dedicated 2U rack workstation with dual Intel Xeon Gold CPUs, Nvidia Quadro RTX graphics and up to 3TB of DDR4 memory. The idea is that a user can remote into the machine from a laptop, and use its vast resources as and when required.
This isn't just for heavy duty batch processing.
With Mechdyne's TGX Remote Workstation software, it's possible to remote into the workstation and use it as if it were a local machine, with full 3D acceleration.
TGX Software works by compressing and sending the desktop pixels on the rack workstation to a receiver on the laptop where it is decoded and rendered. You get the best performance when using Quadro GPUs at both ends, but decoding can also be done on the CPU, so you could use a standard office laptop.
We tested this remote graphics solution with the ThinkPad P1, connecting into a ThinkStation P920 Rack with 2 x Intel Xeon Gold 6246 CPUs (24 cores), 192GB DDR4 memory, an Nvidia Quadro RTX5000 GPU and Windows 10 Pro. Getting connected is incredible easy — simply download the TGX client, punch in the IP address, user and password and away you go. Despite us being in London and the P920 Rack being in Raleigh, North Carolina in the US, the experience was excellent.
In Solidworks, for example, a large assembly responded instantly to our mouse movements, with only a barely discernible lag. This was more than comparable with other remote graphics testing we've done with other protocols in data centres in the UK and Europe where the latency is much lower due to the shorter distance. Impressively, we did this over WiFi 5, connecting to a 100Mbps Virgin home broadband.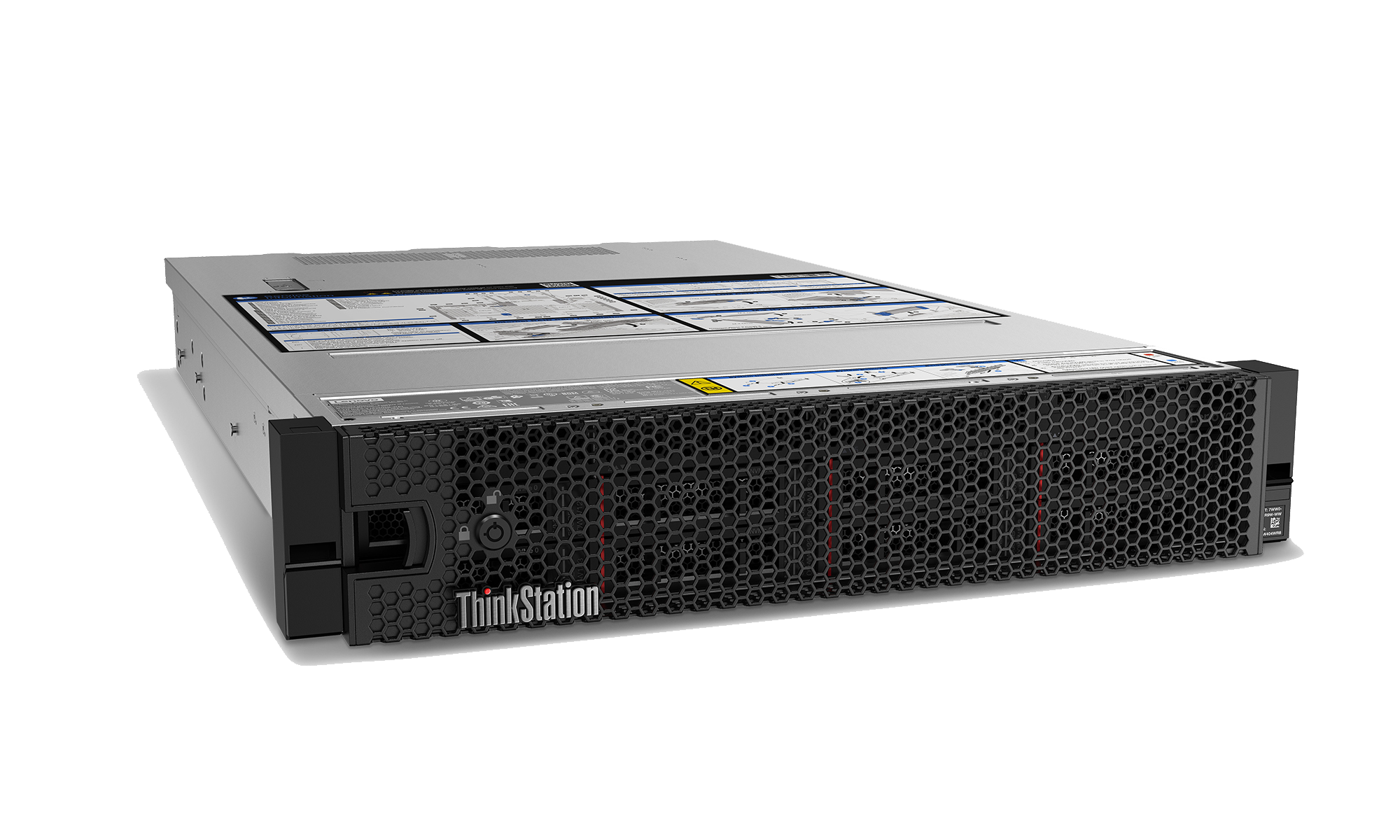 We had intended to plug straight into the router over Ethernet to minimise latency at our end, but there really was no need.
We also connected over 4G, tethering the laptop to an iPhone, and while it felt a tiny bit laggy, it was still perfectly usable.
By tapping into the power of the P920, we were able to significantly accelerate some of our more demanding workflows.
In KeyShot, for example, it completed our render in 120 secs, significantly faster than the ThinkPad P1 (397 secs). We had a similar experience with the V-Ray NEXT benchmark with CPU rendering 3.28 times faster and GPU rendering 3.12 times faster.
With complex simulation, we would expect the potential gains to be much bigger, as the P920 can tap into so much memory.
Importantly, it also transformed our real-time 3D experience in Enscape, going from 2 FPS on the ThinkPad P1 up to a silky smooth 25 FPS on the ThinkStation P920, taking full advantage of the 16GB Quadro RTX 5000 GPU. This could be great for client presentations when high frame rates can make a real difference.
Optimising workflows between the two machines will require careful consideration, not least how to share data effectively. Copying data from the P1 to the P920 was slow, bottlenecked by the 10Mbps upload speed of our home connection. Dropbox quickly become our preferred solution.
Overall, the ThinkStation P920 with TGX software is an interesting way to address workflows with different hardware demands. You could give designers lightweight laptops for everyday CAD work, then ondemand access to vast GPU and multithreaded CPU resources as and when workflows dictate. Resources can also be shared by teams, to make things more cost-effective, and software brokers used to manage access to large pools of machines.
Finally, multiple users can also connect to a single remote desktop for a collaborative session. You only need to license the TGX software on the sender/host — the Receiver software is free.
Lenovo is currently offering a free 120-day trial of Mechdyne TGX Remote Workstation software.
---
If you enjoyed this article, subscribe to our email newsletter or print / PDF magazine for FREE