Not all new BIM tools aim to compete in the existing design authoring tool space. Some target specific types of commonly designed buildings. A new start-up, Higharc, is aiming to revolutionise the American timber frame homebuilding market, writes Martyn Day
---
When looking at a mature software market, software developers look for holes – opportunities in which there has been little penetration or saturation of leading software brands. Started in 2018, Higharc carried out extensive market research and identified that the US residential sector was still mainly using AutoCAD and Excel to design and build their houses. These firms typically don't employ architects and tend towards repeatable variations on standard designs. Enter Higharc, a turnkey cloud-based system which offers a wealth of benefits in design and back-office workflow.
At its heart Higharc has a ground-up developed geometry kernel, which combines mesh and solids. The user works in plan to define floor layouts, drawing lines for walls, inserting doors, windows etc. The system auto dimensions as you go. Areas can be defined and allocated a category, such as garage, bathroom, bedroom, kitchen etc. And with each allocation, content such as furniture, white goods and bathroom sets will be auto inserted. If the rooms are too small, such as the width doesn't fit the bath, the system will warn you.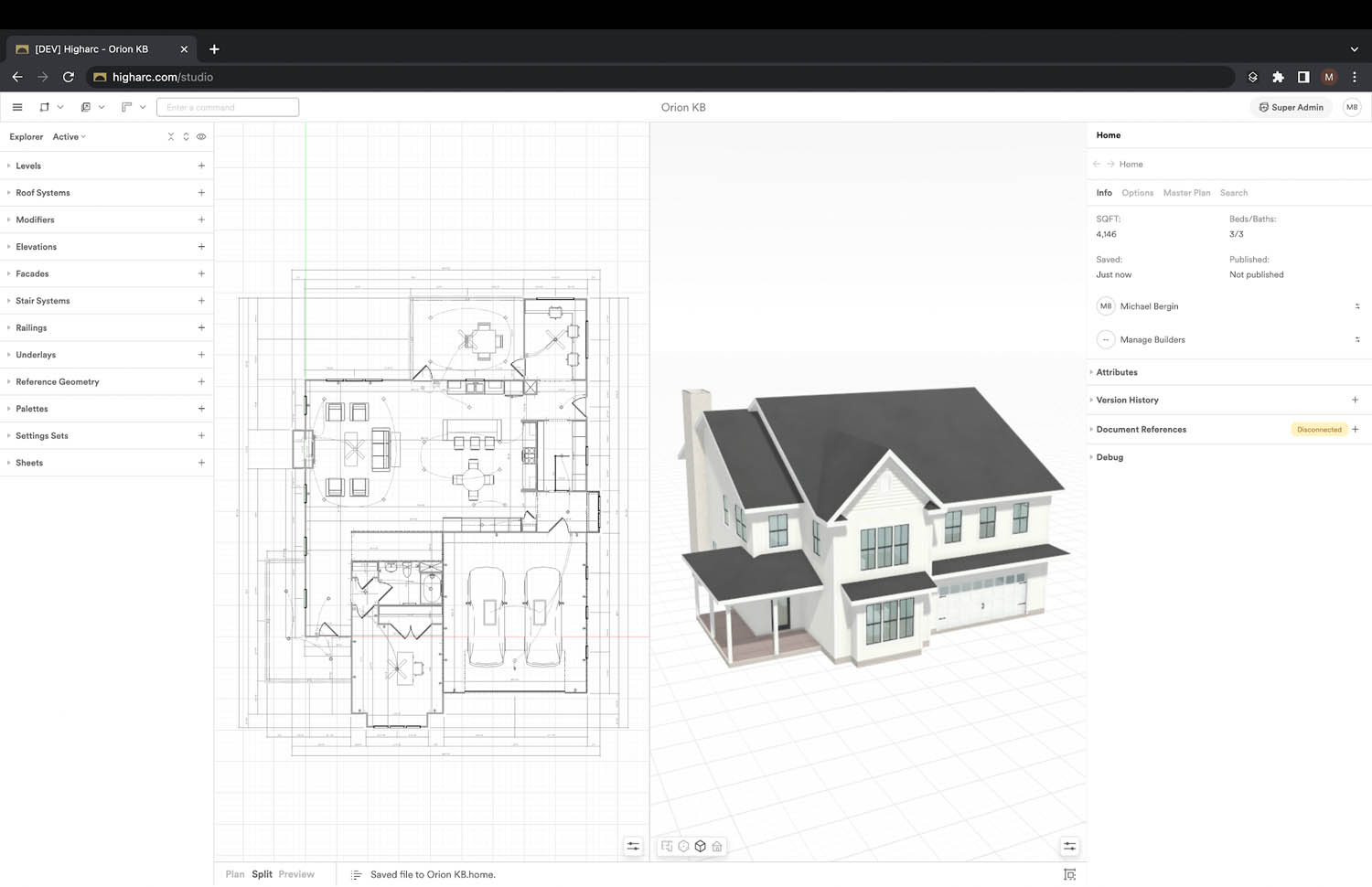 Higharc features its own timber framing system and will automatically define the timber frame in real time as windows, walls, and doors are inserted. While timber frame is very popular in the USA, the system also caters for other choices, such as concrete walls, CMU (concrete masonry unit) walls and brick walls.
Higharc buildings are kind of a 'live' recipe. Once items are inserted into the model, they populate the BoM (Bill of Materials) and a load of material and fixing options come up for further definition, such as porch options, cabinet styles, and window apron trim.
The design system is constantly spatially aware of where you are editing, keeping an eye on if your design choices impact other spaces – below, above and adjacent – and has rules for editing, if say a garage is added. The system checks for things such as circulation and door positions for code compliance.
Higharc doesn't yet do the roof truss design or the plumbing, but it will define the electrical wiring. History is saved, allowing a degree of 'optioneering' between variations, but this seems to be recipe-based as opposed to 'file' instances.
This is all great and it performs very well, but the real magic is the up and downstream features that are already built into the system. Higharc connects into the builder's Enterprise Resource Planning (ERP) system, enabling live costing and resource planning, helping to eliminate waste and give accurate pricing to clients. A full-stack of drawings is automated (with DWG output) – title blocks, plans, elevations, isometric, renderings, specification etc. The system will also automate the production of an individual sales brochure for the configured house, as well as automating the production of paperwork for planning submission.
With a 3D front end, Higharc offers easyto-use filters to identify all the flooring, all the doors, all the windows etc. and get instant model-based feedback. It also has a basic solar analysis tool and can render a pretty decent image, with some manual intervention to distribute some greenery.
The start-up team
There is a wealth of industry knowledge in the start-up, which has already raised $25 million in series A funding. The CEO is Marc Minor, a veteran from the 3D printing world (Carbon and Desktop Metal). The CTO is Peter Boyer, another ex-Autodesker, who founded Dynamo. Michael Bergin, VP of product, was research lead for Autodesk's Industry AEC team. While at Autodesk, Bergin also worked on Dreamcatcher, the company's AI/ML design system for manufacturing design, along with the group who left to develop automated design tool Augmenta.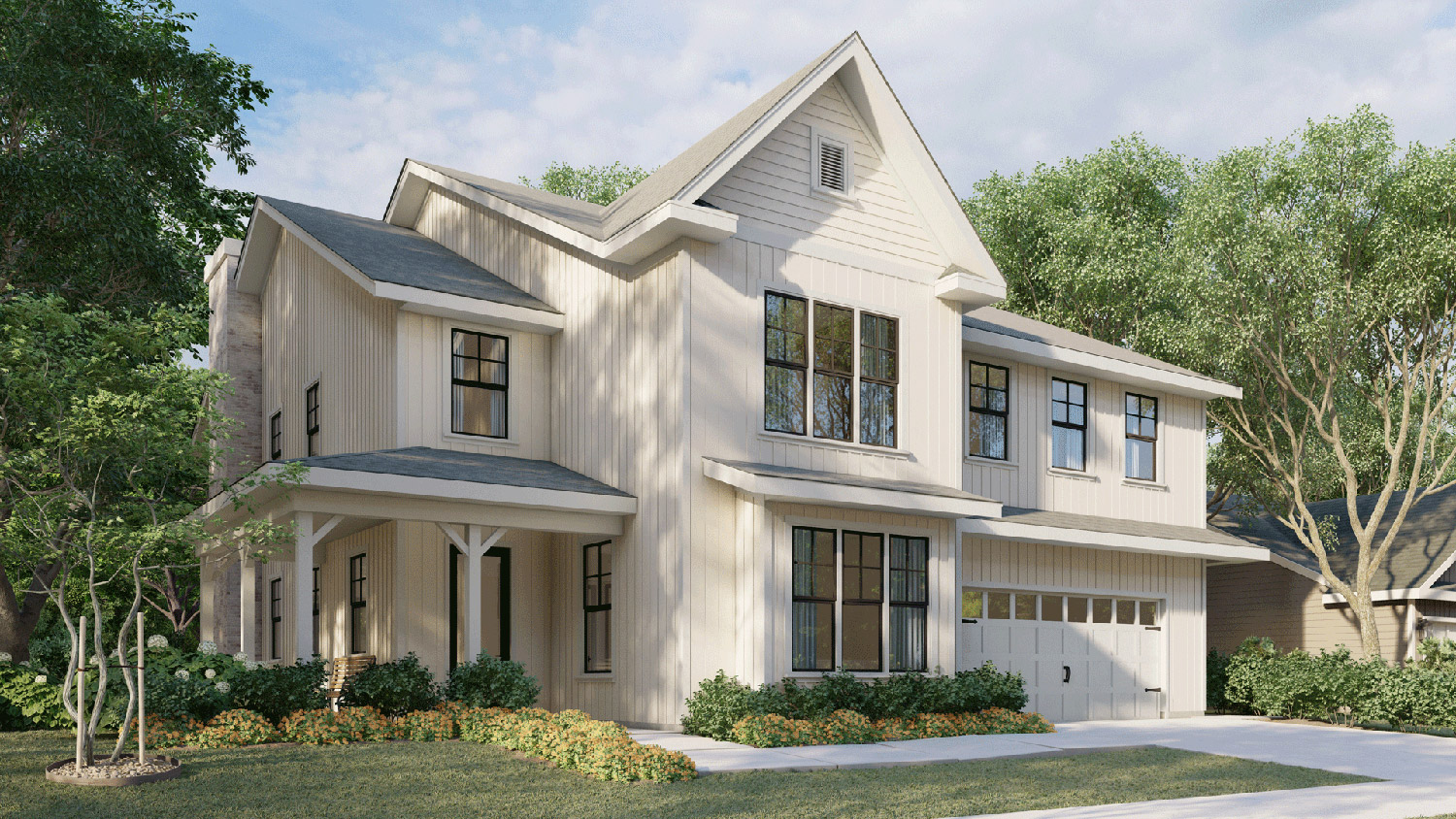 Bergin explained his motivation to improve the residential building market, "I trained as an architect, and I was at graduate school in Berkeley back in 2010 where I focused on mass customisation of single family homes.
"When I was just starting out as an architect, I worked on one home for two years. I remember doing the whole wing of the house. [When] we presented the design to them, they said they didn't want this wing anymore! As I was a programmer, I realised this is kind of a broken system and we should be able to record this knowledge somehow and reuse it over and over again."
Conclusion
Higharc is a design tool, a live configuration sales tool, a construction documentation tool, a permit preparation tool, and the glue to link design to ERP. In the manufacturing space this would be called Product Lifecycle Management (PLM) for buildings.
It's very clear that a lot of thought and love has gone into the development of the software. The team has not made the error of making yet another point tool that needs joining up but a turnkey system to really drive automation and deliver the benefits of BIM to a hitherto unexplored market.
The barrier to entry for these firms to traditional BIM is too high, in terms of custom workflow development and training. Higharc is an expert system which connects all the dots and delivers it an easy to digest format. There's probably a lot of other software firms that could learn a thing or two from this development and not just from the implementation of BIM in the cloud.
---
Main image caption: Higharc model with design options and component lists