Epic Games is a giant in the entertainment sector: over 350 million gamers alone play Fortnite. This success helps fund the development of its real-time Unreal Engine in architecture, engineering and construction (AEC)
---
To date, Unreal Engine has predominantly been seen as a visualisation tool for architectural viz or multi-platform immersive experiences. The concentration on real-time, and ever higher quality output, as well as strategic acquisitions, has placed it in competition with dedicated arch viz rendering engines.
While this is certainly the case, it's not the whole story. Unreal Engine is also becoming a common development platform as the foundation for new commercial products using its SDK (Software Development Kit), as well as a platform with which to integrate.
With customers now looking to create their own tools and bespoke BIM workflows, Unreal Engine has also become a popular choice as a start point, as it offers a capable stack of visualisation and big data integration tools, unencumbered by the weight of BIM.
AEC Magazine regularaly sees projects from the likes of Gensler, HOK, Populous, Foster+Partners, ARUP, Jacobs, Buro Happold, SNC Lavalin which utillise Unreal Engine as part of the design process, from concept to completion. In CGarchitect's annual survey Unreal has come to dominate the Arch Viz landscape, even when separated from Twinmotion responses.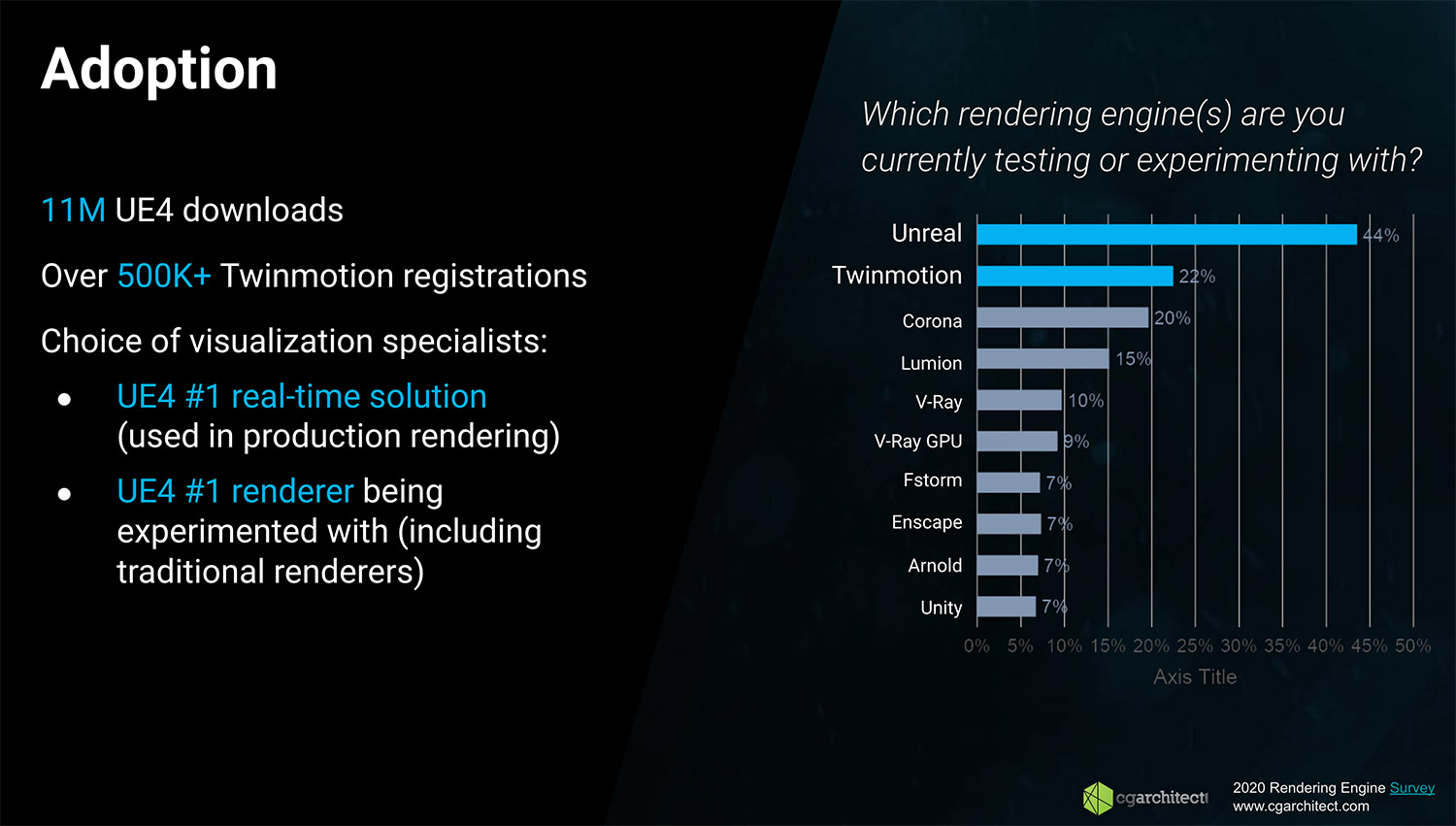 At Build London 2018 and Build London 2019 several Unreal Engine customers presented their developments using the engine in their design processes. These include the likes of KPF (lighting analysis), Shop Architects (VR in construction / component assembly), Zaha Hadid Architects (VR), Allford Hall Monaghan Morris (AHMM) (modelling within a city scale), City of Gothenburg (City Modelling), CallisonRTKL (mass VR analysis of shoppers' movements and eyelines), ÅF Infrastructure (multi-hundred kilometre train track visualisation) Ramirent (Europe's largest construction rental company) (safety training).
Other customer applications supported by Unreal Engine are more altruistic, such as Buro Happold's, collective experiment, BHoM (Buildings and Habitats object Model) which aims to provide a single common language between AEC applications.
Instead of creating translators between every possible tool, the idea is to just have to write one single link per application to connect to all the others, such as Grasshopper, Excel, Dynamo and Visual Studio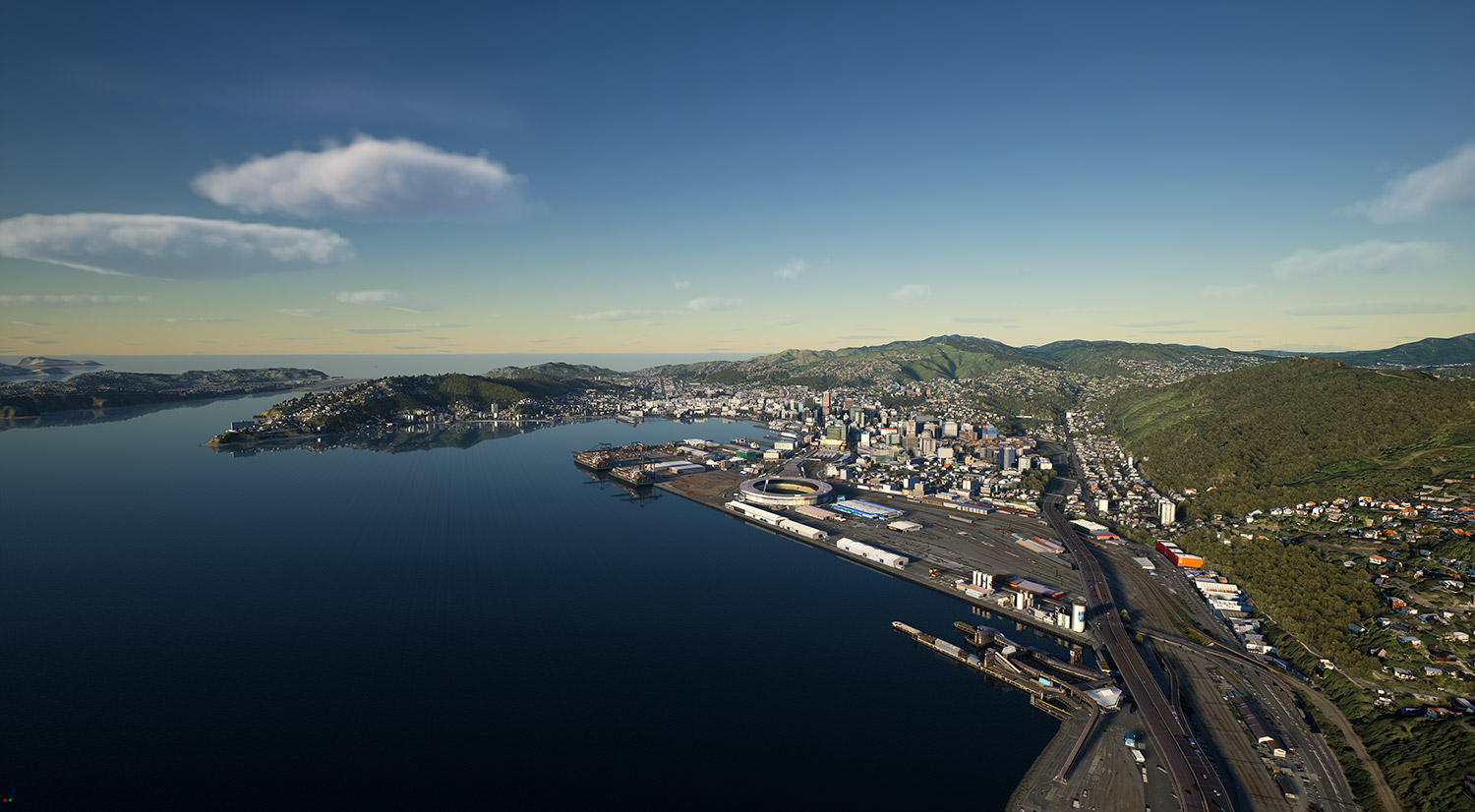 Acquisitions for AEC
Epic's focus on AEC as a market segment has been a multi-year progression through in-house development, partnerships and acquisition. When Epic acquires, it also has a modus operandi to either make the technology free, free for a long time or drastically reduce the cost to users.
With data portability and repurposing being a constant thorn in the industry's side, Epic acquired Datasmith (formerly called Motiva Unreal Scene) from Motiva, to enable optimised and geometrically clean architectural models from Revit, Rhino, SketchUp and others, to be brought into the Unreal Engine environment. Datasmith has since been rewritten and updated and is now free for all users and is an alternative to Autodesk's FBX.
Epic then acquired 'Twinmotion' from Abvent in 2019. Twinmotion is a mature architectural viz tool which comes with a huge library of dynamic vegetation, vehicles, people, street furniture and lights. This made Unreal Engine a hub for early stage viz by architects, all the way up to high-end real-time virtual environments. The software also features direct one-click synchronisation with Revit, Rhino, ArchiCAD and others. Twinmotion was originally given away for the first year, where it gained 500,000 registered users. It currently costs £348 for a perpetual licence.
The latest purchase, Slovakian-based 'Capturing Realty' (read our analysis) adds photogrammetry to 3D modelling to the Unreal environment. From a collection of photographs of a building, street block or city captured by drone, it will be possible to rapidly create a 3D model showing as-built conditions in Unreal. Reality capture is increasingly popular in AEC projects, from refurbishment to monitoring construction (5D), architecture to civil engineering.
Epic's appetite for new data formats which benefit from fast visualisation is getting into some very cutting-edge, AEC-specific workflows. It has also forged partnerships with key industry players for integrations and deeper development.
Partnerships
No man is an island and software companies in the AEC space need to play well together for the good of their customers. Epic has formed tight integrations with Nemetschek's Graphisoft ArchiCAD and Vectorworks BIM platforms, including Unreal Engine and Twinmotion.
This is in addition to Nemetschek having its own rendering brand (Maxon Cinema4D). Italy-based Acca with its Edificius BIM tool has also used Unreal Engine to create its VRiBIM extension.
McNeel's Rhinocerous and its Rhino Inside extension is now supported with Unreal Engine. Rhino Inside operates like a data bus between AEC applications. It allows data to flow between proprietary systems and pop-up inside a wide range of environments. It should be possible to be modelling in Revit or BricsCAD, Blender or ACCA and get that data fed into Unreal Engine via Rhino Inside.
Esri has integrated with Unreal Engine with its ArcGIS ARVR and CityEngine products and has its own 'game engine' development team. The company recently demonstrated analysis of wildfires, at a country level, using the particle system in Unreal.
The major CAD developer missing from this list is, of course, Autodesk. In 2017, Autodesk picked Unity as a specialised partner to address the viz, VR/AR market, co-developing FBX and collaborative workflows with data round-tripping with Revit, Maya and 3ds Max. This move has handicapped most of the competition in this space for the timebeing.
It was also an interesting decision at the time, as Autodesk has its own Media and Entertainment division that had a dedicated VR team with products. It was as if Autodesk opted out of real-time. We have heard rumours that Autodesk has now restarted some in-house VR development.
Ken Pimentel, AEC industry manager in the enterprise team at Epic Games told AEC Magazine, "BIM standards have implications beyond the traditional AEC players. As technology enables the convergence of industries and processes, media and entertainment (M&E) companies want a seat at the table too.
"Digital twins, smart cities, and other forms of innovation can only be efficiently deployed if the underlying BIM data is coherent across buildings, cities and regions."
Where Epic can work with Autodesk, it's willing to help solve problems jointly and there are some signs that Autodesk, woth its stated intention to be more open, is willing to work with other players in this space once again.
But partnerships are not all about working with the major vendors. It's also about teaming up with innovative small firms who are looking to make a difference.
Trezi, for example, is the world's first immersive platform which connects designers with building product manufacturers in collaborative sessions. This is the Zoom of the VR AEC space. From the reverse angle it also allows AEC product manufacturers to showcase their designs.
Safe Software's FME creates a space where you can collate assets quickly in Unreal Engine – point clouds, BIM models, 2D shapefiles, GIS. HOK used FME automate much of the modelling of 130 square miles with 2 million auto-generated buildings from an existing data set, as well as integrate a GIS dataset.
There are many more – click here to see a selection.
MegaGrants – Unreal Engine in architecture
Launched in 2019, Epic dedicated $100 million to what it calls MegaGrants, a fund which it endows on valid firms or people looking to develop using the Unreal Engine. These could come from a wide range of areas: game developers, media + entertainment, tool developers, open source projects and AEC customer / professionals.
By November 2020 the company had handed out $60 million in financial support to more than 1,000 developers. Some firms opt to not make their funded developments public.
MegaGrants typically range from about $5,000 to $500,000 and can cover a wide variety of development, from in house projects to full blown new products, using Unreal Engine as their foundation layer.
The biggest MegaGrant to date was substantially larger than the average. Coming in at $1.2 million dollars, it will be paid to open-source modelling tool Blender over a three-year period. For the AEC market this is of special interest, as Blender has seen a rapid rise in usage in the industry especially as a modelling tool for architects – and for a free tool it's very capable.
Blender has spawned its own open-source BIM tool, called BlenderBIM, which has a thriving community of global developers. By funding Blender, Epic has also enabled downstream developments like this to flourish. As a side note, in July last year Microsoft also gave Blender funding and backing, lending it even more industry credibility.
The MegaGrant program is not just about money, as Epic also encourages hardware providers to join the scheme and offer limited numbers of units for grant winners, such as AMD last year and Magic Leap the year before.
Who is eligible?
Epic is looking to give grants for innovative enterprise projects in visualisation, simulation, design or VR/MR/AR projects for architecture, automotive, manufacturing – specifically non-game industry projects. Also, if you are a commercial software developer creating a tool that integrates with Unreal, or working on open-source tools that benefit the 3D graphics community. By our estimates there's about $40 million left on the table for projects. Applications can be made here.
Epic view
We talked with Marc Petit VP, general manager, Unreal Engine at Epic Games on the topic of MegaGrants allocation. On the scale of the grants awarded, Petit explained that "Most grants fall between the $50k to $150k range, which is a lot of "free", "no strings attached" money. We prefer to give several smaller grants than bigger ones, as the governance around it is so light."
It's important to remember that these are grants, not loans and do not include any loss of ownership. In qualifying development circumstances it's also possible to use Unreal Engine royalty free.
The traditional way that software companies connect with developers has been through SDKs (Software Development Kits). The availability of these can be free but it's become the standard that developers join a network and pay for membership to receive software, support and the SDK.
We asked Petit if the old way of attracting developers was dead? "SDKs are still valid, but I do believe that the days of making money with SDKs are over," he replied, "It is a wise investment to incentivise people to develop for your platform. Just look at how the cloud guys seed the market, offering free credits for this."
As to the kind of projects that Epic has funded, Petit explained, "It's been a wide range, we provide seed funding for indie games, we fund open source projects (Blender, Godot, AliceVision, Speckle, Cesium, USD (Pixar's Universal Scene Description) to name a few. In addition, many education curricula projects, many tools development projects. We've done a lot across the whole spectrum from design to prop tech! There are lots of innovative uses of Unreal Engine."
With Unreal Engine adding serious layers of capability, which AEC developers can utilise, and with today's popular BIM systems often slowing down with large models, we asked Petit how he saw the gamification of AEC and Epic's role within it.
"We're building a platform so that you can capture and display the word as-is (and as-built) and integrate your design data in it – building, infrastructure etc… With the combination of Unreal Engine, Twinmotion, MegaScans and Reality Capture, we're providing a set of tools to achieve the fundamentals of putting the data together and offering high performance, yet easy-to-use visualisation in a platform that is extensible.
"We are building a digital twin platform that is truly open and accessible and that spans multiple industries (e.g. AEC, MFG, GIS). We see our role as enabling application developers.
"There are already many companies starting to build solutions for the AEC space on top of Unreal Engine, from Structure Studios (architecture) to Modumate (architecture), to Vision (civils) or something like Project Anywhere (a world-scale simulation based on Microsoft Azure instance, powered by Nvidia GPU) and a few more who are not public yet."
With so much money going to so many projects and companies, we wondered how Epic defined success. Petit replied, "We view the Epic MegaGrant program as very successful and for us, success is a vibrant ecosystem where stakeholders feel empowered, supported and achieve their goals with our technology. And we want to do this in a way that is fair and transparent. And if, in the process, we get goodwill, that's all upside!"
Unreal Engine in architecture – conclusion
Epic is building its own ecosystem. With the 'gamification' of the AEC market, it's clear that the intention is to flesh out Unreal Engine's modelling capabilities to include more of the standard data formats and capabilities which AEC tools and customers rely on.
Just being a great visualisation and display engine is really not where Epic plans to remain. The core capability to display billions of polys and render in real time, is potentially a great place to start designing in-situ, unencumbered, and now at a city scale and rendered in real time. Performance at this scale with BIM data is beguiling and Unreal Engine 5 is coming out soon too.
---
---
3D Repo
3D Repo is a SaaS platform for BIM coordination in the cloud. The collaborative software, accessible from a browser, allows users to manage 3D model revisions, add comments, perform data validation, clash check, identify model changes, track health and safety, visualise 4D planning and host live collaboration sessions. The company gained its MegaGrant to work on a new cloud-based digital twins service based on Unreal Engine.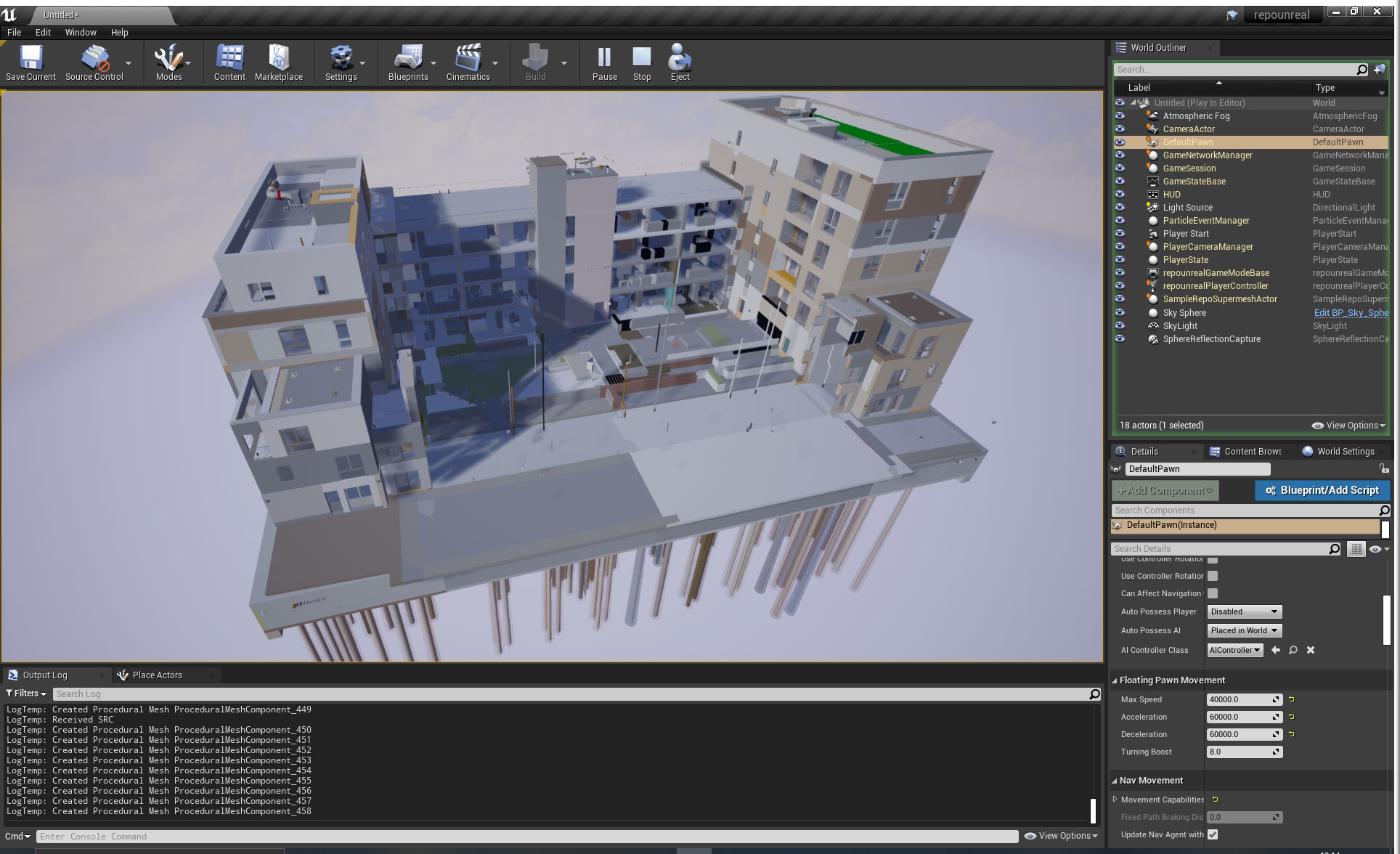 ---
AECOM
To prove MegaGrants go to even the biggest of customers wishing to carry out research and development (R&D), industry infrastructure giant AECOM was included in November 2020 in Epic Games' MegaGrant list of recipients.
Turning over approximately $13.2 billion last year, the global firm is very active in visualisation and virtual reality (VR) research and usage. No specific project was listed against the grant.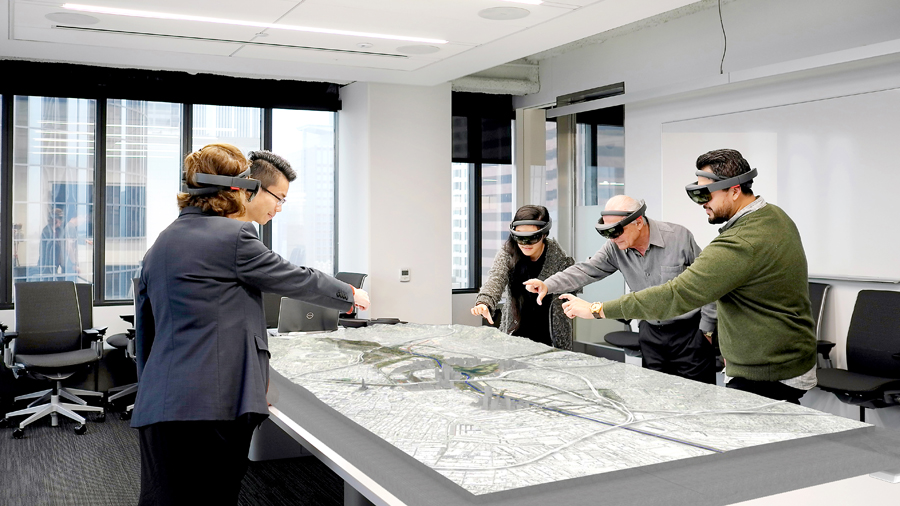 ---
Bentley Systems Synchro
Pennsylvania-based Bentley Systems, the creator of MicroStation, ProjectWise and iTwin cloud services, was included in Epic Games' November 2020 update on the MegaGrant recipients. This is for work to be done in integrating its Synchro digital construction management platform with Unreal Engine. Synchro tracks cost, sequencing (4D) and field submittals and uses very visual displays to show the state of projects.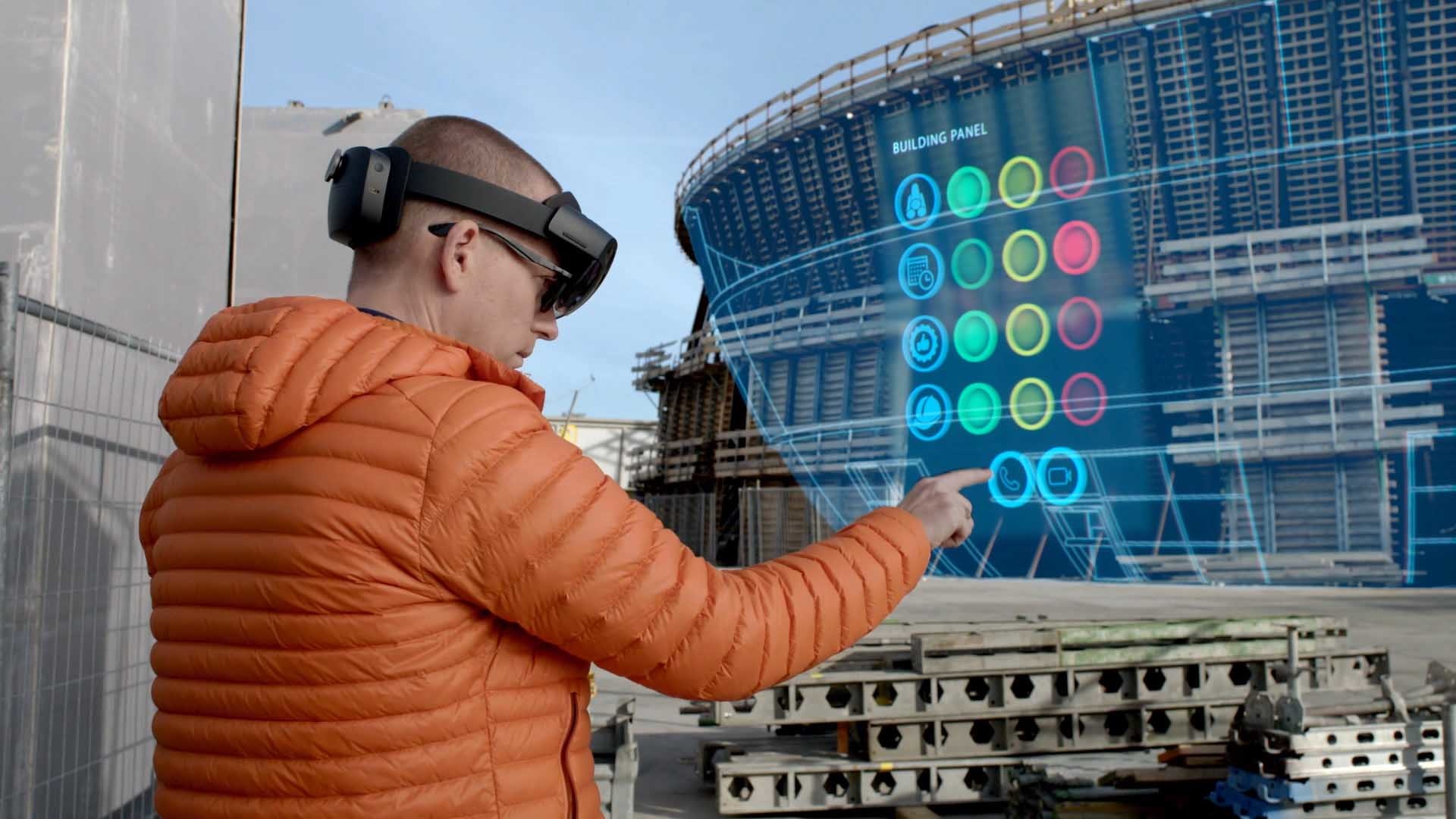 ---
Beyond CAD Vision
Beyond CAD Vision is a visualisation tool for civil engineering projects. The software is currently in development and is the recipient of an Epic MegaGrant. It is a standalone application for transportation or other civil projects and provides 3D file import, a 3D library and advanced traffic movement, where cars accelerate, decelerate and stop at traffic lights. It will also be possible to make still images or video in real time. The software is due out in 2021.
---
Cintoo
French developer Cintoo has created a cloud-based collaborative, scan & BIM platform to manage and distribute scan data. The Cintoo cloud platform enables virtual coordination, project reviews, issue tracking and progress monitoring on meshed point clouds. The Epic MegaGrant was awarded to expand the use of Cintoo Cloud with Unreal Engine, getting faster streaming and removing the need for creating photo textured models and allowing the integration of BIM geometry.
---
Cesium
Cesium is a developer of 3D geospatial solutions, specialising in the cloud-streaming of big geospatial content for global scale terrain and city models. Cesium for Unreal will be the first 'high precision globe' in the engine, bringing real-world detail and accuracy to simulated environments. The company is developing this as a free and open source plug-in. There will be an optional subscription for access to global 3D content via the company's Cesium ion service.
---
Hassell
Global multi-disciplinary architectural, design and urban planning practice Hassell teamed up with structural engineers Eckersley O'Callaghan to enter Nasa's Martian 3D printed habitat challenge and was shortlisted in the top 10. The design featured a shell structure made of fused Martian soil and 3D printed by robots. The grant will be used to develop a VR experience of the Mars Habitat, currently on display at The Design Museum in London. The project was presented at NXTBLD 2019.
---
Mindesk
Forget 3D model conversion and export, Mindesk is a live link between designs in Solidworks and Rhino (Grasshopper) to Unreal Engine, supporting a number of immersive headsets. The software offers multi-user VR, with VR-based editing, supporting NURBS and 3D Bézier curves, with a bi-directional link taking the 3D VR sketches back to CAD. For Grasshopper users, sliders can be used to directly edit the script in VR, to evaluate and compare parametric designs.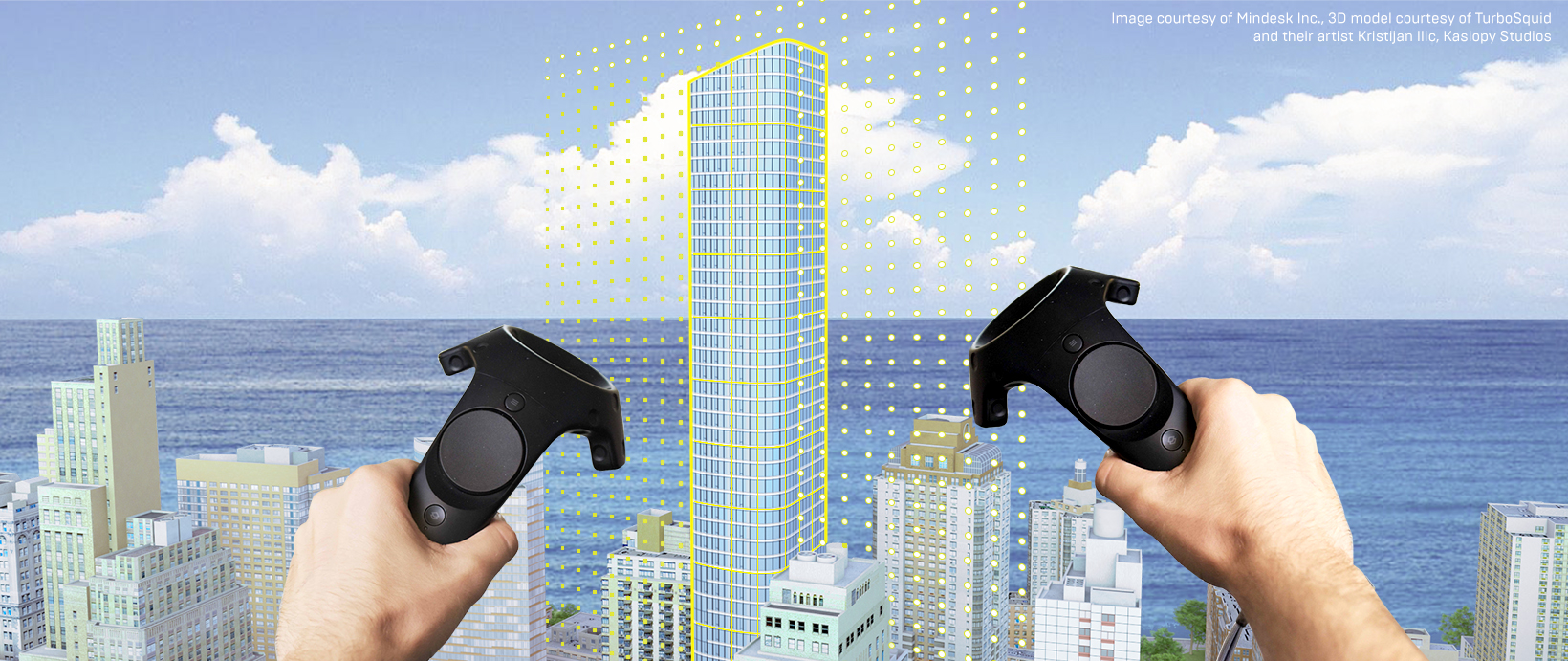 ---
Modumate
Modumate is a new design tool designed to bypass traditional CAD drawings. Buildings are laid out by drawing spaces, as a 'massing graph'. Then separators, such as walls, floors, roofs, doors windows, stairs and railings are defined from a library. Finishes, trim and cabinets are then added. This promises to be a very rapid form of modelling and the software still provides instant renderings and walk-throughs using Unreal Engine. Users can cut the model anywhere and get accurate DWGs.
---
Project Anywhere
Project Anywhere was a proof of concept demo for exploring high-resolution 3D terrain and building data in real time from 'any device'. It's hosted on Microsoft Azure, powered by Nvidia GPUs and gives an amazingly fast world view, running a cloud-based, high-precision World Geodetic System (WGSS) through Unreal Engine. It's both interactive and scalable for real-world simulation.
---
Speckle
Speckle is a cloud-based collaboration environment designed for CAD and BIM data, to provide 'seamless data exchange' of geometry between design and analysis tools. At its heart is an expanding library of connectors which embed in commonly used design tools, allowing geometry to flow without files. Through its APIs and SDKs users can automate very complex workflows. The grant went towards creating interoperability transport schema for Unreal Engine.
---
Structure Studios
Structure Studios formed in 2001 and is a long-time user of Unreal Engine. The company has developed a range of tools covering landscape (VizTerra) and deck design, swimming pool design (Pool Studio), outdoor design (VIP3D) and Yard for augmented reality designing and viewing.
---
Theia Interactive
Founded in 2014, Theia Interactive is a long-time Unreal Engine developer, working on immersive and XR environments for AEC, retail, aerospace and automotive. The company won an Epic MegaGrant to help it develop an online meeting room product called 'Big Room'. The software, which is currently in beta, will provide a virtual design planning room where distributed teams can collaborate on project data. It's aimed at architects, designers, project managers and contractors.
---
Tridify
Finnish developer Tridify has created a browser-based, multi-platform, multi-format BIM publishing and viewing tool. Once data is published and shared, it's possible to measure, comment, add cutting planes and interrogate the BIM component data. The Epic MegaGrant was given to develop a new IFC format BIM streaming service to improve existing workflows and increase the quality of the viewing experience. Learn more in this AEC Magazine article.
---
Unreal Engine in AEC: further reading