CTEK chargers first to feature in BIMobject's new EV charging category

---
BIMobject has introduced a new EV (electric vehicle) charging category to its cloud-based digital building platform.
According to the Swedish firm, the move reflects the increasing global demand for EV charging solutions spanning public, private and commercial architecture, design and construction projects.
First to feature in this brand new category is Swedish manufacturer of EV chargers and associated solutions CTEK, a specialist in battery management solutions.
Users can download PDF product sheets, manuals and Revit Family files for a range of products.
The UK Government has committed to phasing out the sale of new petrol and diesel cars and vans by 2030, ten years earlier than originally planned and, late last year, consulted on proposals to amend building regulations to make EV charging points mandatory for all new builds.
These changes are resulting in the requirement for thousands more EV chargepoints to be specified – in homes, commercial developments and other establishments such as car parks, hospitals, sports and educational facilities.
"As we see EV adoption continue to increase globally, so has the requirement for EV charger BIM objects from our 2 million + registered users all over the world," says Magnus Karlsson, Senior Business Developer from BIMobject.
"We are continuously reviewing customer demand and developing new categories to meet their ever changing needs, and EV charging is one area that has received sufficient demand to require a dedicated category, as EV charging specification within BIM applications became more common-place."
Working with over 2,000 manufacturers, BIMobject's solution provides its users with BIM objects in a number of commonly used formats for industry leading BIM applications such as Autodesk Revit, AutoCAD, 3DS, Graphisoft Archicad, and Trimble SketchUp.
"BIMobject will help us to directly connect with architects, engineers and property developers during the early stages of property design and we are excited about the opportunities that this collaboration can bring us," says Cecilia Routledge, Global Director at CTEK E-mobility.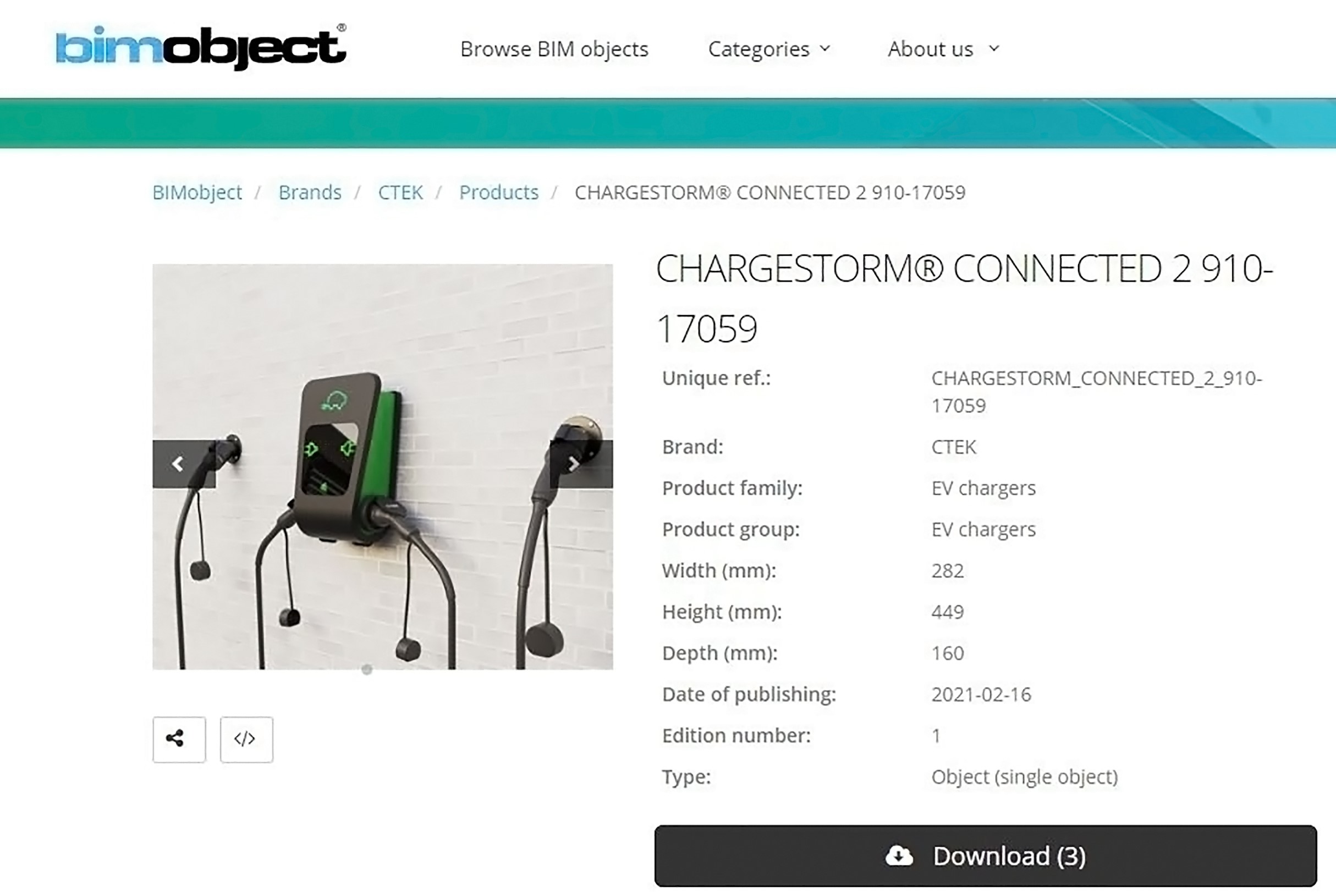 BIMobject will feature CTEK's range of EV chargers including the Chargestorm Connected 2 EV Charger, which is is available with single or dual output, single phase or 3-phase compatibility, different power outputs from 3.7kW to 22kW, as well as optional 4G connectivity.