Real-time AEC software gets new capabilities for collaborative design/review on any device
---
Unity Reflect, the BIM-centric real-time 3D tool which we first covered in-depth in this 2019 article, is evolving from a single product to a suite of purpose-built applications.
There are two versions: Unity Reflect Review, for collaborative design review on desktop, mobile, AR and VR; and Unity Reflect Develop, a platform for building custom apps.
When Unity Reflect launched in 2019 it stood out for its streamlined workflow with Autodesk Revit. Thanks to a partnership with Autodesk, it boasted much tighter integration with Revit than other applications get through the standard Revit API. The memory-to-memory connection meant that whatever was open in Revit could be passed into Unity Reflect in real-time. And, most importantly, it included all the BIM metadata.
18 months after the initial launch and Unity Reflect, as an off the shelf product, still feels like it has some way to go to fulfil its true potential.
Since then, the product has expanded to work with several other key AEC applications, so users can create federated models inside the application. There are now plug-ins for Autodesk BIM 360, Navisworks, SketchUp, and Rhino, all of which maintain live links to the original models so users can view changes in real-time.
New features were also added such as 1:1 scale on-site AR to make it easier to view BIM models in their on-site context to guide the construction process; cloud hosting to make it easier to share models; and support for the Universal Render Pipeline (URP) to allow for higher visual fidelity and greater customisation. There have also been several improvements to the user interface, model navigation, and model loading times, including the ability to stream models progressively, based on object priority, rather than having to wait for the entire model to download.
Despite these developments, the focus of the application remained very much on 'viewing', albeit on multiple devices, as suggested by the now retired branding of Unity Reflect Viewer. It was possible to view detailed BIM information by selecting an object, make better use of BIM filtering, and perform sun studies, but it lacked some of the functionality one would expect from a dedicated collaborative design/review tool.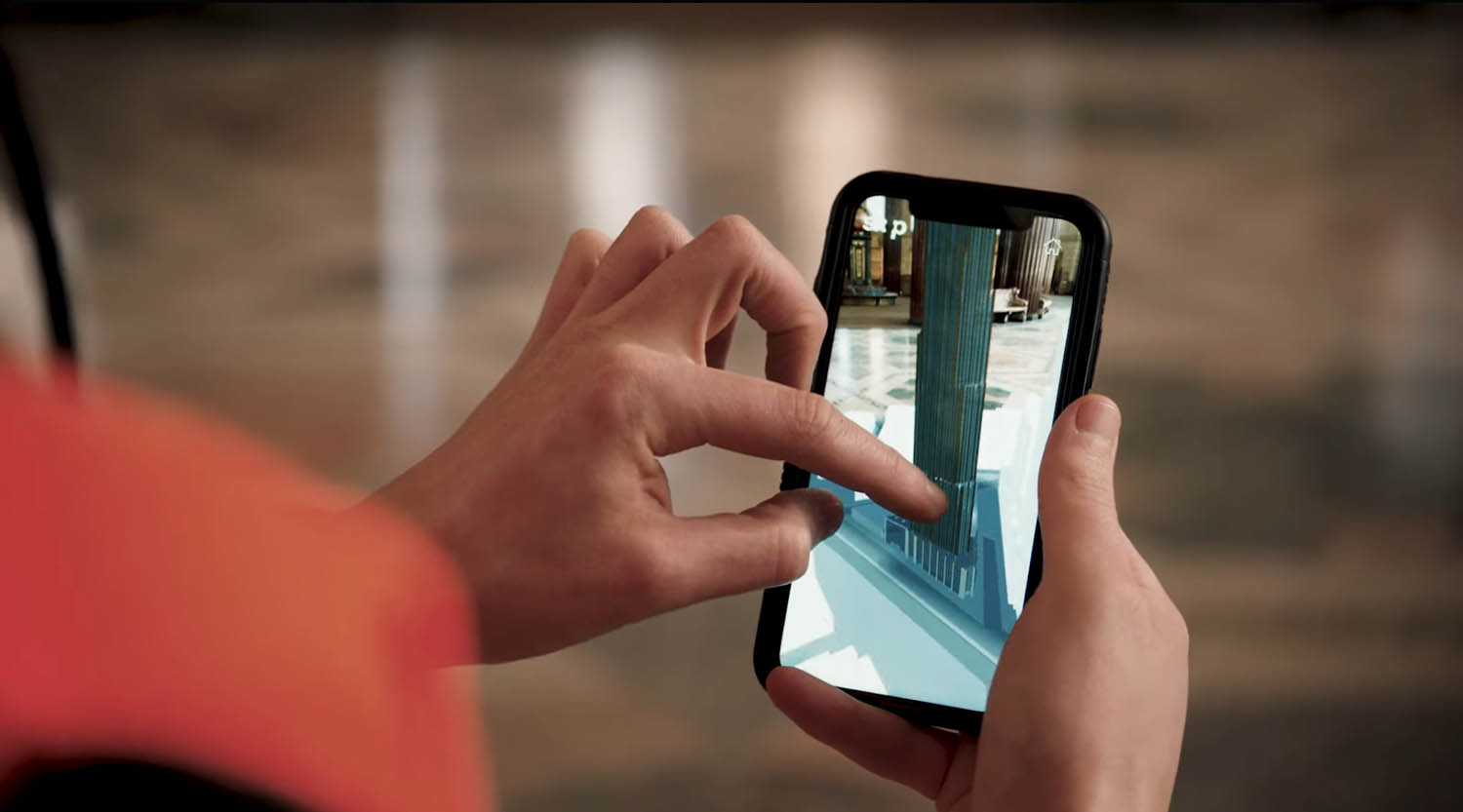 Unity Reflect Review
With the launch of Unity Reflect Review this has started to change. The re-branded product introduces multi-user collaboration, where users can 'walk through' a model together in VR and AR, see others viewing the model, shadow them in 'follow' mode, and also see what they are seeing. It has voice chat and measurement tools built in and when a user selects an object, other users can also see that same object highlighted. However, it still lacks the all-important design/review ability to add annotations, although this is in development.
Further down the public roadmap, there are plans to add a two-way Live link between Reflect and other applications so data can be sent back to the source app in a 'controlled way'. Support for Microsoft HoloLens, support for point clouds and a plug-in for Archicad are also on the horizon.
Unity is also looking to continually improve performance and loading of larger models. It is working towards a goal of handling "Unlimited Models" and enabling real-time 3D on 'all devices regardless of model complexity or device capabilities'. In order to achieve this goal, we imagine the development team will take a two-tiered approach of geometry optimisation and pixel streaming, although Unity doesn't state this explicitly.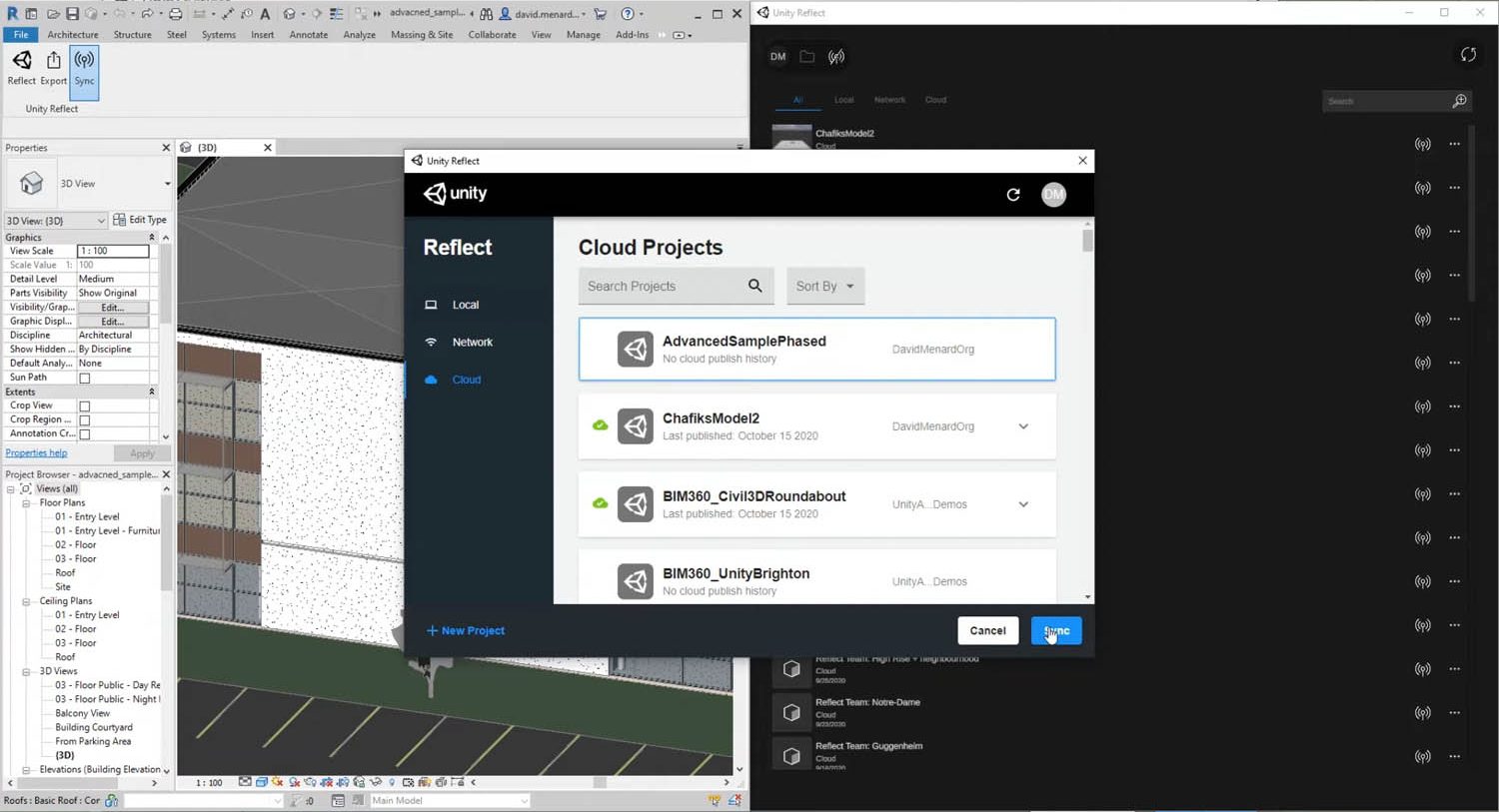 An annual subscription of Unity Reflect Review costs $690 per year, which gives you full authoring and editing capabilities. There's also a view-only version of Unity Reflect Review called Unity Reflect Collaborate for project stakeholders to view, interact with, and provide feedback on 3D designs. An annual subscription of that costs $149.
Custom apps with Unity Reflect Develop
It's always been possible for AEC firms and software developers alike to create custom solutions by building on top of Unity Reflect using the Unity Editor. New York-based SHoP Architects has done some interesting things with AR to track construction progress and to make acoustic simulation a visual process to aid up-front design. Check out the video below.
This has now been streamlined with the launch of Unity Reflect Develop, a solution built specifically for developers – both AEC firms and dedicated software developers alike – who want to build custom apps. Examples include digital twins, construction sequencing, BIM coordination, and interactive safety training, to name a few.
To help accelerate development Unity Reflect Develop features an SDK which includes APIs for creating custom plug-ins, importing BIM data into the Unity Editor, streaming BIM data into a runtime app, and a fully open-sourced reference app.
We've been excited about the potential of Unity in the AEC sector ever since Unity formed a closer relationship with Autodesk in 2018. Getting 'under the hood' access to Autodesk's tools, especially Revit, gave it something that other vendors simply didn't have.
But 18 months after the initial launch and Unity Reflect, as an off the shelf product, still feels like it has some way to go to fulfil its true potential. Yes, Unity Reflect Review has plug-ins for many AEC applications and the power to push federated models out to multiple devices and platforms, including VR, AR, iOS, Android, and PC, but it's still lacking essential design / review tools like markup and interoperability with BIM tools only goes one way.
At AU 2019, for example, Autodesk spoke of a workflow in development that would allow users to flag design issues in Unity in VR and have them show up automatically in BIM 360's issue registry so they can be resolved later on. However, as far we understand, this is not yet available.
Of course, there's also custom application development, which has now been reinforced with Unity Reflect Develop. At Unity's 2019 Unite conference in Copenhagen we were hugely impressed by some of the AEC-focused applications in development, including SandBOX I/O, a conceptual design tool from Foster + Partners. Now, it should be a lot easier for AEC firms to tap into the power of the real-time engine.