Massive datasets can be stored locally on mobile devices to minimise need for constant connectivity
---
Arskan, a specialist in 3D visualisation over the Internet, has developed a compression technology for reality meshes that is said to reduce file size by up to 100 times without data loss. The French company says its Codec technology allows massive datasets to be viewed on mobile devices without having to rely on a constant, fast internet connection, that is traditionally required when reality meshes are streamed from the cloud.
The compression technology is available as a Software Development Kit (SDK), so it can be plugged into a range of third party applications, including reality modelling software. Arskan also sees the Codec as key component for digital twins and is using the technology as one of the foundations on which to develop commercial digital twin products.
Lossless compression
Using the Arskan Codec, mesh data is compressed in the cloud or a server, then sent to a desktop or mobile device for viewing in a browser. For a recent industrial project, Mickaël Pastor, technical director at Arskan, explained how a 5 GB mesh was shrunk down to just over 50 MB, so it could be downloaded to a mobile phone over 4G in 'a matter of seconds.'
Once on the local device the dataset is decompressed, and the visualization can adapt to different levels of detail. Decompression can be progressive, so the user can start to view the mesh before the decompression has finished.
For particularly large meshes, Arskan is working on technology that allows decompression and viewing to start before the entire dataset has been downloaded to the local device. New 'out of core' technology aims to remove all file size limits and Arskan is currently experimenting with a 200 GB mesh of a cathedral compressed down to 2 GB.
Digital twins
Arskan is working on developing a commercial digital twin solution that makes use of the compression technology. The company's SiloData platform combines the Arskan Codec with its universal viewer, Arskan MoveInside, to deliver a 'complete set' of technological solutions for visualisation, management and sharing 3D data on the web, on the go. Arskan says the platform enables clients to generate interactive, collaborative and real-time digital twins.
But Arskan acknowledges that a digital twin is much more than just a reality mesh. The company is working on integrating data from Internet of Things (IoT) devices and using AI to enrich the model and deliver more value to the digital twin.
A car park in France has become one of the test beds for its digital twin solution. Developed in partnership with Lyon Parc Auto, a specialist in public park parks, and INSA, a public scientific research laboratory for image computing and information systems, the CAJuN project looks to explore the predictive maintenance of the 28,000m² LPA Cordeliers car park and company headquarters in Lyon.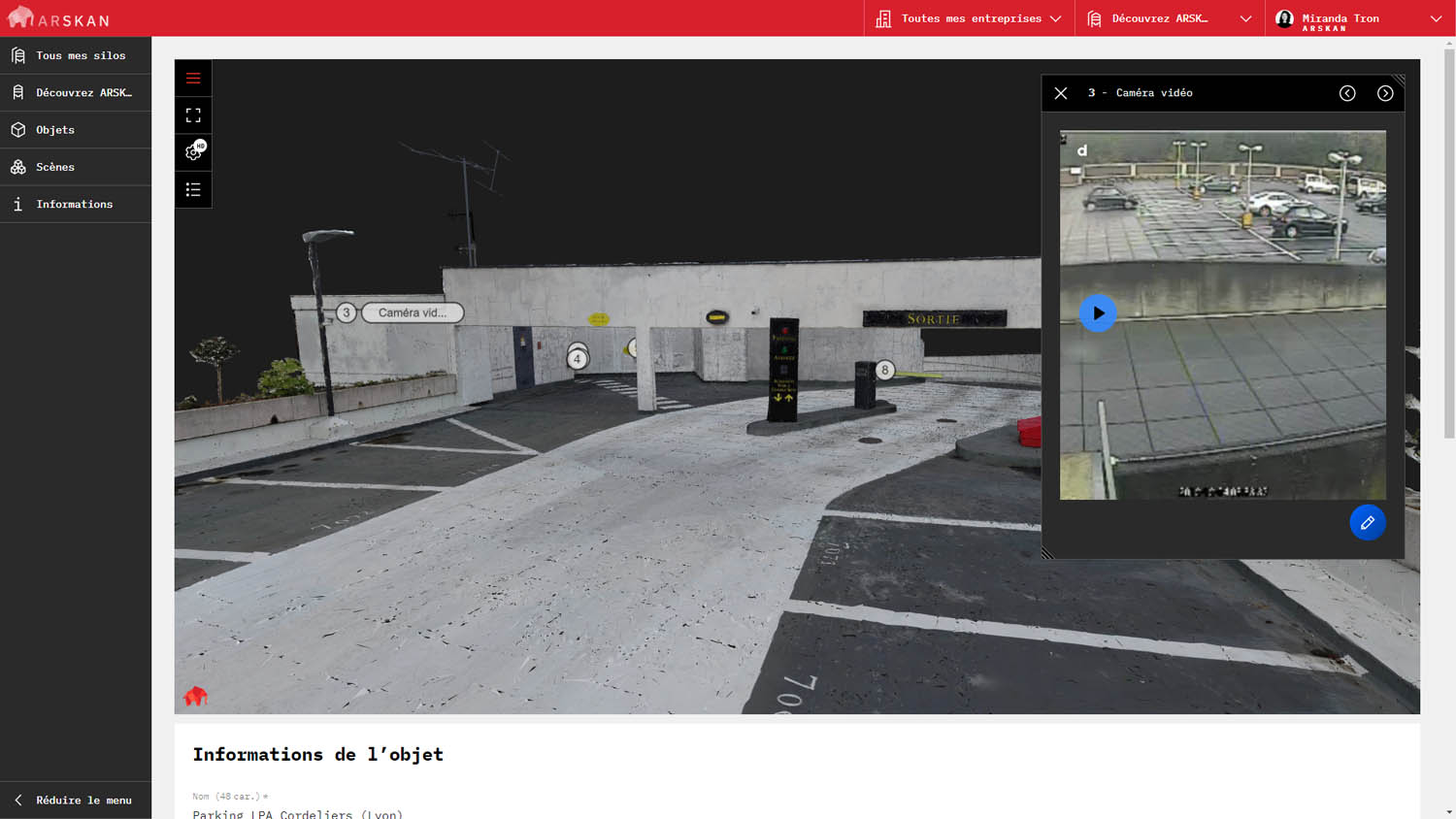 A large, extracted point cloud was meshed and compressed using the Arskan codec, so it could be visualised by parking agents on a tablet or smartphone, accessed via a digital twin stored in the Arskan Silo-Data platform.
The CAJuN project point cloud also used AI for 'unsupervised pattern recognition' to interpret the point cloud data and deliver an inventory of repetitive shapes. This included over 100 fire extinguishers which were classified accordingly and tagged with maintenance information for asset management. AI is also being used on the point cloud to identify walls and reduce file size further by minimising the number of points on the mesh.
As the CAJuN project evolves it could be used to manage other car parks in the region and form the foundation for future commercial digital twin solutions to cover a range of assets including factories or even nuclear power plants.