Access to design data used to be limited to drawing offices and distributed in cardboard tubes. With the advent of CAD, the digitisation of design, the Internet and mobile computing, we really can get everything, everywhere and mobile apps for BIM are on the rise.
---
I distinctly remember showing my Blackberry phone to a friend, quite a few years ago, and demonstrating how I could now have access to the web and my email on the go. "Why would you ever want to do that?" replied my friend, who now, years later, will probably be the last die-hard Blackberry user on the planet.
Over the last two decades, global connectivity has become big business. We have smartphones, tablets, the cloud, sub-notebooks and now even watches, all providing portable online access.
It gives us flexibility to be outside of the office, onsite or work from home, and provides wireless access to the historical, real-time or context aware information.
We already rely on a multitude of 'clouds' (hosted servers) using them knowingly, or unknowingly, to go about our normal lives.
Like emails, drawings and models can be stored on servers and accessed via the cloud, connecting design teams to fabricators and construction workers. The growth of tablets and smartphones on site is a growing trend and many developers have iOS or Android applications to further extend their drawing office systems to make design information ubiquitous.
Low-cal computing
Traditional software, such as the likes of AutoCAD, are large monolithic lumps of code that can do many things on the data that they create. These applications need the resources that mobile computers and smartphones lack — huge amounts of expandable RAM, big hard drives and workstation class processors. Data and application in the mobile world need to be substantially different and 'thinner'.
Mobile applications do not offer the same breadth of functionality as desktops, and vendors came out with lightweight file formats such as DWF to lower the bandwidth, memory and processor speed required.
With applications being limited in size and scope, multiple applications are often required to get a design job done. The number and type of applications will depend on the task. For example, there might be one application to view files, and another application to create drawings.
The net result is that designers may have a 'constellation of applications' on their devices to access all their data, including File storage, Mail, Maps, Documents, Spreadsheets, Drawings, Renderings, Project portals, photographs etc. Fortunately many of these applications are free or are available at small cost on Apple iOS or Google Android.
When looking at BIM or scanned datasets, which are large, and with improvements to mobile bandwidth with LTE and 4G, vendors are now moving to streaming the content from the cloud to the mobile device, bypassing files and the issues that arise from that. As BIM data can be so rich, it is also possible that a vendor may develop a number of applications to extract data views from a single model, such as quantities, plans / elevations, COBie spreadsheets or lightweight 3D models.
Create, view, or login
There are generally two types of mobile apps for BIM: those that are designed as stand alone and offer capabilities to view / create and send, or those that are designed as extensions to company systems and provide mobile access to backend or cloud-centric infrastructure, such as Bentley ProjectWise.
When looking at BIM or scanned datasets, which are large, and with improvements to mobile bandwidth with LTE and 4G, vendors are now moving to streaming the content from the cloud to the mobile device, bypassing files and the issues that arise from that. As BIM data can be so rich, it is also possible that a vendor may develop a number of applications to extract data views from a single model, such as quantities, plans / elevations, COBie spreadsheets or lightweight 3D models.
In addition, vendors such as Autodesk are virtualising their desktop applications to run on the cloud, streaming only the interface video to the mobile application. This allows Revit to be run remotely from an iPad. Eventually we will probably access all our applications this way.
WiFi or 4G
Having roamed the planet and wasted more time than I would care to mention looking for WiFi hotspots, devices that have combined WiFi and 3G/4G make for the best experience of mobile computing. If a fast WiFi is not available then at least the mobile phone might be available for data access. Some applications allow data to be locally cached for offline access (always a bonus) and some tablets such as MS Windows have USB ports, so files can be plugged in from a memory stick.
With data roaming access costs in some countries still astronomical, real road warriors may also be advisable to sign up to public WiFi clouds, such as The Cloud, BT Fon or get a local SIM for each country. This sometimes is not as easy as it should be, especially in the US where many national providers such as AT&T require a US postcode with a US credit card. This is probably best sorted in the airport on arrival.
Heavy mobile users will undoubtedly also need to have back up batteries and chargers. While there are many options for phones, charging tablets from Lithium batteries requires a completely different level of power pack, as Tablets are actually quite power hungry with their large displays. Always worth shutting down applications not being used and maintaining an eye on power-hungry applications.
Mobile apps for BIM futures
Of course the final fallback is the trusty laptop, where full applications live and can be linked to WiFi or mobile phones for access. However, a laptop is less useable on site, or up some scaffolding.
There is some talk of larger format tablets coming next year, perhaps a 12" or 13" iPad. This size would remain portable, when compared to today's laptops and subnote books.
Then, in the future, should computing move to the cloud, all we will need locally is a dumb terminal, even in the office, in which case we may very well end up with 27" tablets.
---
File viewing, markup and collaboration
Graphisoft BIMx
BIMx is a project presenter app for Graphisoft ArchiCAD. Using a BIMx Hyper-model it integrates 2D and 3D building project navigation for designs created in ArchiCAD. It allows ArchiCAD models to be securely sent and interacted with anywhere.
---
Tekla BIMsight Mobile
Tekla BIMsight is designed for taking IFC and BIM models created in any application to construction sites on tablets and phones. This incredibly popular free desktop application goes mobile on the iOS platform.
---
McNeel iRhino
iRhino enables the display of McNeel Rhino 3D models on mobile devices. Load Rhino models from web sites, Google Drive, Dropbox, email attachments, or from iTunes. Save views as images for markup and emailing.
■ rhino3D.com
---
LCi Sightspace3D
Sightspace3D is an Augmented Reality tool that overlays 3D models onto the real world with virtual walk through on mobile devices. It supports SketchUp (in native SKP format), 3D CAD (.KMZ), Trimble 3D Warehouse and Google Earth.
■ limitlesscomputing.com/sightspace
Navigator Pano Review
Bentley Navigator Pano Review is for navigation, view, and mark up of 2D and 3D models. It uses Bentley's i-models, is optimised for iPad, and can combine MicroStation DGN, Autodesk Revit and DXF, AutoCAD DWG, McNeel Rhino, and Max 3DS files.
---
Structural Synchronizer
Bentley Structural Synchronizer View is for change management, data synchronisation, revision history and model viewing. It integrates structural modelling, analysis and design, documentation and drafting, detailing and fabrication and neutral file formats.
---
Autodesk 360 mobile
Autodesk 360 Mobile is a generic file viewer for annotation of drawings held in an Autodesk 360 account or 2D/3D DWG and DWF files. It has zoom, pan, and rotate capabilities as well as providing access to embedded metadata.
---
Revizto Viewer
Revizto Viewer allows users to open, explore and collaborate architectural projects, that were recreated as navigable 3D environments from CAD files and 3D models in Revizto's Editor.
---
SketchUp viewer
SketchUp Mobile Viewer can view models in the 3D Warehouse with orbit, pan and zoom. Camera menu has standard views (top, side, bottom), or chose from a list of scene-based camera views. Preview model info before downloading for offline viewing.
---
Mycadbox
Mycadbox (previously Cadfaster) enables users to share and annotate 3D models in real-time on the iPad. It works with SolidWorks, Revit and MicroStation. The software highly compresses 3D data before models are exported to the viewing platform.
---
BIManywhere
BIManywhere is an iOS app for the Apple iPad which provides access to building information model info onsite. BIManywhere claims its patented 3D engine and model splitter make it the fastest model viewer on the market.
---
Other options
Sun Seeker is an augmented reality app that shows the solar path for each daylight hour (ozpda.com). See Breeze is an augmented 3D viewer for local weather conditions with animated vectors (ozpda.com). SightSpace Free-D is an augmented reality viewer for SketchUp. Design and visualise any space using Augmented Reality. (limitlesscomputing/freed)
General mobile apps
Microsoft Office
MS Office – the new Office for iPad (iOS) is excellent and very familiar territory for Office users, Word and Excel at hand, with cloud storage.
Fifty Three Paper
Paper by 53 – we love this sketch tool for tablets. Fifty Three has also developed a pencil-like stylus for a more traditional feel.
Dropbox
Dropbox, everybody's favourite cloud storage application, has a good tablet implementation. Search and view files stored on the go.
Autodesk SketchBook
Autodesk SketchBook Mobile is a hugely popular sketching tool with an intuitive interface and some unique design tools.
Adobe Reader
It took a while to bring for Adobe to bring out a tablet PDF viewer but Adobe Reader is now advancing quickly with 2D and 3D support.
Google Snapseed
Snapseed is our favourite photo editing software. A powerful set of editing capabilities with a simple and innovative interface.
---
Manage — access to cloud services
Newforma
Newforma, the management software developer, has split its applications into seven: Plans, Capture, Tasks, Project Email, Protect Teams, Field Notes and Punch List. These link back to Newforma servers to provide access to the latest managed data.
---
Buzzsaw Mobile
Securely access AEC designs and documents remotely with Autodesk Buzzsaw Mobile. View Revit and Navisworks models with metadata or view 2D/3D DWF files, standard office documents and images, and upload project photos directly to the cloud.
---
Projectwise Mobile
ProjectWise Explorer Mobile provides a subset of Bentley's ProjectWise platform. Create secure work packages from documents stored in ProjectWise by adding file types. Work on these off site, annotate and return to a desktop to synchronise for review.
---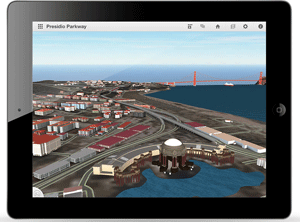 InfraWorks 360
InfraWorks 360 mobile allows users to view, access & collaborate with Autodesk InfraWorks project models and scenarios on a tablet. View designs within the existing environment without the need for additional desktop software.
---
BIM 360 Field
Autodesk BIM 360 Field is a field management software for creating and updating reference project documents. Run QA/QC, safety and commissioning checklists. With 2D/3D BIM access and mark-up, collate data on field equipment and share reports on site.
---
BIM 360 Glue
Autodesk BIM 360 Glue is an online collaboration software and service for viewing of multi-discipline models, co-ordination and clash detection. Collaborate in real time from the office or mobile devices.
---
4Projects 4Mobile
4Mobile enables users to stay connected to 4Projects data from the field. 4Mobile allows all team members to share and manage documents such as RFIs, drawings, issues and capture, upload and distribute photos from a mobile device or tablet.
■ 4projects.com
---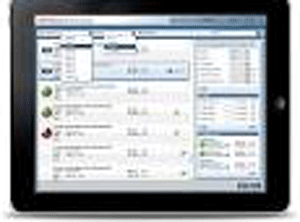 P6 Team Member
P6 Team Member is Oracle's mobile entrance to its P6 Primavera Enterprise Project Portfolio Management system. The Apple iOS and Google Android app allows remote viewing and updating of assigned tasks.
---
Other options

VEO Mobile Collaborate and access project data. View and update facilities management documents such as equipment manuals and drawings (m-six.com). Plangrid Mobile construction blueprint replacement platform with managed, real-time data updates (plangrid.com). Procore construction management service with remote access for iPad, iPhone and Android (procore.com).
---
Create and Edit
AutoCAD 360 Mobile
Autodesk is moving its apps to the cloud, while keeping the desktop alive and well. With AutoCAD 360 Mobile it is slowly replicating AutoCAD but in the cloud, so you can access AutoCAD functionality on any device.
---
Autodesk Remote
Autodesk Remote includes some wizardry to allow you to tunnel back to your desktop Inventor, Revit or Maya, gain authentication and run special versions of these applications, with touch interface overlays remotely on an iPad.
---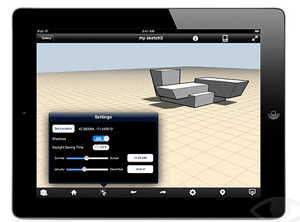 Autodesk Formit
Autodesk Formit is a developing conceptual 3D design tool that works on tablets or browsers. The new program is experimenting with all sorts of capabilities and interfaces.
---
OrthoGraph Architect
OrthoGraph Architect is a mobile CAD application for the iPad, which is ideally used for floorplan survey and plan creation. The software features storeys, rooms and land plots and supports sketching.
---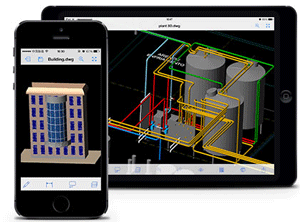 ZW Touch
ZW Touch is a DWG CAD file viewer and voice-assisted annotator that offers 2D/3D support, with viewing, with third party cloud storage services. It also enables the modification and creation of CAD geometry.
---
Other options
PDF to AutoCAD is a mobile app which gives access to an online web service which converts PDFs to DWGs (cometdocs.com). With 123D Autodesk is looking to appeal to the masses with a range of desktop and mobile design applications under the 123D banner. So far there is Catch, Design, Make and Sculpt (autodesk.com).