With the ongoing pandemic, work, travel and public social distancing look set to remain important for months to come. Crowd / pedestrian simulation software has really come in to its own
---
AEC magazine typically looks at software and hardware which can assist in the digital design of building projects. Typically, these are forward-looking design assessments to help shape and improve the quality of any proposed project. In our strange new Coronavirus world of lockdowns and limited capacities, these design simulation and analysis tools are providing essential feedback on how we can bring existing buildings safely back to use.
As you might expect, one of the key developments added to Oasys' pedestrian and crowd simulator, MassMotion, this year has been proximity-based tools, to help its customers respond to proximity-fears and disease spread.
This functionality has enabled users to carry out urgent simulations to help facility and transit authorities to respond to the variable regulations imposed throughout the Covid-19 pandemic.
The software can model physical distances between each agent, mapping exposure times and interactions and ultimately identifying the maximum capacity of any given space, with various minimum distances. Of course, MassMotion can also be used to simulate queue spacing, one-way systems and other strategies, which, once proven, can be deployed to bring public buildings back to use within Government Covid-19 guidelines which should hopefully evolve as we head to a post-corona world.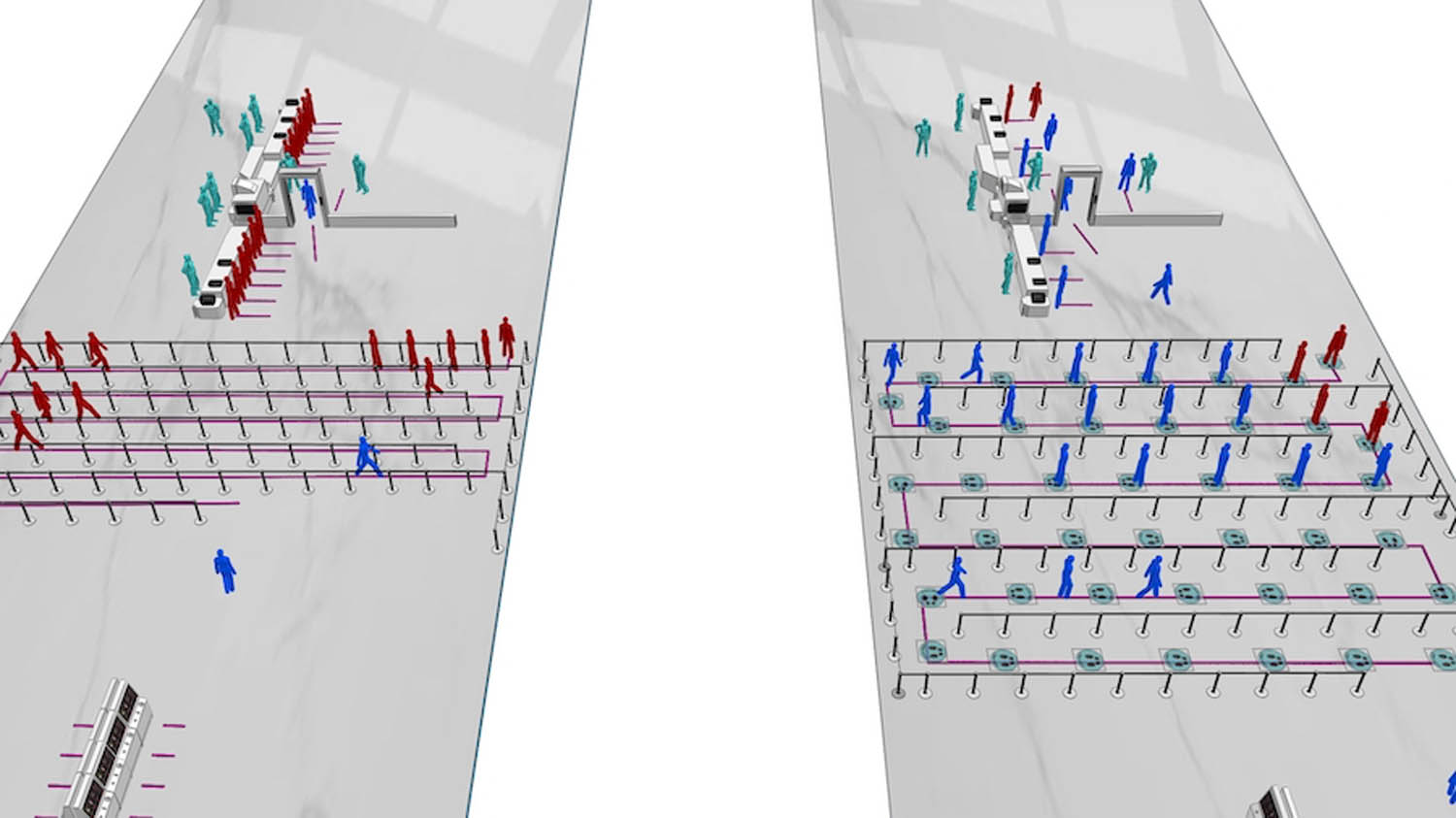 Pedestrian simulation in conversation
Lachlan Miles, is product director of MassMotion at Oasys and is the driving force behind its development. He started as an engineer and moved into the software world. We discussed MassMotion's development and what's coming next.
Miles first explained that initially he thought Covid-19 was not going to be great news for crowd / pedestrian simulation as governments didn't want the public to use mass transit, theme parks and stadiums. However, the demands for help with social distancing and managing with the new limitations quickly initiated new feature development.
Also, because the way that people were working with MassMotion changed, Oasys had to make some changes to the licensing of the software, because the aim is to get people back on their feet and this is a once in a generation shock.
Miles explained that while some customers would identify new features, such as the ability to better simulate accessibility for wheelchairs or adding elevators for high rise, from Oasys' perspective the most important development has been the creation of MassMotion's Software Development Kit (SDK).
While the SDK can be used to automate simple things, it actually puts MassMotion into new dynamic conceptual workflows that large practices are currently developing (see our Bespoke BIM software workflows story from earlier this year).
In the software world, Miles explained that, for both desktop and cloud, "If software doesn't have decent APIs or open input / outputs, software will become increasingly isolated."
He added that Oasys gets requests to take the simulation data from customers and use it in Autodesk 3ds max or Unreal Engine and historically software players said no because they want to keep customers within their application. Moving forwards this isn't going to work.
The MassMotion SDK shares the agent database and offers other developers a direct pipeline. This means plug-in developers can factor MassMotion information and feed it into any system the client chooses.
MassMotion is a desktop application, while the software world seems to be going cloud. "Cloud is the next big thing that we're doing with MassMotion", explained Miles, "…and we are not just throwing up the existing code on Amazon Web Services and changing the UI. The development team has almost tripled in size in the last year. The main thing that we're doing is basically taking the engine out of the car and refactoring it for the cloud."
"When we released the SDK a little while ago, the aim was always to get to feature parity. So, anything you can do in the UI, you can script, from placing portals for agent generation to a full Grasshopper plug-in system – and so we have started writing that.
"For us, in terms of what's coming next in version 11, due out around summertime, we've decided to offer tools for really big customers, who are able to dedicate someone who knows C sharp and can spend two weeks reading documentation and developing something really unique and useful. But we are also going to make it accessible for someone at an engineering firm who's learning Python maybe in their spare time.
"Of course, we will also include features that users have asked for like fly through cameras, different avatars and visual tweaks."
But the research never stops. Miles explained that because buildings are smarter and smarter, there is more understanding of not just the occupants, but also how things are being used. Large infrastructure like airports or train stations are now sensor-rich spaces. Oasys is funding an ambitious research programme into how you take this Internet of Things (IoT) data and construct data pipelines directly into future releases of MassMotion.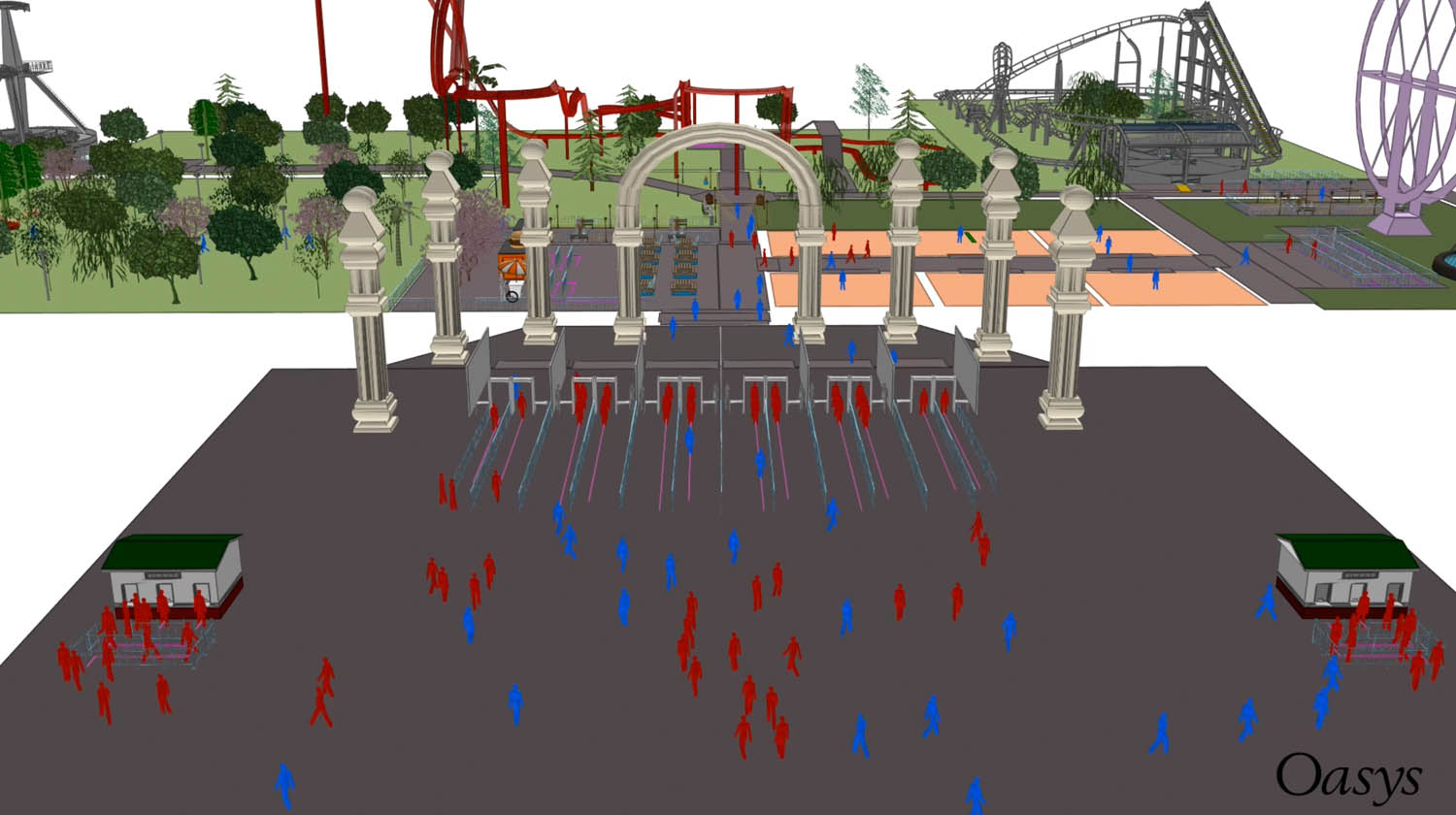 Conclusion
While the industry has had to adapt to a year of distancing and remote working, applications like MassMotion have proven invaluable when considering pandemic regulations. As we look forward to hopefully a summer of the easing and perhaps some sense of normality, it's clear that simulation and analysis of public spaces will become increasingly important both for future developments, as well as for emergency planning.
MassMotion is undergoing an incredible amount of development work, both on the desktop and in the cloud, where data needs to be accessible to everybody in the project, through to digital twins. Oasys is looking to cater to all levels of clients, from those who just want basic simulations, to those who want to embed and build on top of it within their new digital workflows. We find this latter development exceptionally interesting and it is exactly the kind of capability that large practices are currently looking for.
We will certainly be catching up with Lachlan Miles again later this year as we carry on exploring how software developers and architectural practices are now working together to customise their own workflows and processes, to tailor-make their design technology stacks.
Increasingly software should not be just considered on feature sets alone, but on connectivity and how the data it creates can be refactored and used within the design and lifecycle of AEC assets.
---
Further reading on AECmag.com