The new ThinkPad P16 packs the high-end performance of a 17-inch mobile workstation into a compact 16-inch form factor. We look at the industrial design and advanced engineering processes that went into bringing this ground-breaking new machine to life – from concept sketches and foam models to simulation and physical prototyping.
---
The ThinkPad P16 is one of the most ambitious mobile workstations to come out of Lenovo in recent years. It marks the convergence of two different form factors – the 15-inch and 17-inch – into a new high performance 16-inch chassis.
With the desire to serve two types of power users with a single product, Lenovo knew there was no room for compromise.
"We wanted to bring the top-level performance of a 17-inch chassis into a much more 15-inch like offering," says ThinkPad senior product manager, Lane Jesseph. "We knew we had to squeeze every ounce of performance out of the CPU, the GPU, and memory."
This presented a huge challenge for Lenovo's mechanical and thermodynamics engineers. The machine needed to run cool while satisfying the requirements of its most demanding users – architects, engineers, designers and CG artists that are pushing the boundaries of real-time visualisation, rendering, simulation, VR and more. "It was no small feat fitting this much performance into a form factor this small," explains Lenovo industrial designer Sam Patterson.
But the challenge for this new product didn't end there. Lenovo also wanted to significantly elevate the look and feel of the laptop with a brand-new industrial design. "We wanted to bring it up to a modern standard so that we had something that would look amazing on the desk of any architect, or in the garage of a Formula One racing team." adds Patterson.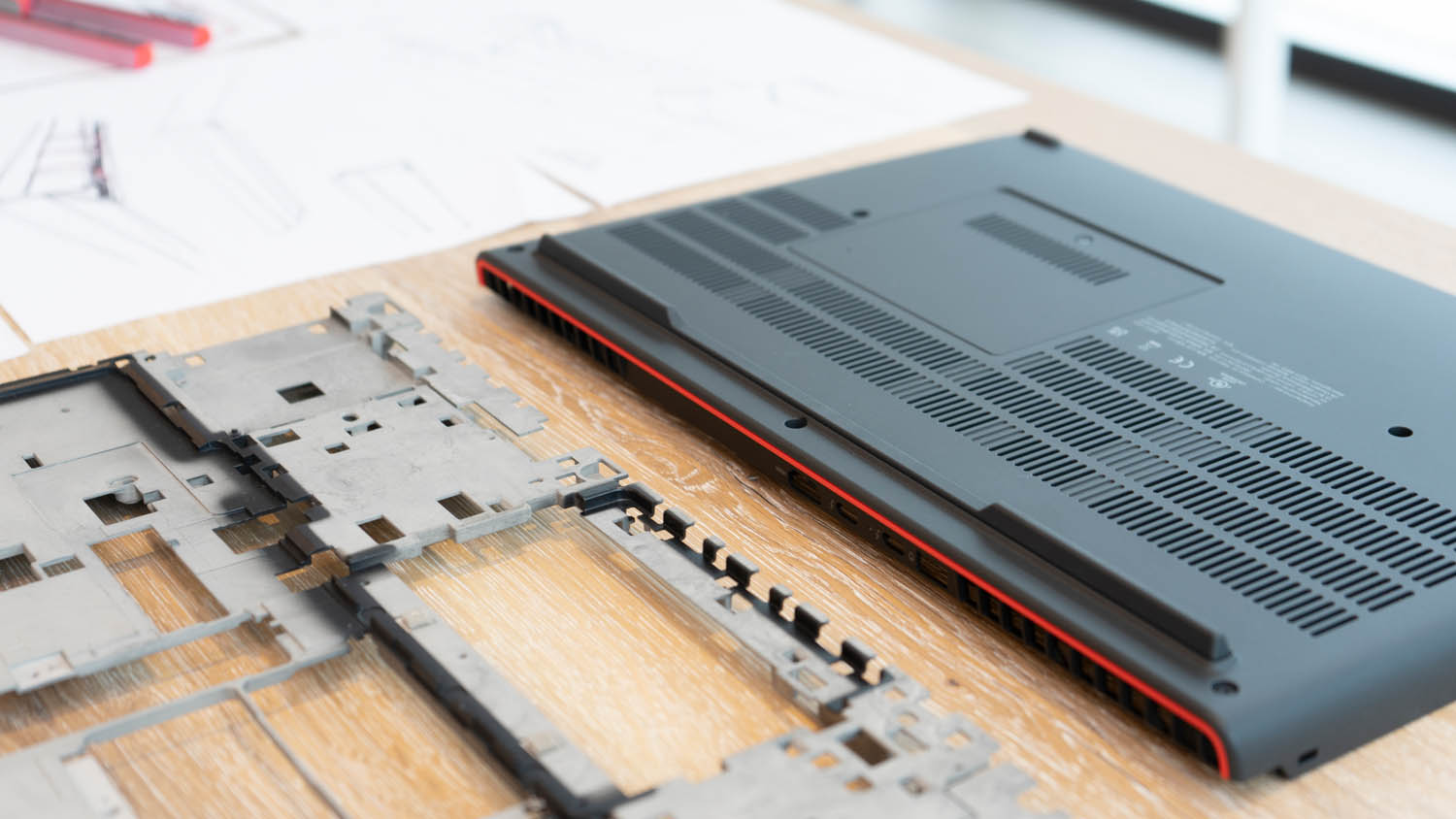 Form finding
Industrial design (ID) is one of the first things Lenovo looks at for its design process. For the ThinkPad P16, the early stages focused on exploring new ideas around the new 16-inch form factor. The process was dominated by sketches and physical hand cut foam models to provide tactile feedback, as Patterson explains. "We try to stay as analogue and low fidelity as long as possible until we start ramping up with our constraints.
"If you jump really far forward into the design, you start making decisions before you're ready to, and people start falling in love with certain ideas, and you kind of start handcuffing yourself."
As the design develops, Lenovo uses a combination of CAD, physically-based rendering, and high fidelity physical models to explore new ideas in a continuously iterative process. "We're making models, while we're rendering new options, while we're making new models," says Patterson. "You have to use all of the tools in your toolbox to get the job done."
Realism is key and for physical protoyping Lenovo uses a combination of CNC machining and 3D printing. "The parts that are supposed to be plastic are plastic, the parts that are metal are metal, and everything else is as close to the final product as you can get, even the weight," says Patterson.
For the ThinkPad P16, Lenovo's ID team was very considered about its choice of materials. "We wanted to bring in a metallic CMF [Colour, Material, Finish], but also did not want to stray too far away from our legacy ThinkPads," says Patterson.
The machine is built around a magnesium subframe, which not only adds strength and rigidity, but allows easy access to both sides of the motherboard, to make upgrades easier.
Then in a departure from traditional black, the outside 'A cover' was built from anodized aluminium for a premium look and feel. This aesthetic is echoed on the palm rest 'C cover', using painted polycarbonate (PC) and ABS plastic to match the outside. The palm-rest utilizes painted PC+ABS for better antenna performance, which was informed through simulation testing.
Sustainability is also high on the list of priorities, explains Jesseph. "We try to choose materials, wherever possible, that use as much recycled content as we can. But also to make the machines recyclable after they've reached their end of life, out in the field."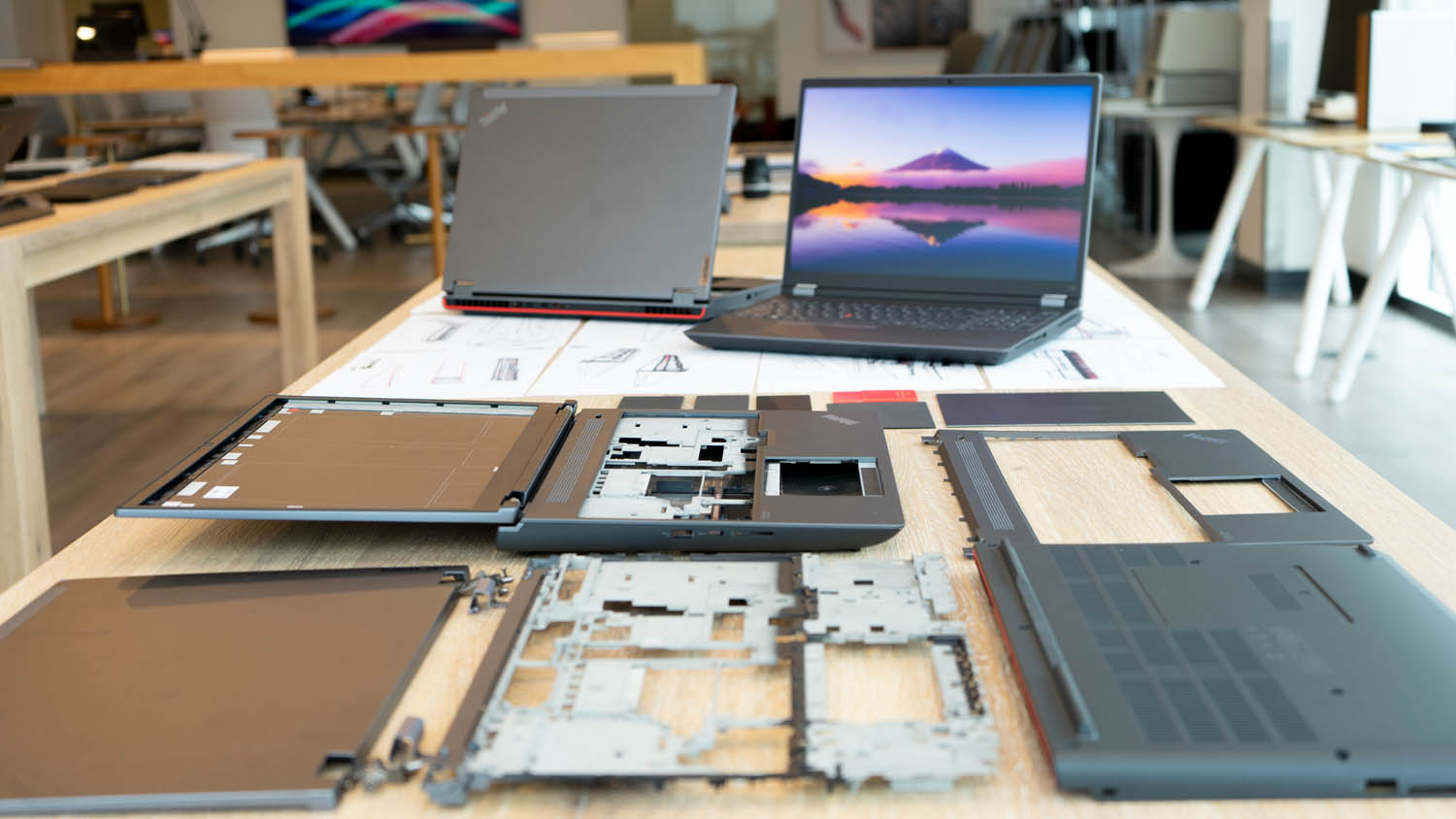 Red leader
With a red stripe across the rear, the ThinkPad P16 expands on an aesthetic from Lenovo's desktop workstations. It frames the grills of the thermal exhausts, which expel heat from the CPU and GPU. "Because the rear of the system is such an identifying element, I probably sketched it no fewer than 500 times, really rough with markers. I was seeing this rear section in my dreams," smiles Patterson. "I would wake up and doodle something and then roll over and go back to sleep."
The final grill design is simple and elegant, featuring vertical fins which draw inspiration from the rear diffusers on sports cars and Formula One cars. But this wasn't always the case. Early design cues were taken from Lenovo's trademark honeycomb pattern on the front of its desktop workstations. But Lenovo's thermodynamics engineers, who used advanced computational fluid dynamics (CFD) software to explore many different iterations of the design, found that when the design was scaled down for a mobile workstation it wasn't the optimal configuration for keeping the system running fast and cool.
Patterson describes this process as a constant balancing act between industrial design, mechanical design, and thermodynamics. "I'd go back to the mechanical engineers and say, how thin can we make the different shapes, how thin can we make the wall section, and still be structurally strong?
"I think the development [of the ThinkPad P16] is probably the heaviest level of engagement, back and forth, with our development teams I've ever experienced on a product," he says.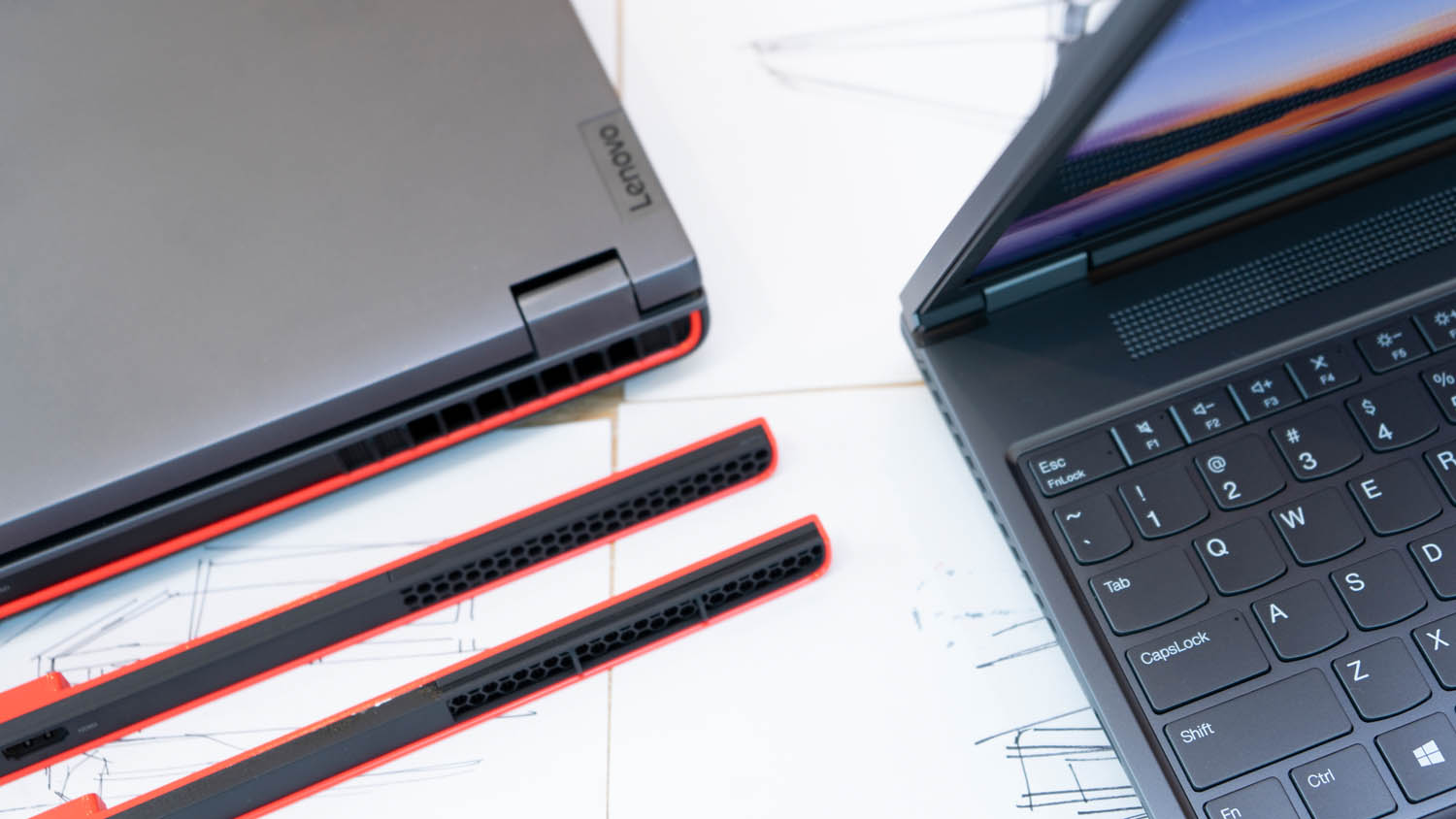 Power to the people
Thermal management is critical in all ThinkPads, but with a smaller volume for heat sinks, fans and airflow, the challenge was even greater when designing the ThinkPad P16.
"Not only did we want to take the performance of a 17-inch from a GPU perspective, with power in the 125-Watt range, we're actually increasing CPU performance from 45 Watts to 55 Watts, as we adopt the new Intel HX processors – the first to use a desktop class CPU in a mobile form factor," explains Jesseph. "We've never had to do that level of engineering in a mobile workstation for a CPU so powerful."
The new 12th Generation Intel Core HX processors also brought a unique set of cooling challenges, as Al Makley, Executive Director of Workstation Development at Lenovo explains. "The thermal solution had to be optimised around the processor's 'performance' and 'efficient' cores," he says. "Instead of just having one set of cores, where you have set hotspots that evolve over time, this was more of a revolutionary challenge where your thermal map, your hotspots, are very different."
For optimal cooling, the ThinkPad P16 features a dual fan design with a vapour chamber that balances the thermal solution between CPU and GPU, as Makley explains. "If you have a high GPU load, low CPU load, you're able to use some of the CPU thermal capabilities to extract some of the power from the GPU and vice versa.
"You got to make sure that airflow is entering the system in the right areas, so it's going over the right components in the right fashion, to extract the heat, pull it to the fan, and then get it out of the system as efficiently and as quickly as possible."
Lenovo relies on CFD simulation from the very early stages of design, so its engineers can start to understand the airflow patterns, where there might be areas of recirculation or trapped air, and how this is impacted by the placement of fans or the design of the fan blade impellers.
The software can also help  engineers discover new solutions. "We do batch testing, where you run different fin stack numbers, gaps in airflow, and it'll actually find the sweet spot of the design," says Makley. "We put in a range of variables and the software will do that generative solution solving for you."
Simulation gives Lenovo a good idea of where, directionally, it wants to go with the physical design. However, due to the complexities of simulating thermals and airflow across tightly congested areas, physical testing remains a critical part of the design process.
"We try to jump into physical as quickly as possible," explains Makley. "It's very, very complex to get 100% accurate, even 95% accurate on simulation when you're dealing with airflow, and vectors that change depending on system orientation, temperatures, humidity, or even elevation."
Here, infrared cameras can be used for thermal imaging to look for hot spots or zones where temperatures start build up. "This gives you direction as where you need to apply more heat extraction, more airflow," says Makley. "Then we'll move into thermal coupling, actual data measurement of pretty much the entire system, where we will monitor actual temperature readouts under various workloads and modalities."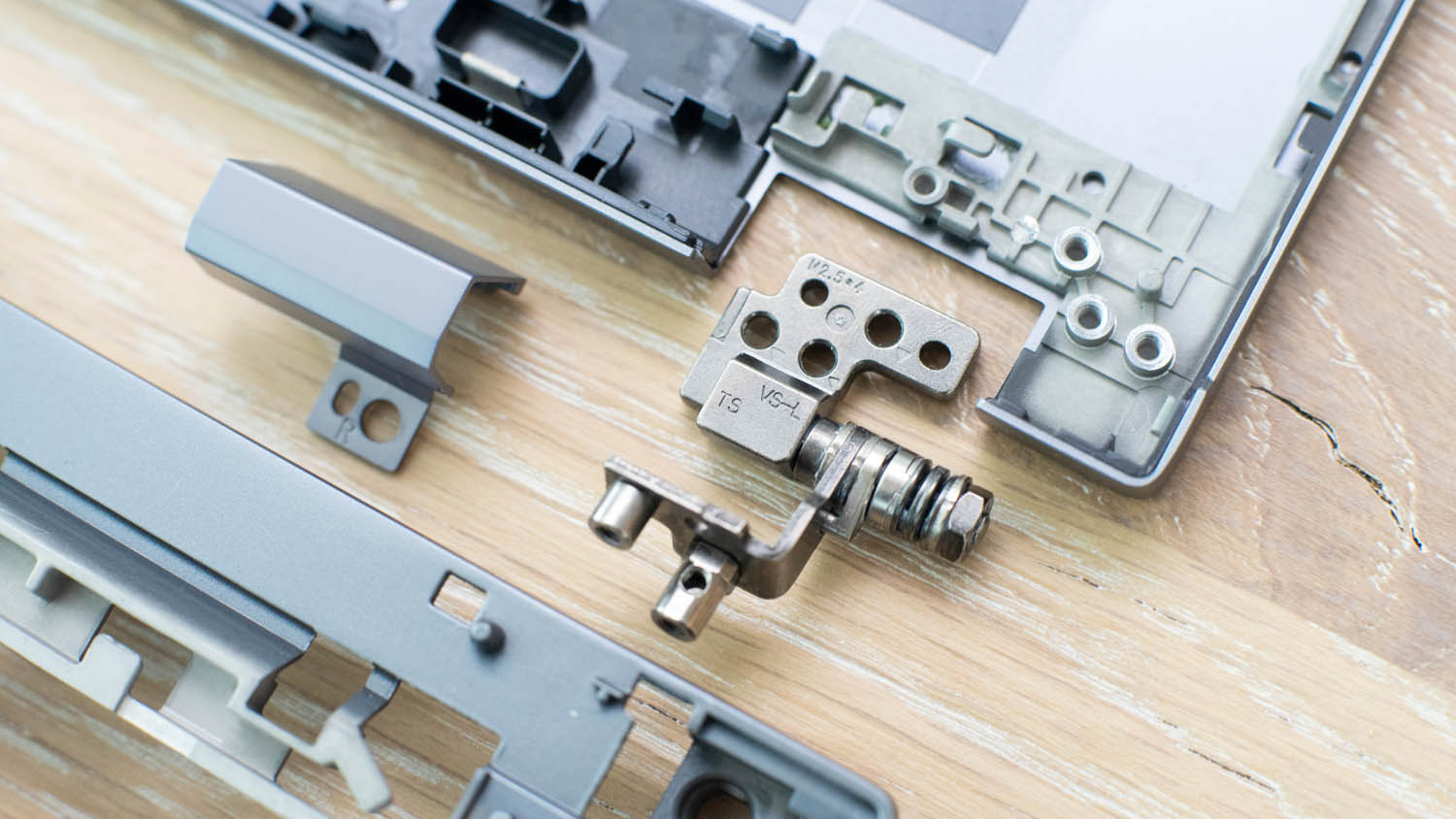 Taken to the extreme
Lenovo designs the ThinkPad P16 for the most extreme cases, not just in terms of workflows where users push the machine to its limits over extended periods, but also in terms of how the machine is used.
"We design for corner cases, we design for the worst of the worst – worst case power, worst case modalities, worst case environmental, that could be 35 degrees or 7,000 feet above sea level," says Makley. "There could be somebody that places a piece of paper on the keyboard while they're running a very stressful application, and because there's some [air] intake on top, that piece of paper is going to act like a brick wall
"If somebody's in Ultra Performance mode, and has the system on their lap, cranking out GPU, CPU power, we need to make sure that we're maintaining temperatures at a comfortable level."
Ultimate strength
ThinkPad P Series mobile workstations are renowned for being robust and durable and the ThinkPad P16 is no different. Mechanical simulation plays a critical role throughout the design process, as Makley explains. "We use our CAD/CAM packages to do Finite Element Analysis (FEA), which will integrate all components at a system level, run it through different environmental variables to understand where we have weak points and where we need to start to beef up, or make the system a little bit more robust."
30 years of experience in making laptops has also taught Lenovo which key areas to pay close attention to, particularly when it comes to understanding human behaviour. "People will hold their machines in one corner of the keyboard, or the palm rest area, and that becomes a stress area, says Makley. "So we have to understand how is that area flexing, what is it in contact with on the motherboard, are you going to stress components? So we look at the amount of flex in that area."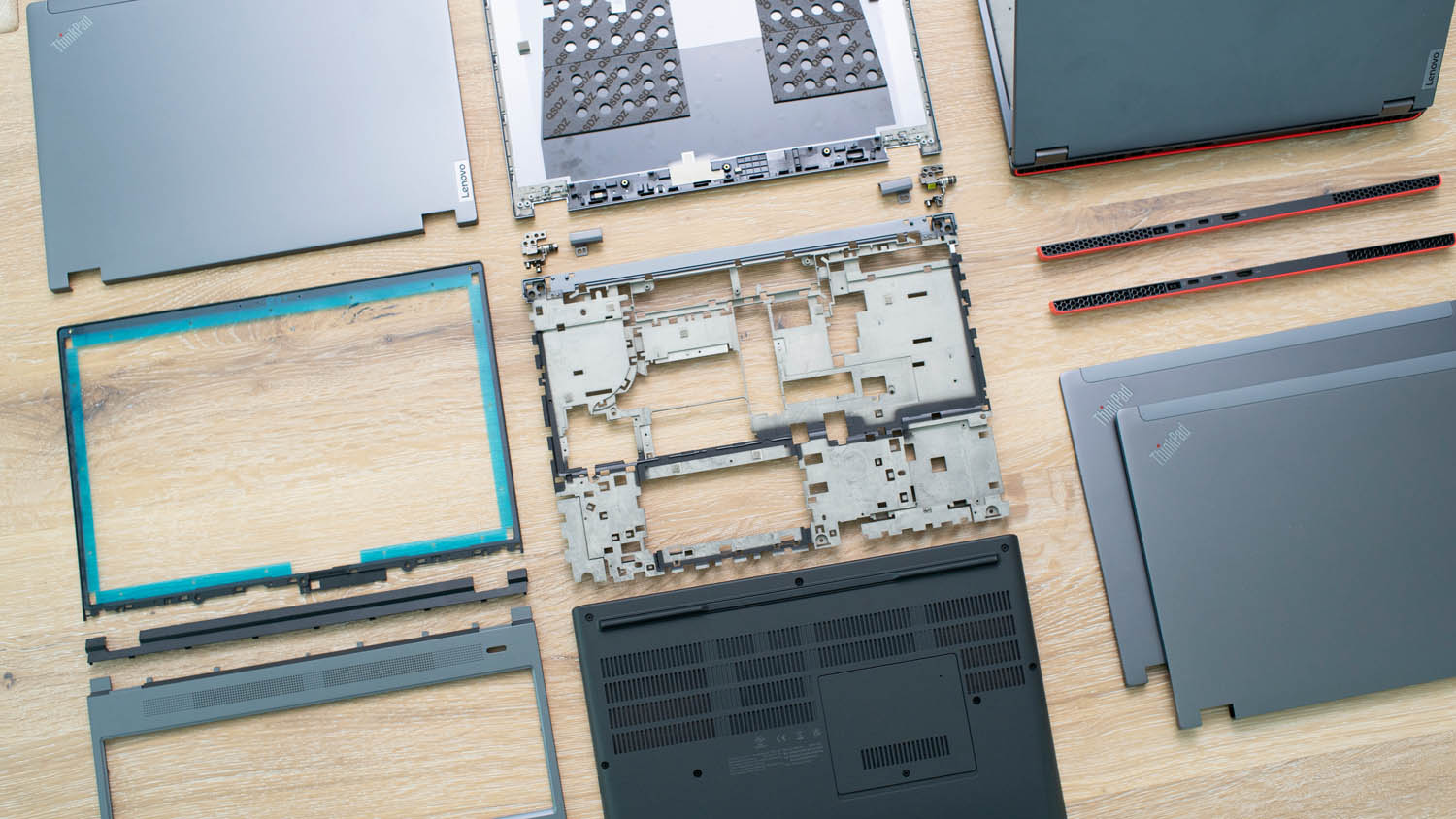 The ThinkPad 16 gets its strength and rigidity from a solid magnesium sub frame, or 'roll cage' as it's known as internally. "It does require some compromises on overall size – it adds a millimetre or two to the X, Y and Z dimensions, but it's one of those things that's not worth compromising on, because its value to the customer is so high," says Patterson.
"When you have a system that is this powerful, it becomes heavy quite fast, so managing the body and managing the strength of this chassis is difficult, so a roll cage is the logical thing to do," says Patterson.
There's a similar magnesium subframe in the 'A cover'. "16-inches is a lot of panel, and you don't want to get those videos on YouTube where someone's bending it and going 'what is going on with this flex'?" smiles Patterson.
The next generation
The ThinkPad P16 is one of the most revolutionary designs to come out of Lenovo in recent years, but the product development team is always looking to the future.
Data from physical testing always gets fed back into the simulated model. "We're always learning and trying to perfect the simulated model as best as possible. It may not have a significant bearing on the project that's going forward today, but it may have a huge impact on what we're working on tomorrow," concludes Makley.