For the visualisation team at global office space provider WeWork, a technology rethink has allowed creativity to take flight in (and away from) the City of Lights, writes Jessica Twentyman
---
Ask Jake Williams about some of the highlights of his time as a senior visualisation manager at global office space provider WeWork, and it's likely he'll mention 37 Avenue Trudaine in Paris.
Long before its official opening in February 2023, Williams and his team were set the challenge of producing high resolution stills and animations depicting what this building would look like once it had been renovated and fitted out to WeWork's specifications.
The visualisation project involved an abundance of historic detail and planned enhancements for the team to capture. Situated in the 9th arrondissement, and just a stone's throw from the Sacre Coeur, WeWork 37 Avenue Trudaine covers 78,500 square feet of a handsome period building, a former school dating back to 1863. The workspace is arranged over six floors and features an eye-catching glass dome atrium that floods the ground floor with natural light.
Putting together visualisations of proposed WeWork sites from architectural models (typically built in Revit) and from interior design plans was a routine process for Williams and his team. But what stands out for him about this particular project is that they were able to apply all their creative skills to the job at hand, without worrying about being hampered by technology constraints.
---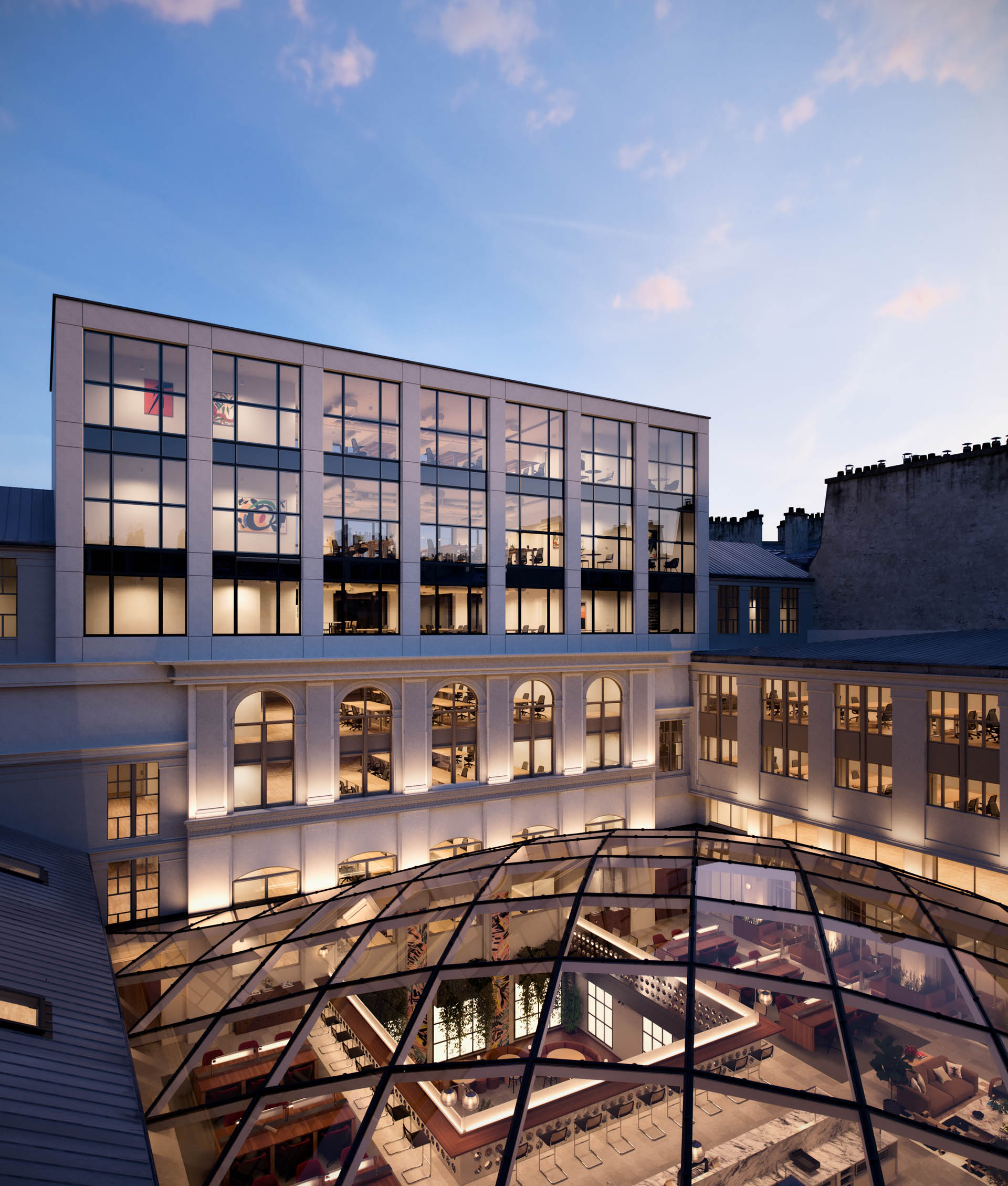 Visualisation without constraints
This was down to a new approach to visualisation at WeWork pioneered by Williams, and enabled by Sherpa from Escape Technology, a cloud-resource management tool. Sherpa securely provides everything a studio needs – workstations, storage, render nodes and so on – via the cloud and is controlled through a simple dashboard.
Prior to the implementation of Sherpa, artistic compromises often had to be made, says Williams: objects and textures sometimes had to be downsized; file sizes had to be carefully managed; renders needed to be sent early in order to meet deadlines.
Now, for the first time, WeWork's visualisation team wasn't having to rely on an on-premise server and render farm. Williams wasn't distracted from the project by the need to manage this hardware himself. And the team weren't forced to optimise scenes so that the render farm could handle them.
"We were so excited," he recalls. "For the first time, things were working really well from a technology standpoint. We could just render an animation, adding compute power if necessary, and not worry about how long it was going to take. Everything worked faster," he says.
We didn't have to constantly worry whether renders were going to be finished by our deadline. We didn't have to worry that we were rendering too many objects or details in a scene
"Of course, the building was a big factor. It's a great building! But there was also a feeling of stress lifting. We didn't have to constantly worry whether renders were going to be finished by our deadline. We didn't have to worry that we were rendering too many objects or details in a scene because now we were able to scale up the render farm on demand to meet the project requirements. And what we were getting out at the end of a render were better-looking, more detailed images."
In other words, here was an opportunity to spread their wings and let their talents fly. In the past, says Williams, the team might rely more on Photoshop for some of the night and day views. Now they could deliver two or more fully rendered views of a space, for example, and at higher resolution than before.
"We couldn't have done something like that with our previous off-the-shelf set-up. It would just have taken too long. But Sherpa just unlocked another level for us," he says.
---
Find this article plus many more in the September / October 2023 Edition of AEC Magazine
---
---
No more compromises
For a start, Sherpa eliminated the need for visualisation experts at WeWork to work on company premises, in offices filled with workstations and render farms. Instead, the Sherpa solution defined for WeWork by engineers at Escape Technology – all ex-industry and/or VFX/ design system administrators – is entirely cloud-based. That was an immediate advantage during the Covid-19 pandemic, but one with long-lasting benefits.
Every visualisation artist has their own cloud-based workstation, which they can access from a standard laptop. The files and software reside in the cloud, with Sherpa sending and receiving pixels, rather than files, between the user's device and the cloud. In this way, the artist works exactly as they would if they were using a fully fledged workstation, but from any location they choose.
Workstations delivering Deadline, 3DS Max and Corona Renderer among other packages run on servers in the cloud at two AWS (Amazon Web Services) locations: one on the US East Coast and one in the UK. Data storage, meanwhile, is provided by LucidLink, which facilitates a file interface to cloud storage, streaming data securely and eliminating the need for creative teams to download and synchronise files.
This has proved a very successful approach for Escape Technology clients looking to offer hybrid working options for their creative teams, according to Nick Mathews, business development director at Escape Technology. "So some users could be working on physical machines, and others on cloud workstations, and LucidLink can tie it together," he explains.
For Williams, a big advantage to this approach was the ability to scale up and down, as requirements demanded. Via Sherpa's UI, he was able to add new render nodes as needed – for example, if a project required a fly-through animation of a new WeWork site. Once the work was complete, he could then scale back down.
The same approach applied to workstations. Using Sherpa, Williams was able to provision higher-spec workstations on an as-needed basis. He introduced a threetier system for machines: 128 GB for 'hero' projects, 64 GB for more routine work and 32 GB for small workloads – each with variable processing speeds.
"When we did our original planning for Sherpa, we had workstations budgeted that were the same as our physical workstations. We assumed that because we needed 128 GB of memory in our real workstations, that's what we should have in Sherpa too. Once I got familiar with the interface, I realised we could fluidly change on a daily basis, which saved us a lot of money."
The visualisation project for WeWork 37 Avenue Trudaine was the first completed using the new Sherpa set-up. Williams has since left WeWork to run his own visualisation agency and pursue his creative passions – but he'll always have Paris. As he reflects, with evident satisfaction: "The team was super excited to be able to do something on that scale, that we just hadn't been able to do before."
---