Collaborative Spatial Design developers Arkio had an unusually quiet 2021. Little did we know they were storing up a huge pile of new features for their official launch on Meta's Quest App store. Martyn Day looks at the new capabilities
---
It's been almost five years since we first met Johan Hanegraaf at NXT BLD, where he gave a demonstration of a personal project that explored what a VR design system for architects would look like.
Now a professional product called Arkio, with users all around the world, the greatly refined application allows teams to share models for collaborative VR sessions, supporting data from Revit, Rhino, Unity and other 3D tools, and providing basic modelling capabilities.
While firms could access the application on the Meta Quest store if they searched for the exact name, the app was still in the development category ('Applab'). This month, however, Arkio made its official debut with version 1.2. And what an update this is! It's a significant leap in capability.
The basics
There has been a lot of work done on the UI as you enter the application, making it more of a personal experience and easier to sort through collections of previous models and access training. There is a new 'meta' concept of the Arkio HQ, which are virtual buildings in the Arkio VR – a gallery building, an auditorium and a training centre.
The gallery building contains exhibits of work done by people using Arkio, which will continue to evolve. The auditorium will be used to hold live demonstrations from the development team, while the training space will contain lessons to see what's possible with Arkio.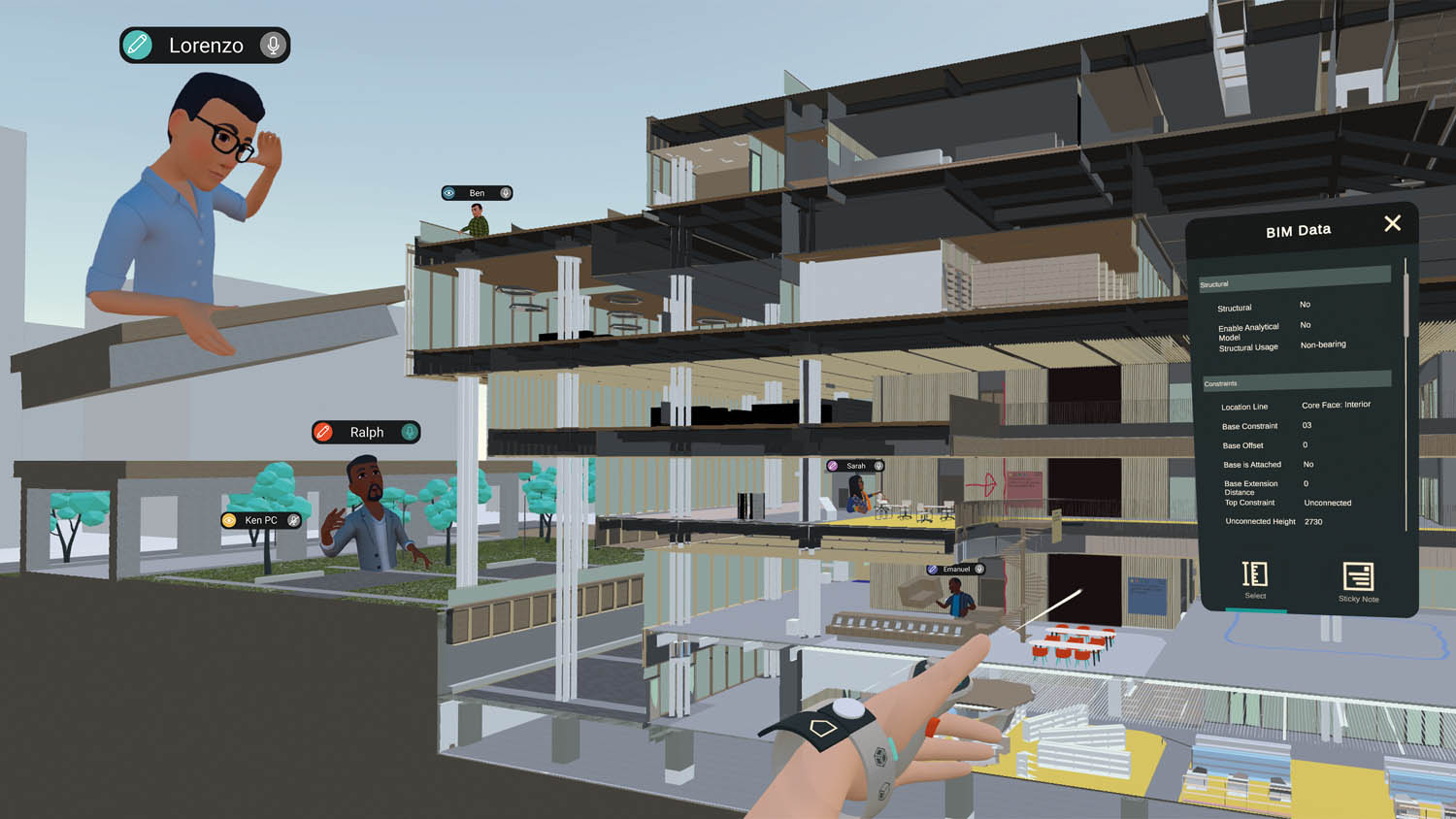 The concept of the exhibition space is particularly interesting. While it's a demonstration of work that's been done by users of the application, I wonder if it's possible to have your own Arkio exhibition building, where firms could store and exhibit models of their past work, or even perhaps projects currently on site. All those competition entries which fail to get built could find a home in a permanent virtual exhibition for perspective clients, or employees, to see the practice's work in 3D.
While there is a lot of rubbish spouted about the metaverse, currently the marketing of architects' work resides on websites, in photos and sketches. Given we're all making 3D models, Arkio can reuse that data for everyone else to experience in VR.
Avatars and hands
In the previous version, avatars were pretty shapeless forms. Now Arkio has adopted the Meta-style avatars, bringing some sense of personification to the individuals in a collaborative session. If you have set up your avatar in Meta already, then this is the version that will appear in Arkio automatically.
In the Oculus and Rift environments hands are now 'a thing' that appear in the view and support for hand tracking is enabled. This might sound like an odd thing, perhaps a waste of polygons, but it's a massive update and helps anchor the user in the VR environment.
The Arkio team have been working very closely with Meta to improve performance. Now models which are 3x larger can be imported to the Quest. The frame rate has doubled and scenes can be over twice as complex. This has required a large amount of work from the development team and has meant the replacing of the graphics rendering pipeline.
The addition of meta-style avatars and hands might sound like a waste of polygons, but it brings some sense of personification to the collaborative session and and helps anchor the user in the VR environment
When using Arkio for simple massing, obviously you'll not be pushing the system particularly hard, but those who want to import complex models from Revit or SketchUp will appreciate the additional headroom. Considering standalone VR headsets like the Quest are accelerated by low power mobile CPUs/ GPUs, it's frankly quite amazing. Unlike games geometry, BIM systems are much less optimised for graphics performance, or rely on having powerful CPU and GPUs. Arkio is doing a sterling job.
Precision and components
The lack of precision editing in geometry has also been addressed. While it's still possible to grab and pull faces, for typically inaccurate massing editing, it's now also possible to edit by typing in the dimensions to drive the geometry. This feature has been highly requested by users and pushes the direction of development from addressing simple massing to becoming more of an all-round architectural modelling solution.
And if enhanced precision wasn't a good enough indicator of Arkio's modelling ambitions, the new release contains the first draft of an architectural components library.
Previous releases were limited to creating prismatic shapes and then editing them. This was good enough for massing studies but, when it came to architectural modelling, the lack of accuracy and the need to model with basic shapes limited the outcomes.
The introduction of architectural components is a significant milestone. If anything, it's probably the most significant part of this release which is packed full of fantastic new features.
Arkio now has a library of windows, doors, stairs etc. — over 100 parametric components. In the last release one would simply punch a hole through a wall to create a door or a window. Now it's possible to draw with components. Simply by placing them, they automatically cut through walls and generate to fit the space required.
I've been told that there are capabilities not unlike Revit families underpinning this, which will eventually be fully exposed for users to create and customise their own libraries.
This capability is a marked improvement and is a demonstration of delivering a tool with real design intent. The combination of component library with greater feedback of dimensions takes Arkio to another level.
Pass through modelling
When I first saw the new pass-through modelling feature demonstrated, I wondered how on earth I was going to explain it in words. So here goes. The Oculus Quest headset has what is called a pass-through camera. This is a low resolution black and white camera which is primarily used to help the user initially set up a safe zone and spatial barrier in which to move around.
As you are completely blind while wearing a VR headset, pass-through is a way to connect to the real world. Arkio 1.2 has introduced the concept of passthrough modelling.
From within the VR environment, it's possible to toggle the pass-through camera. This will display the room you're in and allows you to model the walls, floor or ceiling.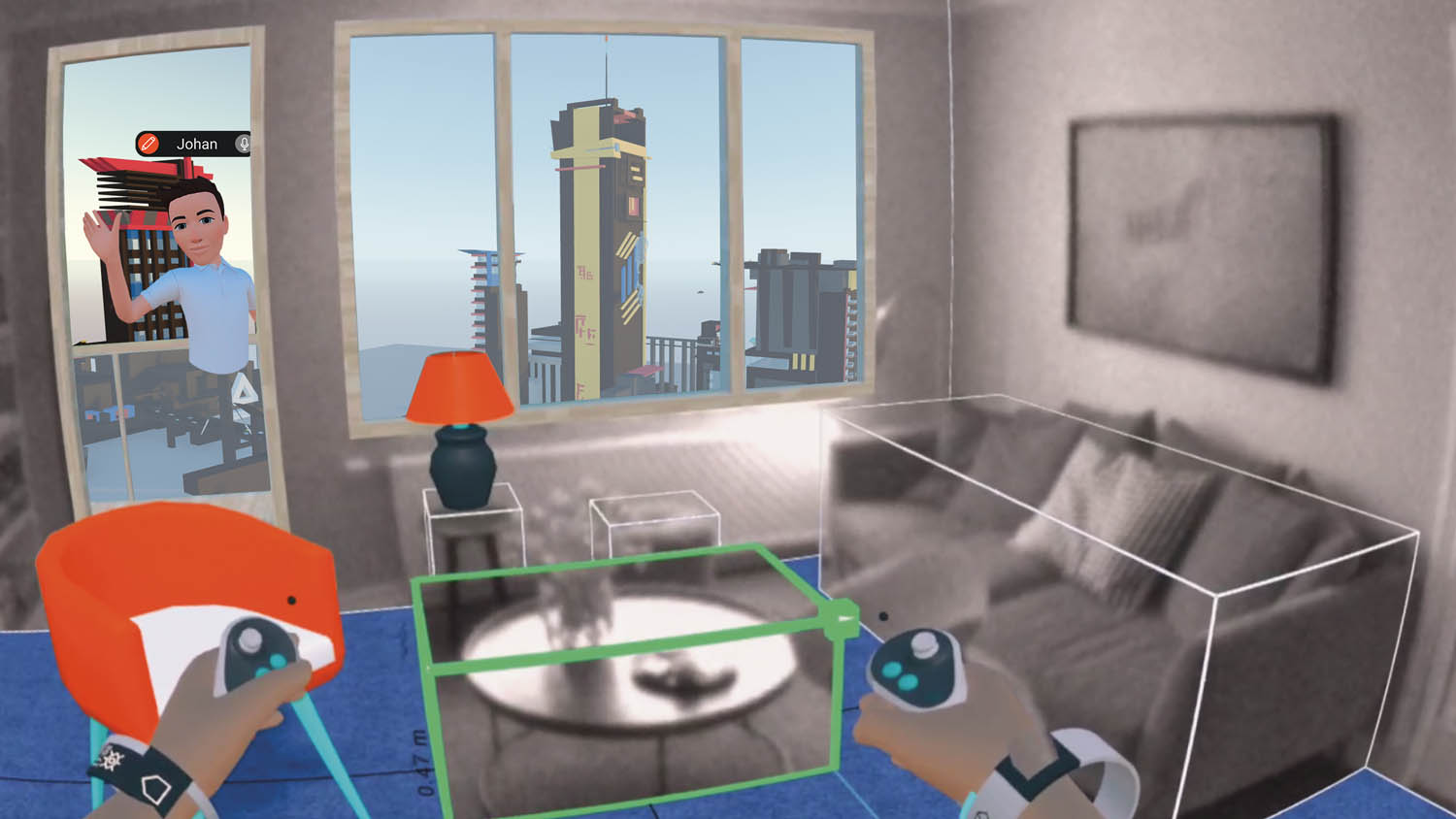 Arkio has a new transparent material called pass-through, which allows you to see the edges of the geometry in passthrough camera mode. If you punch a hole through any of these walls, the view is of the VR world beyond. So you're in a real room, seeing a live feed from a camera, but the view through the window is of the Arkio VR world. This is mildly disconcerting. It's also possible to model rectangles around the furniture in your room and literally delete it and replace the furniture with Arkio components. So now you can edit the real world, and place virtual furniture within it, while looking out into the virtual world beyond!
The next generation of headsets will have full colour pass-through and, hopefully, higher resolution. This blended reality capability is really at a formative stage but gives an indication of where Arkio is heading. The development team said they always envisaged the product to be both VR and AR, so as AR glasses come out, expect to see Arkio models blending in.
Unity
This release sees a lot of effort put into connecting Arkio with Unity, with scenes being able to be round tripped between them.
Up to 2,000 game objects can be brought into Arkio, moved or modelled on top of, and then sent back to Unity. It seems game developers are also interested in using the software for level design.
While this may seem not important for architecture, expanded usage will also drive improvements. To get performance, games developers heavily utilise level of detail (LoD) techniques, so models are displayed with higher fidelity nearer the viewpoint, and lower fidelity further away. While Arkio currently doesn't support LoD optimisation, it will be coming at some point. For architects this means the possibility of loading bigger models and having faster VR.
For me, the most important new feature is the inclusion of a component library, which points towards taking the product beyond SketchUp levels of architectural modelling
There are also a range of smaller individual features, like the addition of sticky notes, the incorporation of more Revit data and the ability to sketch in 3D.
Conclusion
This has been a massive update for the collaborative VR software. It's clear to see that now the groundwork has been done on the base system, the development teams are fleshing out and refining more advanced capabilities, across a wide range of functionality. For me, the most important new feature is the inclusion of a component library, which points towards taking the product beyond SketchUp levels of architectural modelling. Massing is great but I had always hoped for more, and now it's here.
Arkio also looks set to become the gateway tool to repurpose architectural models for the metaverse. The team has obviously been working very closely with Meta and I'm sure it's not lost on the Meta team that this is a great bridge to get the industry into the metaverse – should we wish to cross it. While I am not sure about 99% of the hype around the metaverse, I can buy into the concept of there being a virtual space where architects can collate and repurpose their historic 3D projects and allow customers, students or fans to experience their built and unbuilt work in VR.