With usability now driving its development, the popular real time visualisation tool has finally broken free of the BIM plug-in shackles that originally brought it success. Greg Corke explores Enscape 3.0.
---
For readers of AEC Magazine, Enscape probably needs little introduction. We've been big fans of the real-time rendering and VR software since the 1.8 release when we tested it out for this 'Revit to VR' feature.
Back then, the software was incredibly easy to use, and that's what made it so appealing. With very little effort you could go from Revit to Enscape and explore the nicely rendered model on a desktop display and inside VR.
The Enscape application was essentially a real-time window into your BIM model. Everything was driven from within Revit. Simply push a button on the Revit plug-in and seconds later the model appeared in Enscape. Most impressively, it maintained a live link, so any edits made in Revit, be that moving objects or changing materials, automatically updated in Enscape moments later.
At a time when other real-time viz applications were still grappling with file-based transfer, this was truly ground-breaking. Design visualisation really had become part of the design process.
In the years that followed the product grew massively in terms of capability. It added support for ArchiCAD, Rhino, SketchUp and Vectorworks. And, as the visual quality increased dramatically, including support for Nvidia RTX real time ray tracing, a much stronger emphasis was placed on deliverables. This included videos, high quality stills, 360 panoramas and standalones (rendered .EXE file or web).
However, as more functionality was layered onto the software, the workflow became somewhat fragmented. As most of the functions continued to be driven through Revit, users had to continually swap between applications.
The good news is, with Enscape 3.0 released this week, everything has changed. In a significant re-write of the software, the new version offers users a more fluid and intuitive design experience by reducing the reliance on the plug-in and pushing more functionality into the application itself.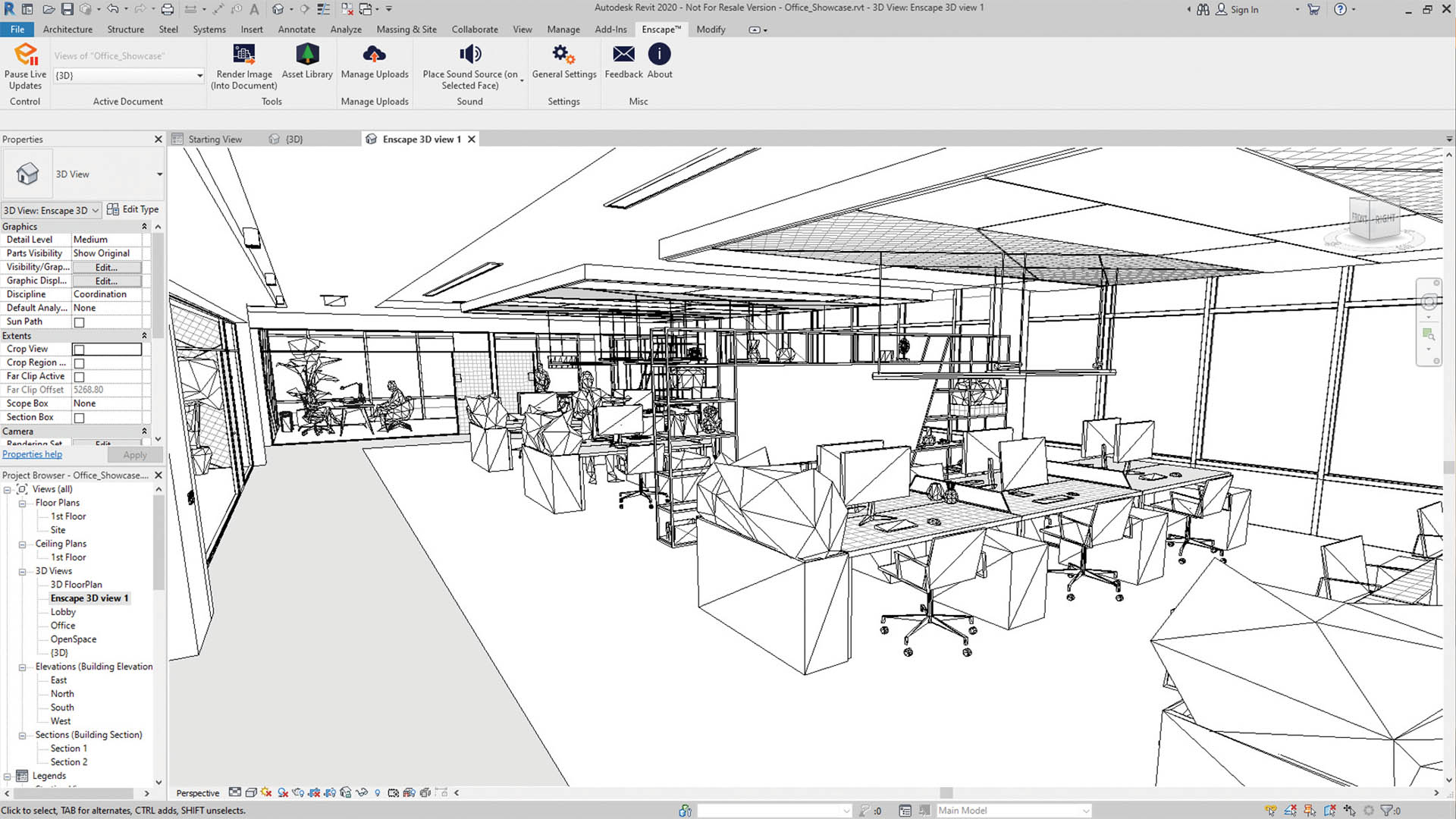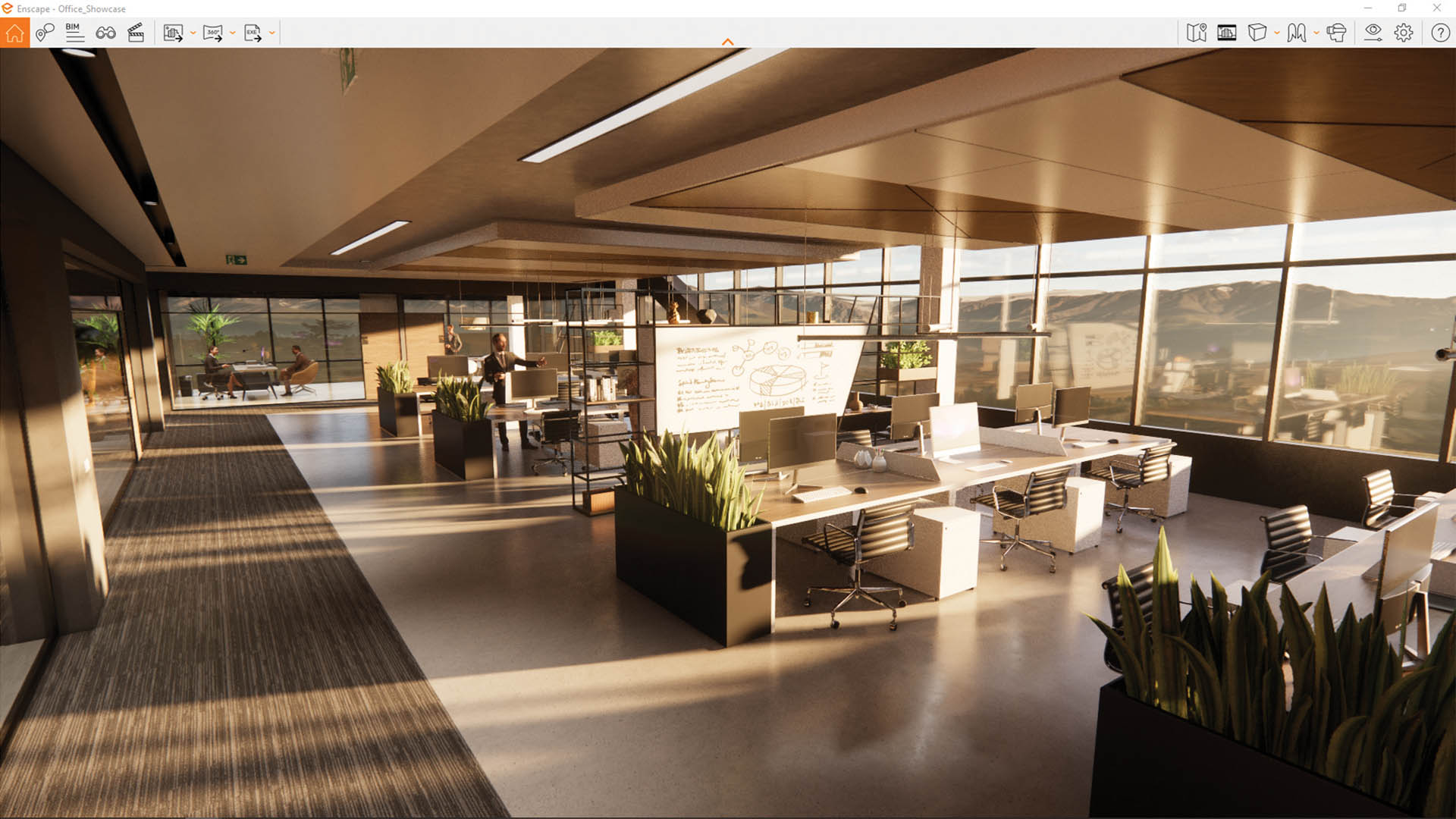 The new UI for Enscape 3.0
The first thing you'll notice about Enscape 3.0 is the brand new user interface. Only critical controls, such as the asset library, have remained inside the CAD/BIM plug-in. Everything else has moved to the standalone Enscape application.
Even so, the new interface is incredibly clean. A single toolbar at the top of the window can be toggled on and off. It includes a dozen or so icons for things like visual settings, view management, collaboration, and BIM information – and for generating viz assets such as videos, screenshots and deliverables.
To guide new and old users alike, a context sensitive help window gives tips on every selected command. Most of the controls have keyboard shortcuts, handily highlighted by tool tips.
Visual settings / view management
The Visual Settings dialogue, which controls the look and feel of the scene, is now found inside Enscape itself. It's also had an overhaul, specifically in terms of how presets are managed.
Through a single dialogue box, users have control over render style, render quality, camera projection, field of view, depth of field and various Photoshop-style adjustments. There are also effects such as motion blur, vignette and bloom, as well as atmosphere for fog, illumination and wind (which controls the animation of grass and trees).
Once you've had a good play around with the settings and are happy with the results, you can save it as a preset.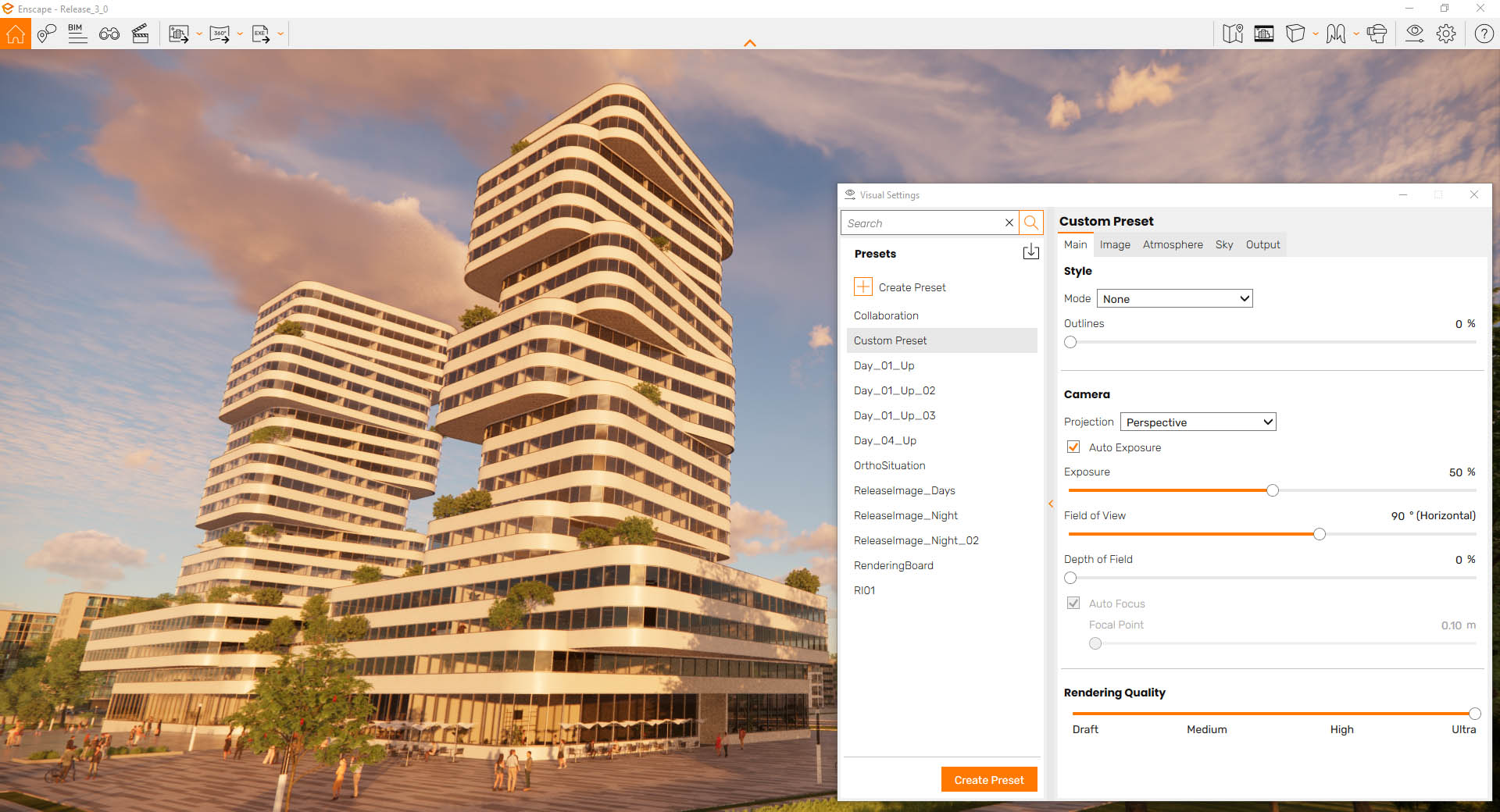 In previous releases, presets had to be loaded in individually. Now they can be picked from a list inside Enscape, so you can quickly cycle through the options and see them instantly applied to the scene.
View management has also been improved. Previously, this was done inside the CAD/BIM application, so the workflow was fragmented. Now it's handled directly inside Enscape. Views can be modified in Enscape, regardless of where they were originally created (CAD/BIM or Enscape).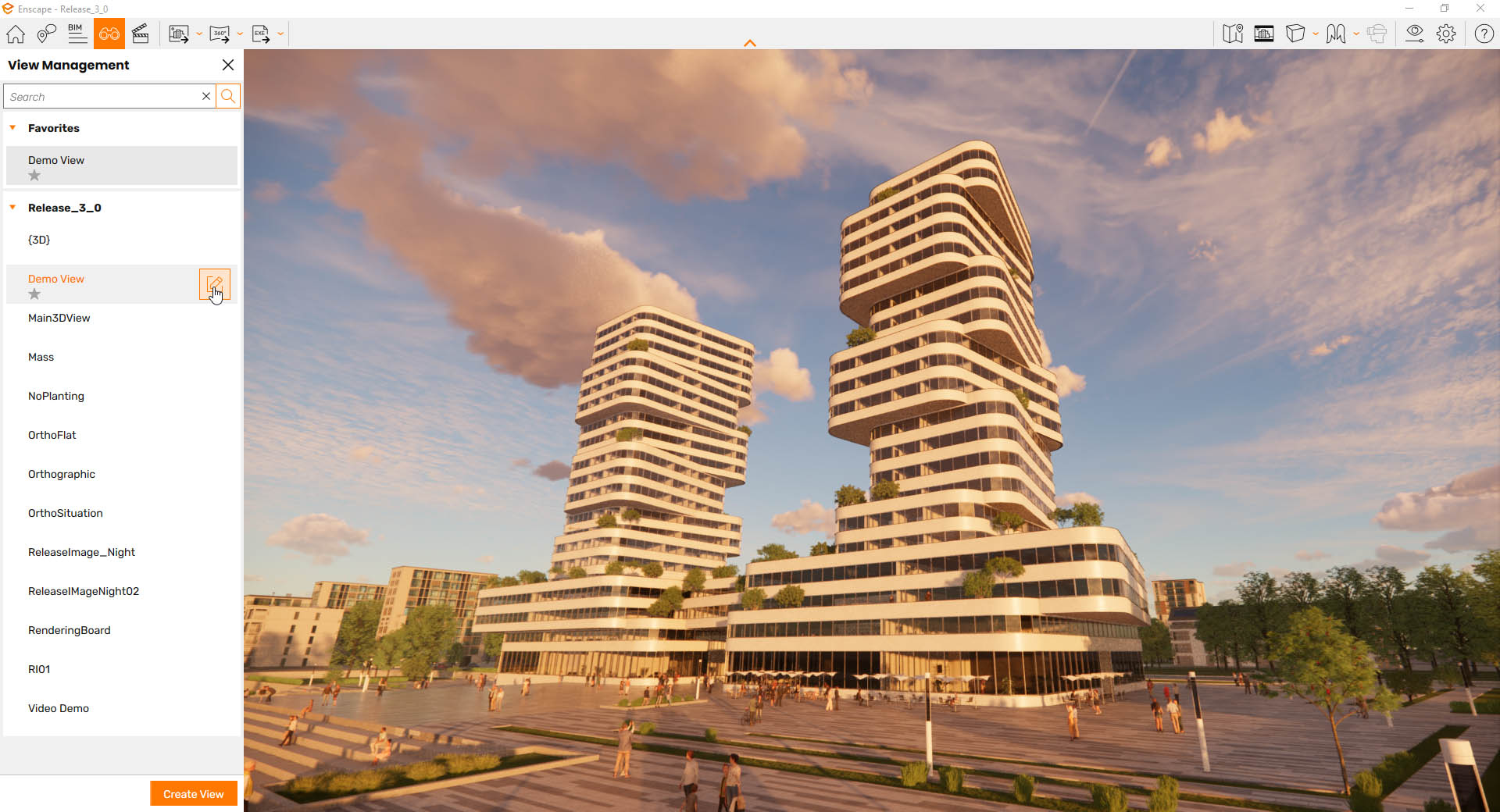 More impressively, individual 3D views can now be easily linked to custom Visual Settings presets. This could be particularly useful for client presentations, making it easy to switch between views and render styles at the click of a button.
With batch rendering you can then render all of the views you have set up. Clicking the new 'safe frame' button shows you the exact frame that's going to be rendered according to pre-defined settings for resolution / aspect ratio. Previously, you'd have had to do a quick test render to check it was framing the shot correctly.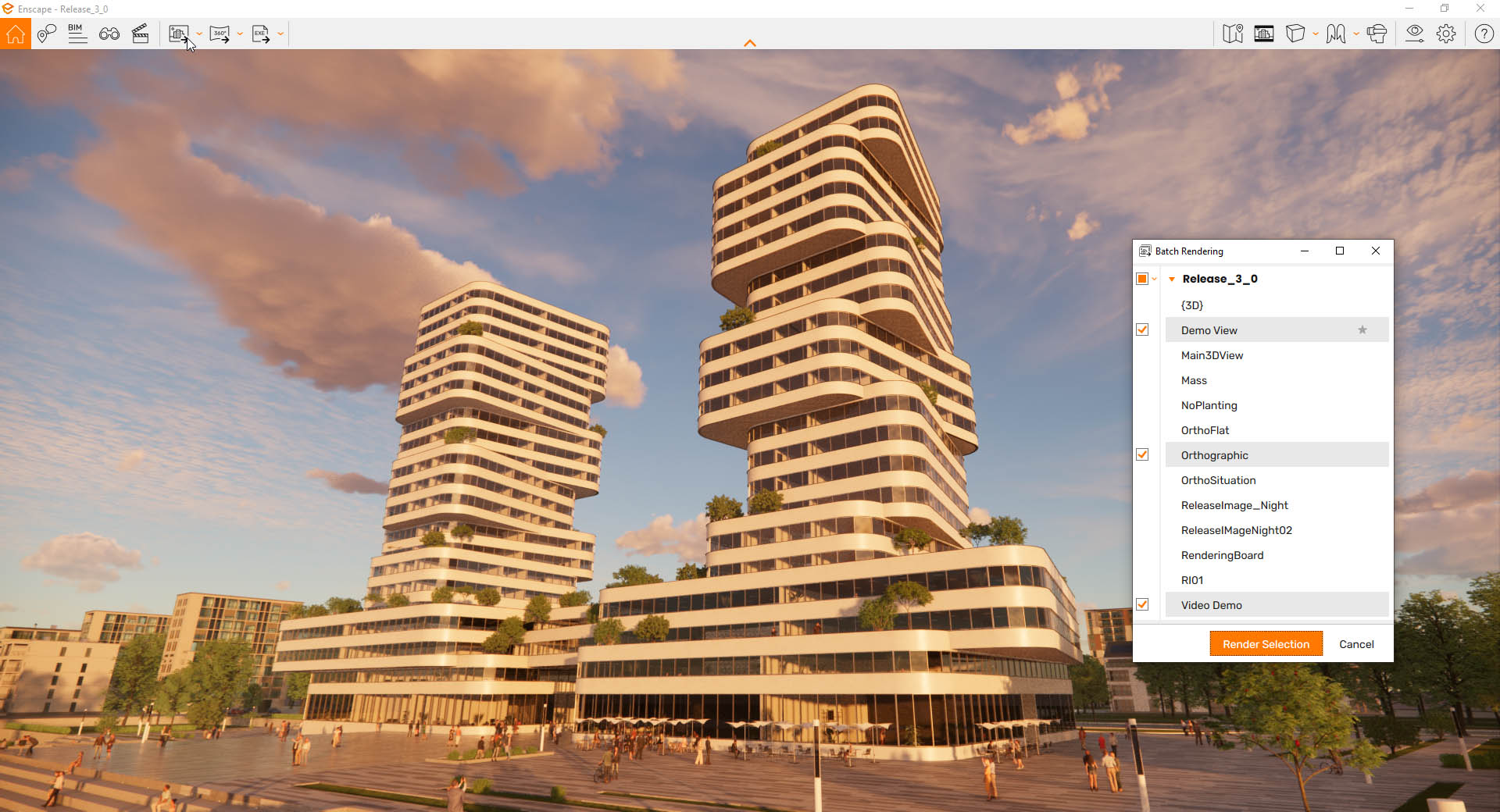 Video editing in Enscape 3.0

For Enscape 3.0, the video editor UI has been revamped and it's now easier to add keyframes at the beginning or end of a path, or anywhere in between.
For each keyframe, you can punch in values for focal point, field of view or time of day, so you can create some nice video animations or time lapses with transitions from day to night.
It's also now possible to view these keyed in values on the timeline itself, rather than just on the camera path, which gives a much better overall view of the video during production.
Once you're happy with the results, simply hit export, choose resolution, and frames per seconds, all from within the same video editor. Previously these settings had to be defined in advance in a separate dialogue box.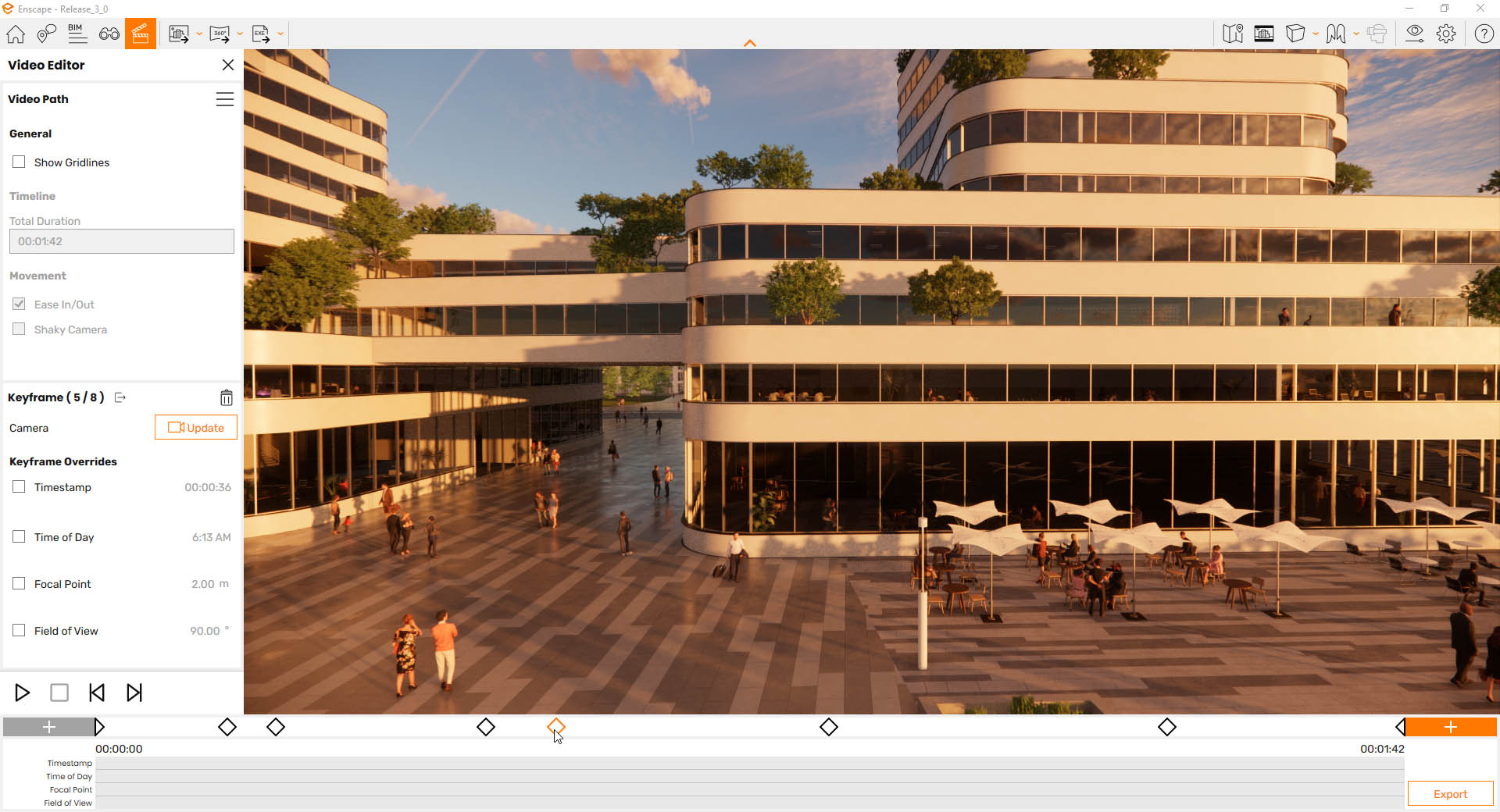 Materials and 3D assets in Enscape 3.0

For data consistency, all materials and 3D assets continue to be applied within the BIM authoring tool. In Revit, for example, you use the Revit Material Editor to define the appearance of surfaces. To increase realism you can work with custom textures, bump maps and displacement maps, as well as video textures.
Enscape also comes with a large collection of 3D assets including furniture, lighting, vegetation, people and vehicles, all of which can be accessed via the plug-in.
Assets are created in house by Enscape, some of which are adapted from Evermotion assets, but optimised for real-time rendering. In Enscape 3.0 there are several new assets for specific regions and cultures. You can also create custom assets from OBJ or FBX files – either download from a library like TurboSquid or model yourself.
In Revit, Revit families can be linked to an Enscape asset. So, in your plan view for example, when you're printing or scheduling, the Revit family will show up, but it'll still display as a high quality asset in Enscape.
BIM workflows
When we first looked at Enscape, you could only bring across geometry and materials from Revit – not BIM information. This changed last year, when users of both Revit and ArchiCAD could finally take advantage of the "I" in BIM.
Enscape 3.0 doesn't add any new BIM functionality per se, but it's worth spending a little time here to explain what it can do, as the software starts to blur the boundaries between real time visualisation and design review.
Since Enscape 2.7 objects can be selected in Enscape and their associated BIM information displayed, such as dimensions, manufacturer details, or prices. This is great for team meetings and client presentations, as object data can be viewed immediately without having to reference back to the BIM authoring tool.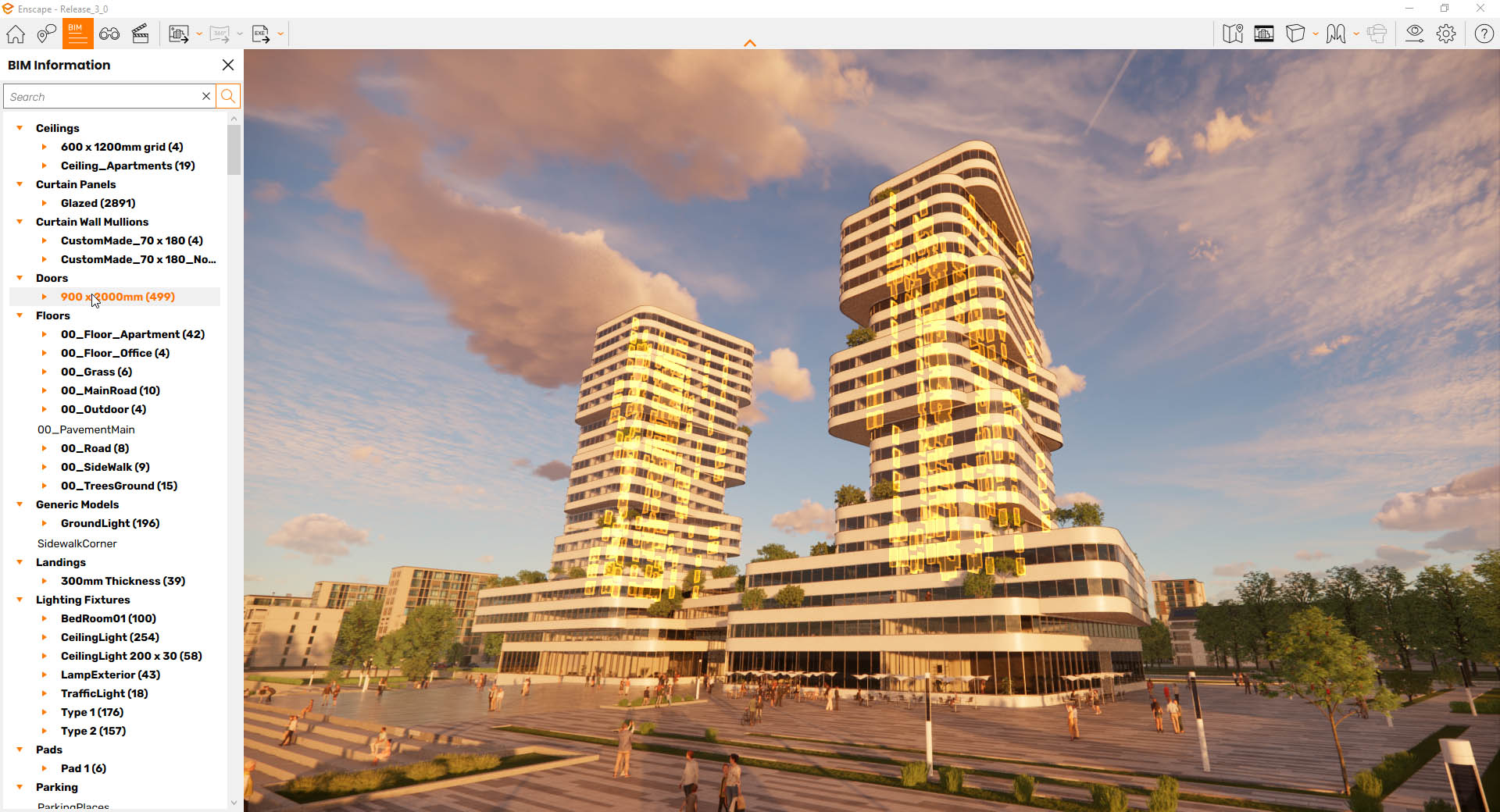 Enscape 2.8 built on this, adding basic issue management capabilities. To create an issue simply right click in the Enscape window. This places an Issue Marker, to which you can add comments and a thumbnail for a quick visual reference.
Issues automatically become part of the design application project file and can also be exported as a BIM Collaboration Format (BCF) file. However, to really beef up the capabilities for team collaboration, Enscape also offers an integration with the cloud-based issue tracking platform BIM Track.
Once synced to BIM Track, issues can be managed, added to RFIs, assigned to specific users and tracked for full accountability.
Users can access all the issue data through BIM Track's web viewer as well as Revit, Navisworks, Tekla Structures, AutoCAD, or Solibri.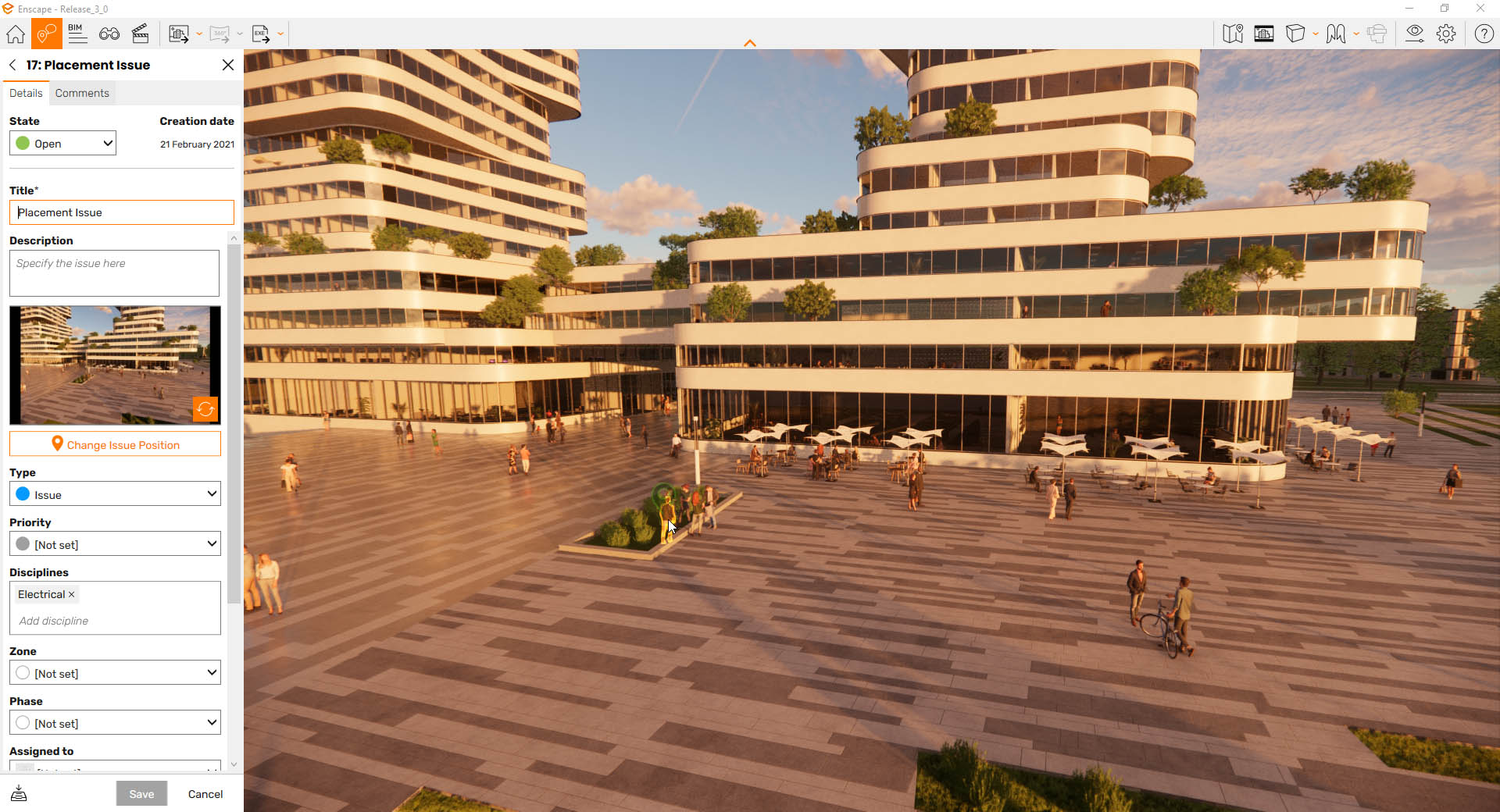 Conclusion
For a product that's taken six years to go from version 1 to version 3, Enscape 3.0 doesn't deliver the headline grabbing features that one might have expected. But Enscape, as a company, isn't like most software developers.
Since the release of Enscape 2.0 in 2017, there have been a series of point releases, delivering hugely significant updates. In that time we've seen the introduction of BIM information and BIM collaboration, as well as huge advancements in visual quality and realism, including support for Nvidia RTX real time ray tracing.
But what Enscape 3.0 brings to the table shouldn't be underestimated. By moving many of the commands into the Enscape environment and reducing the reliance on the CAD/BIM plug-ins, Enscape has delivered a much more user friendly and efficient tool. Having to continually move between applications broke the workflow and the feeling of immersion within the scene.
However, the Enscape community is known to be very demanding. And while some might initially feel underwhelmed by the new release, once the new workflow benefits have been experienced, we expect a positive reception. We're already looking forward to version 3.1.
---
AEC Magazine interview with Enscape's CEO
Meanwhile, to find out what the future might hold read this AEC interview with Enscape CEO Christian Lang