Snaptrude, one of the first new BIM start-ups that AEC Magazine has followed, has just launched its official V1 product. Now developing at speed, the first release is going to surprise everyone
---
What started as an outcry from disgruntled Revit customers is now feeding through into fresh messaging from existing players and new products from start-up AEC developers.
Autodesk's announcement of its AEC platform play, Forma, at this year's Autodesk University event now gives Revit both a cloudy destination, to which it will be first connected, and then ultimately a place from which it will be consumed. Graphisoft has an ambitious re-architecting underway, in order to offer flexible desktop and cloud workflows. Bentley's core portable data platform, the iTwin, has been open sourced and will support cloud and desktop workflows. In short, the large vendors are collating their many applications and crafting vertical tech stacks as the industry shifts from file-based workflows to more dynamic and collaborative database plays. The platform wars are beginning.
So what's a small start-up with few customers to do in this scenario? The answer: play smart. We have already taken a look at HighArch's impressive new BIM tool and consider Modumate's game engine BIM application. Both firms are opting to concentrate on markets where Revit is not strong, taking on the US small building/residential sector, where ease of use and low cost are key to persuading users to move away from 2D workflows.
Which brings us to Snaptrude's opening play. With the release of V1 today, this company is taking a different approach, shaping its initial product offering to Revit customers as an adjacent seat and offering access to its cloud-based collaborative capabilities in existing Revit workflows. This means that, in its first offering, it will compete more with Autodesk BIM 360 and other CDEs than with any incumbent BIM tool.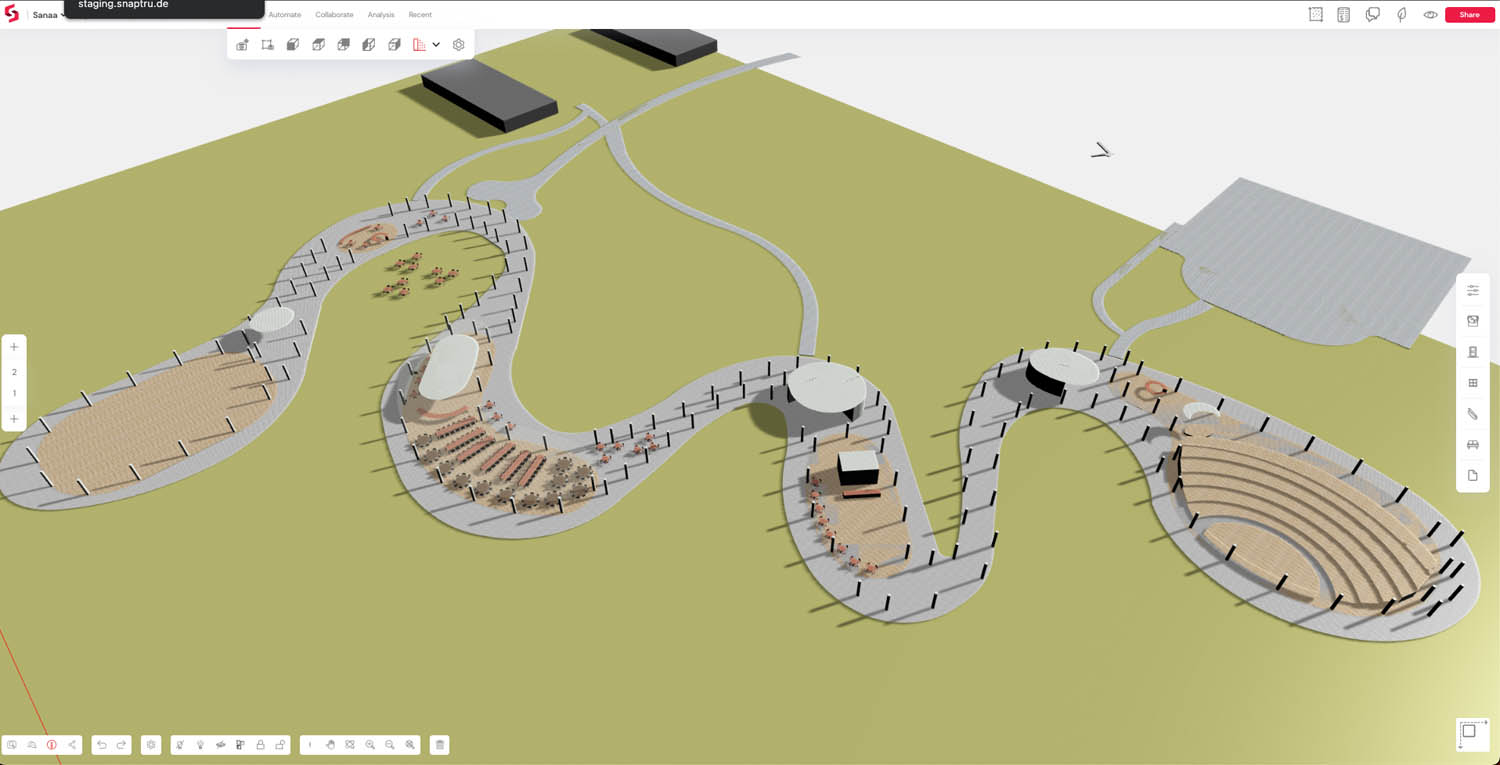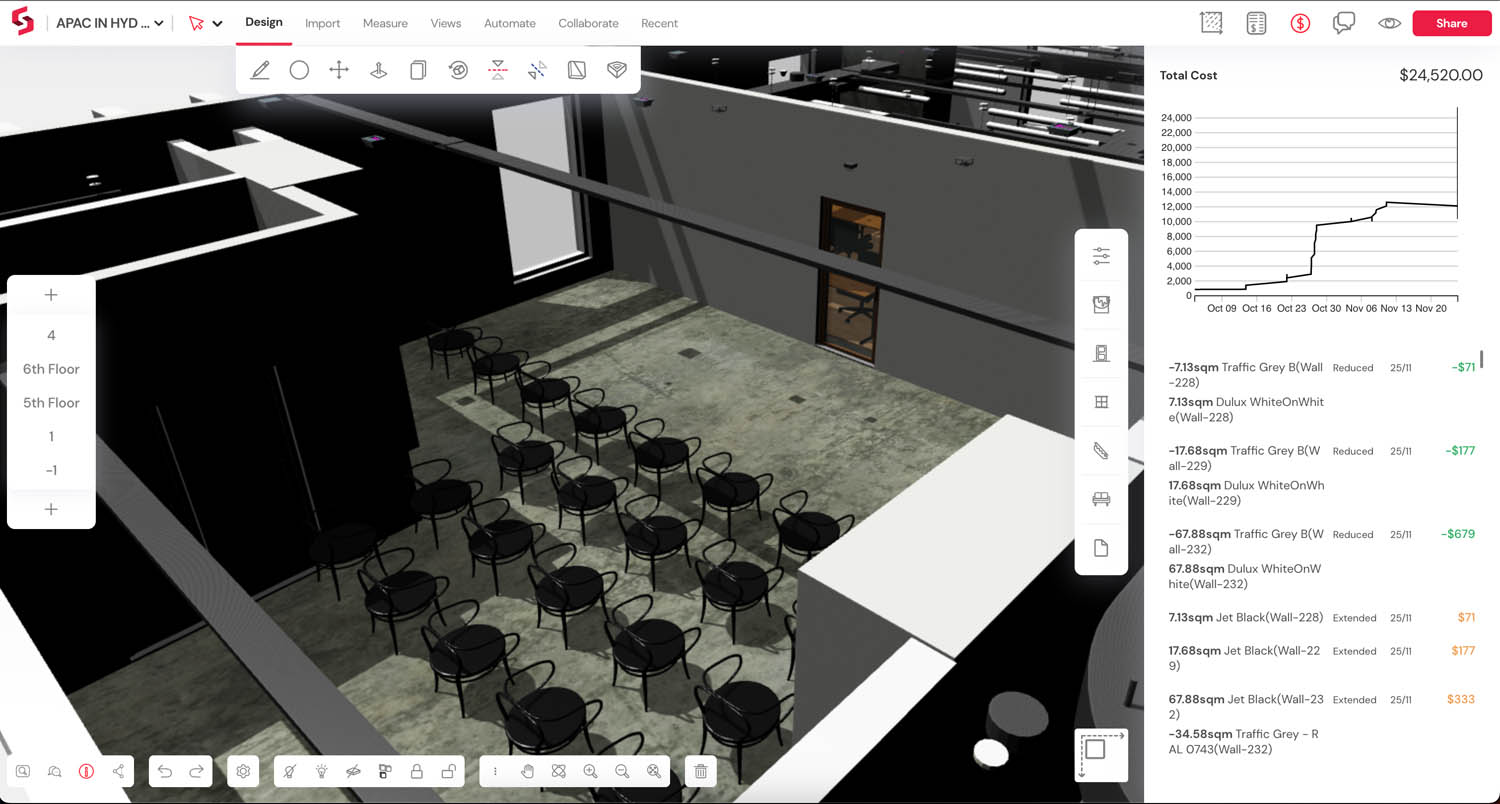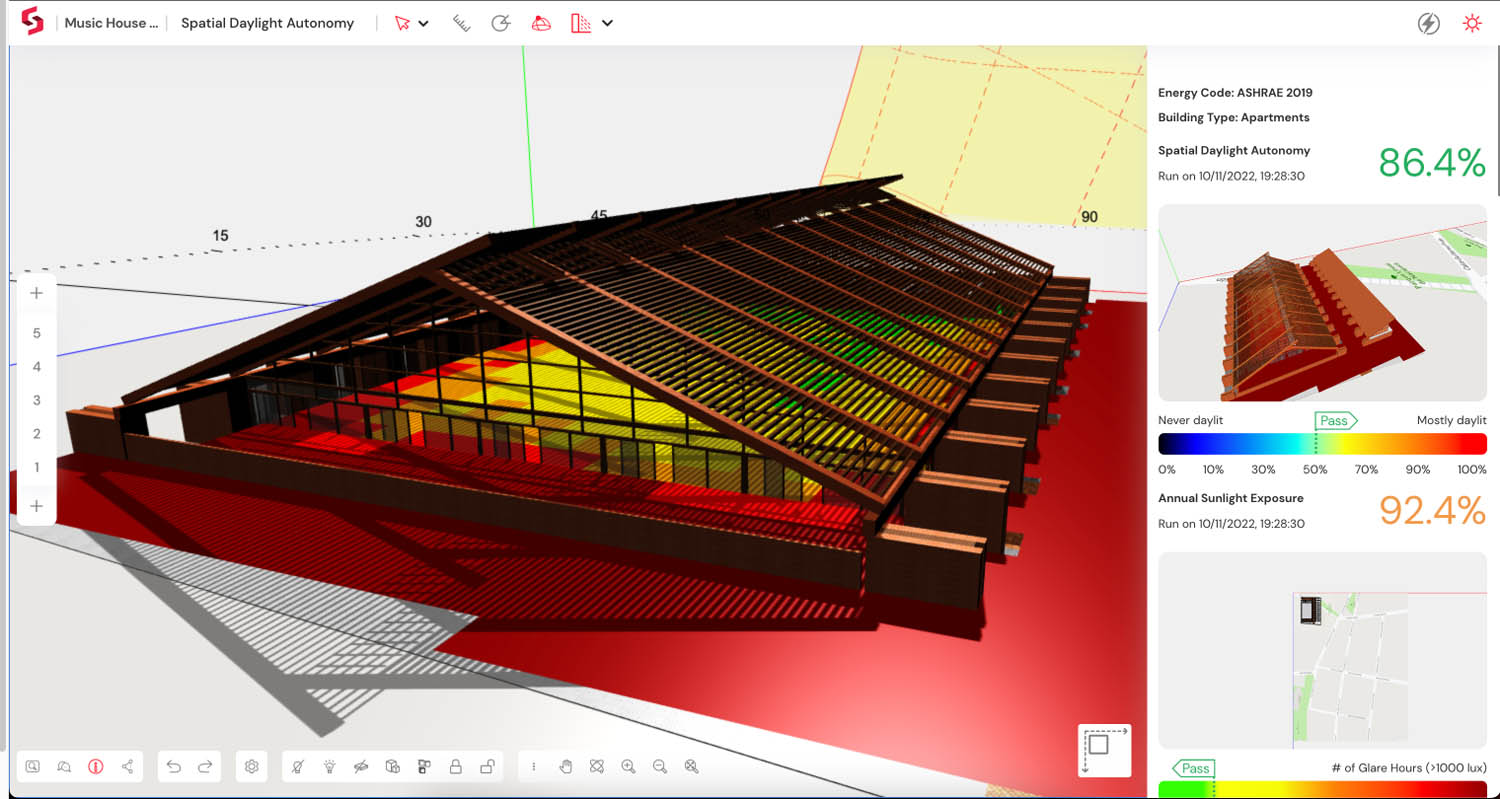 Snaptrude is being developed as a full cloud-based BIM system, but it isn't yet sufficiently fleshed out to offer true parity of features with today's mature modelling systems. And while the company raised over $6 million in Series A funding and has expanded to over 18 people, it will still be some time before it could be considered a true contender as a replacement for such systems.
However, it does offer capabilities that cannot be found in any other single system. Over the last six months, the team has built a bi-directional link between Snaptrude and Revit. This enables Revit models to be imported and then shared via the cloud for mark-up, editing, rendering, daylight and energy and quantity take-offs, via a browser or even a mobile phone.
But the most intriguing part of all this is that this isn't a dumb conversion to a facet model. It's a conversion from Revit RVT to a Snaptrude BIM model which is editable. This introduces the option to edit RVT data in the Snaptrude environment and then send it back to Revit. In other words, it offers Revit users the chance to evaluate the speed of cloud-based Snaptrude for editing over their desktop Revit systems on the same datasets.
The Snaptrude V1 cloud experience is a managed environment with 4 types of user: admin, creator, editor, and viewing-only user. Workspaces and teams are defined with members allocated and with admins assigning capabilities only to those who need them. Permissions include the ability to create projects and edit models (and synchronise design changes seamlessly back to Revit versions 2019, 2020, 2021, and 2022 with 2023 coming soon), as well as to view comment history and to measure, lock and unlock objects. Other permissions include save as model, export models, view or export quantities, add comments, add to and edit library. Users can be added to teams and invited to models.
Sessions can be completely 'non-destructive' and only for mark-up, or architects can make edits. There's also the ability to sign off on models. So it's applicable in a wide range of design team and client workflows.
Intriguingly, Snaptrude is also offering costings data from Revit models. It will do this based on take-offs and the library of material and FF&E. If a firm wants to take a deep dive into this, the Snaptrude team will help set up the library with cost information and/or show customers how they can do this themselves.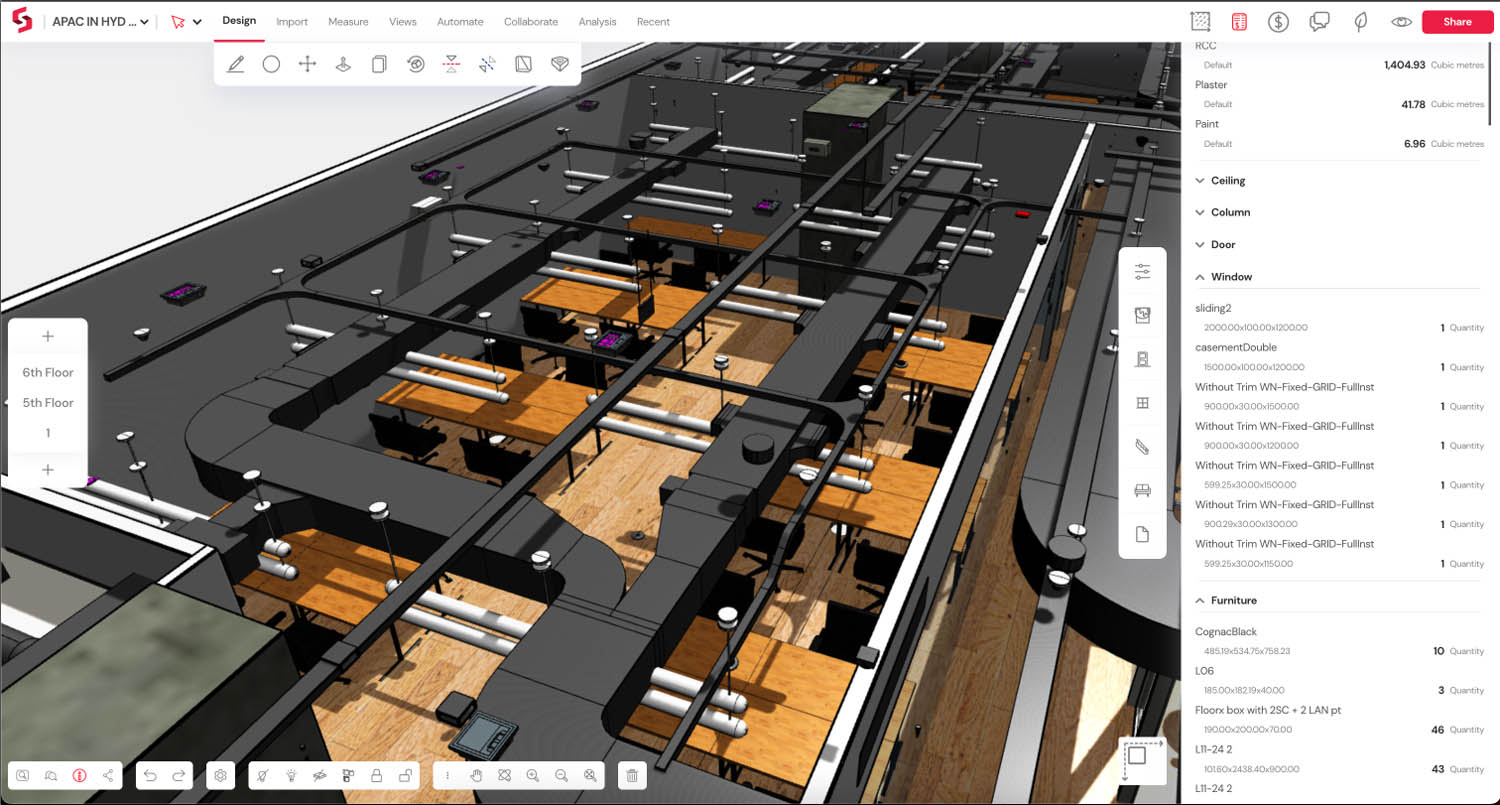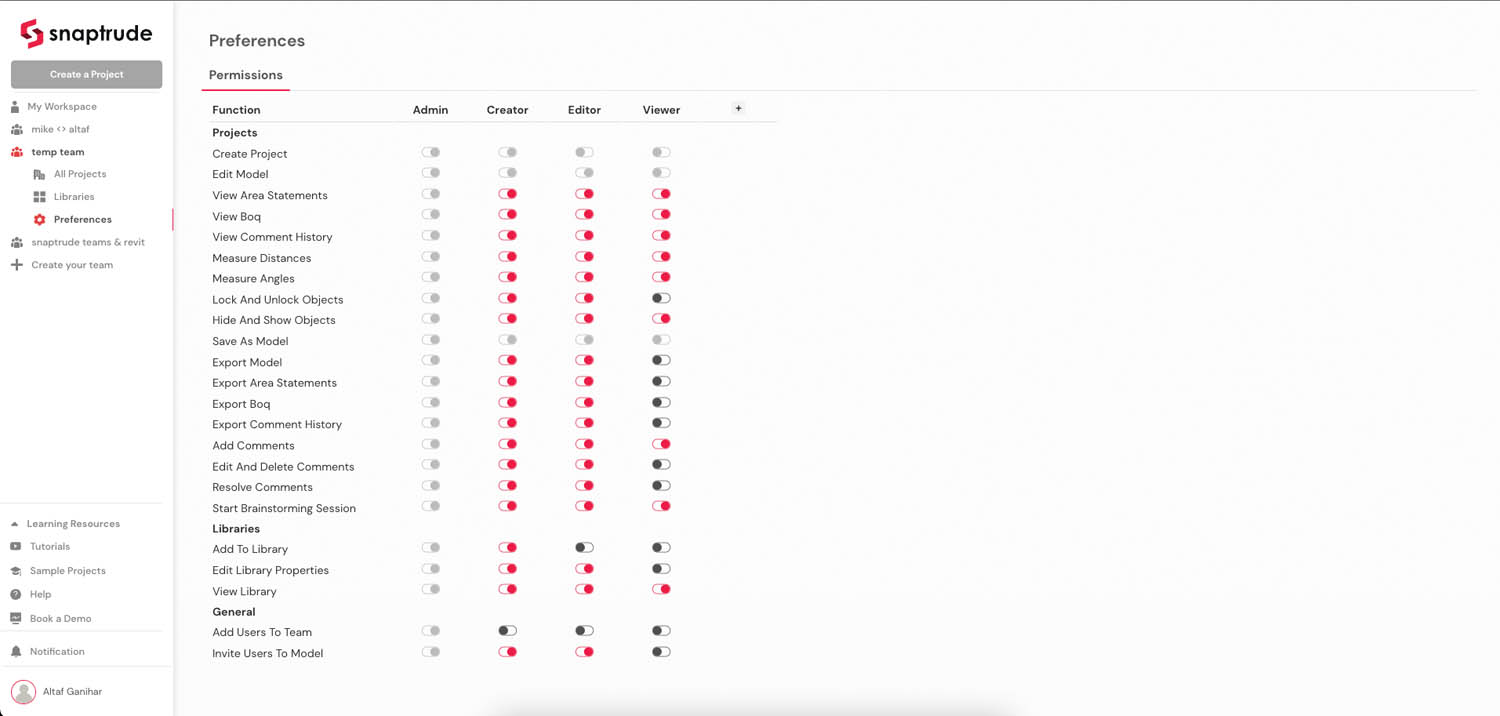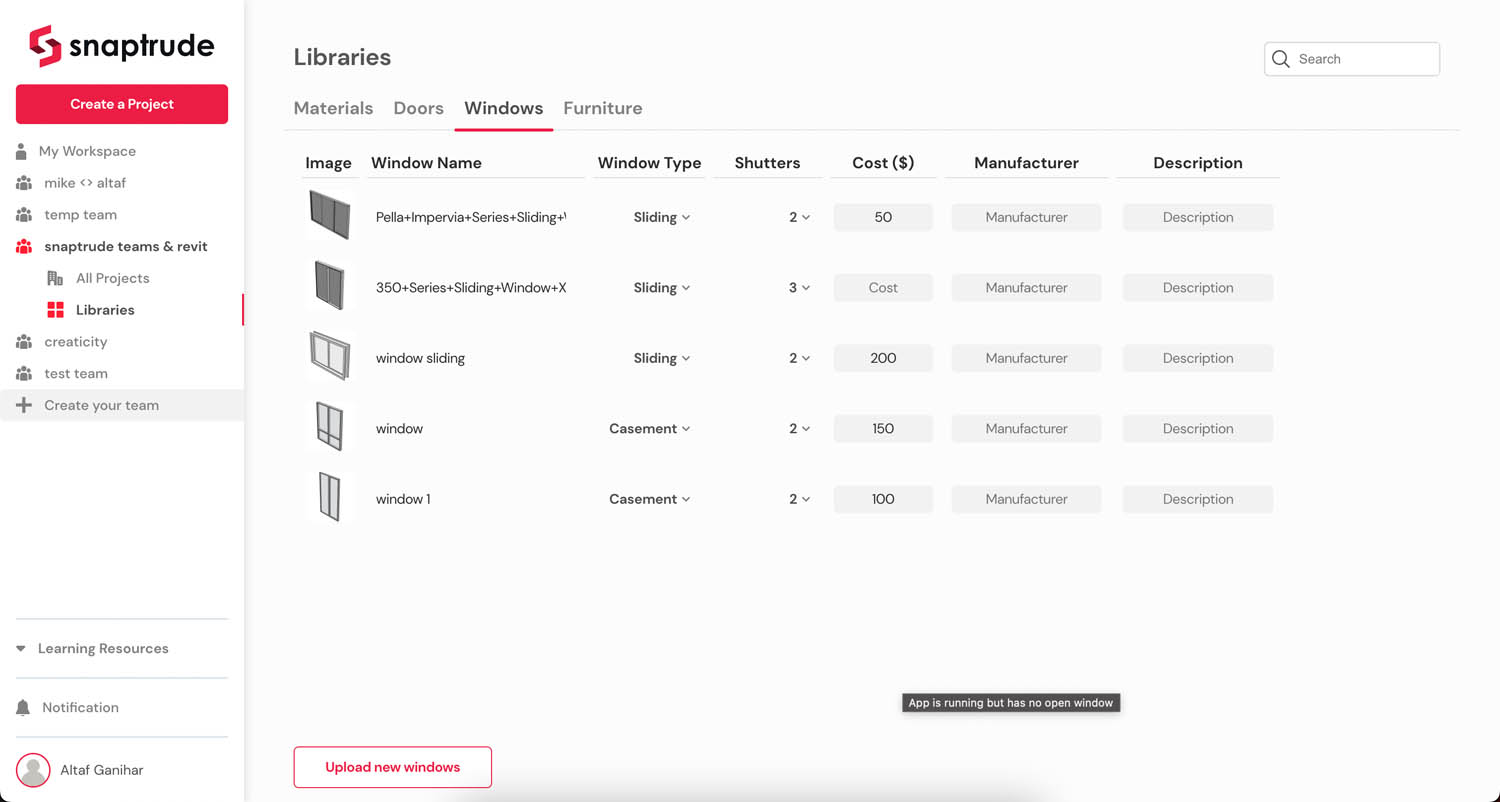 Enhanced and new features
The internal geometry engine has been boosted to deal with complex 2D/3D Boolean operations. You can now draw any shape (in 2D or 3D!) and assign it the properties of a wall, slab or floor. It's also possible to draw void forms and copy them to create your own parametric components, without having to think of complex relationships or parenting. Curves have also made their major debut.
Snaptrude has partnered with Cove.tool to bring daylight and energy analyses and enable the achievement of LEED credit. Analysis takes place in Snaptrude with no additional exports required.  Snaptrude does all the conversion in the background and determines which parts of a model are part of the external envelope (for example, external walls and roofs). It also identifies which objects function as shading devices (such as pergolas, sunshades and mullions). All transparent objects (glazed walls, doors, windows) are tagged as window objects. Similarly, glazed roofs are tagged as skylights.
The analyses available in this release are:
sDA or Spatial daylight autonomy
ASE or Annual Sunlight Exposure
EUI or Energy Use Intensity
Users need to define the project location and the tool auto-populates some basic information, such as appropriate energy codes and building typology, based on data available in the model. It then runs the analysis. Results can take up to 2 minutes to complete.
Rendering has been improved, with collections of standard materials, finishes and furniture components. These can be uploaded into the shared library, enabling all team members to access them across all projects.
The Teams Library enables customising and maintaining of additional properties for items consistent across all team projects. For materials, for example, in addition to material type, you can add material cost, manufacturer and a descriptive tag, if needed. Similarly, for furniture, you can add a family name to group furniture of the same type; you can add cost and vendor names as a descriptive tag, too.
Conclusion
As the Snaptrude product evolves to compete as an outright design tool, it's fascinating to see how a small company can slightly pivot to wrap up its technology as a much broader industry play. The integration within current Revit workflows will give everyone the chance to see what cloud collaboration with a cloud-based BIM modeller would feel like, as well as start to use the editing and creation tools. One hopes the seamless data fidelity between Revit and Snaptrude is spot on, as that will be 'make or break' in the minds of the first users to try it. Christmas has come early!
---
Snaptrude V1 Features available at launch:
Revit bi-directional interoperability
Workspaces & teams
Design sign-off (digital signature for approvals)
Better visuals in 3D
Centralised library management for materials, FF&E, doors and windows
Advanced daylight and energy analysis (in collaboration with cove.tools)
Split
Advanced Boolean operations
Curves – v1
Slideshow experience for an easy walkthrough
Comments & revision clouds for async collaboration
Rendering in the browser
Improved automated quantity take-offs (even from imported Revit files)
---
Snaptrude V1 Pricing
Free – with a limited number of projects & view-only mode after that
Pro – $499 per year, per user
Organization – $1,199 per year, per user
Enterprise – custom pricing