There's no doubt that with the move to subscription, the cost of software ownership is going up, as well as introducing limitations with dynamic licensing. IT directors at AEC firms are analysing usage and need, and seeking powerful alternatives. With Serif Affinity Adobe Creative Cloud now has a serious threat
---
The software industry's decision to move customers to subscription models has been somewhat controversial. In the past, software firms had to work to deliver features to tempt their user bases to pay to upgrade, based on the value of the new features. Subscription in mature markets with mature products is mainly based on the daily need to have access to those tools, as opposed to the excitement of product development velocity.
Software firms still develop but, from what I have seen, they tend to diversify and invest in new products and markets, to get new customers, new subscribers. Subscribers may get some additional features but are now more likely to get online services or access to additional products which, at best, are of peripheral interest.
This has certainly been my experience of Adobe Creative Cloud. Adobe was the daddy of the move to subscription, and it lit the path for other software giants. In our corner of the world, Autodesk was especially taken with Adobe's business remodelling and a lot of Autodesk's subsequent bundling up of tools to form 'Suites' then 'Collections' came under Adobe's influence.
One customer who is beta testing V2 told me it will also make the switch from Adobe 'even easier', acknowledging some 'growing pains' in the initial transition
I first heard of Serif Affinity in a conversation with AEC consultant, Iain Godwin two years ago. We were discussing the pressures design IT directors were under, concerning budgets and the increasing cost of ownership of their Autodesk subscriptions. It turned out that many of the software products that architects use were now on subscription. Prices were on the increase and discounts to enterprise clients were dwindling.
Design IT directors were having to look at their tech stacks and their user needs to rationalise the number of seats and to seek less expensive alternatives where possible. Adobe's Creative Cloud seemed to be in their crosshairs as there was a viable alternative called Affinity, offering sizable savings.
Affinity, by UK software developer Serif, offers equivalents to InDesign (Affinity Publisher), Photoshop (Affinity Photo) and Illustrator (Affinity Designer) at under £50 per single seat, per application – and that's for a perpetual licence, with additional volume discounts available on top.
Adobe Creative Cloud costs that per month. Without taking volume discounts into consideration, the Adobe solution is 12x more expensive. If you make videos and use Adobe Premiere Pro or make use of any other packages in Creative Cloud then obviously Affinity is going to fall short, so there will always be a case for some Adobe power users. However, I've now come across many UK and US-based AEC firms that are adopting the Affinity suite as their default graphics tool: HOK, Perkins & Will and others. This does not just apply to small firms; a number of large practices with over 1,000 seats have made the move, saving approximately £450,000 a year.
By software developer standards, Serif is a small private company with about 90 staff, but with its incredibly low-cost pricing, it's perhaps no surprise that it has over 5,000,000 customers (not counting education and enterprise). The firm was started in 1987 and aimed its development of an application called PageStar/PagePlus to compete against Quark Xpress and the then burgeoning desktop publishing market on the Windows platform, an industry that was inherently Apple Mac-based.
Unfortunately, Serif made little impact in the professional-grade tool market. It was a while before Windows became accepted in desktop publishing and InDesign was in the right time, right place.
After 20 years, Serif ditched its historic code and redeveloped Affinity Designer in 2014, followed by Affinity Photo in 2015 and Affinity Publisher in 2019, all run on Mac, PC and iPad. All products are designed on the same code-base, sharing the same core format, enabling some unique workflows, such as editing of images within layouts, so there's no long winded round tripping.
Serif acknowledges that it has done well in AEC over the last few years, gaining traction in many well-known practices and this has been achieved with no focussed marketing.
Realising this trend in AEC adoption has led to the development team holding sessions with practices to get their feedback on features and enhancements to their core capabilities. The inclusion of support for DWG / DXF has come from that engagement and import / export is currently under test.
Since Serif Affinity's apps came out there has been a continued stream of free updates to the products. The company admits that the first versions were feature-light but, as they have progressed, users have been getting these for no additional charge.
Version 2 of the suite is due out in 2022 and promises to bring a slew of new capabilities. One customer who is beta testing V2 told me it will also make the switch from Adobe 'even easier', acknowledging some 'growing pains' in the initial transition.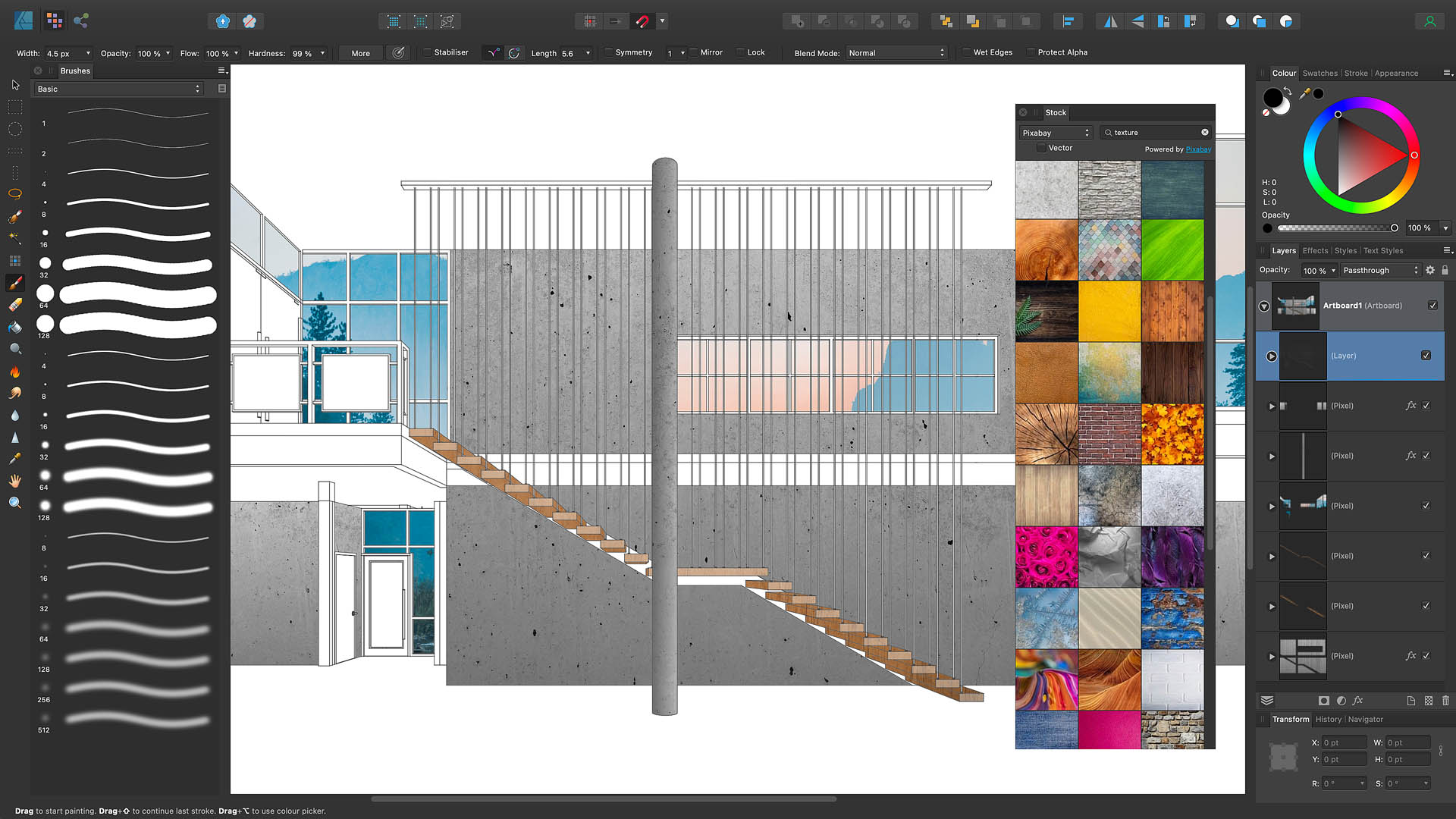 Obviously, in making a decision to swap out one application for another, especially based on cost, can upset some users who have training, muscle memory and a relationship of sorts with their leading brand. In some cases, users will feel devalued in having their premium brand replaced with something else. I think this is understandable but when you look at the AEC firms that are making this move, you are in very esteemed company and there looks to be a significant adoption trend in the industry.
As Godwin was the one who introduced me to Affinity, I asked him for his views, "Everybody is cost conscious now with software because of the trend of increasing cost of ownership," he said. "When you realise you can go from paying £60,000 for an Adobe licence and implement Affinity for less than £10,000, it's incredibly persuasive.
"Migrators need to take a holistic approach and not rush deployment. I'd suggest a three-year rolling program, with adequate training. It's also a fact you may need some Creative Suite seats for legacy and certain high-end InDesign use. The other thing, obviously, after Creative Suite, is Acrobat. Everybody's looking for the best alternative PDF creator. Affinity don't yet have an Acrobat equivalent."
Conclusion
Before the software industry moved to subscription, there were always firms that dominated markets and were deemed expensive. Eventually some start-up would come into the market and offer 80% of the features for a fraction of the cost and disrupt it.
Subscription is interesting as it relies on the sticky nature of professional applications, but the unhealthy trend in ratcheting up prices, while not keeping an eye on value for money will eventually openup the market to competitors with higher development velocities and a keener eye on customers' perceived value. There are some lessons here for our dear CAD developers to pay attention to.