Many AEC firms have access to Microsoft Exchange, Office, Teams and SharePoint. London-based BIM expert, Nittygritty has developed a Project Information Management layer for Microsoft 365's cloud backbone. Martyn Day reports
The AEC industry is awash with server-based document management systems, cloud-based project hosting sites and heavyweight industrial-strength project management systems. Picking the right one for the way your company works is a daunting task. It's easy to get bogged down looking for the 'Goldilocks' feature set, when all you really want is a hasslefree, simple to use system that doesn't cost the earth and can dynamically shrink and grow with workload.
Nittygritty is a London-based IT support and BIM consultancy firm which has developed Atvero, a lightweight cloudbased project management system for AEC firms. It is tightly integrated with Microsoft 365 and built on MS SharePoint, hosted in Microsoft's Azure cloud platform. While SharePoint is fairly ubiquitous, it doesn't have much intelligence, as to design and construction workflows. Atvero brings that industry knowledge layer to help AEC firms connect their teams, have a central place for documents, and assist in their ISO 19650-2 and ISO 9001 compliance.
Atvero is built around Hubs and Projects. The Hub is the company home page. This can be fleshed out with links to address books, diaries, widgets with company news, links to time sheet applications. All highly configurable and very straightforward. This front-end Hub could easily become a company's intranet solution for all workers and project related access.
The system has also been designed to integrate with data hosted on Autodesk BIM360 and directly within Revit. As it's built on Microsoft's technology stack, it's like the Office Suite is built inside.
Projects
Below the Hub page, you can have any number of on-going projects. These get assigned to project participants and each project has a home page and again can be populated with widgets, such as showing recent documents, a live camera feed of a site, news etc. together with the palette of project-related tasks: Approval, Transmittal, Issued, Received, together with access to MS Office related information from Outlook such as contacts, teams, calendar and email.
Every document that has been created on a project is stored in one big SharePoint library with the specified naming convention a firm wishes to adopt. This can conform to BS1192 (or not) and can even vary by project. Search offers powerful filters such as name, date created or published, building category, GA plans etc. By clicking on a file, it's possible to see its history over time, showing revisions and versioning and what formats it is available in, who created it, its current status and any transmittal history references etc.
Pretty much any document can be brought into the system, added to a project and tagged – even product specifications and planning guidelines. Files can be associated with other project documents and suitability or status codes applied as meta data for complex searches.
Working with Revit is obviously a key 'must have' and the developers have created a two-way integration which allows the easy publication of Revit sheet views into the Atvero system. It handles revision naming but not so onerously that the user can't intercede. Revit drawings revision status is synchronised with Atvero's document management system, so that revision, status, scale, size etc. show the same information within Revit and this is reflected in the drawing title block. These imported drawings go into the Atvero approval workflow.
Email
Email management is obviously another key element. The Atvero integration with Outlook is slick – it knows which projects people are working on. Using filters, relevant emails can be found, selected and placed into the corresponding Atvero project repository. These are filed centrally within each project along with any associated meta data. They are fully indexed for deep search too and emails keep their formatting. With each sent email, Atvero prompts the user to file the email with the corresponding project. All saved emails are filed in the Office 365 cloud, not your local Outlook, so it doesn't tie up your machine. Again, all project emails are searchable with text and filters.
Records
A new Issue starts by selecting the files to be issued. This brings up a form, to which notes can be added and a status code applied, recipients either selected from contacts or new contacts added. The format of the file can be PDF, DWF and/or DWG, and it can be sent as a zipped file or a Sharepoint web link, which requires two factor authentication. All the transmittal data is recorded in a separate template for your records and any future audit.
Conclusion
The Nittygritty integration 'glue' pulls together Microsoft's cloud-based offerings in a very neat online package with simple workflows and some light touch integrations. It's not draconian in nature and prompts the user to file data as and when is necessary, or automatically kicking off a defined process like a transmittal. The underlying architecture is also really just a folder structure so would not trap customers in some proprietary document management vault. Prices start at around £15 per user per month.
---
If you enjoyed this article, subscribe to our email newsletter or print / PDF magazine for FREE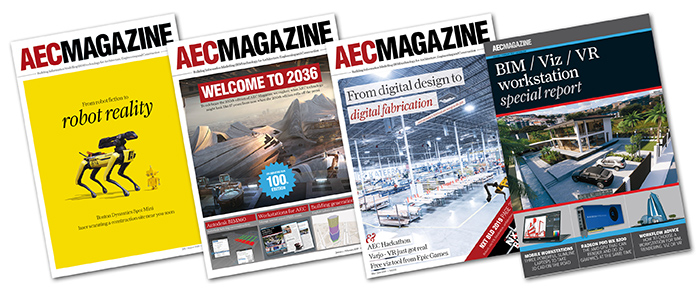 IMAGE AND CAPTION