At AEC Magazine we regularly talk with technology developers, IT directors of leading AEC firms, and draw inspiration from our manufacturing-focused sibling publication DEVELOP3D. All of this helped make NXT BLD 2021 what it was, an event that brought together the true pioneers in our industry to explore the future of AEC technology
---
AEC Magazine has been at the forefront of promoting BIM for almost 20 years. A few years ago, it was becoming clear that the amount of development work being put into many leading AEC applications was on the wane, so we set an editorial agenda to identify where the next innovations would come from, and examine how the industry would have to adapt — mapping itself from current processes to new digital workflows.
NXT BLD is the physical embodiment of our mission to explore new technologies and boldly go where no industry events had gone before!
Topics include VR-based design, robotic assembly, offsite construction, 3D printed buildings, digital twins, photogrammetry, robots on construction sites, real-time rendering, collaborative design, knitted buildings, generative design, mixed reality, city modelling and blockchain.
Topics and speakers, almost entirely come from the research we do for editorial, or from recommendations from people in practice, who may be part of ongoing R&D, either in-house or with a university. While in the past, technology had tended to be dictated by vendors, we are now seeing a much more hands-on approach to tech stack and workflow development from leading practices, something we covered in our January / February 2021 cover story.
Now, as the AEC industry moves to complete digitisation, academics, startups and established mature BIM customers have been looking to converge tools and processes, to meet their future needs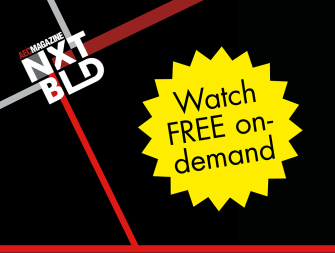 At our November event, which is now available to view free on-demand, we were lucky enough to have a stellar line up of industry heavyweights. This includes speakers from the Foster + Partners Advanced Research and Development (ARD) group, Cobus Bothma, director at KPF, Greg Schleusner, director of design technology and innovation at HOK, Dr Marzia Bolpagni, head of BIM International at Mace, and Emily Scoones, business and project lead at Ramboll.
These practices didn't present case stories about their use of procured technologies, but showed their in-house developments and shared their goals.
This trend can also be seen in previous NXT BLD talks from the likes of Woods Bagot, Facit Homes, Gensler, Skanska, Herzog & De Meuron, Katerra, Laing O'Rourke, to name but a few. Expect more next year and an increase in the amount of AEC firms collaborating together in software development.
Automation has always seemed a great fit for construction. Even at our first NXT BLD event we had a prototype robotic assembly system from Arup and the amazing Arthur Mamou Mani.
Two years later and NXT BLD 2019 heralded the first appearance in Europe of Boston Dynamics' SPOT robot, marking its launch into construction. That year we had R&D teams from laser scanning firms flying in with 3D printed mounting plates to try out their laser scanners on the robot, as it was their first opportunity to see SPOT in the 'flesh'.
Foster + Partners also met SPOT for the first time at NXT BLD 2019 and this year the R&D team presented their findings on the potential of the robot for use on live projects and in the future. Meanwhile, Trimble's Construction Robotics Lead also talked about the growth in robot adoption on construction sites.
As workstation CPU and GPU capabilities forge ahead, the ability to handle more complex geometry, on a city scale, in real time has finally become a reality. This isn't just helping those involved in arch viz, but also virtual reality and augmented reality.
The AEC sector is also taking influence from beyond. This year we took a bit of a gamble asking Aston Martin to present, but it really paid off. Cathal Loughnane did a great job of explaining the Aston Martin design team's philosophy which applied to everything from cars to residential buildings, to watches. As the AEC industry looks to change its workflow, it can't remain an echo chamber. So we will continue to bring in speakers from other industries to see what we can learn from their digital design to manufacturing processes.
While NXT BLD examines early market trends, it also has the opportunity to follow these developments as they flourish and adapt. But, more importantly, how they are seen through the eyes of technology savvy users and within the context of real projects.
For future NXT BLD conferences, expect to hear more on the connection between architectural design and digital construction. This is a huge topic with a long way to run. There will certainly be more AEC firms discussing their own inhouse and collaborative developments, as the call for industry openness and productivity improvements grows – against the background of a seemingly slow-to-react commercial software market which is focussing elsewhere.
In the meantime, all of the presentations from NXT BLD 2021 are now available to view completely free on-demand, so grab a coffee and dive in. You're welcome.
---
Location independent design – collaborative design
Cobus Bothma, KPF
Today's leading architectural practices are experimenting to develop their own bespoke solutions, using the exploding resources of open-source components. Bothma demonstrates a number of tools he has created for use on KPF projects, connecting designers with different skill sets to enhance the internal iterative design process.
Other challenges included: 'How to get a full BIM model, Grasshopper model, and 40km2 of modelled London at 150mm accuracy in front of a user, with real time capability, when we can't control their hardware?' The answer: Nvidia Omniverse. Bothma has expanded this to mixing Computational Fluid Dynamics (CFD) analysis with real time graphics and virtual reality (VR).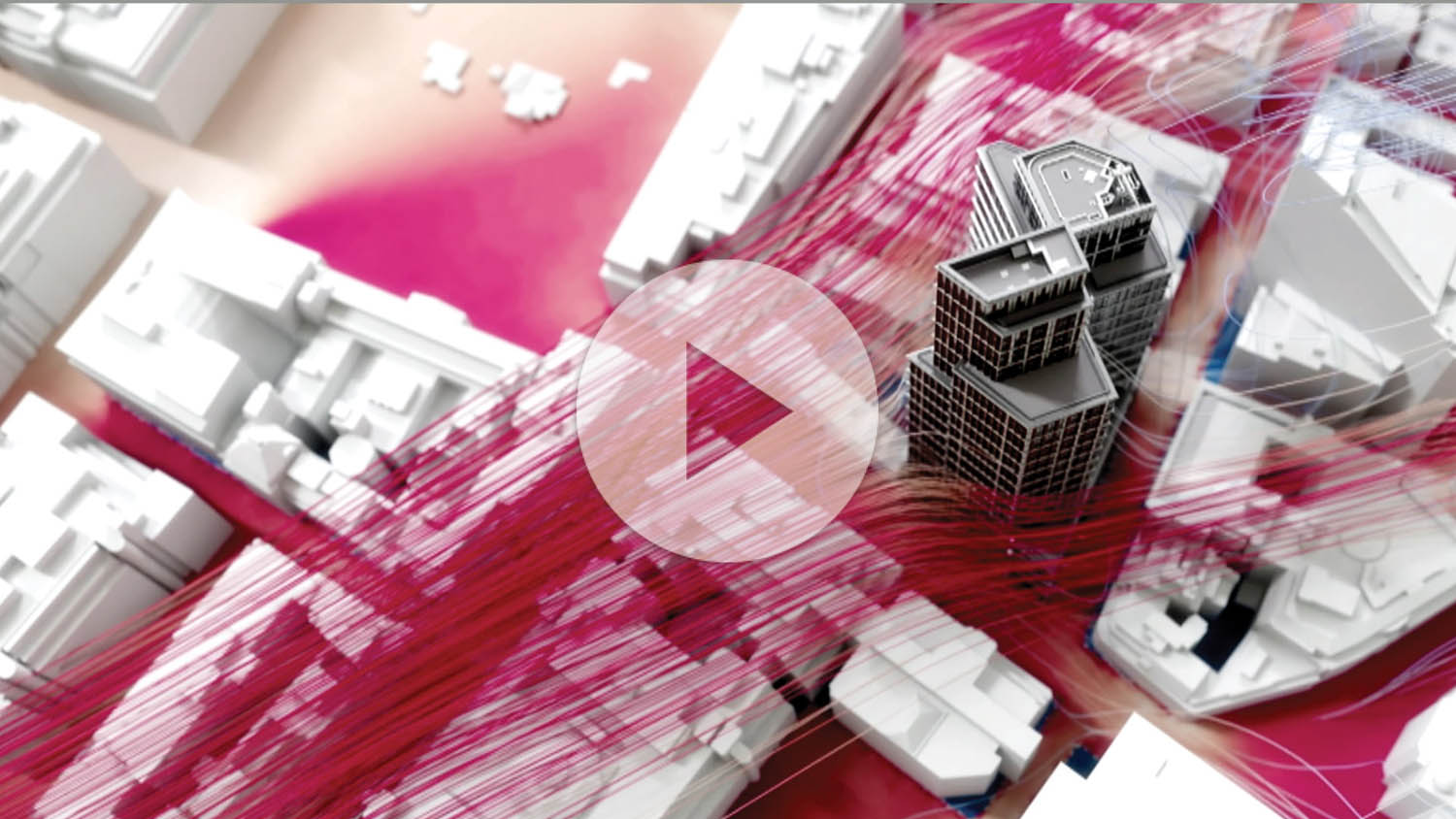 ---
Changing perspective and changing vision
Cathal Loughnane, Aston Martin Design
Aston Martin is a classic British sports car brand which blends its racing heritage and craftsmanship with the latest digital design technology.
As the AEC market looks to other industries to learn, Loughnane gives us his insight into how Aston Martin has expanded its design practice to motorbikes, helicopters, watches and residential development.
A key take away is that even with all the new digital technology at Aston Martin's disposal, nothing is held in more esteem than the hand-crafted 1:1 clay model of the car – keeping true to the 108 years of Aston Martin DNA.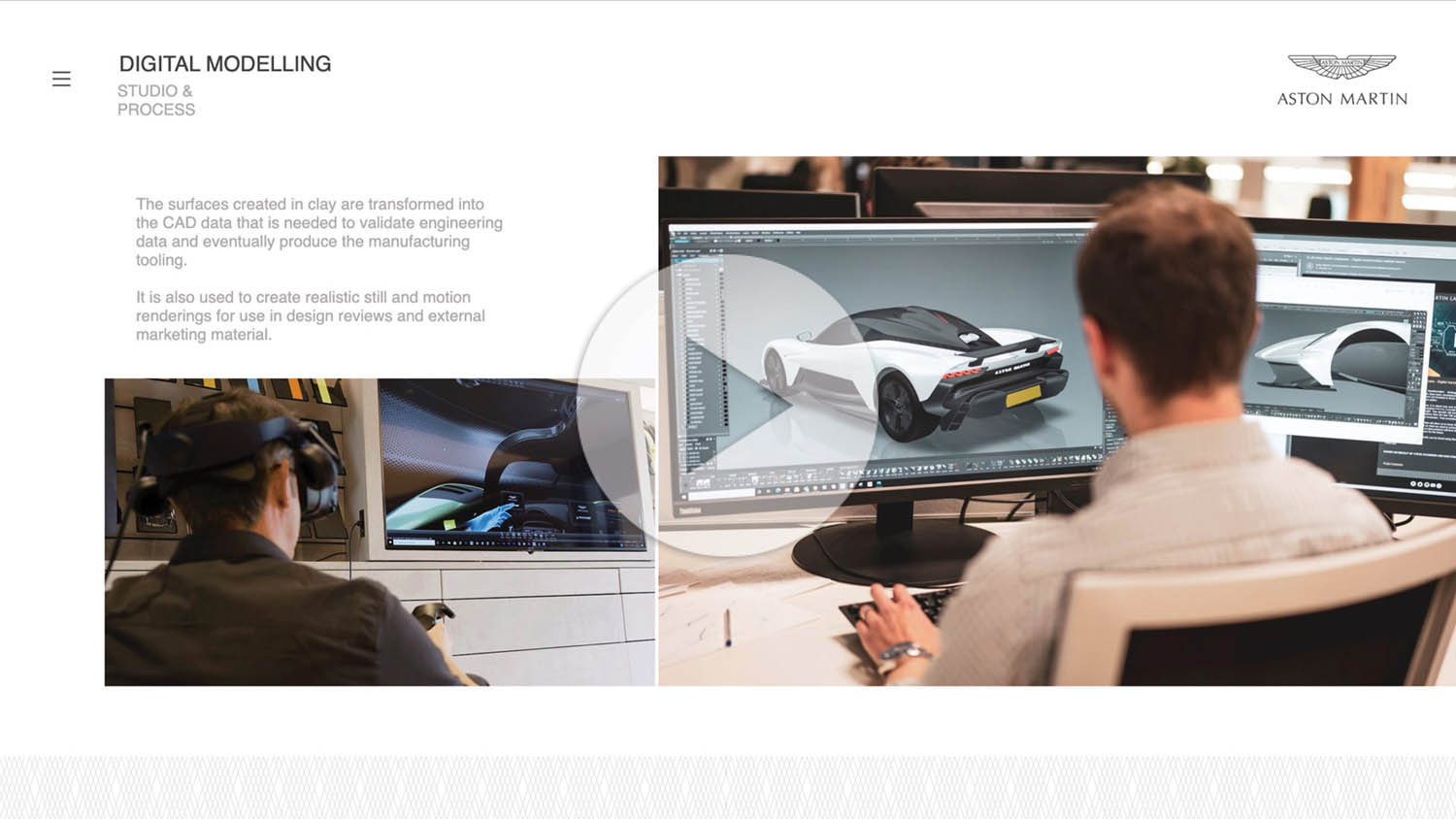 ---
Creating balance
Greg Schleusner, HOK
BIM has been on the desktop for over 20 years but we have ended up spending more time documenting the design. As the AEC industry looks forward to improve productivity and refine workflows, Schleusner questions historic concepts of BIM tools and makes insightful suggestions as to what BIM needs to be able to do to evolve beyond its current document-centric limitations and 'dumb' models.
Silos are a major problem for the industry, data needs to flow more openly and in a more co-ordinated manner, between all tools and workflow participants. Schleusner is calling on AEC firms and developers to work together and cooperate on making the design process flow before AEC gets subsumed with new challenges.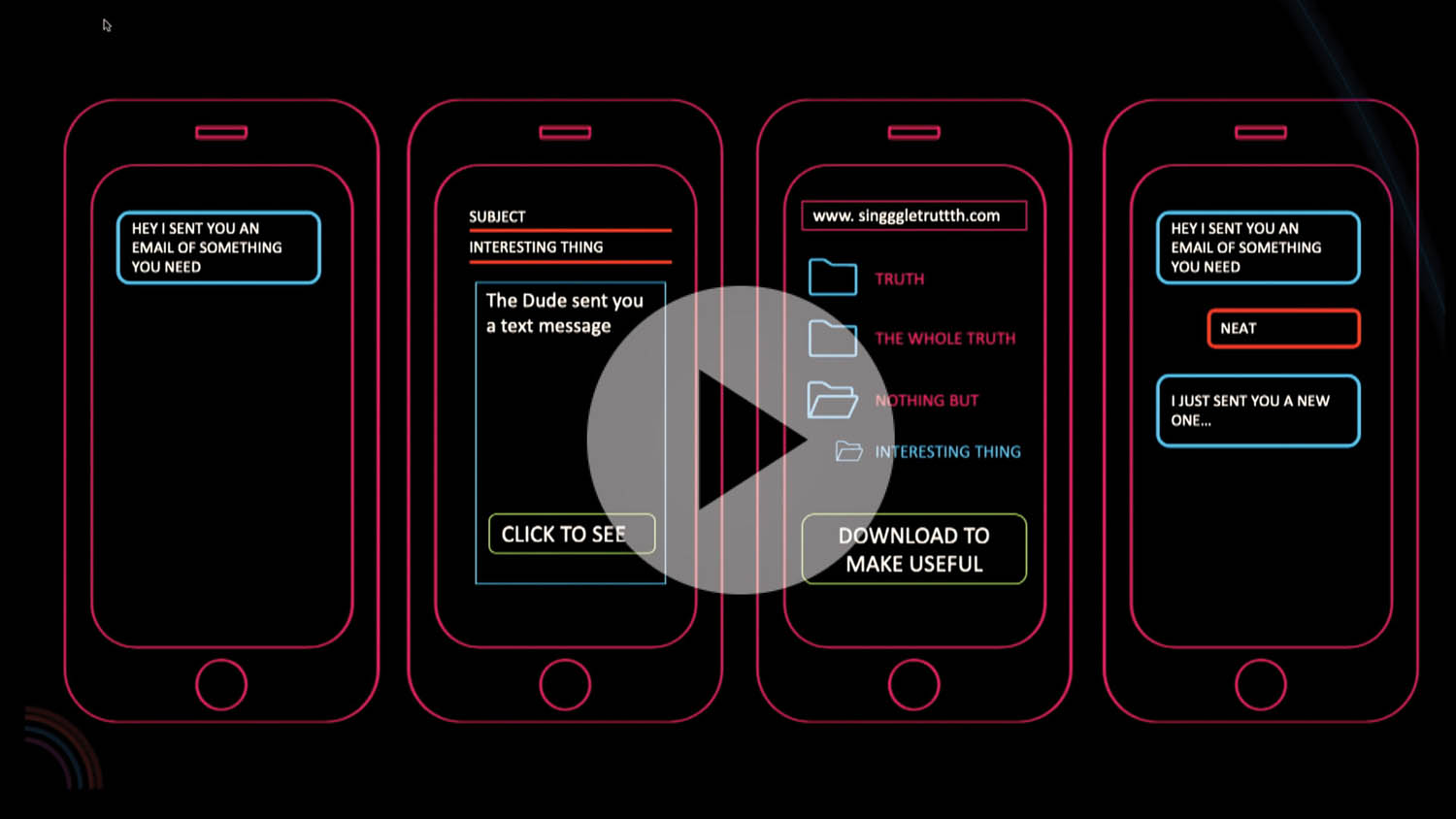 ---
From design to Digital Twin and beyond
David Weir McCall, Epic Games
Epic Games is looking to extend current BIM workflows to add real-time rendering, pedestrian simulation, LiDAR and digital twins. Weir McCall looks at how firms like HOK are using Twinmotion, Unreal Engine, Cesium and 3D Repo to model city-scale projects and co-ordinate design teams and interaction with the public.
Foster + Partners is experimenting with extending its real-time model assets to have Augmented Reality onsite to bring its designs to life. Digital twins means many things to many people but Unreal is focussed on contextualising data, from many different sources, in real time to all be displayed in the context of a model.
Buildmedia's detailed model of New Zealand is amazing.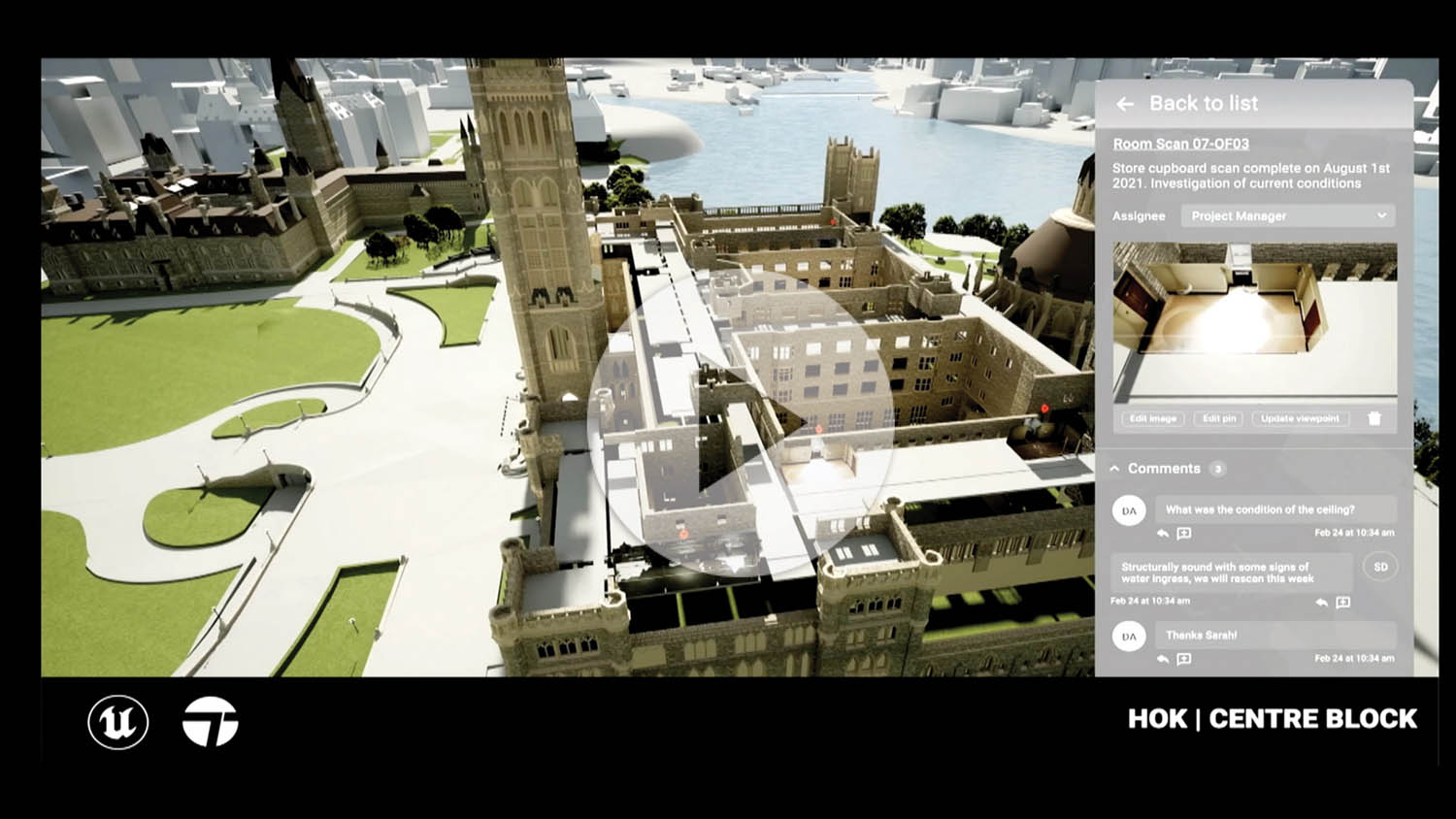 ---
The NASA Control Room for Construction
Dr. Marzia Bolpagni // Mace
Bolpagni starts this talk by looking at the limitations of Level of Detail (LoD), acknowledging that different people require different data at distinct phases of a project and that most data created in the design phase is not formatted or useful to construction. She then suggests this can this be improved by using frameworks that are based on the level of information – why, when, who and what.
Mace has also been actively researching and benchmarking an 'AEC production control room', like NASA had for each space flight — a design room for project data, collating all project metrics for filtering and display.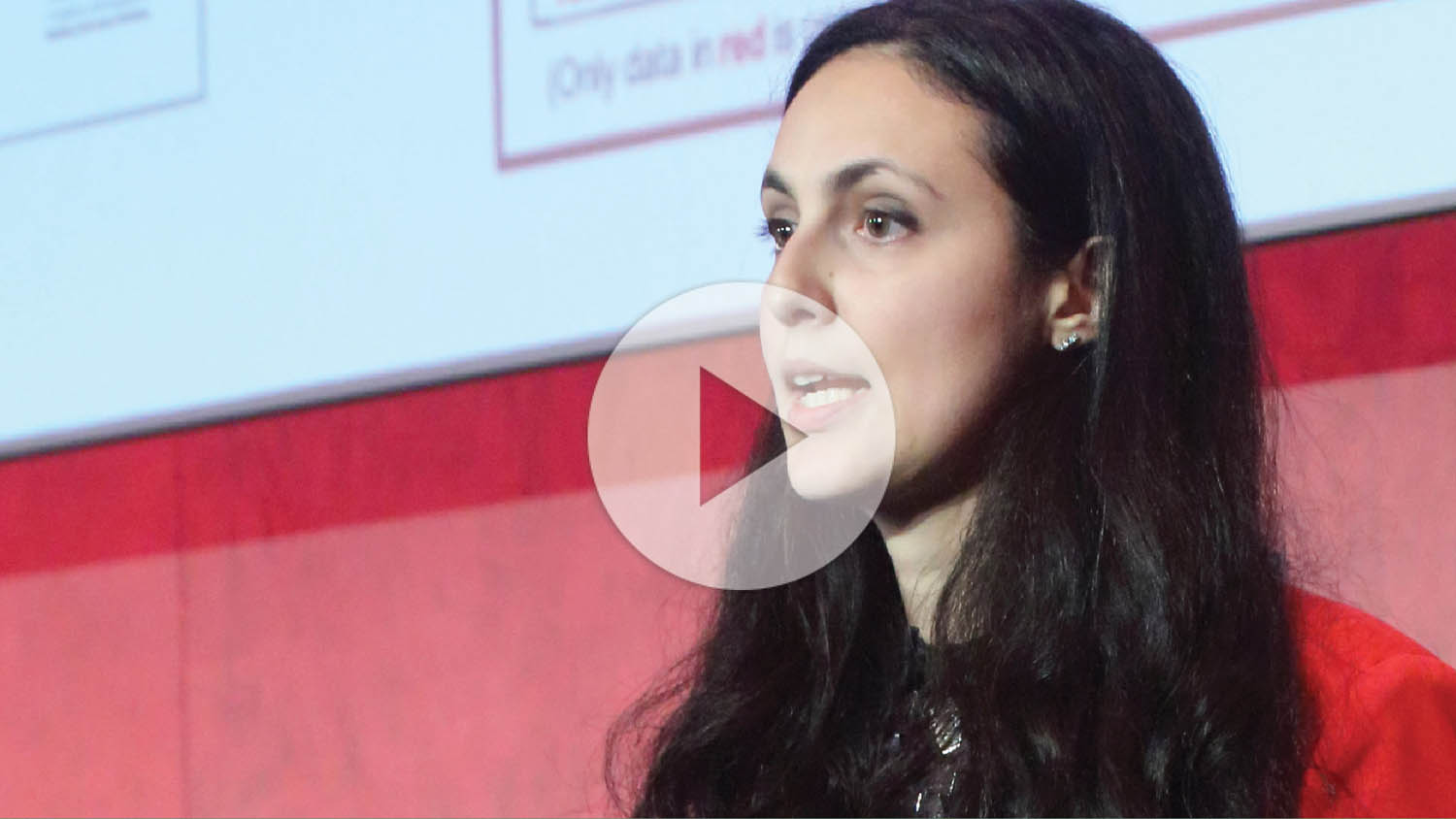 ---
Bringing digital twins within hands reach
Greg Demchak, Bentley Systems
Bentley Systems is the biggest proponent of digital twins and has also led the charge into reality modelling. Demchak comes from the research side of the company and has been experimenting and connecting Bentley with both large and small development firms to capture ultra-high resolution photogrammetry to build digital twins. The twins are then hosted in the Microsoft Azure cloud and streamed to collaborative Augmented Reality (AR) sessions, using Hololens headsets with physical hand interaction.
Demchak uses an example of bridge inspection, scanned by drone, automatically modelled in 3D and then used to identify cracks with machine learning, all at 1:1 scale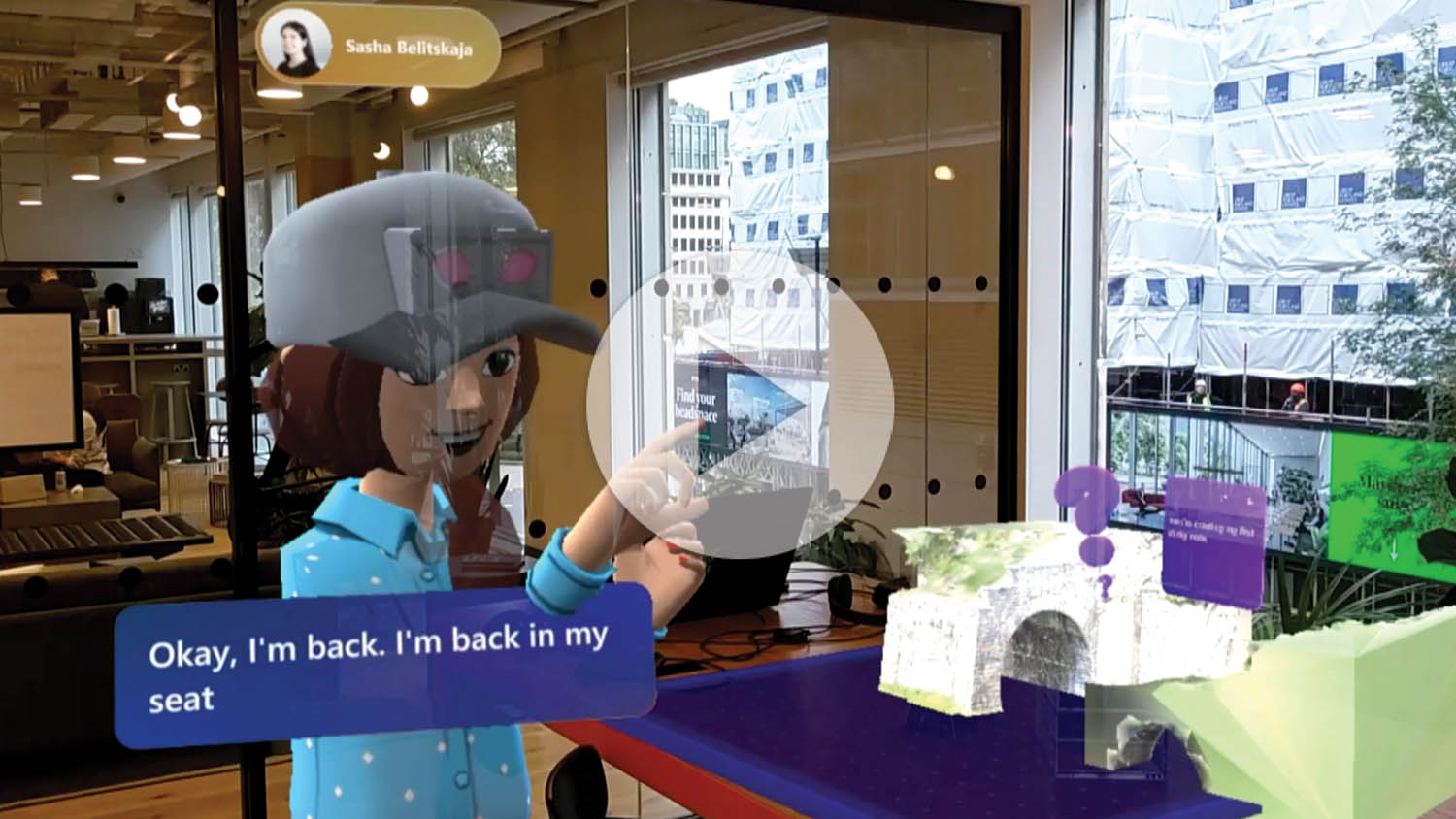 ---
Collaborative design: Revit, Rhino & SketchUp models
Hilmar Gunnarsson and Johan Hanegraaf, Arkio
From our first NXT BLD to our fifth, we have watched Hanegraaf's 'VR design for architects' concept go from an idea to a shipping product, Arkio. This year, the Arkio team modelled the QEII Conference Centre and the Parliament building area – the location of NXT BLD – and demonstrated the breadth of Arkio's modelling and collaborative capabilities, together with links to working with Revit and Sketchup.
At one point, they invited the whole audience to join them in a massive, live, collaborative session using their phones!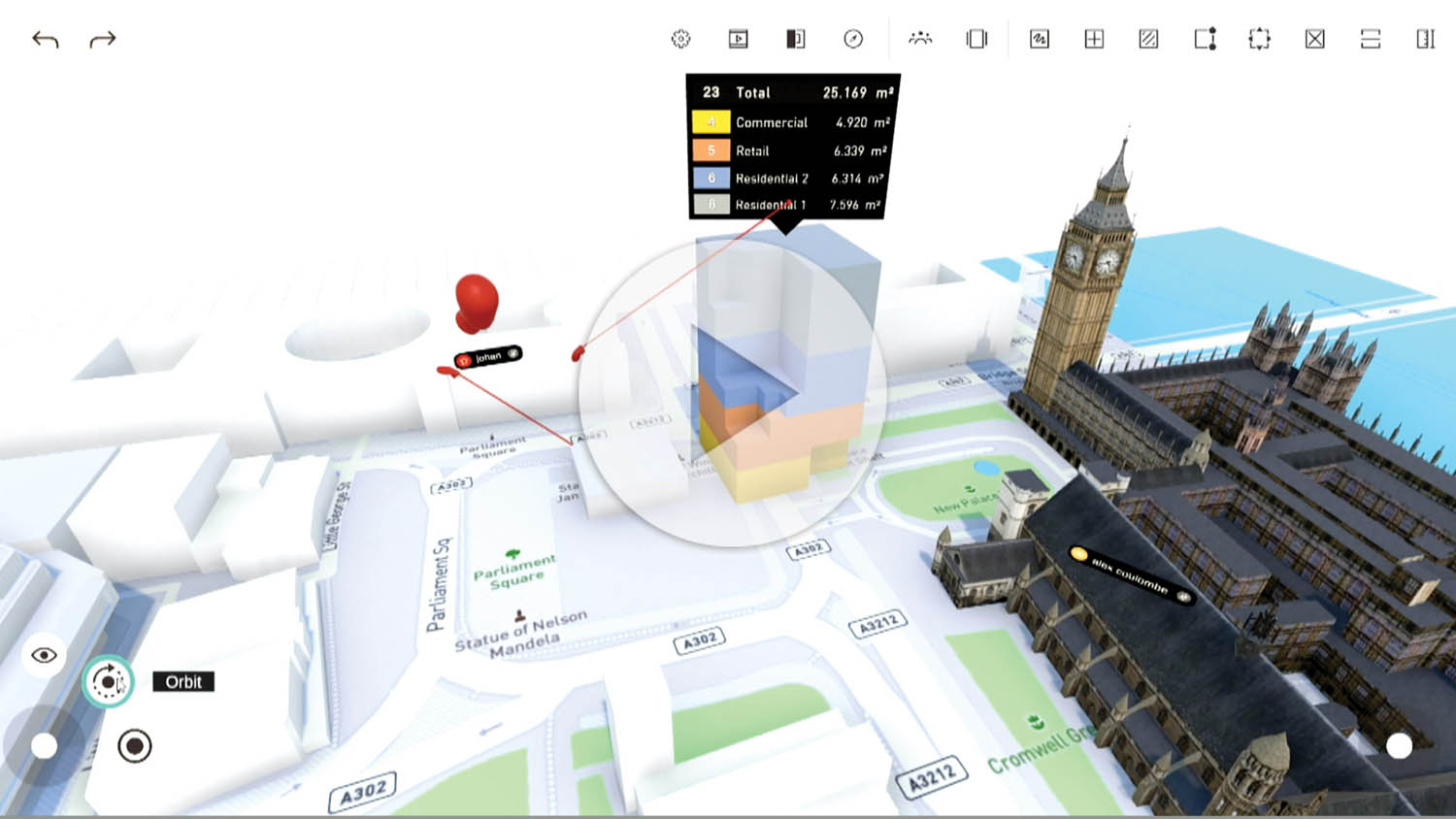 ---
Autonomous robots in construction
David Burczyk, Trimble and Brian Ringley, Boston Dynamics
How does robot autonomy work on a construction site, a space which changes every day and is unpredictable? The heads of construction from Trimble and Boston Dynamics look at the benefit of flexible autonomy while performing high resolution data capture. Burczyk and Ringley also explore what can be done with robotic data capture, now it can be automated and carried out much more regularly. Trimble extends this concept to show how the data could be used in real time for in-field analysis, such as monitoring slab pours and comparing the as built vs the constructed.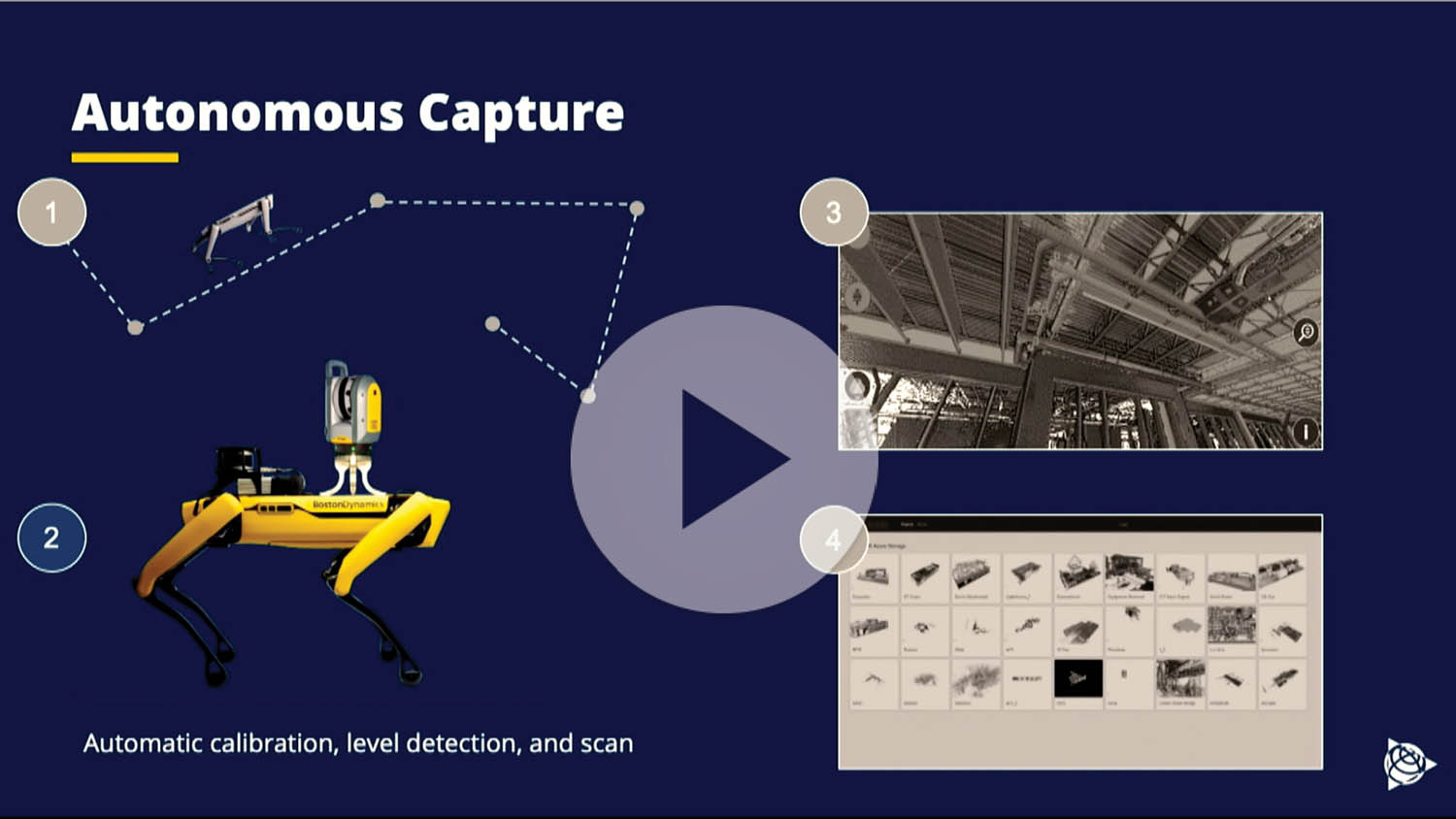 ---
Spot for the AEC industry
Martha Tsigkari and team, Foster + Partners Applied Research and Development (ARD) Group
The ARD group at Foster +Partners is legendary in the fields of complex geometry, AI, VR/AR, performance simulation and IoT. This year we were lucky to have four of the team onstage to talk in detail about their research into digital twins and the use of robots in construction. Foster + Partners sees benefits in not only creating construction twins, but also beyond in operational twins, seeing how buildings are used, monitoring environmental conditions, as well as energy usage. These experiments were carried out on its own campus, as well as on actual active projects

---
The future of collaboration through Open Source
Dimitrie Stefanescu & Matteo Cominetti, Speckle
Speckle is an open source enabling ecosystem, designed to remove the bottlenecks created by today's federated and proprietary constrained data environments. We need a more flexible solution to store this data, says Stefanescu and Cominetti, and Speckle delivers an object-based, open source, interoperability platform designed to bypass the current bottlenecks. It's a rare initiative in this industry that is almost wholly altruistic.
The clamour for openness is growing and many are wondering if having a single BIM model was such a good idea in the first place. Stefanescu summed it up in one sentence: 'single source of truth is a fallacy, we don't want one 'God like' model'.

---
Industrialised Construction – transformation through data for manufacture and assembly
Amy Marks, Autodesk
Out of all of the traditional CAD firms, Autodesk is the most vocal about developing a strategy for its customers to cross the chasm between architectural design and digital fabrication. Marks has joined Autodesk after running a successful industrialised construction firm and is looking to educate and engage the industry as an evangelist. She acknowledges that change is hard but this has to happen as the fabrication needs to be considered at the point of design. Her strategy is to design using a kit of parts, to productise the physical and the digital and reduce the production of one-off parts.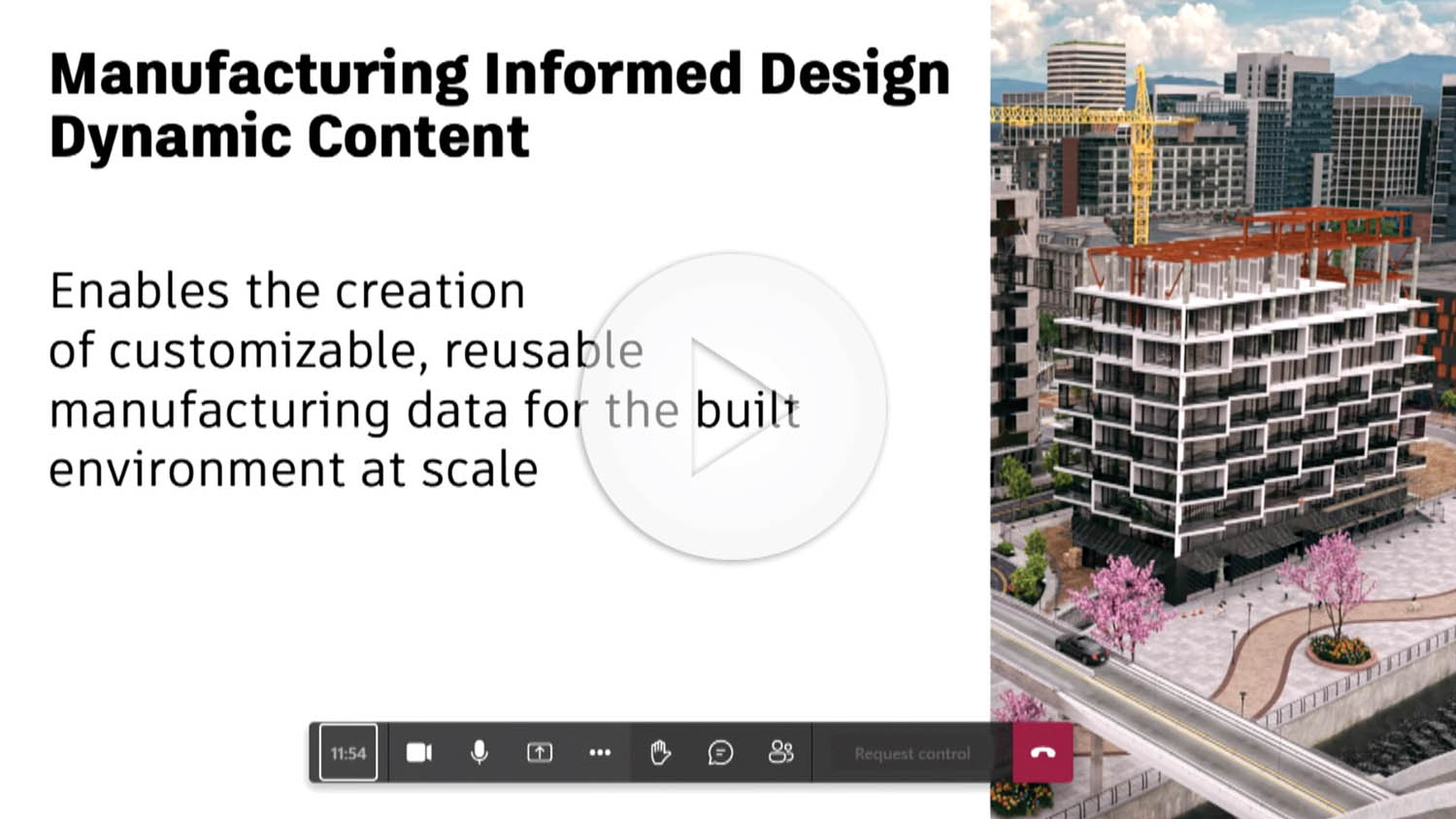 ---
The next generation: generative design in practice
Emily Scoones, Ramboll
Ramboll has been looking at how it can take its in-house generative design knowledge and apply it at a more traditional scale, to create tools for designers to enable them to design with competing constraints and iterate faster. As engineers, Scoones points out that, all too often in the existing process they come to a project at a late stage and point out problems.
The company is keen to share its knowledge earlier to avoid 'well documented designs' that are problematic. SiteSolve is a productised generative design tool from Ramboll which looks at feasibility for residential massing, looking at competing variables – roads, target mixes, floor heights, topology etc. using built-in engineering knowledge and rules to define overall design options.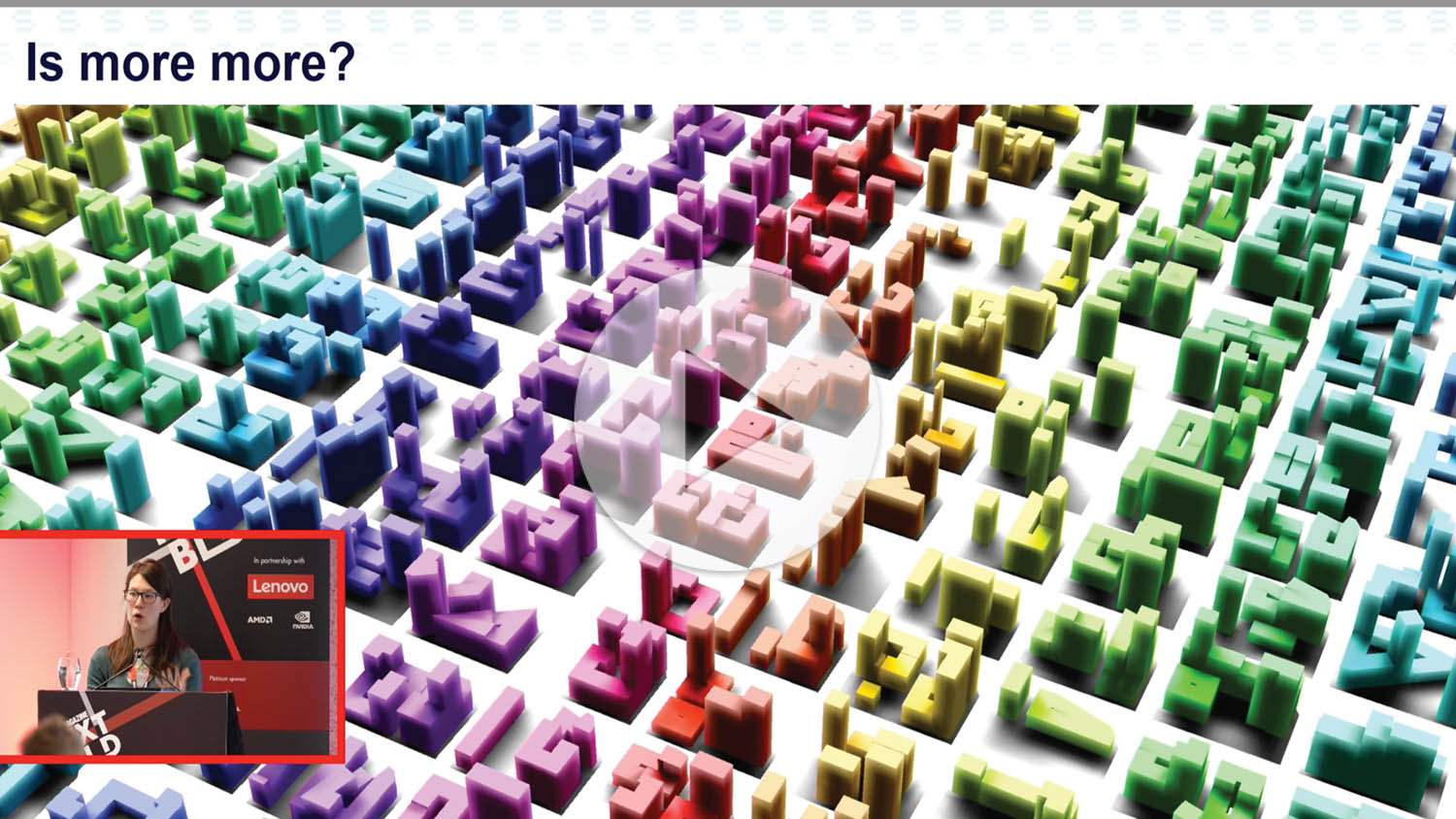 ---
The future of architecture: design & code across realities
Andreea Ion Cojocaru, Numena
Numena is a start-up of 'coding architects', which is developing a new VR / AR design tool, based on Unity, for architectural experimentation. One of the fundamental features is the system's ability to display, for the user, 1:1 interaction with the design model, while including traditional scaled digital documents, merging plan and model.
Part of the research asks clients to 'design their own buildings' using the VR system, as they respond to the volume and light in the model, which is impossible to realise from 2D plans. This all feeds back into the BIM system.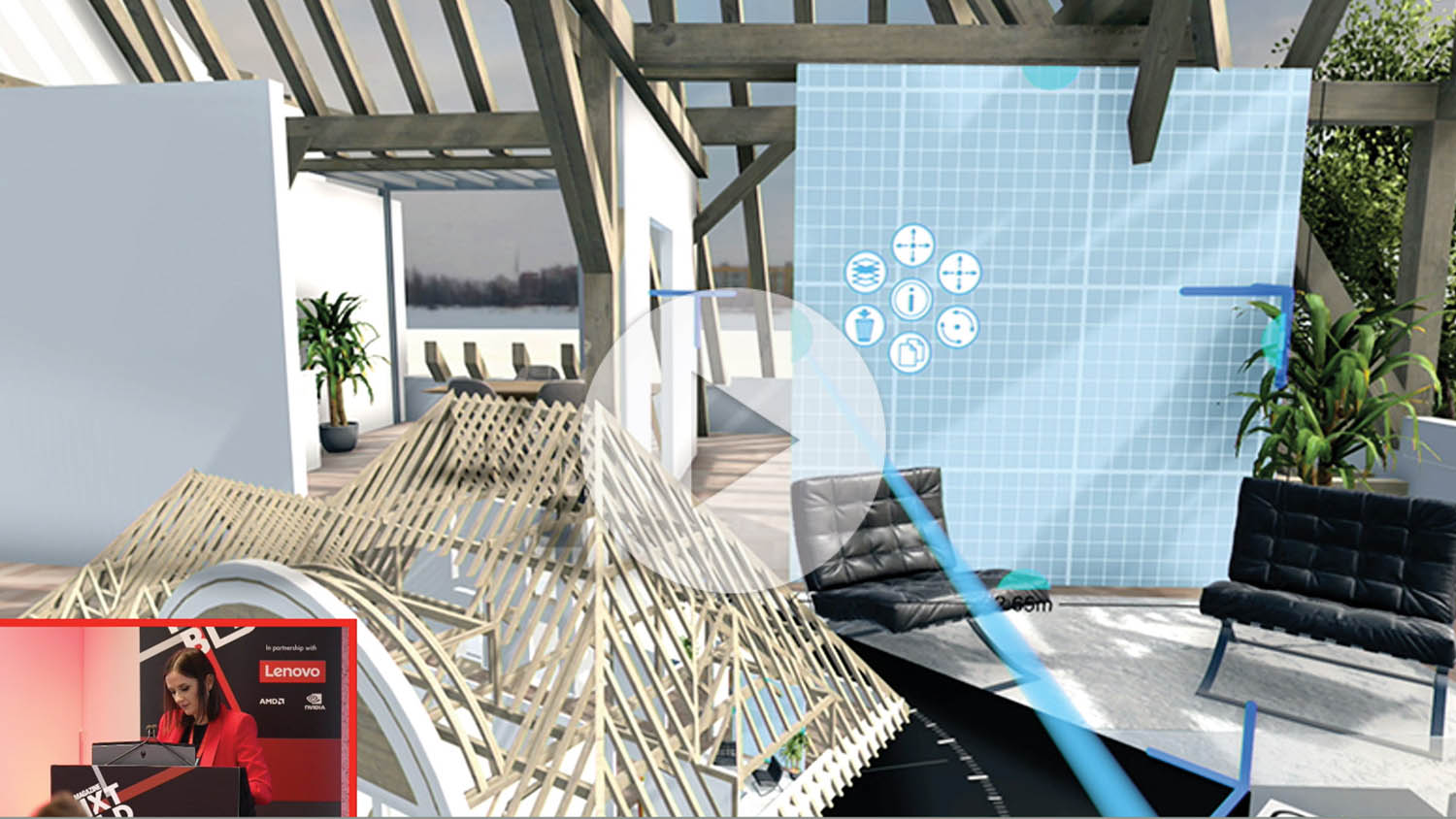 ---
Twinning it to 11
Robert Jamieson, AMD
AMD Threadripper Pro multi-core processors launched in 2020 and were quickly established as a price / performance challenger to the mighty Intel, especially in high-compute throughput use cases, such as rendering, Computational Fluid Dynamics (CFD) and simulation which can make use of the processor's 64 cores.

The future of processing is more cores and software companies are redeveloping popular tools to access this power, with more cores rumoured to be coming in the next generation.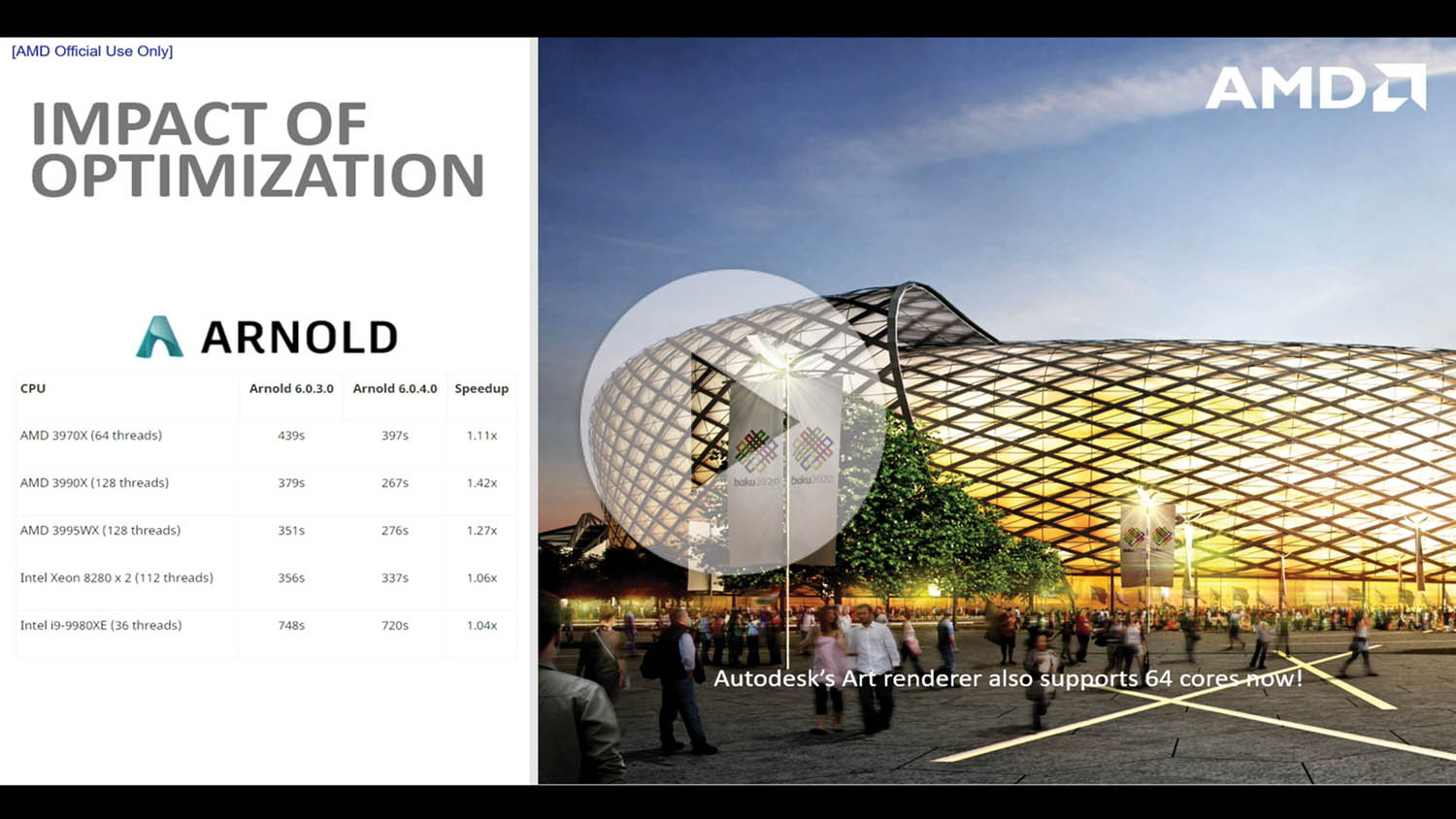 ---
Research in practice
Francis Aish and Martha Tsigkari, Foster + Partners
Two of the industry's applied computational giants, Aish and Tsigkari, highlight some of their research work, starting with famous work done on 'The Gherkin', from a time when there was no Rhino / Grasshopper, to today, where they are dealing with buildings that require performance-driven complexity over a thousand times greater than the problems they were solving in the 1990s. With every project comes new challenges, "Francis, can you scan the desert?" asked a senior partner! The challenge was to capture the ripples of the sand to be used in the building design, which had to be modular, appear random, interchangeable and be low cost! Well worth a watch, as the pair also talk about Omniverse, machine learning, AR, simulation and in-house developments.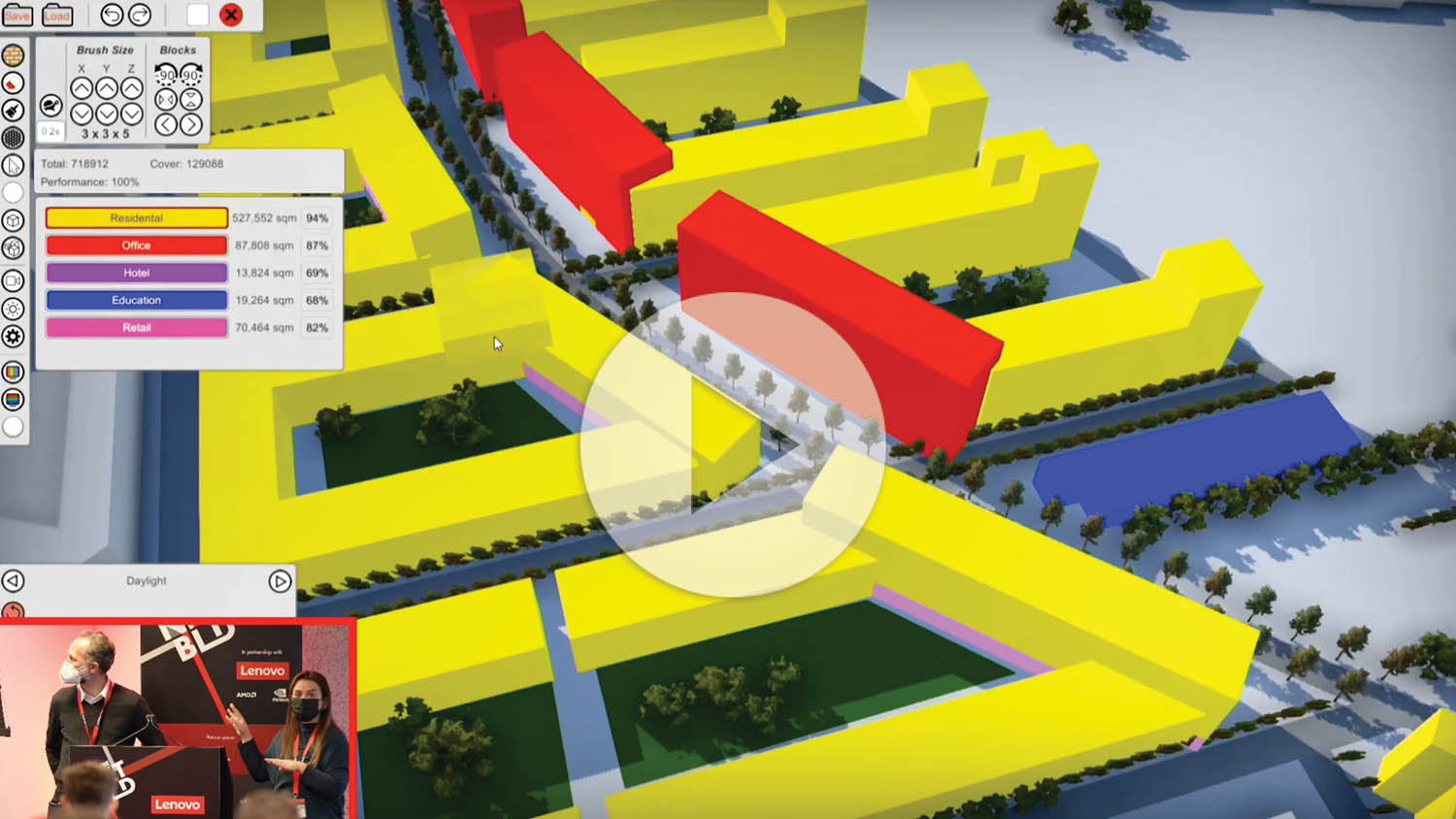 ---
Delivering real-time experiences
Rob Harrison, Epic Games and Murray Levinson, Squire & Partners
A year in to using Twinmotion, Levinson gives an insight as to how Squire and Partners has been using the real-time viz technology in its master planning and commercial, large scale residential and hotel work. The firm employs 16 people in its in-house CGI team and has recently moved from mainly making stills to producing high-end moving animation and VR for projects, as the competition raises the bar.
Levinson nails the current zeitgeist, "Design has become a massive shared event, where you have to talk to everyone.
---
Scaling remote & hybrid workforces without compromising productivity
Mike Leach, Lenovo
Given the last two years, it was no surprise that our annual update from Lenovo's workstation expert focused on the latest in 'work-from-anywhere' solutions, where performance is key but so is security given the geographically stretched nature of company networks. TGX is a software layer that is installed on Lenovo workstations which means you can connect to any machine, any user, anywhere at anytime, leveraging Nvidia RTX power that firms have perhaps had to leave in an office. Also mentioned is CloudXR which provides VR and AR wirelessly across mixed devices.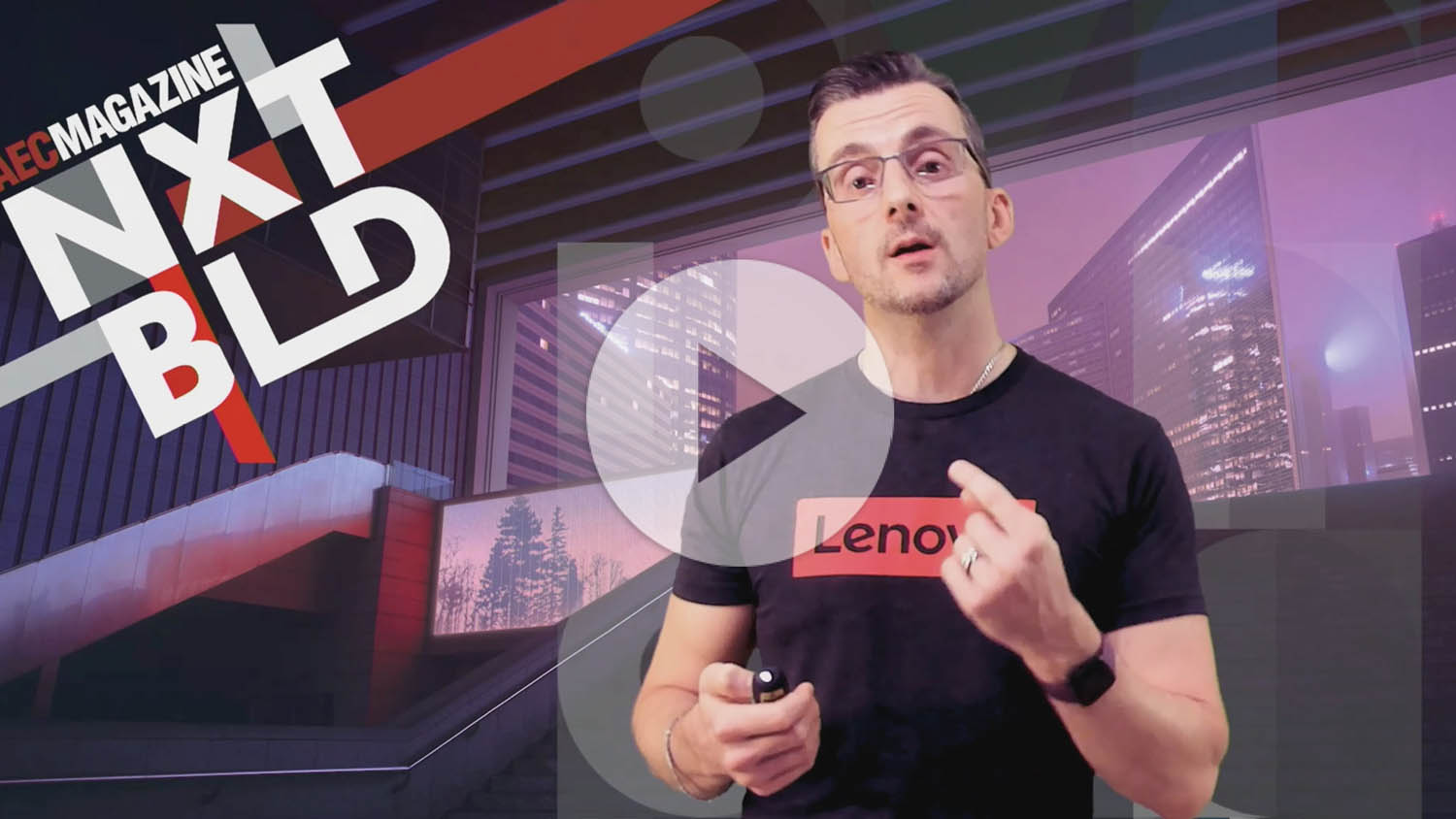 ---
An architect in the Metaverse: social VR, NFTs, and new opportunities
Alex Coulombe, Agile Lens
In his talk at NXT BLD Virtual in 2020, Coulombe looked at the mapping of the virtual to the real, having a real mock-up that can be tested with subjects in VR. This year he talked about designing virtual spaces that don't exist and will never be built, "I guess it's called 'the metaverse'". Alex explored: What is virtual architecture? What is the psychology of virtual architecture? The unique affordances of virtual spaces, how art, film and games can inspire virtual architecture and with the rise of NFTs the commercial aspects of VR architecture. Mind blowing stuff.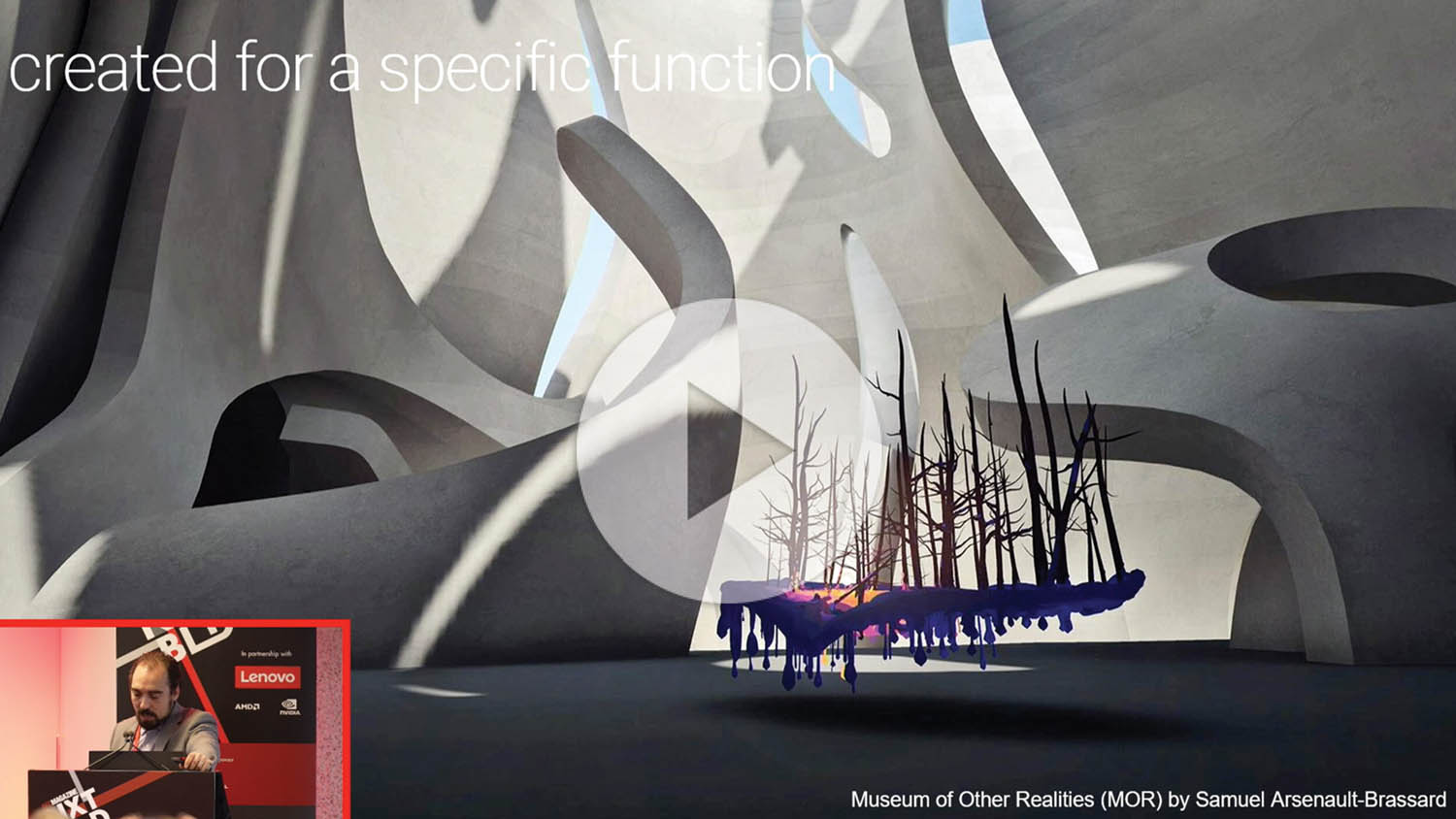 ---
Nvidia Omniverse, an open Platform
George Matos, Nvidia
Mentioned multiple times by firms throughout the day, Nvidia Omniverse is the passion and baby of Matos. The platform enables users in different applications, in different geographic locations to be able to share geometry and 'scene' information between core AEC tools with active, live synchronisation, all while powered by Nvidia's cloud GPUs. It's a game changer in collaboration and underpinned by Pixar's USD file format. Matos explains that in our locked-in, siloed AEC workflows, Omniverse breaks down the boundaries and connects the 3D data sets from design teams and multi-disciplinary participants with the power virtual super-computer. This is a great in-depth talk on everything Omniverse.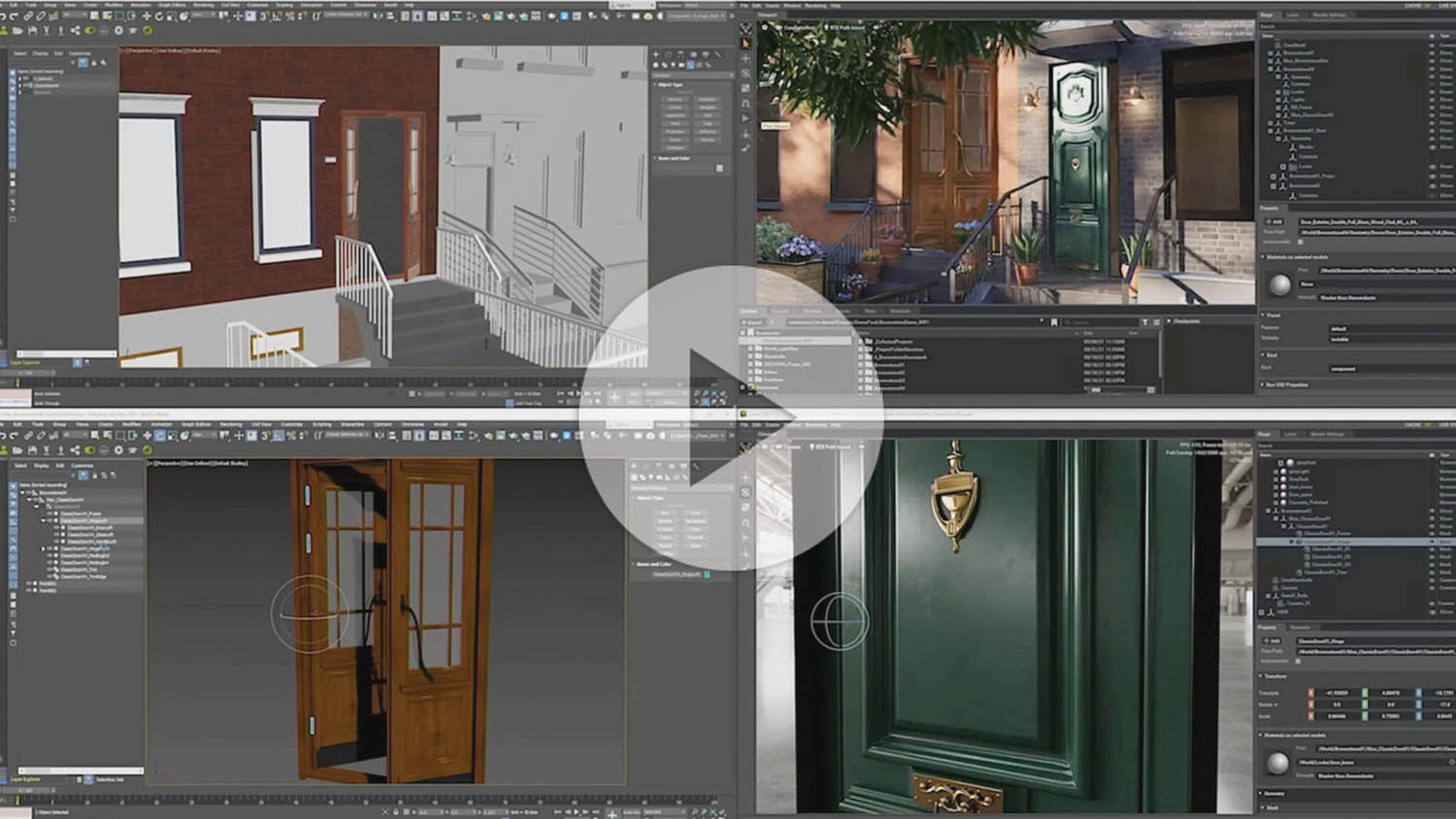 ---
Virtual collaboration and visualisation in AEC
Aleksander Nyquist Langmyhr, Varjo
One of the most impressive VR headsets we have seen in the last two years comes from Finland. The headset was specifically clever in the way it uses a bionic display and tracks the eyes of the user to provide 'human eye' resolution at the point of focus.
At NXT BLD Varjo launched a new lower cost headset, the Varjo Aero and TeleportVR  – a metaverse which allows users to 'drag and drop' AEC models into their software for collaborative VR review, which it then uploads it to the cloud for sharing. It can also link to desktop apps such as Revit. The system supports multiple manufacturers' headsets, not just those from Varjo.