Construction site workers can use OpenSpace 3D Scans create measurable three-dimensional scans within two inches of  accuracy with data processed within a few minutes
---
OpenSpace has released the beta of OpenSpace 3D Scans, a new 3D scanning capability for its automated construction site capture and mapping solution, which uses the LiDAR sensors on the iPad / iPhone Pro.
Previously the company relied solely on data from 360 cameras, which was then processed using its AI-based OpenSpace Vision Engine.
According to OpenSpace product manager Jessica Stewart, OpenSpace 3D Scans will mean users no longer need a 360 camera to use OpenSpace.
Speaking at the company's recent Waypoint conference, she said, "Anyone on the construction project can take three dimensional scans with just the phone in their pocket and your data is that much richer. To take a 3D scan, you just take your phone and move it in a slow paintbrush like motion.
"It's very fast and easy to do and when you're done with your scan, it's sent to our servers for processing and processing takes place in a matter of minutes. And once that scan is ready for viewing, you have sub two-inch measurement accuracy."
According to OpenSpace, the new 3D scan capability could be used for many different purposes on site, such as ensuring installation of materials or equipment is feasible, or to verify that proper equipment and material is installed. As the resulting point cloud is dimensionally accurate, users can take snap measurements directly off the model.
Stewart explained that a customer from Balfour Beatty said the technology could be useful for documenting concrete decks, especially in congested areas before doing a concrete pour.
"This is important because later when they would install things and they were coring into that concrete, they had to be careful as you know not to hit important objects like PT cables or electrical boxes and having measurements would help them," she said.
"Another customer was working on a project where they experienced a multiple week delay because of a coordination issue," she added. "There was a coordination issue with the sprinkler system and a delay with the MEP contractors, because this was a project where they did not have a BIM model, and there was no clash detection run ahead of time.
"So eventually, the design team had to come out in person to resolve the issue and it just added weeks to the schedule."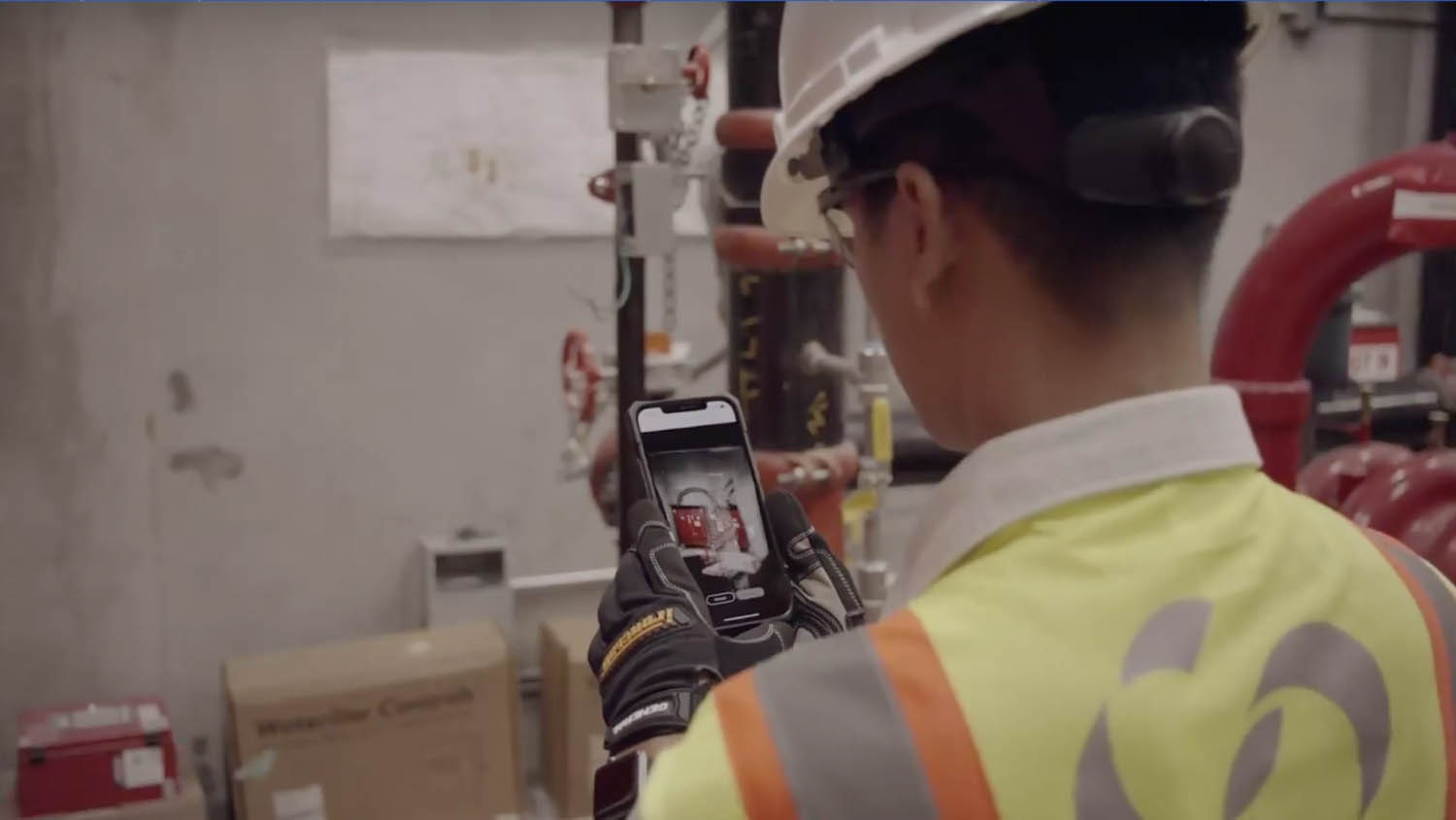 OpenSpace is continuing to develop its computer vision technology that uses AI to convert 360° images into 'objective estimates of progress'.
OpenSpace's software can analyse site images and automatically determine what percent of planned work has been completed by builders. The analysis can be broken down across vectors like date and time, floor level, or trade (electrical, mechanical, drywall and more), giving stakeholders an instant view into how much work has been completed, when and where. According to OpenSpace, progress tracking can help keep builders on pace with proposed timelines, flags possible delays early, and makes administrative processes like verifying work completed and approving pay applications much easier.
OpenSpace can be integrated with Autodesk BIM 360, Procore and PlanGrid to help streamline RFI and QA/QC processes for construction teams.
OpenSpace is not the only company looking to harness the LiDAR scanning capabilities of the iPhone to aid construction. In September, SiteScape launched a free iOS app for capturing site conditions. Read this AEC Magazine article to find out more.