The new FUJITSU CELSIUS H5511 mobile workstation is ideal for users of CAD and BIM software who need the flexibility to work wherever they choose
---
In Architecture, Engineering, and Construction (AEC), like in many other industries, the last ten years has seen a slow but steady move towards flexible working.
Covid-19 accelerated this trend as the ability to work from home suddenly become a necessity. Today, the notion that work is a thing you do, and not a place you go, has never been more pertinent.
When it comes to IT, architects, engineers, contractors, surveyors, project managers and other construction professionals have a very specific set of requirements. They all need powerful workstation hardware to run demanding 2D and 3D applications wherever they may be throughout the working week – at the office, at home, on the construction site, or when travelling between locations.
There are many benefits to using consistent hardware to support flexible working. A single device not only delivers continuity and simplifies data management, but can help bring down costs, both in terms of hardware and IT administration.
A workstation-class laptop is an obvious choice for AEC professionals, but when choosing one for demanding 2D and 3D software, the challenge is how to strike a balance between performance and portability.
Modern workstation laptops can now deliver phenomenal levels of performance, especially when it comes to 3D graphics, but laptops with powerful Graphics Processing Units (GPUs) are often bulky. Therefore, it is important that AEC professionals fully understand that high-end processors aren't needed for all workflows.
Computer Aided Design (CAD) and Building Information Modelling (BIM) are prime examples. Mature applications like Autodesk AutoCAD and Autodesk Revit are largely single threaded, which means most of the software code runs on a single CPU core. This means the Turbo frequency (GHz) of a CPU is typically much more important than the number of cores.
At the same time, CAD and BIM applications often do not place huge demands on a workstation's Graphics Processing Unit (GPU), both in terms of raw processing power and GPU memory. Bigger is not always better.
Laser focused on CAD and BIM
The FUJITSU CELSIUS H5511 mobile workstation has been specifically designed to cater to these types of users. With a weight under 2.0 kg and a height of 20.8 mm, the 15.6-inch professional workstation laptop is significantly thinner and lighter than other FUJITSU CELSIUS mobile workstations.
But it still packs a big punch when it comes to processing. With a choice of 11th generation Intel® CoreTM processors including the Intel Core i7-1185G7 with four cores and a Max Turbo of 4.8 GHz, the FUJITSU Workstation CELSIUS H5511 delivers where it matters for CAD and BIM. And it also has the power to extend workflows into graphic design, image and video editing.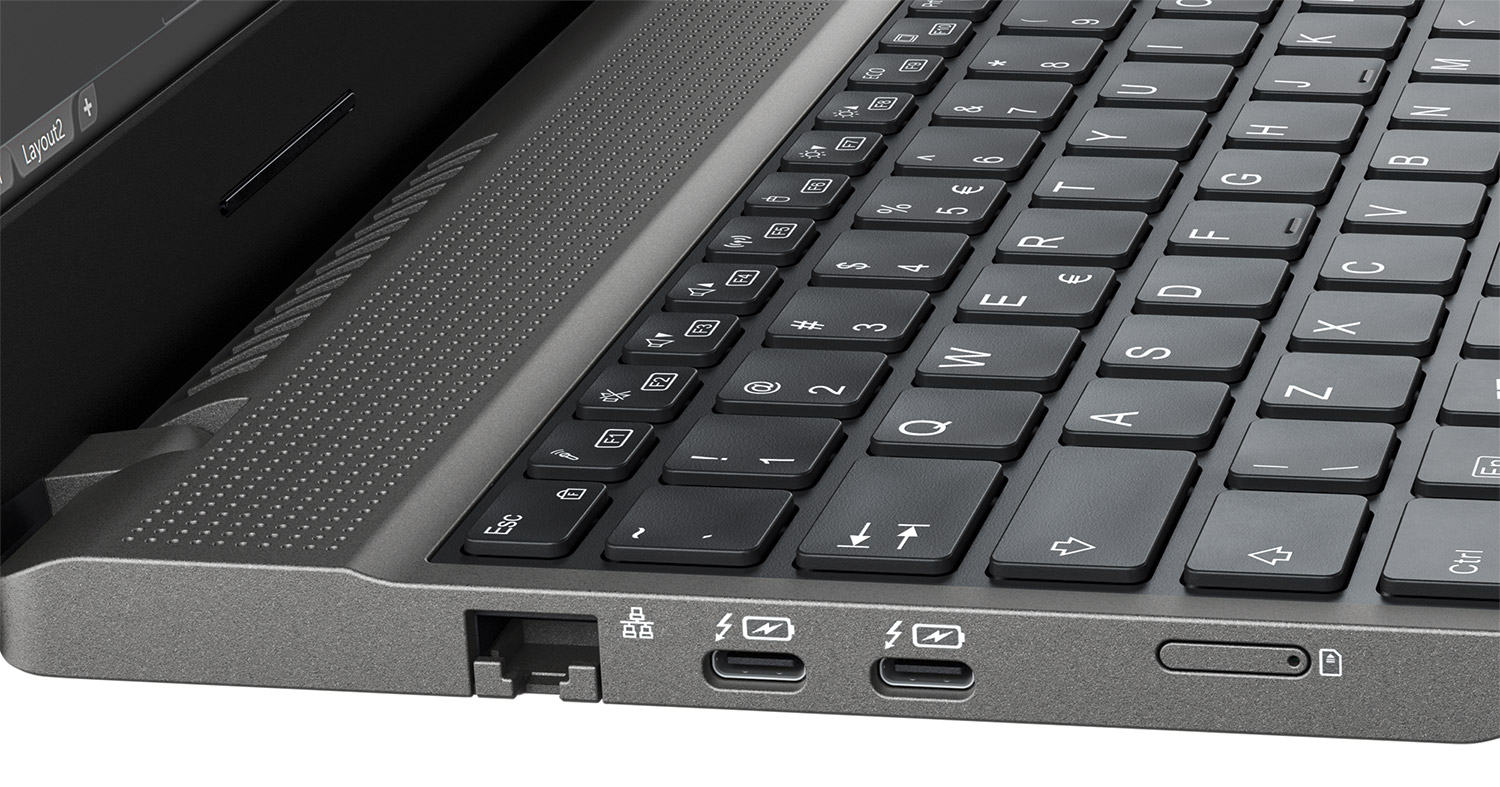 For graphics it includes the CAD-optimised NVIDIA T500 GPU with 896 CUDA cores and 4 GB of video memory. This is perfectly matched to most AEC-focused CAD and BIM applications which tend to be 'CPU limited' so don't generally benefit from more powerful GPUs.
The NVIDIA T500 is even well suited to part and small assembly modelling in more demanding 3D mechanical CAD applications like Dassault Systèmes SOLIDWORKS, so product designers and more progressive AEC firms can also benefit.
With up to 64GB of 3,200 MHz of DDR4 memory, the FUJITSU Workstation CELSIUS H5511 can support even the largest BIM models. Meanwhile, dual M.2 PCIe NVMe SSDs with RAID support give users complete flexibility.
Configured in RAID 0, both SSDs can be 'striped' for performance to deliver real benefits in data intensive workflows such as point cloud processing or video editing. Alternatively, 'mirror' the drives in RAID 1, so should one SSD fail, work can continue uninterrupted, and no data is lost.
The slim and light laptop comes with a choice of two LED backlit, anti-glare 15.6-inch FHD displays with a modern, slim-bezel design that maximises viewing area. The premium 100% sRGB HDR panel not only offers a wide colour gamut for vibrant rendering of images, but with 500 cd/m2 brightness it can help improve visibility in direct sunlight, making it well suited to use on construction sites – or even on the beach!
State of the art security
Security is of paramount importance, especially when away from the office. The FUJITSU Workstation CELSIUS H5511 comes with three different biometric login options, including facial recognition through Windows Hello and the IR webcam, a fingerprint sensor, or FUJITSU's optional PalmSecure technology that recognises users' unique vein patterns.
Meanwhile, SSDs come with Self Encrypting Drive (SED) technology to automatically encrypt and decrypt drive data, protecting sensitive information.
Work from anywhere
Users on the move benefit from excellent connectivity as well as a full working day of cable-free runtime powered by a powerful 69.7Wh battery. With two Thunderbolt 4 USB-C ports there's complete flexibility for charging and users can also move seamlessly from couch to desk with the Thunderbolt 4 Port Replicator, which supports two external 4K displays via DP 1.4++ and other peripherals.
The FUJITSU Workstation CELSIUS H5511 is also well equipped to keep project teams connected. Fast Intel WiFi 6 AX201 and Gigabit LAN with a full-sized RJ45 port are standard, and there's optional 4G/LTE for those frequently on the go.
For video conferencing, there's a built-in FHD IR Camera (Windows Hello certified) with Privacy Shutter and two digital array microphones. What's more, with support for Intel GNA, AI-based dynamic noise suppression can remove unwanted background noise, such as a barking dog or a crying baby. And don't worry about coffee mishaps. The spill proof keyboard helps keep the laptop protected, complete with numeric keypad for easy engineering input.
---
The FUJITSU Workstation CELSIUS H5511 offers the perfect balance of performance and mobility, along with best-in-class security features. It is ideal for AEC professionals who want to use CAD and BIM software wherever they choose to work.
 It is available now to order immediately
 For AEC professionals with more demanding graphics-intensive workflows, such as GPU rendering or real-time ray tracing, choose the FUJITSU Workstation CELSIUS H7510 with the NVIDIA RTX 3000 GPU.