For this high-end workstation, Armari is getting the very best out of the powerful 64-core AMD Ryzen Threadripper Pro CPU, writes Greg Corke
---
When it comes to tuning workstations and squeezing every last bit of performance out of high-end components, few can compete with Armari. The UK firm blew our minds in February 2020 with the Magnetar X64T-G3, which tore up the workstation rule book completely. It delivered never been seen before benchmark scores in multi-threaded workflows without compromising on single threaded performance. Ray trace rendering and 3D modelling had never been such good bedfellows.
The processor at the heart of the machine was the AMD Ryzen Threadripper 3990X, a 64-core chip for 'consumers' or 'enthusiasts' but not for workstations per se. An amazing CPU in its own right, Armari took it to the next level, tuning it with AMD Precision Boost Overdrive (PBO), a technology that allows processor core frequency to rise as long as the workstation can cool it adequately.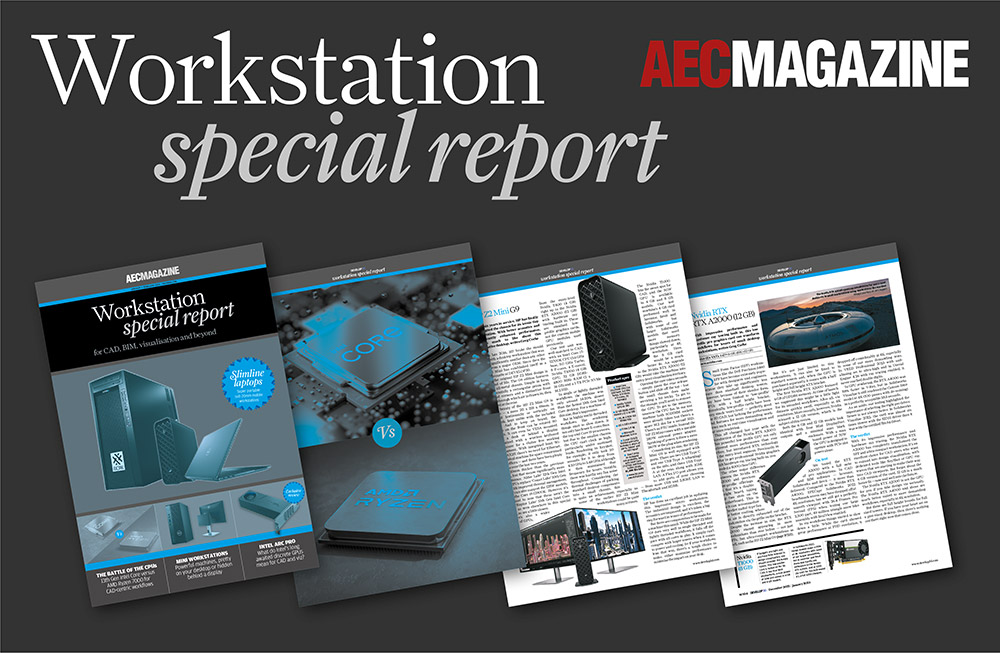 And the Magnetar X64T-G3 certainly could. Its Full Water Loop (FWL) cooling system came with a giant radiator with nearly three times the surface area of those used in its other workstations. It meant that the CPU could sustain 550 – 650 watts of power in real world applications, with momentary boosts in excess of 800 watts.
Fast-forward nearly three years and Armari is taking a more conservative approach for its new 64-core desktop workstation. Built around the workstation-class AMD Ryzen Threadripper Pro 5995WX, the Armari Magnetar M64TPRW1300G3 is designed to work within a more moderate CPU power budget of 400 watts – 120 watts above the processor's standard Thermal Design Power (TDP) of 280 watts. However, it still has a sprinkling of Armari magic. According to the company, it can hit all core frequencies that are 0.4 GHz to 0.5 GHz higher than the Dell Precision 7865 Tower and Lenovo ThinkStation P620. This, says Armari, is because it implements PBO, and the workstation giants do not.
Ryzen Threadripper Pro
At this point it's worth pointing out some differences between the workstation-class Ryzen Threadripper Pro processor and the now discontinued 'consumer' Threadripper processor at the heart of Armari's 2020 machine. 'Pro' includes more memory channels (8 vs 4), higher memory capacity (2 TB vs 256 GB), support for ECC memory, more PCIe lanes and several enterprise-class security and management features.
Considering few 'consumers' would ever need 64-cores, everything pointed towards AMD focusing all of its efforts on a workstation-specific Ryzen Threadripper processor, rather than a consumer Ryzen Threadripper processor used for workstation applications. Plus, AMD had most 'consumer' workflows well covered with AMD Ryzen with up to 16-cores.
On test
As you might expect Armari's workstation excels in multithreaded workflows where the power of all 64-cores can be fully harnessed. This, of course, includes ray trace rendering, where the machine was between 1.95 and 2.29 faster than a 16-core AMD Ryzen 9 7950X workstation.
With four times as many cores as AMD's 'consumer' chip, one might expect a bigger lead, but the Ryzen 9 7950X is based on AMD's newer Zen 4 architecture, so benefits from a higher Instructions Per Clock (IPC). In the Scan GWP-ME A132R it can also maintain a solid 5.0 GHz across its 16-cores. In contrast, the Threadripper Pro 5995WX peaked at 3.38 GHz in Cinebench and 3.45 GHz in KeyShot, though this is still around 0.7 GHz higher than the processor's 2.70 GHz base frequency.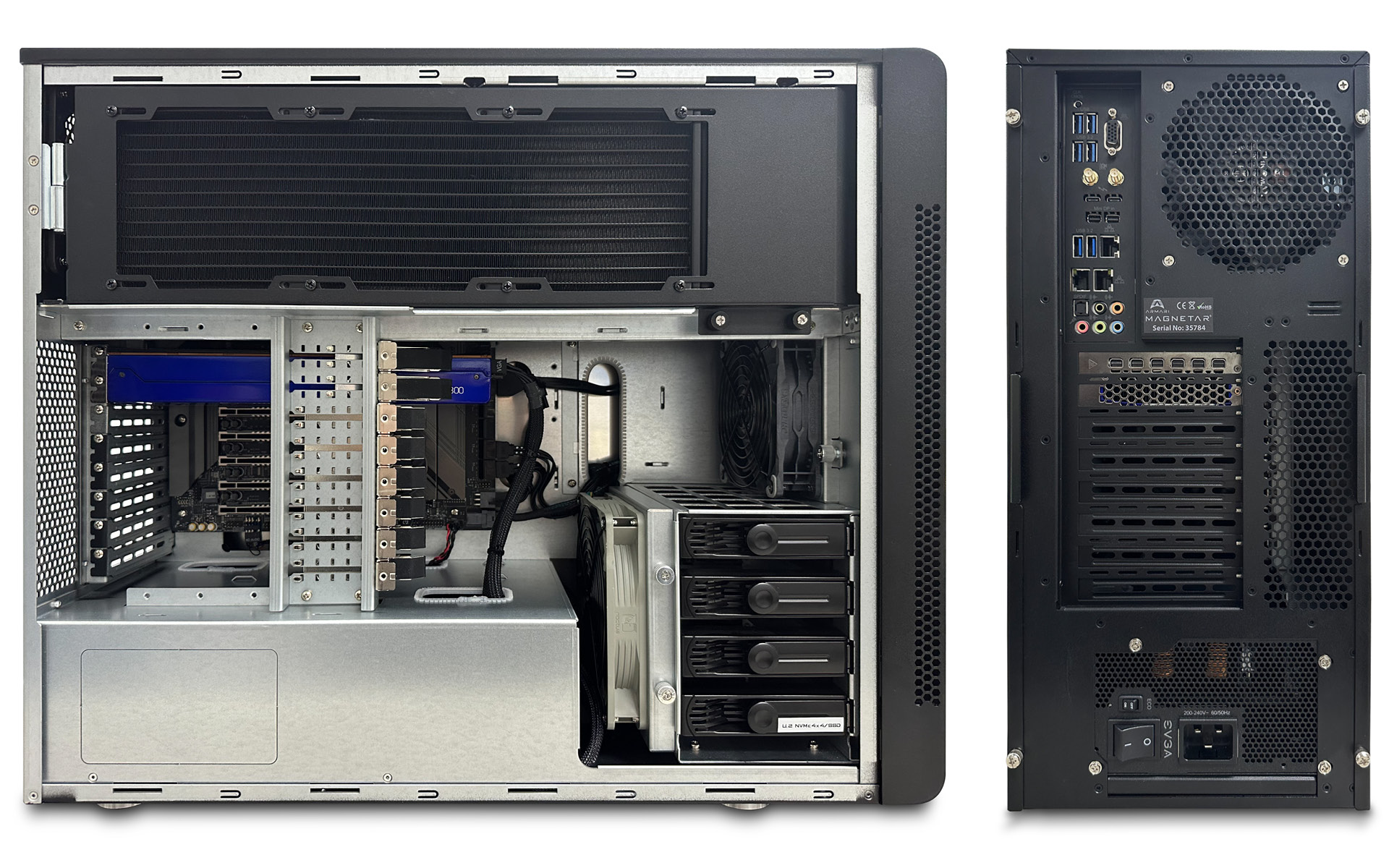 We saw similar results when recompiling shaders in Unreal Engine. We had expected the uplift in Unreal might be bigger because of Threadripper Pro's 8-channel memory offering superior memory bandwidth, but this didn't appear to be the case.
One area where we would expect to see a benefit from the machine's 128 GB of DDR4-3200 ECC Registered memory (8 x 16 GB modules) is in simulation. Computational Fluid Dynamics (CFD) software including Ansys Fluent and Finite Element Analysis (FEA) software Ansys Mechanical are well known to thrive on high memory bandwidth in certain workflows.
While the machine excels in rendering, it doesn't win out in more lightly multithreaded workflows, where fewer cores are used. In our Leica Cyclone Register 360 point cloud processing benchmark, for example, which can use up to 6-cores, it was significantly slower than the Ryzen 9 7950X. AMD's 16-core consumer processor also wins out in single-threaded workflows like CAD.
The Armari workstation is also no slouch when it comes to graphics workflows. With 32 GB of on-board memory, the AMD Radeon Pro W6800 is well equipped to handle colossal viz datasets. You'll get the most out of this card in demanding applications like Unreal Engine and in VR, but it's overkill for CAD. Compared to the rest of the machine, storage is quite pedestrian, courtesy of two 2 TB Western Digital SN850 NVMe M.2 2280 SSDs – one for OS and applications and one for data. But there's plenty of scope for expansion. For I/O intensive workflows, RAID 0 SSDs are an option, and there are four bays for a range of drives including 3.5-inch HDDs.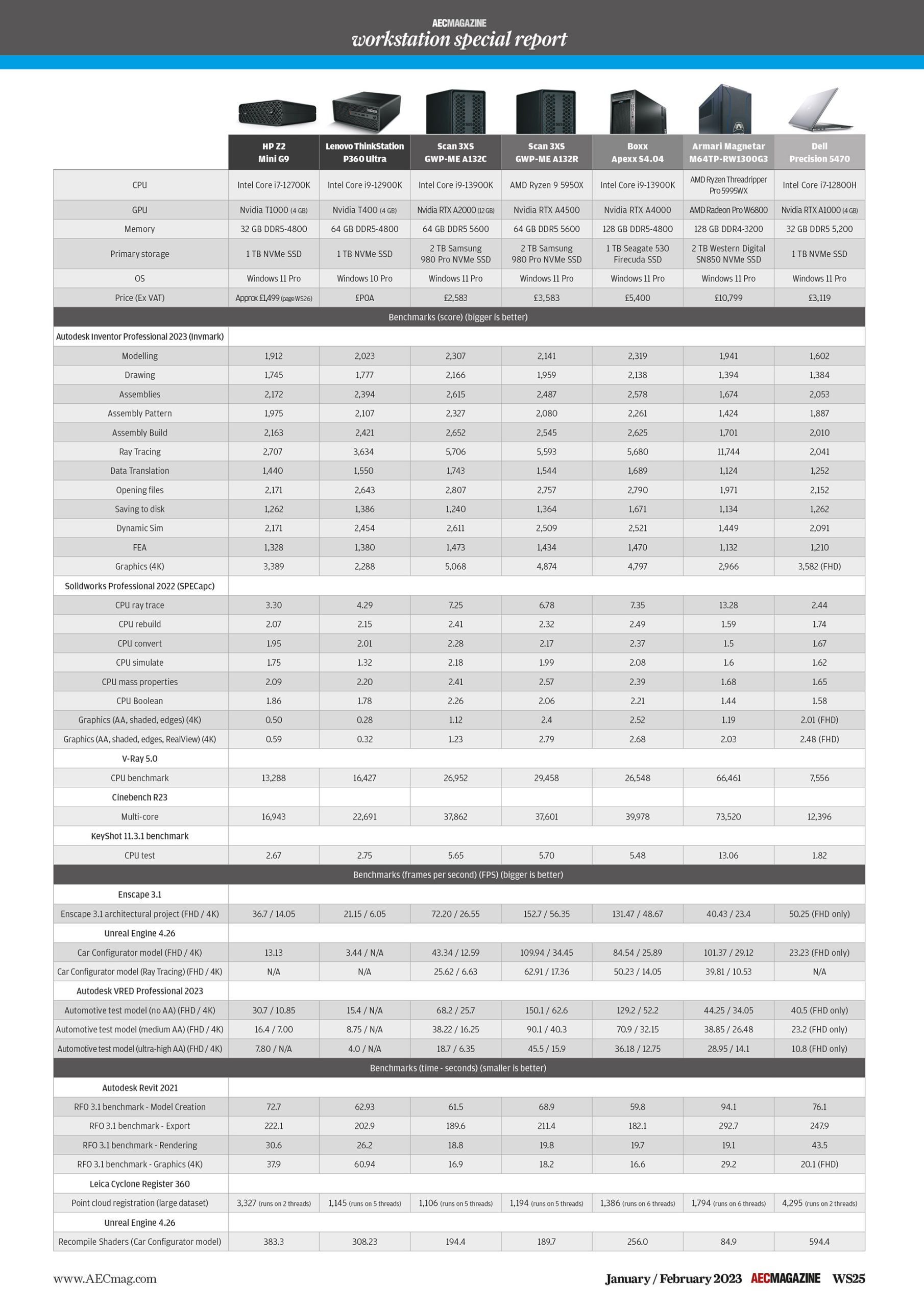 The ASRock WRX80 Creator Motherboard also supports up to 2 TB of memory, so the machine can be configured to handle colossal datasets, way above the 128 GB limit of Ryzen 7000. There's a whopping seven PCIe 4.0 x16 slots that can accommodate up to four double height graphics cards, so if GPU rendering is your thing, this has you covered. There are plenty of ports for peripherals including two USB Type A and one USB Type C, front / top. Dual 10Gb/s LAN and Intel 802.11ax (WiFi 6E) + Bluetooth is standard.
Smooth operator
As we've come to expect from Armari, the machine is solid and well-built, with a steel frame and lightweight aluminium side panels. It's also extremely quiet when rendering on all 64-cores.
Considering the CPU is so powerful, this is quite a remarkable achievement. This is thanks to Armari's use of low noise Noctua fans with a custom All-inOne (AIO) cooler designed to handle up to 500W on the CPU. Unlike the Full Water Loop (FWL) cooling system that Armari used in its 'consumer' Threadripper machine, the AIO is sealed for life so never requires servicing.
Fan noise only really became a minor annoyance when pushing the machine to its absolute limits, maxing out both processors at the same time — CPU rendering in KeyShot and GPU ray tracing in Unreal Engine. Doing so also drew a colossal 700W of power at the socket, so be warned!
The verdict
Armari's Threadripper Pro workstation is the type of machine you feel you can throw anything at, and it will just keep on going. Even with extreme multi-tasking everything feels responsive.
If your workflows demand lots of CPU cores, Threadripper Pro delivers everything you would want in a high-end workstation processor. And Armari certainly knows how to get the most out of it.
At the moment, Intel has nothing that can compete. But doesn't AMD just know that. The price of its flagship workstation processor has risen considerably since first gen Threadripper Pro and the 64- core Threadripper Pro 5950X processor alone is just shy of an eye-watering £6,000 + VAT. This is huge jump up from the previous generation, where £6,755 + VAT would have got you an entire 64-core Threadripper Pro 3995WX workstation (a Lenovo ThinkStation P620) with 128 GB RAM, 1TB SSD and an Nvidia Quadro RTX 5000 GPU.
What you've probably guessed from all of this is that the Armari Magnetar M64TP-RW1300G3 is not exactly cheap. As reviewed, it comes in at an eye watering £10,799 + VAT. But for a machine that can completely transform certain workflows, delivering more iterations in shorter timeframes, many will feel this is a price worth paying.
---
Threadripper Pro in the cloud
Armari might have made its name in high-performance desktop workstations, but the company is now expanding into cloud – but with a difference.
Unlike most cloud workstations, which are virtual machines, Armari's cloud workstations offer the exact same specs as the company's desktop Threadripper Pro machines. And each user gets their own dedicated workstation which they can access remotely over a 1:1 connection. This means higher CPU frequencies for both single threaded and multi-threaded workflows.
To connect, Armari uses an 'extensively modified' Microsoft RDP service, which runs on the cloud workstations and is said to improve the experience and performance.
The so-called Armari 'ripper-rentals' service is designed to help firms either dynamically expand their workstation capacity without upfront capital expense, or to give customers access to a workstation while they are waiting for their physical machine to arrive. Those who order a qualifying workstation within 30 days from the last day of their rental can claim up to 50% of the rental cost back against the new system.
Armari also offers VPN and LAN-to-LAN bridges to allow firms to dynamically add machines to their existing network.
Armari says that, once the order is placed, the workstation will be ready to use within 15 minutes.
We gave the service a quick test drive. It's certainly very easy to get started – simply punch the supplied credentials into the Microsoft Remote Desktop app and away you go.
Within minutes we had Enscape running in a smooth responsive environment, using a standard laptop over WiFi. However, latency is on our side as we are just down the road from Armari's HQ in Watford, where the workstations are located.
The service is currently recommended for users across the UK, but Armari is in the process of testing in Europe. Coverage may be extended by colocating machines in other datacentres.
Prices start at £350 per week (£50 per day). Minimum rental period is seven days. Armari also offers a free trial.
---
Product Specs
Armari Magnetar M64TPRW1300G3
■ AMD Ryzen Threadripper Pro 5995WX processor (2.7 GHz, 4.5 GHz boost) (64-cores, 128 threads)
■ AMD Radeon Pro W6800 GPU (32 GB GDDR6)
■ 128 GB (8 x 16 GB) DDR4-3200 ECC Registered memory
■ 2 x 2 TB Western Digital SN850 NVMe 4.0 M.2 2280 SSD
■ ASRock WRX80 Creator Motherboard
■ Armari Threadripper AIO CPU cooler
■ 1,300W PSU
■ Magnetar M60 Gen3 chassis (470 x 220 x 570mm)
■ Microsoft Windows 11 Pro 64-bit
■ 3 Years RTB Parts & Labour, 1st year collect and return is included. Optional 7yr warranty available
■ £5,400 (Ex VAT)£10,799 (Ex VAT)
■ www.armari.com
---
Scroll down to read and subscribe here
Featuring