Exxact supports NVIDIA Omniverse Enterprise for Architecture Engineering & Construction
---
Collaboration and communication can get muddled when each team member works independently on their assets. Teams typically run design draft visualization on local hardware, which is difficult to review since they can only share on a single application through a shared screen. The pandemic brought a rise in contractors and designers working remotely resulting in a further disconnection within the team. Time spent rendering, exporting, and delivering is time spent not designing. These past years have highlighted the importance of collaboration, in and out of the studio, with a huge demand for increased efficiency, higher quality, and lower TTM (total time to market).
NVIDIA Omniverse allows artists and designers to collaborate not as individuals but as a true team. Projects can be worked on and reviewed visually simultaneously. No longer do draft projects need to wait. Small changes can be made in real-time while viewing a high-definition render without having to export the project. Reducing the time required for processing models can drastically change how the AEC industry develops and launches projects.
"As an expert in leveraging the performance of NVIDIA GPUs for purpose-built systems and a supplier of NVIDIA-Certified Systems, it was only natural for Exxact to support NVIDIA Omniverse Enterprise so teams of any scale, from small workgroups to teams spread out across the globe, can collaborate remotely in real-time and quickly bring ideas to life," said Andrew Nelson, Vice President of Technology at Exxact Corporation. "With many teams now working remotely, Exxact wanted to provide solutions that could bring teams together no matter where in the world they were and have them feel no different than if they were physically sitting next to each other, running graphics-intensive applications without sacrificing performance."
How does NVIDIA Omniverse Work
NVIDIA Omniverse functions using Pixar's USD file format (Universal Scene Description), a compressed code string that describes a scene, asset, and lighting. Pixar's USD was originally developed for visual effects and animation but gained traction in industries with 3D models like Architecture, Engineering, and Construction. With the adoption of USD, connect your favorite design applications like Maya, Unreal Engine, Revit, Rhino, SketchUp, 3ds Max, and more, through NVIDIA Omniverse Connectors. Omniverse Nucleus enables a server in a host system for Live Sync, the unique ability to link these applications together to work simultaneously using Omniverse Create or Omniverse View.
Omniverse Create
Omniverse Create allows designers and artists to create and iterate on the same scene with ease. A connected platform enables users to easily navigate, modify, and render assets using connected applications within Omniverse. Changing an asset's properties within a connected application edits the asset's USD file numerical values resulting in an extremely lightweight parallel visualization and compilation in other connected applications. Omniverse Create includes the tools to combine design assets into one aggregate project that updates dynamically to change and build the world in collaboration. It is easy to use and incorporates an assets store where developers can use public assets and apply materials when staging their designs.
Omniverse Create includes RTX Renderer allowing design teams to render breathtaking realism that works in real-time. A team of designers can render a scene together within the same file system while viewing the changes instantaneously in Omniverse connected applications like a cloud-shared document.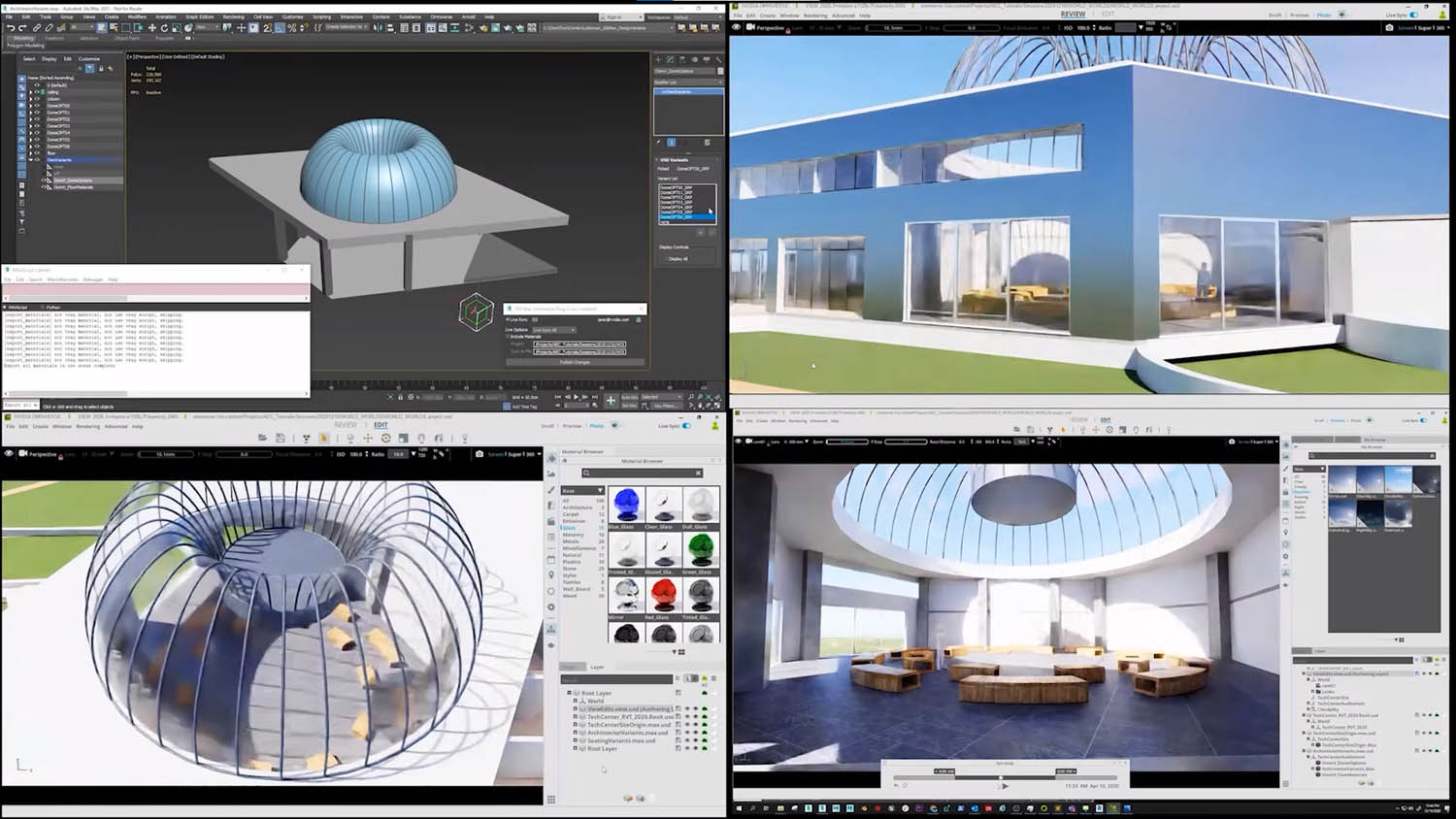 Omniverse View
Omniverse View, in conjunction with Omniverse Create, allows designers, project leads, and clients real-time interaction within the environment and easily visualize requested changes. Each user can traverse the environment on their own system to explore and review the design to inspect for flaws or request changes. Use Omniverse View and Autodesk Revit simultaneously; updates in Revit are reflected in Omniverse View as high-fidelity ray-traced renderings without ever having to export. Pan, zoom, take pictures, set the weather, perform sun studies, and more with Omniverse View. Live sync collaboration among designers enables prop populating, position adjustments, material selector, and overall stylization of the scene while previewing the changes in real-time.
NVIDIA RTX Rendering produces photo-realistic elements within the scene to get high-quality renders that reflect how it will look in real life. Omniverse XR is a subset of Omniverse View where users can jump into the scene using a virtual reality headset to interact and gain valuable spatial understandings of their developed scene. Users can also review, manipulate, and annotate high-poly production assets without preprocessing.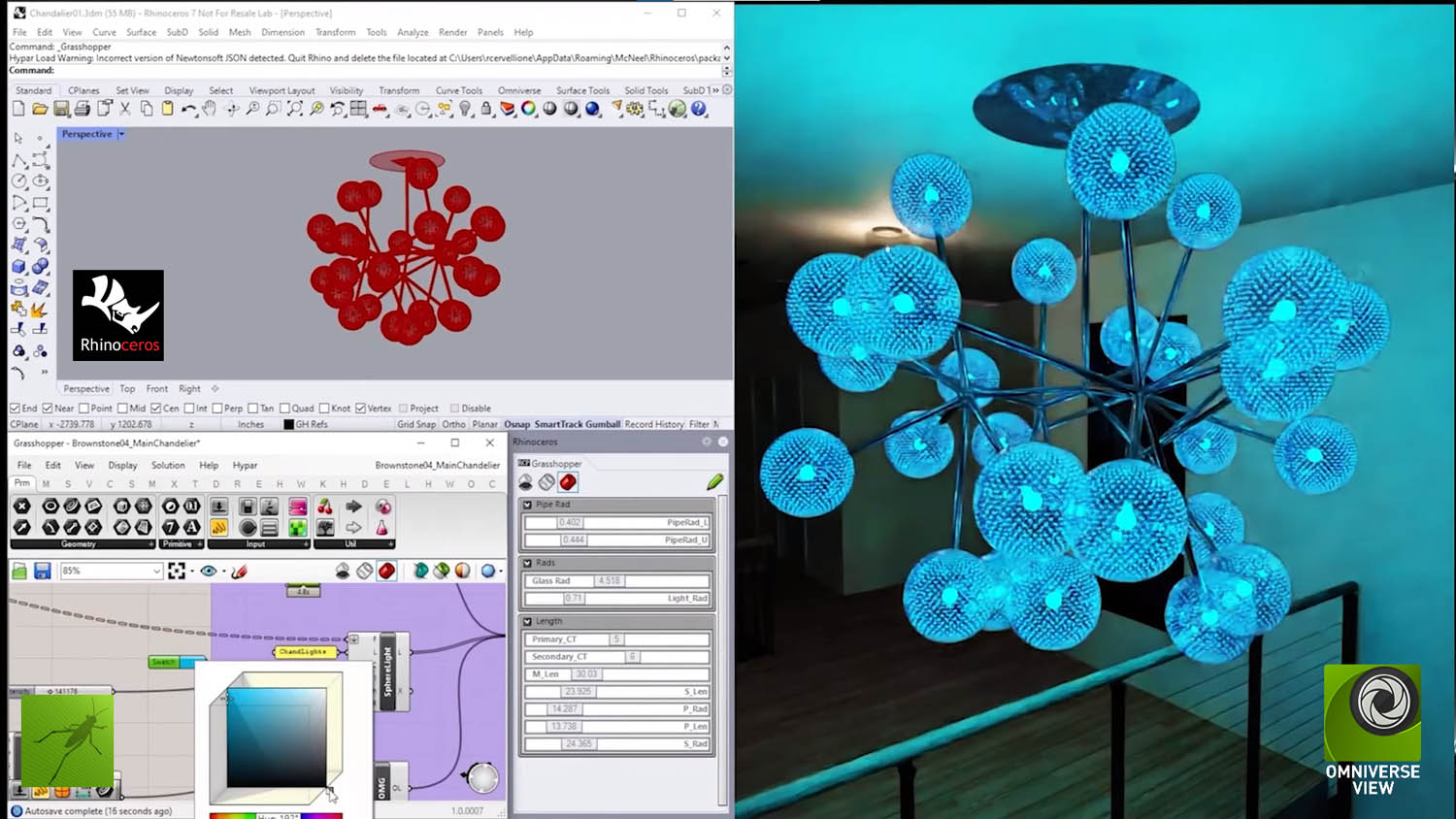 Powering NVIDIA Omniverse
NVIDIA Omniverse Connector makes it easy to enable peak collaboration on existing machines by linking design applications. Keeping integration simple is a huge benefit of NVIDIA Omniverse. Download NVIDIA Nucleus, connect your applications, and start designing.
However, the real power of the NVIDIA Omniverse stems from the use of an RTX server. A dedicated Omniverse multi-RTX GPU Server can partition into multiple virtual workstations for designers on the road and allow access using Omniverse View from low-powered hardware such as phones, tablets, and laptops while still retaining realistic ray tracing.
By connecting to your Omniverse Cloud, client collaboration opens a new world of possibilities. A team of designers or clients can view, provide input, or interact with the project in development. An extensive material library takes advantage of RTX ray tracing for reflections and lighting when viewing, panning, and zooming for increased photo-realism.
NVIDIA Omniverse RTX Servers fuel collaboration across a multitude of users; Exxact provides solutions built specifically for your needs, fully turnkey.
Omniverse for AEC
Building Designs: Architects and Designers can quickly create and reiterate initial designs in collaboration with the original artist or gather real-time input from clients and board members.
Submissions: Teams can swiftly accelerate the design process to deliver high-quality renders to new clients with multiple eyes verifying details and ironing out imperfections.
Presentation: Enabled through Omniverse RTX server, present beautiful and realistic renders with business partners remotely while retaining the ability to pan, zoom, and interact within the scene.
Global Collaboration: Source design talent globally and remotely with NVIDIA Omniverse's ability to develop and create in real-time without sacrificing communication and collaboration.
Design Review: Project Leads and team members can join in on collaborative efforts to review and make small changes without having to import, export, or deliver assets.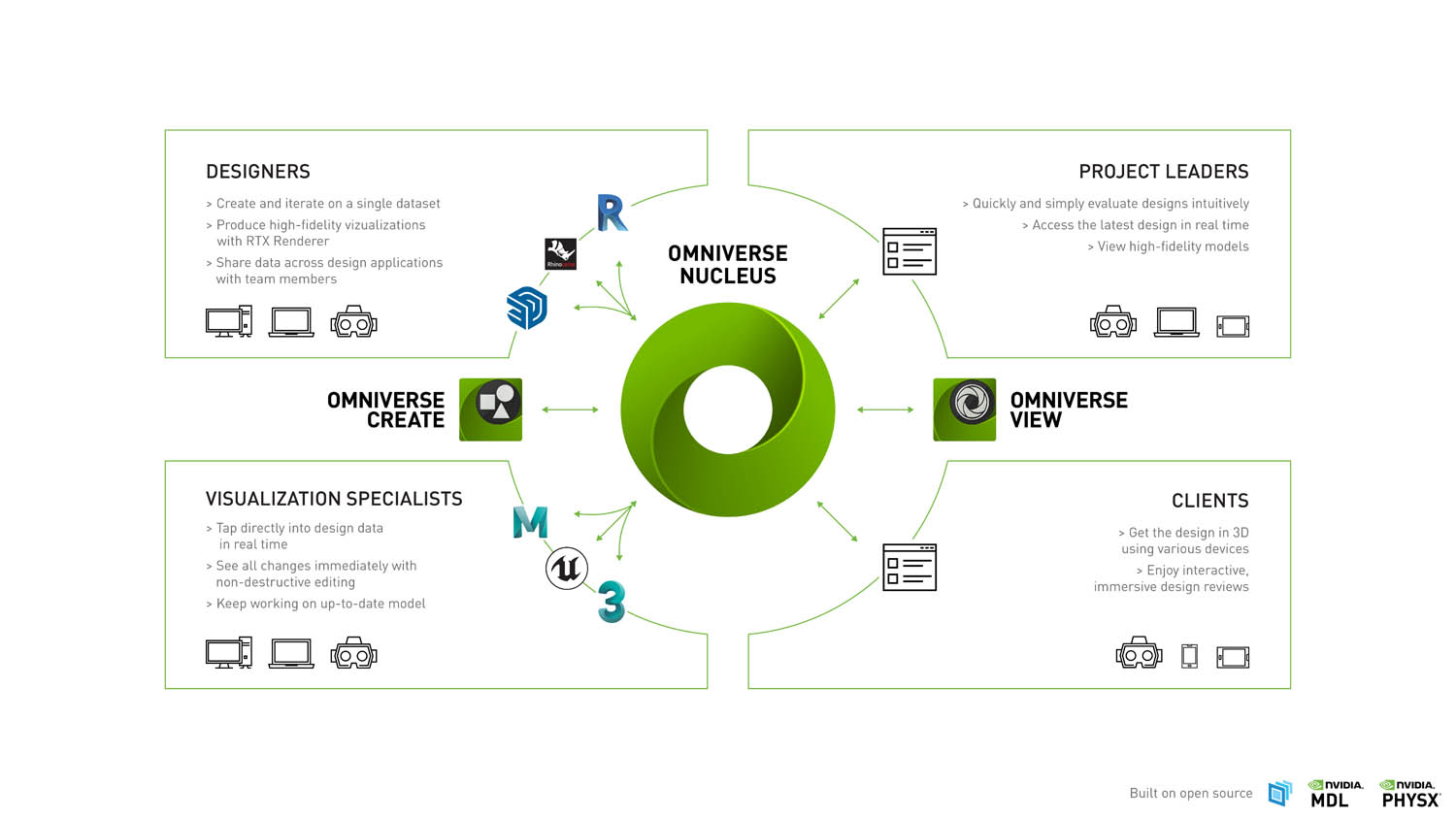 Accelerate with Unparalleled Collaboration
NVIDIA Omniverse brings together teams to collaborate in a team-centric environment where industry-standard tools are provided to build, model, and construct beautiful Architectural and Engineering marvels.
"Exxact is an NVIDIA-Certified Systems supplier with the skills and experience necessary to provide powerful GPU workstations and servers for visualization, rendering, and AI," said Sandeep Gupte, Senior Director of Professional Visualization at NVIDIA. "With Exxact solutions now supporting Omniverse Enterprise, engineers and designers can be confident that they have the performance to accelerate their workflows to keep up with industry demands, while simultaneously connecting their globally dispersed teams."
As a leading systems integrator, Exxact wants to provide you with solutions that best fit your needs to propel and advance your workflows. Exxact offers enterprise-level scalable options running the latest NVIDIA RTX GPUs to support NVIDIA Omniverse along with high-powered workstations to increase your team's workflow and productivity. Contact Exxact for an Omniverse Create Workstation or Omniverse RTX Server today.