In-house application development has become more accessible in recent years. While design tools are good at delivering generic capabilities, firms can boost productivity by coding their own solutions to tackle their own problems. Viktor.ai aims to help capture this knowledge and distribute these programmes, writes Martyn Day
---
Netherlands-based Viktor.ai is an innovative cloud-based development platform for architects, engineers and designers, enabling them to build and share their own powerful work tools.
This cloud-based platform offers all sorts of software connectors for quick Python code creation and programme management. In the two years since AEC Magazine first looked at the company's offering, it has gone from being mainly Dutch-focused to attracting international clients, having raised over $2 million in seed funding and a Series A round worth some $5 million.
Currently many firms lack the skills to effectively manage code developed inhouse, or they rely heavily on expertise that subsequently leaves the company. Viktor offers a service where the creation of applications is simplified, from code generation through to GUIs (graphical user interfaces), as well as providing automated API hooks into the vast majority of commercial applications. These include SCIA, Revit, Plaxis, Grasshopper, AutoCAD, Ansys and Excel to name but a few.
With Vikro.ai it's possible to create tools by simply entering input parameters, creating the flow logic and then specifying the visualisation of the results in dashboards, interactive graphs, data drive maps and 3D models.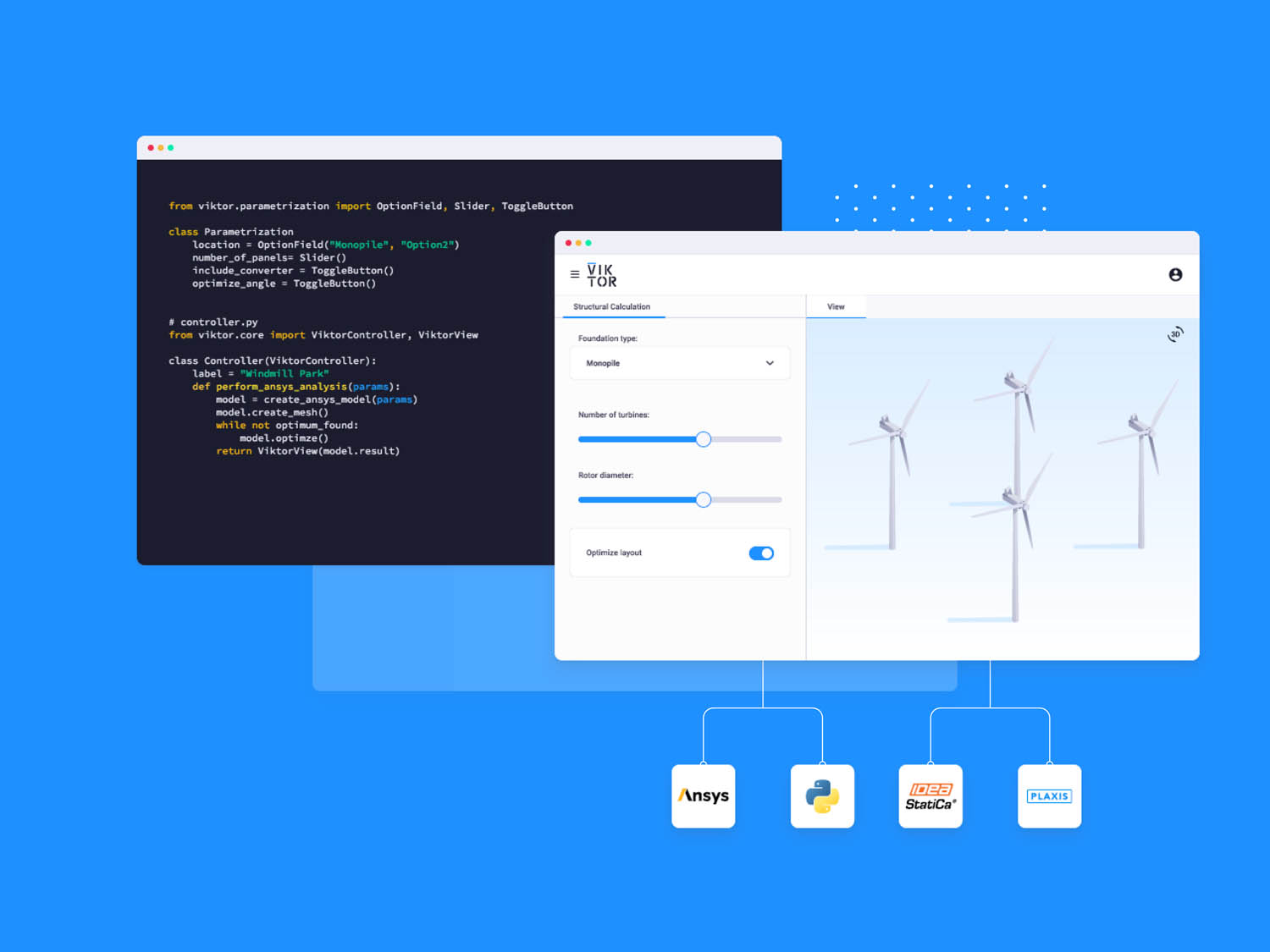 These applications can be placed in a common cloud environment, with Viktor taking care of hosting, security, handling roles and permissions, and version control. This means that custom code need never get lost and can be shared with as many people as you want. If staff leave, you have the functioning code, plus the logic and the version history needed to maintain that investment. Viktor has won over clients in the fields of geotechnics, structural, energy, architectural and GIS.
Viktor.ai has also benefited from its use in some big projects. One of these is the 18km-long Fehmarnbelt Tunnel, which will link Germany with Denmark and will be the longest combined road and rail tunnel anywhere in the world. Made up from 89 massive concrete sections, it will cost $7.1 billion and should be completed in 2029. The tunnel was designed with the help of a Viktor application, which has been a great demonstrator to other firms that serious applications could be designed this way.
---
AEC Magazine spoke with Anande Bergman, Viktor.ai's chief growth officer (CGO), about the industry changes driving more in-house development.
AEC Magazine (AEC): There appears to have been a shift towards in-house development of design automation applications. Why do you think that is?
Anande Bergman (AB): We see this in existing clients and in new clients. Making tools has become a profession in itself. Engineers working on big projects used to make small tools to help their designs, but now they are developing bigger, more professional tools. Some have dedicated groups of people, even divisions with their own management to create digital tools for their own organisations.
We used to have software that was able to do one thing well, like finite element analysis, or routing software. Then engineers started realising that they wanted to have more tailored software, and so started building apps for those things. This then exploded as people got handier and connected different applications. At the end of the day, if you want to design a tunnel, you cannot be from the IT department, you just don't have domain knowledge. So that's the big shift: We're seeing that the real domain experts are the ones writing custom software now. And Viktor's trying to facilitate that as much as we can.
---
AEC: You recently announced a free version and an app store. What's the thinking behind these moves?
AB: Yes, we have made a free version of the product. So everyone in the world who is willing to test Victor can just go to the website, download it and they can make apps. And people will also be able to publish those apps for free. We really want to stimulate firms to start creating apps and sharing knowledge. We want to be the place where engineers come and share their knowledge and their code with people. Customers can choose to keep their apps in-house, or to share them with everyone. In the Apps Gallery on our website, you can find multiple templates of readyto-use Viktor apps, such as a solar panel configurator and CPT-interpreter, including the source code.
---
AEC: So what are the limitations of the free service?
AB: The limitation is basically around the type of app that you're able to publish. For instance, as a free version user, you could publish apps that are public. By public, I mean apps can be shared from our website with just a link. Click on the link, and you will be able to use this app. You don't even need a Viktor account, or need to donate anything. You can share it with anyone. Free users will be able to publish any app they want, but only to publish as public. The reason we're making it free is because we want people to share knowledge. If you want to have a more private experience, where you only work with colleagues, where your apps are not seen by anyone outside your firm, and are password protected and require a login, then that's the paid version of the product. In the future, we would like to offer the ability for clients to distribute and charge for others to use their applications too.
It seems that Viktor has managed to capture the zeitgeist of the engineering industry at just the right time
---
AEC: What kinds of functionality are your customers currently asking for?
AB: It's very client specific. Customers ask for specific support for software X, or improvement to an integration. Sometimes it's very generic, in the sense that they want to know which are the most used apps, so we produced a dashboard to show this. We're working on different topics like sharing and tagging, extending input fields, mapping, search functions. Then we have business-side requests, enhancing tools for managers, providing more insight into tool use and which projects are using which apps, and their frequency of use, because maybe they want to do internal billing. Other developments we are working on are things we believe are important, like making it easier to produce better documentation for free, publishing rights, and so on.
---
AEC: With Autodesk introducing Forge, it seems like the industry realises that customers want to build and integrate their own applications, but the reality is that companies are using applications from multiple vendors, so they need tool sets that span all applications, to have broad connectivity.
AB: I totally agree, this is what we see. The reason to write an app and to invest more time in developing automation, is especially to connect all these different data islands. Some people use an Excel sheet to do this! Engineers want to combine the output of programmes because teams work in different applications. Someone uses geotechnical, someone else does structural engineering, and they need to talk with each other, because design is an iterative process. They need to connect all the information and be 100% sure that the right information was used for those calculations, and that no errors were made because they used the wrong cell sheet or email. There are deserts of integration that need connecting and we have clients who are now able to automate 80% of their work.
---
Conclusion
It seems that Viktor has managed to capture the zeitgeist of the engineering industry at just the right time. An increased focus on in-house development, the need to manage code, share it, measure its use and retain knowledge is a heady mix of capabilities for one firm to offer. The new app store, combined with offering free use and distribution certainly whets the appetite for open source, while keeping a keen eye on possible monetisation in the future. Viktor is a development platform, a distribution and management tool, as well as an open resource. Hopefully many developers will take up the offer to add free apps and that Viktor can police these, in order to retain quality. Certainly, this is a company to watch.
---
Main image: Warehouse configurator app, demonstrating how a user could design a warehouse with an adjacent office in a simplified parameterized manner
---
Find this article plus many more in the March / April 2023 Edition of AEC Magazine
---