Nvidia's Deep Learning Super Sampling (DLSS) accelerated by Nvidia RTX GPUs enhances quality and frame rates in the popular real-time viz tool – on desktop and in VR
---
Enscape is adding Nvidia's Deep Learning Super Sampling (DLSS) technology to the 3.1 release of its real-time rendering and VR software. According to the company, integrating the AI-based technology into Enscape 3.1 means users can get better quality and performance with lower system requirements to create a more realistic experience during walkthroughs and in VR.
An Nvidia RTX graphics card, such as the Nvidia RTX A4000 or A5000 (which we review here) or the Nvidia GeForce RTX 3080, is required.
Nvidia DLSS works by rendering  internally inside Enscape 3.1 at a lower resolution then using deep learning-based upscaling techniques to output 'a clean and sharp high-resolution image' for high- quality videos and high-performance virtual reality walkthroughs.
According to Dan Stine, director of design technology at Lake | Flato architects in San Antonio, Texas, Enscape 3.1 users with Nvidia RTX graphics cards can experience up to 30% more 3D performance on 1080p displays and up to 9x faster 3D performance on 8k displays. With VR head-mounted displays performance can go from 60 Frames Per Second (FPS) without DLSS to 100 FPS with DLSS. Video export will also be 36% faster.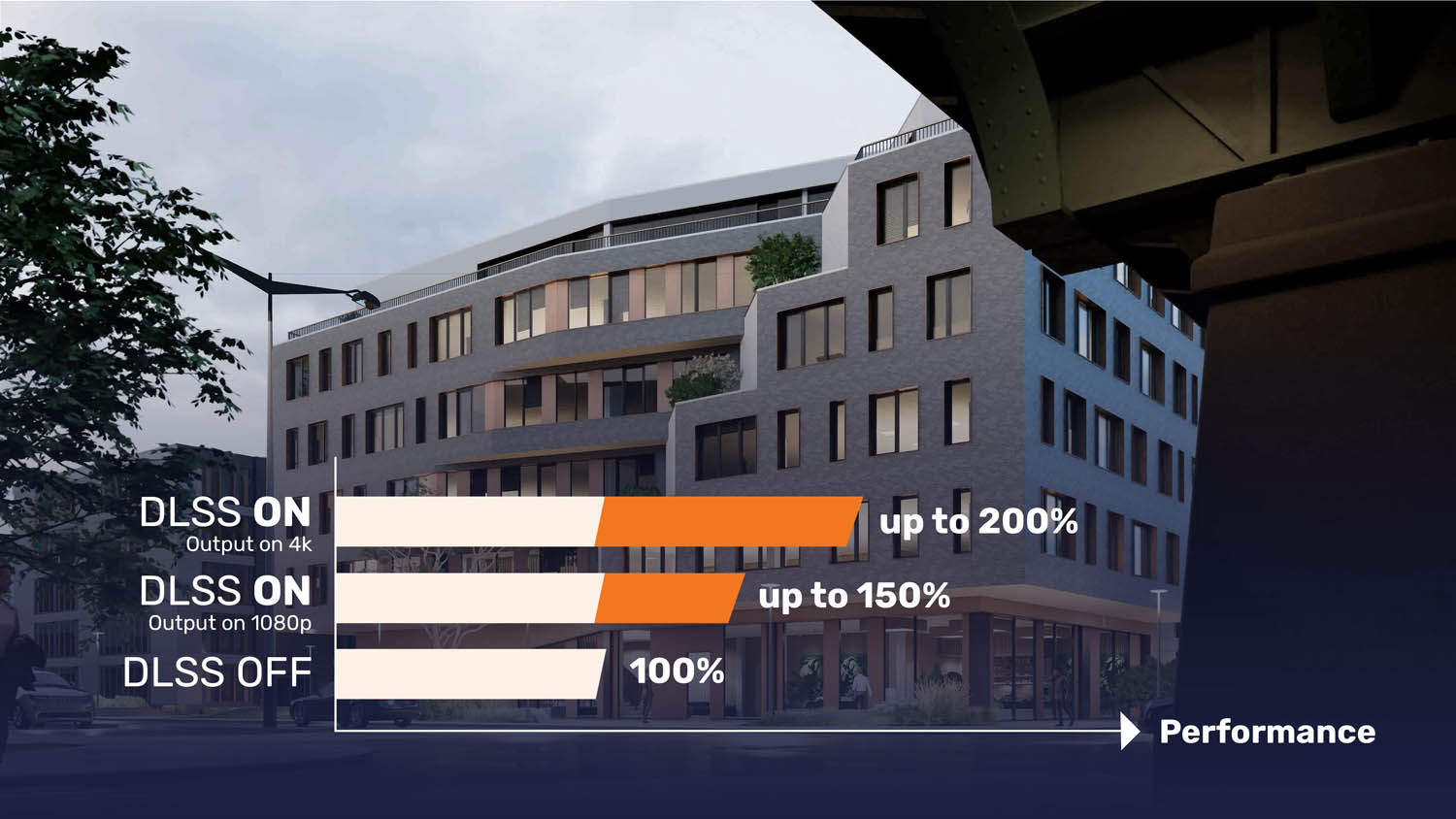 In this blog post Stine explains that there are also visual quality benefits thanks to DLSS hardware-accelerated upscaling and anti-aliasing techniques. In a fast-moving scene, users can see enhanced definition in dense leaves in trees, and there is less noise and artifacts, such as ghosting around elements when moving quickly.
Enscape 3.1 also supports the ray tracing of shadows to improve their visual quality and definition. The feature is only available when rendering a still image or a panorama. Ray-traced shadows will also be shown in the rest mode to allow previewing of a rendering.
Enscape's AEC-focused real-time 3D rendering and VR solution works with a range of 3D CAD and BIM tools, including Autodesk Revit, SketchUp, Rhinoceros, ArchiCAD, and Vectorworks.
Enscape 3.1 is scheduled to be released on 21 July 2021.
Meanwhile, read our review of Enscape 3.0.