As several start-ups plan their BIM 2.0 beta programmes, Arcol is opening up access to its cloud-based modeller for one-week trials in a bid to achieve first-mover advantage in a fast-changing market
---
In recent years, venture capitalists have been reluctant to invest in desktop applications, believing that the future lies in cloud and subscription-based models. Adobe and Autodesk have paved the way with their own cloud-based offerings, but with Revit firmly on the desktop and no second generation in the works, a big opportunity stands wide open for the first company to create a truly powerful, collaborative cloud-based BIM tool.
Arcol plans to be that company and, along with Snaptrude, was one of the first to come out of stealth development. The company's core principle is to rethink the way that design authoring applications work. By drawing inspiration from tools like Figma, a collaborative diagramming application, Arcol aims to create a centralised BIM system, in which multiple designers can work simultaneously on an architectural project.
---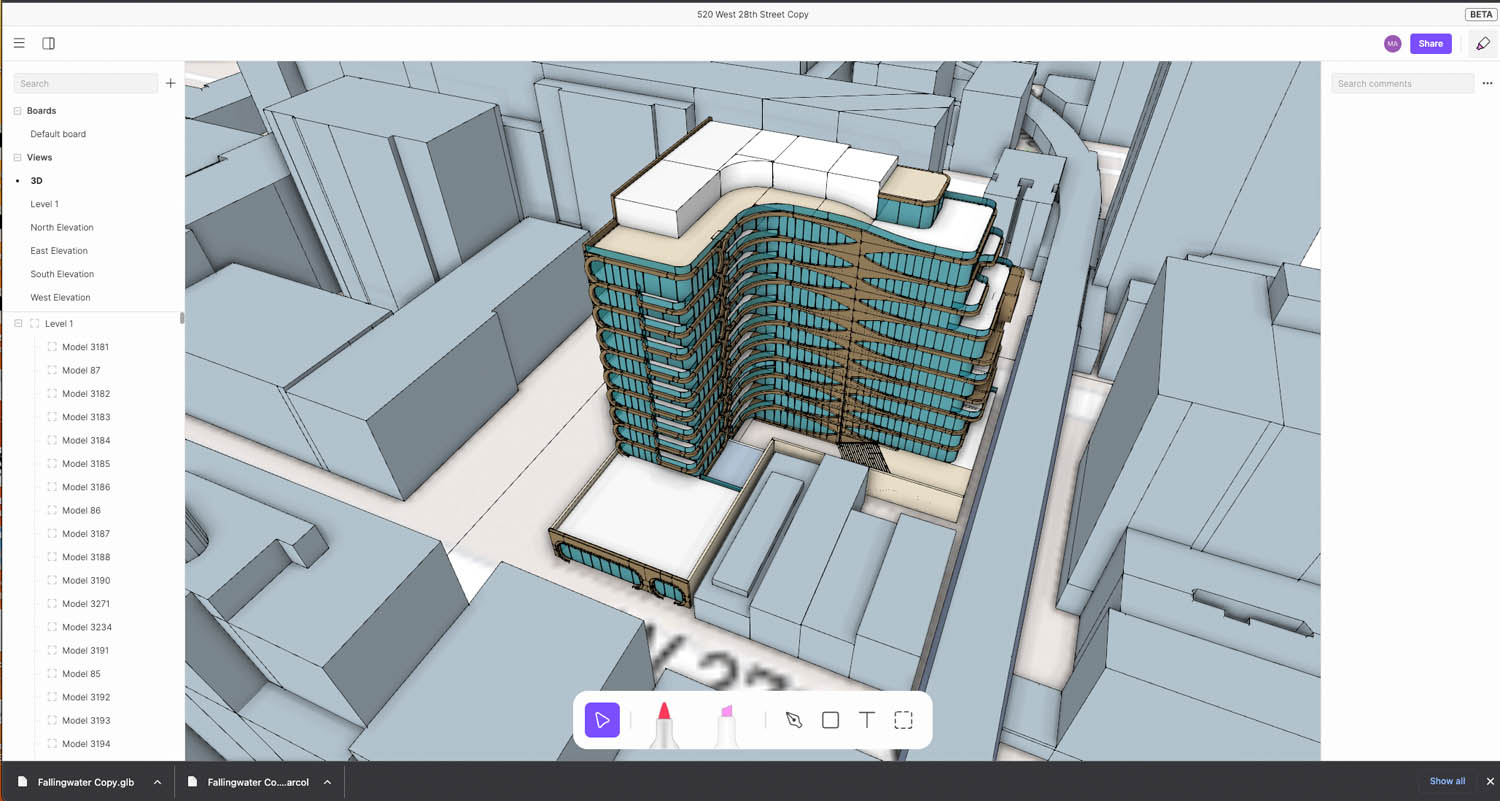 ---
Because it's web-based and accessible through a browser, it eliminates the need for software installation on a desktop and supports real-time collaboration. The goal is to create a tool that contains the entire history of a project, allowing designers to easily track changes, comments, and sketches.
Revit replacements?
Some people get a tad over-excited when a product is pitched as a Revit replacement or a brand-new BIM tool. The tendency is then to 'diss' the current functionality of that product, dismissing it as being too limited.
But while BIM aspirations are indeed the long-term goal of companies such as Arcol, competing with today's more mature solutions is going to take a number of years of hard development, not to mention a lot of cash.
As these applications develop, however, it's likely they will start to offer features that are complementary to today's BIM apps, such as real-time sharing and collaboration of data. Or, they may seemingly be much better, more akin to a BIM-like SketchUp. This is great, but it's important to keep in mind that it's early days for developers at these companies, who are still looking for feedback, pointers and insight from users as to how what they've achieved so far could be improved, or applied to real-life use cases.
With that in mind, Arcol executives have made the decision to allow interested parties to sign up and get free access for one week. This will give prospective customers a chance to play with a limited feature set, experiment with geometry creation and get hands-on with some of Arcol's rudimentary BIM capabilities (walls, doors, windows, and so on). They'll also have the opportunity to get familiar with a sample UI.
---
Find this article plus many more in the September / October 2023 Edition of AEC Magazine
---
This one-week trial is offered in addition to the direct closed beta agreements that Arcol has made with some firms. The idea is to get rapid feedback from a broad cross-section of users, and perhaps in the process to whet their appetites for the product – all while being able to avoid exposing their application development to the masses (and critically, the competition). I suspect that the Arcol team will be running more one-week trials in future, when it has more to show.
Arcol is shaping up as a very cool conceptual design tool. In this early stage of development, it's a kind of SketchUp-plus
But even in its current form, Arcol is shaping up as a very cool conceptual design tool. In this early stage of development, it's a kind of SketchUp-plus. You start by creating a new project, using a simple in-browser interface, setting project location, units and so on. There are two tabs: one for Design and the other for Construct.
Design is a sketch tool, in which polylines can be used to define shapes. A closed shape can then be extruded, with opacity changes, boolean operations for complex shapes, and massing.
Construction offers walls, doors and windows, and the placement of other BIM elements, all of which are editable. The software supports a layers-based system.
---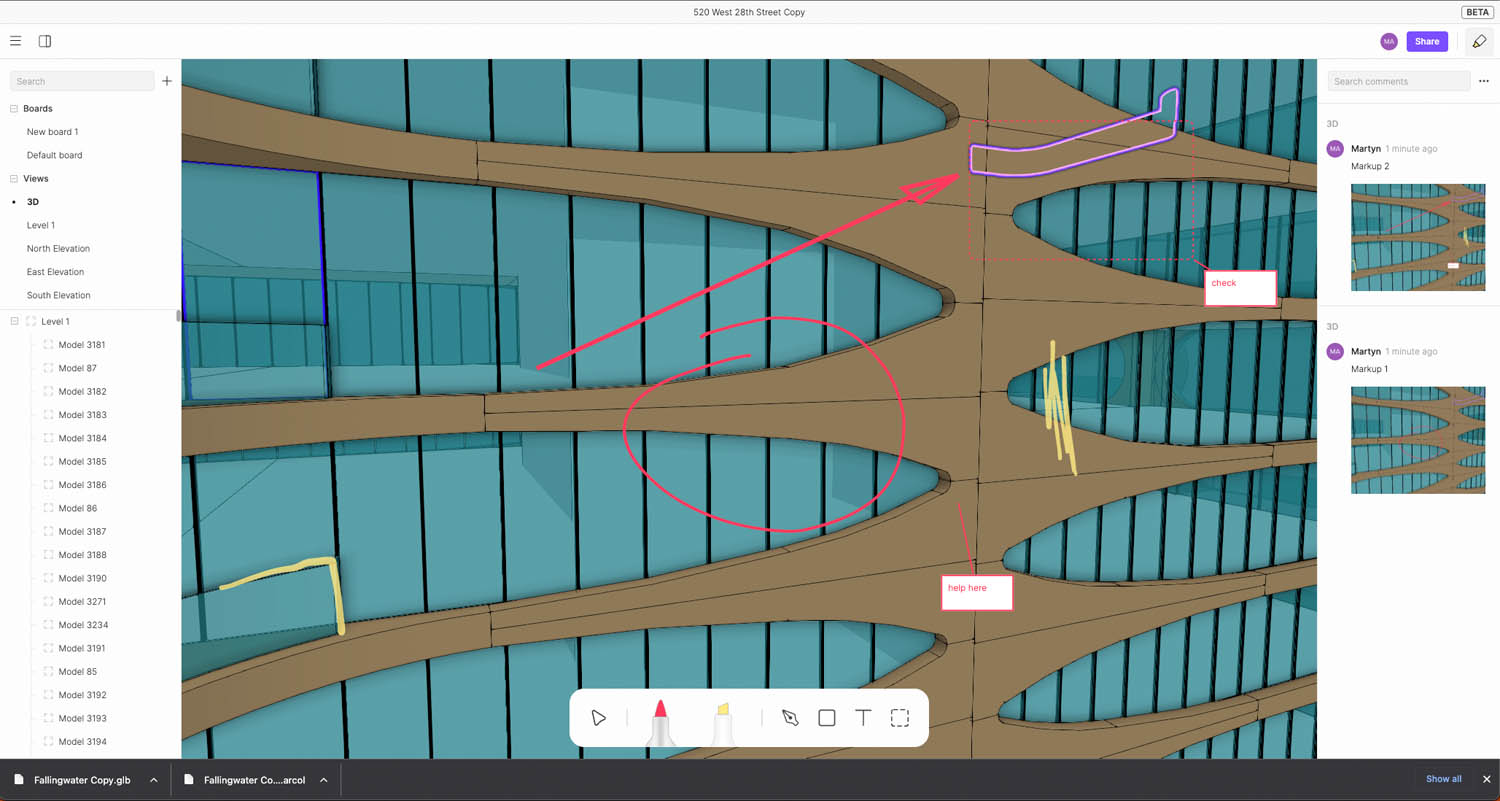 ---
As you model BIM components, a model tree builds in the menu for each component. If you want to collaborate, you simply share a project-specific URL with a colleague. They click on it, and suddenly they are in your session, enabling you to model and edit together. Creating walls is easy and placing components within them is fast and accurate. You can bring in 3D city data to give your model context. The quality of the graphics is good, with accurate architectural shading of the models.
The Boards concept lets the user create mood boards based on user-defined sheets, which can be a mixture of models, views, images and can be output to PDF.
A successful stage one Arcol has a solid vision for its Stage One. This covers the whole conceptual design phase, with a product that claims to be a mixture of Revit, SketchUp, Adobe Indesign, Bluebeam and Miro, all in one web-based collaborative package – and it's impressively responsive for a 3D cloud application.
For me, some aspects of the UI are not perfectly intuitive (booleans, in particular), but I did manage to use 95% of the feature set without having to refer to the manual. Trying to select nested geometry in some of the demo models was sometimes frustrating, but this might have been down to my poor ability to manipulate the views.
Arcol is actually not that far off now from hitting its initial Stage One objective for massing and simple building design. It's hard to estimate product velocity, because company executives are secret squirrels regarding the hitand-run preview, but I can see that the team is focused on delivering the basics well and in-depth, as opposed to going broad and thin.