By Rob Maguire, Vice President of AEC Design Platform, Autodesk.
---
My team spends a lot of time obsessing over how customers use our products. But a recent visit to a customer's home office underscored why they use them.
There to observe the architect's workflows, we toured the home she built and discovered so much more. With recycled concrete and repurposed materials at every turn, it was a showcase of sustainability. This practitioner needs more than design tools. She needs tools that help her build a more sustainable future.
I carry this lesson forward as we at Autodesk evolve our technology to help you create greener homes, smarter buildings, and more resilient infrastructure. You need tools that help you achieve your goals. Tools that work as well for a sole proprietor as a global multidisciplinary firm. And every stakeholder in between.
That's what we're setting out to do with Autodesk Forma, the industry cloud for architecture, engineering, construction, and operations (AECO) that will unify workflows across teams that design, build, and operate the built environment.
This cloud-first evolution in software is about collaboration, not silos; open and integrated systems, not walled gardens; and better outcomes, not constraints. The industry is ripe for this change.
Today's fragmented landscape
The sheer number of project stakeholders in AECO is uniquely challenging. The roles of architects, electrical subcontractors, and facilities managers—to name just a few—are vastly different yet heavily interdependent.
You all work toward delivering the best outcomes for the building. But you don't work with the same tools. The explosion of technology solutions tailored to each discipline has resulted in disconnected data and processes.
This fragmented environment drains productivity. You shouldn't have to rebuild models from one project phase to another or revise a spreadsheet for every design update.
So how can we connect stakeholders? We start with granular data.
A new era of data-powered collaboration
Data is the great equalizer when it is accessible and structured. Having the right data could allow the digital representation of a pipe with all its component information—geometry, materials, and revision history—to work for every stakeholder based on their unique perspective and needs, whether they're using AutoCAD, Revit, or non-Autodesk software.
So, we're moving beyond today's file-centric paradigm and breaking down design files into bits of data that are represented at a granular object level. In time those bits of data will live in Autodesk Docs, a secure data environment that serves as the single source of truth for your projects.
With your data centralized, you could manage it more efficiently. You could add classifications or use common data currencies for interoperability. You could share just the data your collaborator needs, rather than a massive design file. And you could make datasets flex to your project's needs. Flexible data allows a glass wall, for example, to be captured in both the window schedule and the building's specifications. Over time, you will be able to store other datasets, such as analytical and structural models, issues, drawings, requests for information, and bills of materials.
Today, Docs is the data repository for Autodesk Construction Cloud and will evolve to be the data repository for Forma in the future. That means if you're using Docs today, you're already setting up your firm for a more agile data future.
By freeing data from files and siloes, we can connect information across different tools, teams and processes, seamlessly moving data across a workflow.
A journey to open and integrated systems
Cloud-based, granular data sets the stage for open and integrated technology systems where the data will be free to move. In this new paradigm, you will be able to deliver the right data to the right user at the right time, through whichever interface they prefer.
Forma is the home to this big, ambitious vision, which we announced last year and will bring to life over several years. Today, Forma's first set of capabilities is available, offering conceptual design tools, predictive analytics, and design automation for early-stage site planning.
As we build out the industry cloud, we will continuously add new capabilities to Forma to power more cloud-based workflows. We'll also enable you to work between the cloud environment and your existing desktop products. In fact, this exists today.
Customers like CUBE 3 are already seeing its advantages. CUBE 3 has adopted Forma capabilities for concept design and uses the Revit integration to bridge to the detailed design phase without needing to rebuild the model.
"The integration between Forma and Revit is one of the most important features for us. As Revit would be the end-product that we'll be using in a project, the quicker we get to start using it, the better," says Tino Freitas, CUBE 3 Architect and BIM Manager.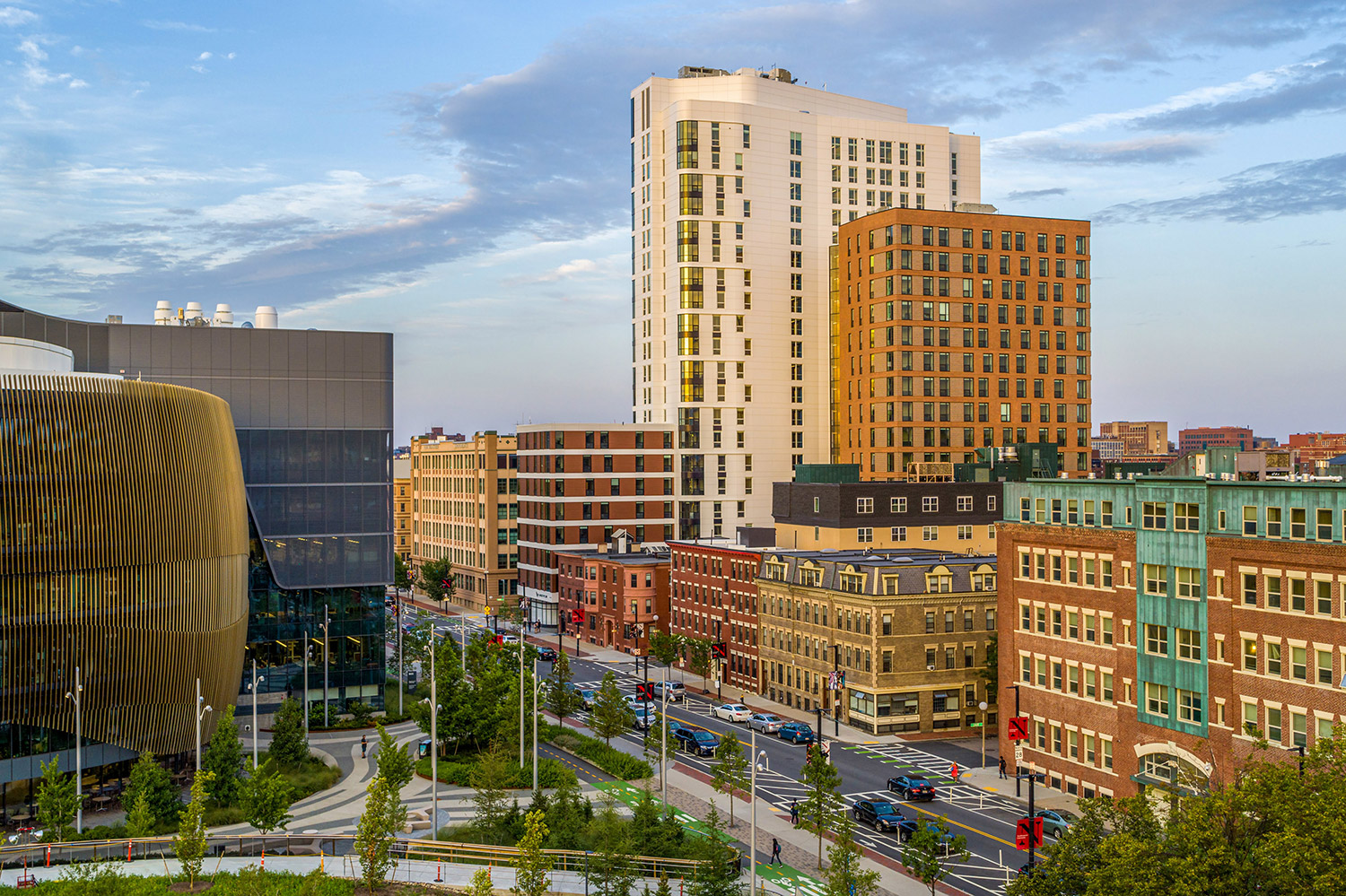 ---
To create more workflow integrations that firms like CUBE 3 value, we're growing our toolkit of APIs (application programming interfaces). If Autodesk Docs is the hub for your data, APIs are the spokes. They take your data where it needs to go.
These APIs will connect data between our Autodesk products and power non-Autodesk solutions too.
For example, we worked with TestFit, a real estate feasibility platform, to bring their parking configurator capabilities to Forma. The extension allows TestFit's algorithm to load into Forma and run in browser with instantaneous results.
TestFit co-founder Clifton Harness praises Forma's "seamless ability" to connect non-Autodesk solutions with the Autodesk ecosystem.
A platform built with you and for you
We're developing Forma with input from customers like CUBE 3 and technology providers like TestFit. We conduct field research at architects' home offices and large firms around the globe. We gather insights from product usage, customers in beta programs, and feedback from user communities.
Each stakeholder uses our software in ways unique to their business and priorities. But there are common themes that span them all.
You've told us you need a trusted and secure platform that:
Serves as a single source of truth, delivering up-to-date, structured data across diverse collaborators
Offers intuitive experiences for BIM experts and non-technical users alike
Allows customizable workflows to meet different needs across industries and project phases
We're engineering Forma to address these needs and to make the most of artificial intelligence. As more useful data is surfaced, AI will get better at helping you too.
It will help you iterate and get buy-in more quickly. It will augment your processes with simulations and automation. It will produce data-driven insights in real-time to help you achieve superior business and sustainability outcomes.
Imagine if you could securely identify the commonalities between a set of projects that were all delivered on time and on budget. Or, learn what mistakes to avoid by analyzing the shared attributes of projects that did not deliver on their promised outcomes. That's the future we're building with you.
In your high-pressure world, these better ways of working can't happen fast enough. We're rapidly building out Forma, incorporating your feedback, and bringing new capabilities and integrations to market.
We invite you to join us on this journey. And together, we'll realize a better world designed and made for all.
---
Main image caption: Data is the foundation of any digital transformation. Image courtesy of Autodesk