AEC Magazine caught up with Glyn Merga, head of cloud architecture at Scan Computers, to explore how the IT provider is deploying custom solutions for Nvidia Omniverse
---
Scan is perhaps best known for its high-performance desktop work stations. In 2018, however, the Bolton-based firm branched out, – offering virtual cloud workstations in partnership with graphics virtualisation specialist ebb3.
As demand for cloud workstations grew, Scan built up its own in-house expertise and, in February 2022, launched Scan Cloud, a dedicated division that offers private cloud services and public cloud solutions based around Nvidia virtual GPUs (vGPUs).
But Scan does a whole lot more than simply sell and deploy physical and virtual workstations. The company has a dedicated pro graphics team that strives to understand the workflows of architects, engineers and other professionals.
Glyn Merga, who heads up visualisation and virtualisation at Scan, was previously IT manager at AFL Architects. His last project before joining Scan was to manage the architectural element of the Lusail Stadium, the largest arena and centrepiece venue for the 2022 FIFA World Cup in Qatar.
As part of his new role, Merga has been instrumental in delivering IT solutions to firms based on the Nvidia Omniverse Enterprise platform – a real-time 3D design collaboration and simulation environment, based around Pixar's Universal Scene Description (USD) file format.
Merga describes Omniverse Enterprise as bringing the visual to the programmatic in its rawest form. "As well as being a collaborative platform, it's the nuts and bolts behind the ethos of digital twins," he says.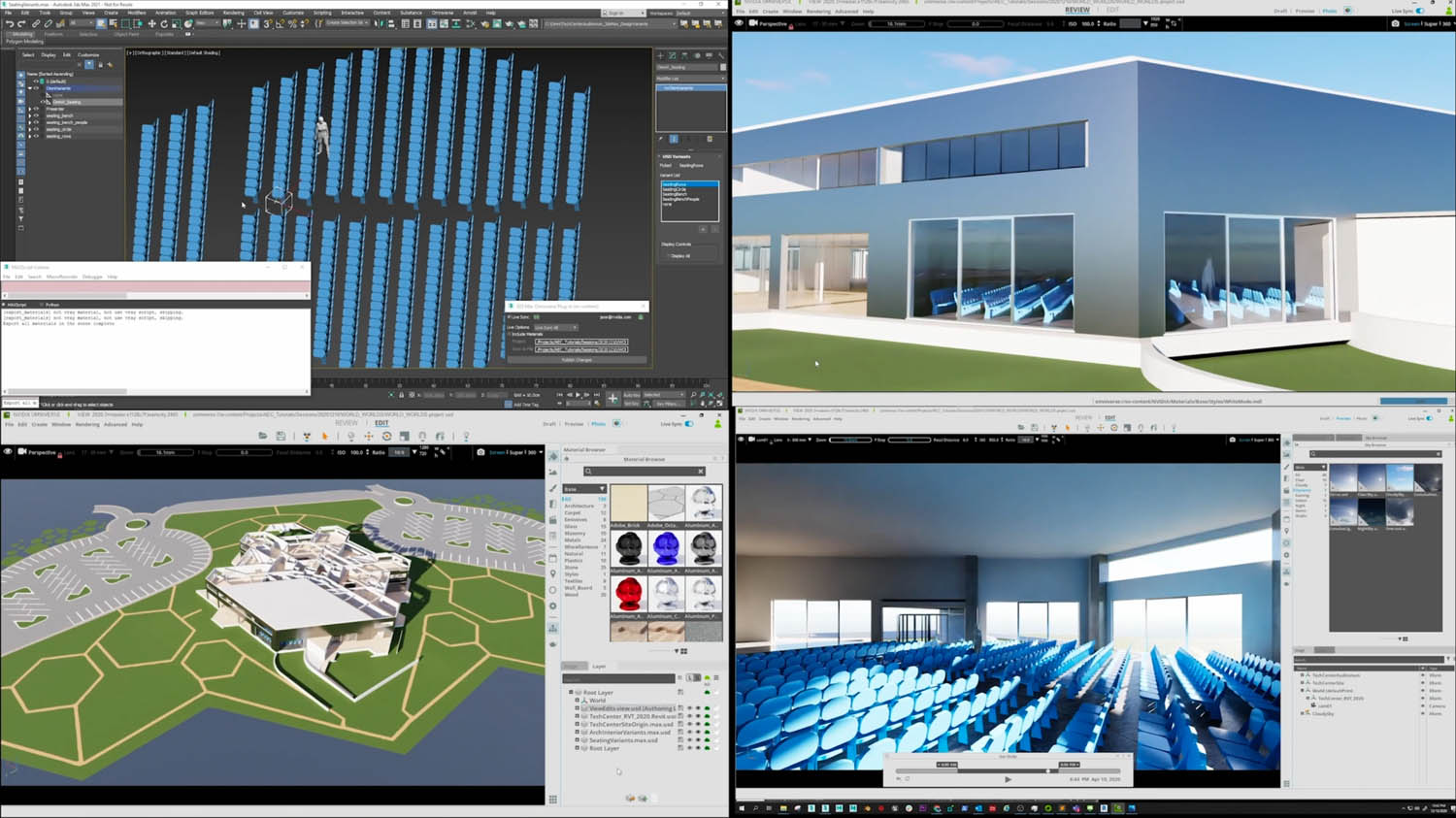 "Some of the more obvious benefits are collaborative workflows where two or more people can see the changes that they are making on a real time level. And the fact that you can produce visuals that are very, very good, very, very quickly."
Merga gives an example of a practice with an interiors department that uses SketchUp, while architectural and structural modelling is done within Revit. "Some practices have talked about changing it, they've tried to potentially do interiors through Revit, but it's not quite as flexible as that," he says. "With Omniverse, nobody has to change, you can both see what's happening within this USD."
Merga believes that Omniverse is also making it easier for AEC firms to introduce new tools into their workflows, citing the platform's support of Blender as being big driver for one UK practice.
Omniverse is also making it possible to work with new partners. Merga recalls one client who recently contracted out a visualisation project to a game designer found on Fiverr, the freelance services website. "They could link directly into the Omniverse models, and work in whichever application they prefer, whether that's Unreal or Unity. And they can actually start to produce visuals that you could only dream of historically because you've been limited to V-Ray stills or animations.
Design and simulation have traditionally been disparate processes, with simulations like wind flow analysis been largely left to the specialists. Merga has actively seen some clients now using Omniverse to help bring Computational Fluid Dynamics (CFD) into early-stage architectural design. "Before, CFD was typically used for verification purposes later on in the project," he says. "And because of that, this could have an impact on project delivery times, if issues were found too late on in the process."
In Omniverse environments, simulation can also go beyond the traditional practices of simulating light (for photorealistic visualisation) and fluid flow (for wind analysis and pedestrian comfort). Merga explains how one of Scan's clients, a retail giant, is exploring how Unreal Engine MetaHumans could be used on a digital twin project to simulate customer behaviour in a store.
Merga acknowledges that with so many possibilities, the Omniverse concept can be overwhelming for some AEC firms, both in terms of possible workflows and the IT backbone to support them. There is no one size fits all approach, he says. "Everybody's methodology is slightly different. Everyone has a slightly different challenge along the way, depending upon staffing and resourcing – all that sort of stuff."
Everyone has different hardware specifications in their offices, so people who've had investment in RTX technology already might want to work one way, while people who haven't necessarily invested in that hardware, might want to look at how they can do it in the data centre
Scan's customers often start their Omniverse journey with a POC (Proof of Concept), which can then be scaled up as required. Tailored solutions can then be entirely cloud-based using Omniverse Nucleus server hosted by one of Scan's UK datacentre partners, along with Nvidia RTX-accelerated cloud workstations. Alternatively, firms may prefer a completely local solution with an on-premise server and local Nvidia RTX-accelerated desktop or mobile workstations — or any combination of local and cloud.
"Everyone has different hardware specifications in their offices, so people who've had investment in RTX technology already might want to work one way, while people who haven't necessarily invested in that hardware, might want to look at how they can do it in the datacentre – and doing it that approach is proven to be cost effective."
Merga backs up this last point by explaining how a datacentre solution can offer big benefits through the flexible allocation of resources. A visualiser, for example, might only need access to a cloud workstation with a big GPU at certain times of the month, he explains.
Another benefit is what Scan calls 'workstation by day, render by night'. "If you had eight GPUs in your server, and you decided to share those out, across thirty users, for example, you could run those thirty workstations quite easily throughout the day. And then by night, you could shut those down and spin up a number of render servers."
Beyond the deployment and management of physical and virtual hardware, Scan gets very hands on when it comes to getting its IT to work effectively with Omniverse.
"We cover all the elements up until licensing the design applications, so getting the connectors configured, getting the environment setup, getting the Omniverse Nucleus configured are all covered, and making sure that all of the clients, for instance, can connect, the render farm is working, and all the security has been configured.
"We do all of the initial accounts and all of that for you. And going forward, if you are moving from what is a POC to a reallife paid environment, then we also migrate you into that as well."