New app harnesses the power of Apple Pencil so users can 'intuitively sketch' in 3D
---
SketchUp, the easy-to-use modelling tool, popular with interior designers, architects, engineers and construction professionals, is now available for the Apple iPad.
SketchUp for iPad is said to combine the power of 3D with the ease of sketching by hand to allow AEC professionals to more effectively create, edit and collaborate on projects while on-site, on the go, and in the office.
The software includes most of the functionality available in the desktop version, and users can 'move seamlessly' between SketchUp for iPad, SketchUp for Web and SketchUp Desktop applications.
There are several features specific to the iPad version. The most notable are 'smart drawing tools' and support for Apple Pencil, so users can 'intuitively sketch' in 3D and add markups. The software also has the ability to visualize models in the real world using augmented reality (AR) and add photo textures using the iPad camera.
Autoshape is a machine-learning feature designed to transform doodles into 3D shapes and configurable components. This includes standard 2D and 3D primitives, as well as a range of doors and windows that can be parametrically edited and configured. e.g. number of mullions, number of window units, colour of the windows, etc. Here, SketchUp for iPad sends the doodle to a cloud service and it automatically downloads the relevant content.
In developing this feature, Trimble's Mike Tadros told AEC Magazine that particular attention was paid to how users naturally draw objects with a pencil and not how they model them with a mouse on a desktop app. In the case of architectural objects, it uses 'all the classic architectural symbols' that you would find in a set of elevation drawings.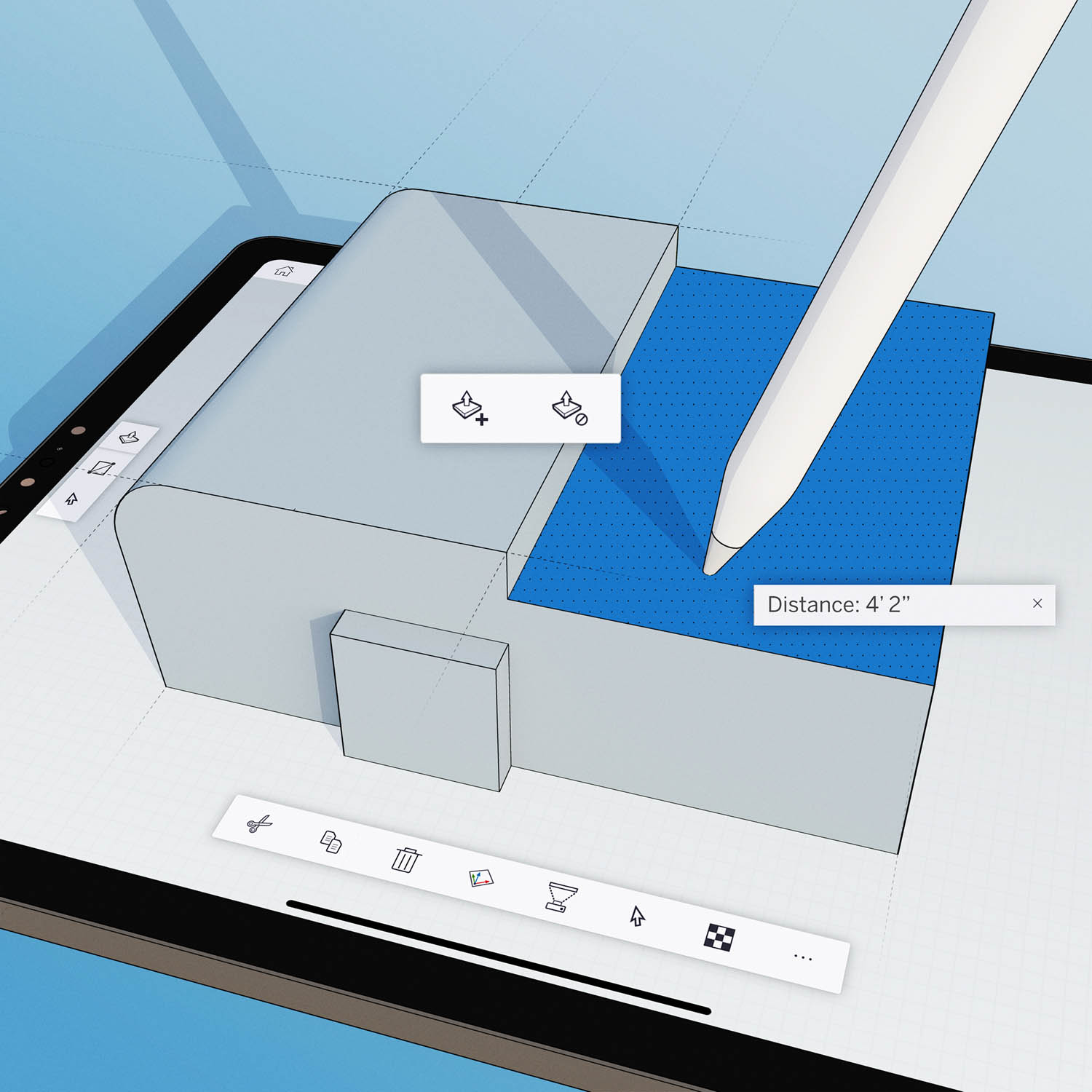 With markup mode, users can capture client feedback in real-time by digitally overlaying annotations and illustrations on top of 3D models using Apple Pencil. All markups are automatically saved to a scene, then date and time stamped to create an audit trail of sorts. In a collaborative environment, users can choose to build upon the markups of others or create new markup layers. Tadros explains that this is like layering multiple sheets of tracing paper over a model or drawing, which can then be viewed together or as individual sheets.
For collaboration, SketchUp for iPad also offers a 'robust, native integration' with the Trimble Connect platform. SketchUp models that are stored in Trimble Connect automatically sync across devices so project stakeholders can 'move seamlessly' between iPad, Web and Desktop versions of the software. There are also integrations with Dropbox, Google Drive, and Box.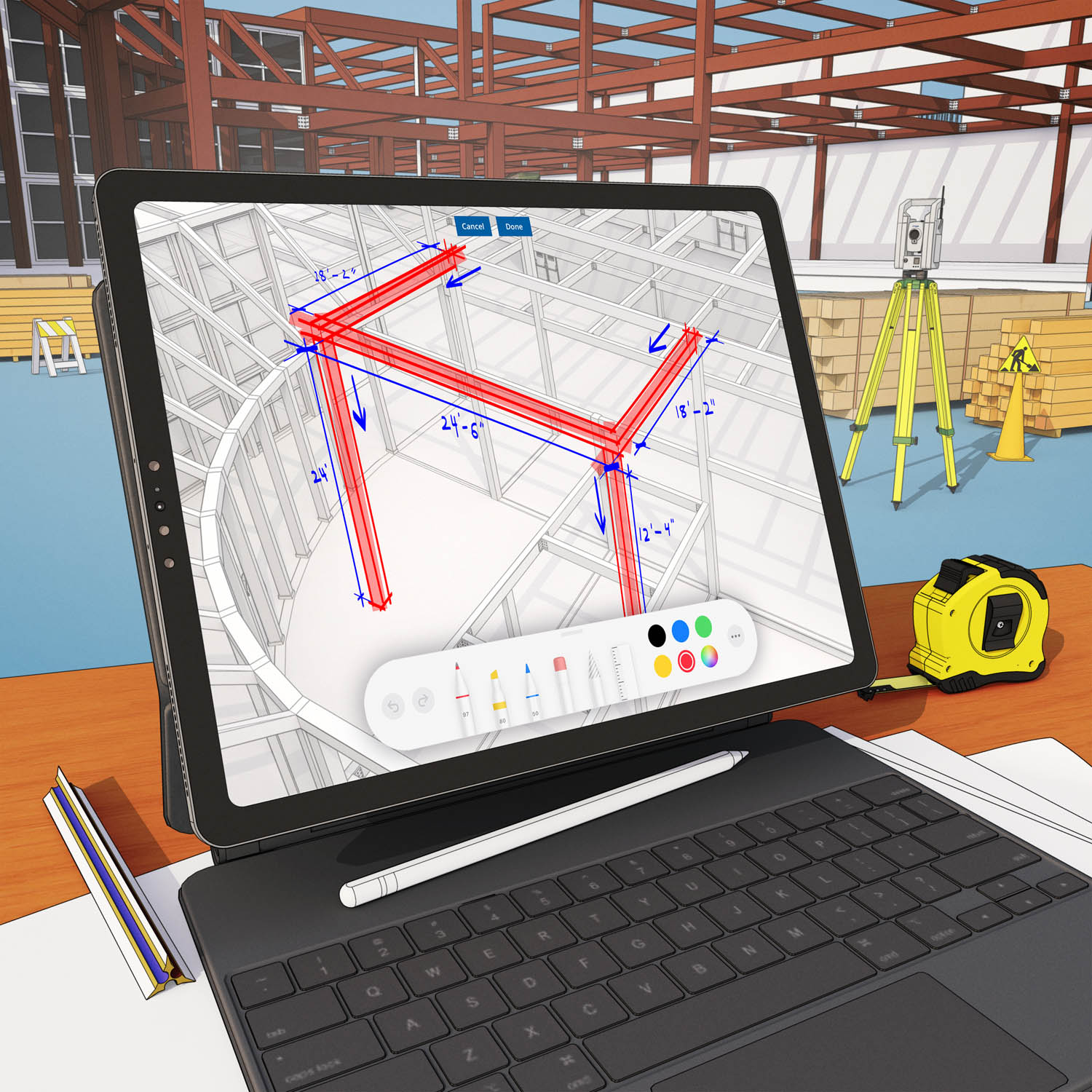 Connecting the physical and digital worlds, users can visualize their 3D creations in the real-world using AR. Models need to be placed manually, but Tadros told AEC Magazine that it is using Apple's latest Gen AR kit and reality kit components, including the LIDAR sensors on the iPad Pro. This, he explains, delivers more accurate positioning, and limits the kind of drift that a user might see as they're walking about in a space.
The software does not utilise the iPad Pro's LiDAR scanner to capture the real world and use this as the basis for design development. While Trimble has not announced any plans to do so, AEC Magazine thinks this would be a killer feature for architects working on retrofit projects. And, given Trimble's heritage in reality capture, it is not out of realms of possibility that it is already on the roadmap.
Users can, of course, use a third-party application for bringing in reality data, but a point cloud would first need to be converted to a mesh before it could be brought into SketchUp for iPad. Point clouds themselves can only be viewed on SketchUp for desktop using the Trimble Scan Essentials externsion. SketchUp for iPad can be used to import satellite imagery and terrain data of existing site locations.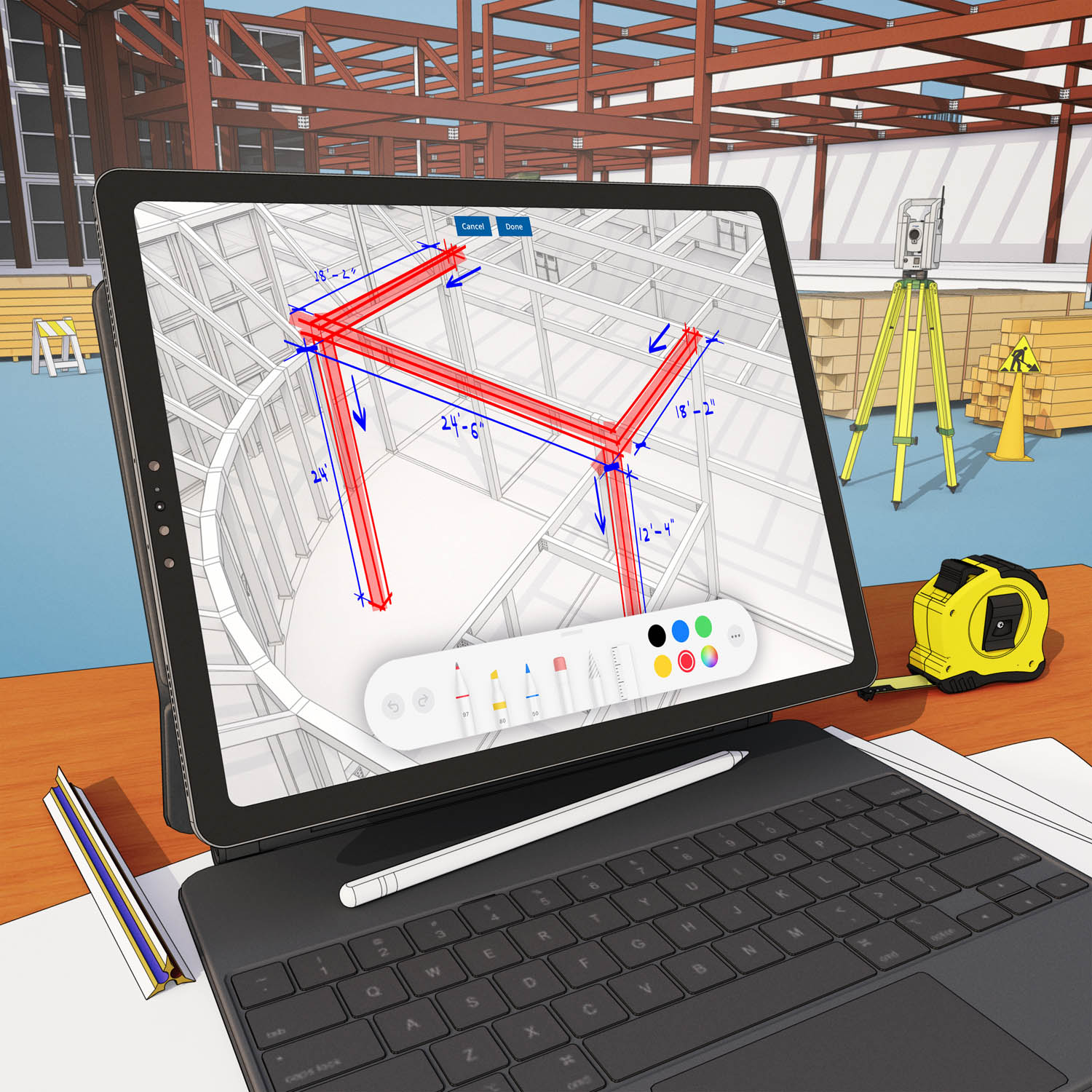 "The way we work has changed and SketchUp for iPad was designed to go wherever work takes our users with a uniquely intuitive 3D experience to help capture and bring creative inspiration to life—whether on the jobsite, in a coffee shop or meeting with clients in an office," said Christopher Cronin, vice president and general manager of Trimble SketchUp. "We're excited to make 3D even more accessible to designers who've always dreamed of working in 3D. We want to help dissolve barriers between the physical and digital worlds by offering immersive and collaborative 3D experiences that can be shared by all stakeholders, from concept through construction."
SketchUp for iPad is included in all paid SketchUp subscriptions and is also available to purchase from the Apple App Store.
Expect a full review soon.
---