Previewed at Autodesk University in 2020 and launched recently, Autodesk Tandem is Autodesk's cloud-based digital twin technology platform. Martyn Day talked to the development team to find out more
---
Before we start, I know what you are thinking: 'Digital twins, here we go again – the next over- hyped industry buzzword!'
Having watched a fair number of industry hype-cycles, I completely understand that point of view. Typically, there is a nugget of reality to some firm's product launch, it gets some traction, then every firm suddenly re-pitches their own product so they can get a piece of the action.
Digital twin is falling prey to that and it's going to take a while to really work out exactly what technologies and firms play in this space. I find it helps if you think of digital twin as the convergence of BIM and facilities management on steroids. It's not for everyone, or every project, but new business models are evolving, and it addresses a market of owner/ operators that have been underserved for decades.
Even if you think you have no interest in digital twin or facilities management, this article (and Autodesk Tandem in general) still has a lot of relevance to those who use Revit. So, I would urge you to read on and consider the creation and reuse of data, together with how you view big Revit models.
The basic concept of a digital twin is to produce a reference model from design, construction and service data, which can serve as a dashboard and database for assets that need tracking or maintaining.
Even if you 'think you have no interest in digital twin or facilities management, this article (and Autodesk Tandem in general) still has a lot of relevance to those who use Revit. So, I would urge you to read on
It can be applied to greenfield buildings or existing brownfield facilities. As it has become more widely adopted it's also being used for bridges, roads and even cities. The model can be augmented with connections to remote sensors, feeding back operational live data. Assets stored in the database can be tagged with QR codes for quick referencing onsite using mobile devices.
The digital twin utopia that we are being sold is a dynamic reference model where usage and performance can be seen in context, either historically, currently or even predicted.
Autodesk is not first to market from the CAD space. Bentley Systems has been championing digital twins for a number of years now with its iTwin technologies aimed at large infrastructure projects, which also reflects the profile of its customers.
When Autodesk gets into a market, it's usually a sign that it is, or it is set to become, a volume play. Enter Autodesk Tandem, the company's cloud-based platform which, in its first version, is primarily aimed at greenfield projects created using its popular design authoring application Revit.
Tandem development
Development of Tandem started in February 2020 and came out of discussions on the continuity of data in the AEC lifecycle, between Autodesk CEO Andrew Anagnost, the AEC leadership team and Bob Bray, now senior director & general manager, Autodesk Tandem.
I've talked to Bray before when he was Sr. director preconstruction at Autodesk, involved in figuring out the issues created from the convergence of construction and manufacturing.
Bray seems to get involved in a lot of the projects which require blended solutions, harnessing Autodesk's internal technologies to bring out a product response to new market segment needs.
Bray explains his analysis behind Tandem's development, "The key issue was how do we help our customers move their data more fluidly from the beginning of the project lifecycle, all the way through to handover, that would generate a richer deliverable.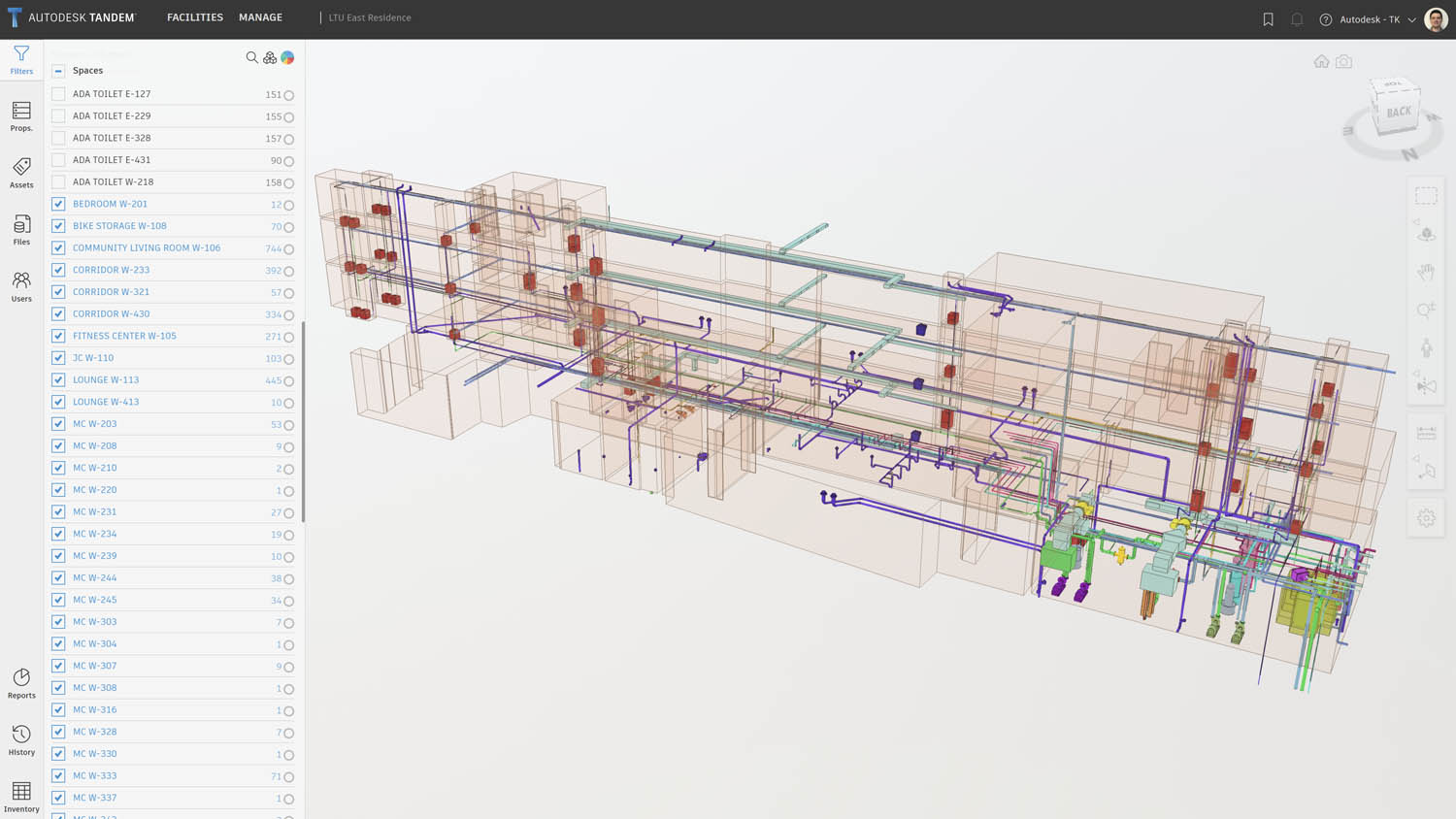 "For sure, digital twin is the hot topic in the industry – it's the buzzword out there – but you're not going to go and buy 'a digital twin' from a single vendor. We had to figure out what's our place in that ecosystem.
"As we started to look at this eighteen months ago, if you asked ten people what a digital twin was, you would easily get ten different answers! And while that still may be true, it is starting to crystallise and become clearer with time.
"As I looked at all of these [digital twin] solutions, pretty much all are bespoke today. There's a lot of bespoke data collection, with 'duct tape and bubble gum' to glue systems together to create a digital twin. It's not very repeatable.
"My realisation was that a lot of the data that's foundational to those digital twins is data that's created, designed or captured in construction. We can better stitch the data together through the process to deliver a digital twin to the owner and then connect that into operational systems."
For Autodesk, its start point is really its AEC customer-base, but the company recognises that it's not yet a volume market. Bray explains, "On looking at the maturity of the industry, [digital twins] is not a play for everyone right now. But for firms who are serial builders, those who build health care centres, data centres, water treatment plants, repeatable business, that's where we see AEC firms having to take partnership with the owner. That's our starting point."
Given the low number of actual digital twin projects completed, versus the hype, it's hard to make the allegation that Autodesk is joining the party late. The Tandem development team said that some of Autodesk's construction engineering customers are being asked to provide things that 'look like and smell like' what could be defined as digital twin deliverables. It's just that they are not onboard with the sector branding yet.
There is certainly realisation amongst customers that there might be an opportunity to monetise these requests by offering deliverables, but this means becoming data companies.
In practice this could just be in delivering a static digital twin at construction hand-off, or contracting to maintain the digital asset on behalf of the owner. In some cases, firms are already contracted to design, build and maintain buildings for as long as 25 years or more. Here they create, maintain and consume the data for their own benefit and may have been trying to do this in BIM.
Fundamentals
Autodesk Tandem is built around a modified Forge viewer. Unlike opening files from Revit, AutoCAD or Inventor, Tandem is 100% cloud-based and has a brand-new database centred around streaming asset-centric models.
When creating a new platform for a new market segment, it can come with the luxury of having a new database format.
The Tandem team needed an asset-centric database which would be fit for purpose, lightweight and able to stream data from the cloud to each user.
In the Autodesk BIM world, the key start-point for building a digital twin would probably be a Revit model, but Revit's database format is old, bloats quickly and was not designed for a modern cloud-based streaming world. Added to that, Revit's database was designed to hold information for geometry editing, such as parametrics, with all their dependencies, and this serves no purpose in the downstream management of an already constructed building.
For Tandem it was clear that the Revit data needed to be cleaned and repurposed before it could be used as a foundation for asset management. Bray explains that the core criterion for the new database format was, first and foremost, to put unlimited amount of data into it.
Autodesk wanted to be able to render that extremely quickly and it needed to be able to 'live edit' metadata attached to components in the cloud, while keeping full transaction history of those changes.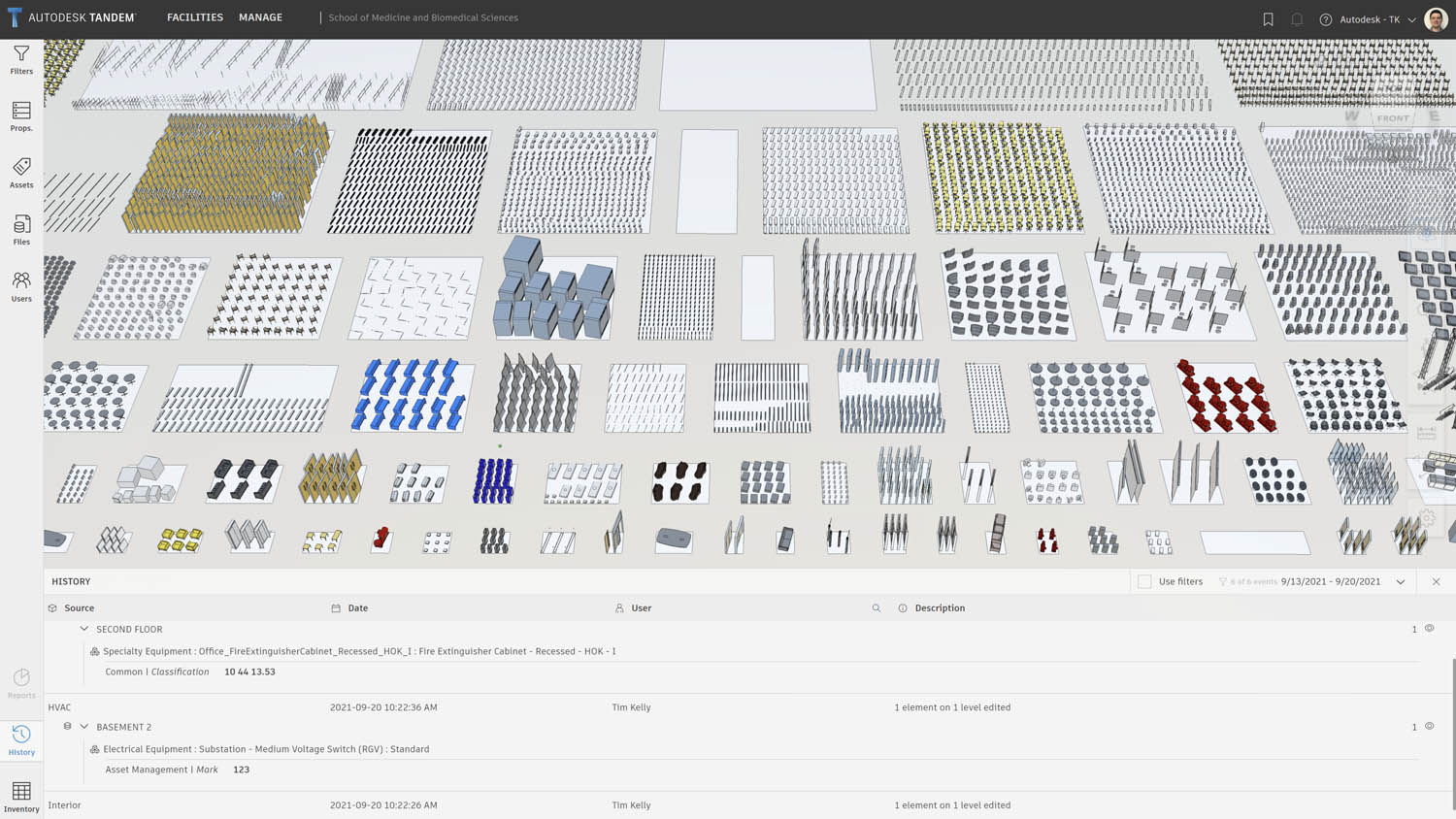 By tracking change history, if the underlying Revit model gets edited and is re-submitted to Autodesk Docs, for example, any changes to the design needs to be reflected in the Tandem database. Instead of reloading everything, Tandem just streams in the 'delta' differences to discrete geometry or metadata that has changed.
"What we wanted to create with the Tandem database is really an asset information model. At the beginning of the project, you specify your asset information requirements, and bring in all this data from Revit and other design sources, like construction data from Autodesk Build, in terms of what has been installed." explains Bray. "It's a way to basically pull all this data together so we can represent assets, spaces (like rooms), and clearance zones etc. But what's most important is the ability to infer the relationship, meaning 'this asset is part of that specific system, and it serves that specific space.' If we can do that, it's possible to visualise all kinds of interesting digital twin problems."
To enable these complex semantic searches, the Tandem team has overlaid an additional graph database above the more traditional core database. Graph databases contain relationship logic which will enable Tandem to connect up and understand related components, such as MEP piping systems.
The new asset-centric database combined with the Forge pipeline in the cloud means Tandem never actually opens the Revit file. In the background all this repurposing and fileting is going on to produce a lightweight model that can be streamed and loaded very quickly. This core development means that Tandem offers something which all Revit customers can benefit from, which we will come to later.
Lighthouse family
Autodesk has about a dozen 'lighthouse customers' for Tandem, who have had access to the software for almost a year, helping define requirements, prioritisation and process. Almost all fall into Autodesk's large customer category, being Enterprise users. They include architects, engineers, contractors and owners to cover the complete industry cross section. They are, in the main, US-centric firms.
This has meant that Tandem, as it stands, is less 'out-of-the-box ready' for more governmental standards-driven BIM and digital twin markets, such as the UK. But the development team is aware of this and is looking to address those deficiencies for different geos.
But there are more fundamental issues at the moment, such as the omission of support for the industry standard IFC format. In this first version, it really is all about Revit. IFC support is in the works, then Plant 3D formats and various Autodesk verticals like Civil 3D. Also point clouds aren't yet supported to capture the as-built but, again for the initial platform, greenfield projects are the target. As Tandem's view widens to brownfield renovation, Autodesk already has scan-to-mesh technology in its closet.
ISO 19650-3
In its initial offering, Tandem has a threestep workflow. Firstly, to specify the asset information requirements up front, then to capture all the design and construction data created through that process and map it against those asset information requirements.
Bray explains that the team also wanted to build some rules to validate that build phase data because a lot of that is very manual today and open to errors. Once completed, the twin can then be then handed over at the end of the construction phase of the project lifecycle.
From talking with many firms which deliver major BIM projects, the growing burden of contractual digital deliverables is starting to become painful. They are often 300+ pages and require everything including the digital kitchen sink. It's clear that many owners don't know why they are asking for it and the consultant who they hired has gone over the top.
Bray explains, "We've been using, ISO 19650 -3 asset information requirements specification as a sort of guidepost, and we're really trying to build a system that puts together a pragmatic framework for implementing it."
Tim Kelly, senior product manager at Autodesk shares his thoughts, "This is going to take evangelism and education. From our approach of being pragmatic about what the data requirements are, and structuring that as part of your initial project delivery team conversations. I think you have to have the ability to push back on your client and say, we don't think you need that."
User interface
The interface of Tandem is clean and the dashboard shows twins of facilities you own and facilities shared with you. On opening a file, most of the screen is occupied by the Forge model viewer. The surrounding icons offer the following categories: Filter, Properties, Asset Files, Users, Reports, History, Inventory.
By clicking on components in the model, the property tab displays all the corresponding element data. Filtering is pretty comprehensive to slice and dice, turn off/on and assign ghosting, isolate, create section boxes, plans etc. Asset classifications supported are Masterformat or Uniformat. Uniclass has yet to be supported. The COBie supported is the US variant.
Dasher
For Autodesk watchers, Autodesk's aspirations and experimentations in post-construction AEC deliverables actually predate the digital twins hype by many years. Project Dasher is the longest running Autodesk research technology project (seven years and counting). It even pre-dates Forge.
Those that follow the work of Kean Walmsley, an Autodesk software architect based in Switzerland, would have seen experimental solutions using BIM data and live IoT sensors, along with dashboards for space and occupancy analysis and real-time building performance.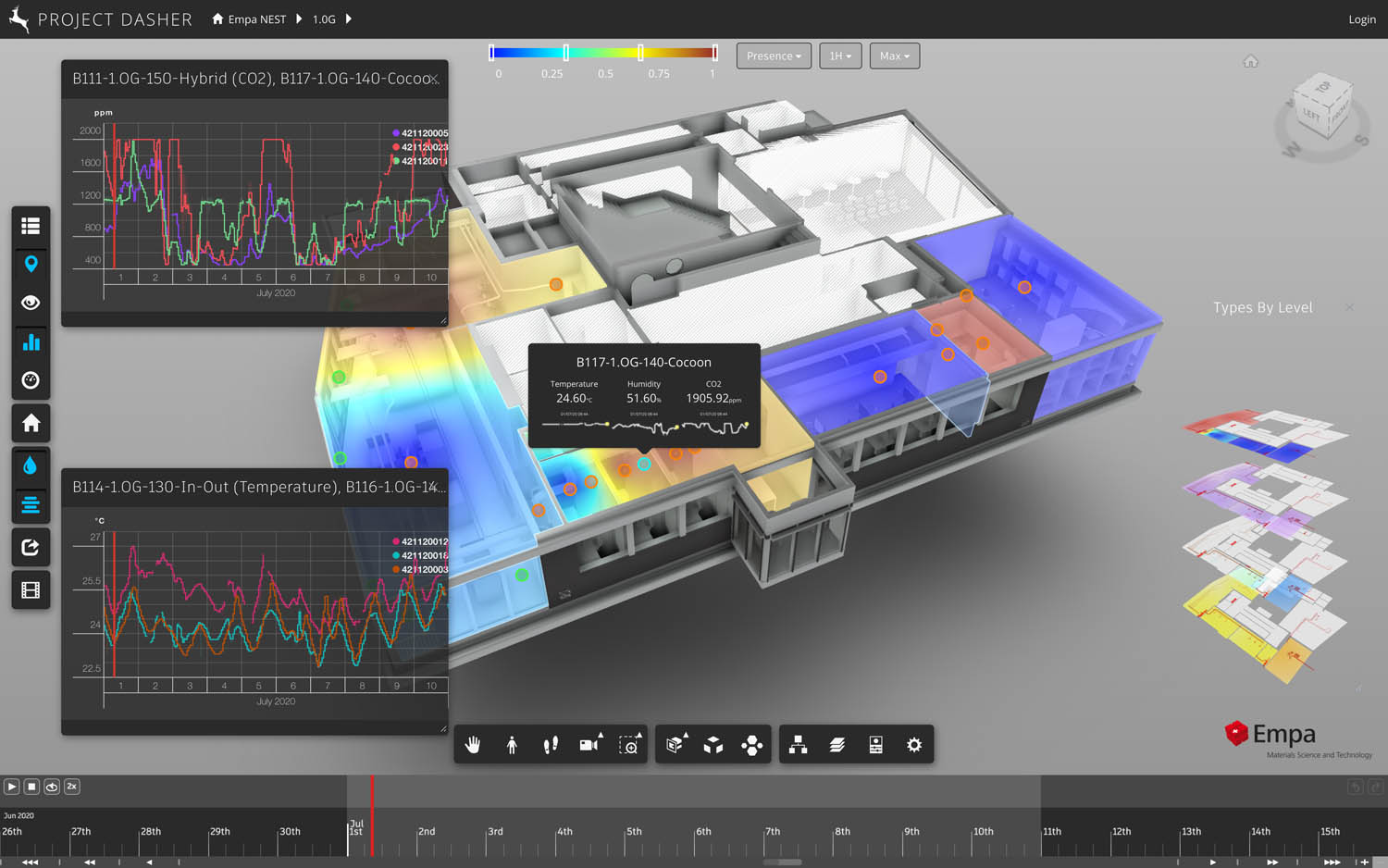 In many respects Autodesk was researching the hard stuff before contemplating the platform. The other surreal thing about Dasher is that it was never intended to be a forerunner to a product, just experiments in combining BIM models with IoT to derive the technology.
Bray explains that Dasher technology was now finding its way to market, "A lot of the Dasher technology has now been incorporated back into Forge. There are a set of visualisation extensions in Forge right now, which allow us to connect to real time data, create overlays, enable sensory analytics and that display data on the model, and display it on the Forge viewer. All of that will come into Tandem as well."
Pricing
Pricing is based on the number of tagged assets and the use of Autodesk Tandem is free up to a total of 1,000. Free means an unlimited number of users, unlimited facilities, unlimited data sources, DOCs integration – the whole works. However, it comes with the proviso of 'internal business needs only'. It's $3,000 a year for up to 5,000 tracked assets and, at the time of launch, was $510,000 for unlimited enterprise but this might have changed.
A tagged asset means any element (e.g. a light, a boiler, a chair) that has an asset type specified and additional asset data attached via the use of Autodesk Tandem. Elements which contain only data imported from the data source, such a Revit, are not counted as tagged assets.
When you get over 1,000 tagged assets, Autodesk's payment bands kick in. But to help keep the asset count lower, they can be tagged at the 'type' level and so do not need to be set on every instance. This way, a single type of light fitting, which might appear 10,000 times in a model, only counts as one Tandem asset.
Tandem's broader benefits
Want to open a hulking huge Revit model quickly in the cloud? What are your options? Maybe the Forge Viewer in BIM 360, Navisworks? Tandem is now a new alternative and it's free to load and view Revit models.
With the lightweight database, the Tandem application can open very large models and stream them to the viewer. Tandem only charges for defined assets for tracking, not for imported Revit components. So, you could view Revit models that have hundreds of thousands of elements as they won't register on the billing.
Even if you are loading a detailed BIM model which might have a light fixture with associated classification code and data included in the metadata, Tandem will still not count it as a tagged asset. The user has to physically enter the classification value in Tandem, for it to count.
Conclusion
Autodesk Tandem has a long way to go before it could be seen as a turnkey digital twin solution. It does some of the basics but has many obvious limitations. It currently only fits a very Revit-centric workflow and, as digital twin tools need to be data agnostic and powerful aggregators, support for formats like IFC are essential. But then, with such huge market share, Autodesk knows that, for some customers, this is a strength as opposed to a weakness.
The other issue is that the integration of the ODA's IFC toolkit is underway but not in place. This might be what the Tandem team is waiting for.
As product developments go, for a big CAD firm, Tandem's eight months concept to beta with a small team is meteoric, showing the benefit of starting with Forge components as building blocks and having a very focussed and limited feature set to deliver.
Here, the key judgement area will be on the velocity of its future development. In the past, Autodesk has done big launches into market segments only to run out of steam or interest, here I am thinking mainly of mapping and process plant. I am pretty sure the digital twin efforts will not suffer here, as Autodesk is clearly aligning a number of products, services and investments in expanding into post construction data flows.
We have already seen there's seven years plus work gone into Dasher to enable IoT connectivity in the not-too distant future and Autodesk's recent investment in SpaceIQ (formerly Archibus FM), also clears a path to a mature and popular FM application, which is coupled with some of WeWork's AI occupancy technology.
Autodesk is piecing together big chunks of technology and integrations, which could give Tandem significant velocity, should that be wanted in the future. Early adopters, willing to pay, will obviously get input into the feature development at such a preliminary stage in its development but here it really is initially suited to greenfield projects.
The development work done in creating a new lightweight, but still information-rich, cloud-friendly database format has so many possible application areas for downstream data, it kind of blows the mind.
The fact that the rules for free use of Tandem qualify it as being a free, fast BIM viewer and an alternative to Navisworks or Revit could be a good alternative for customers. Also, If the Tandem database is accessible to third-party developers, it too could spawn radical improvements in non-editing 'Revit' workflows. So, even if you have absolutely no interest in digital twins, asset management or facilities management, Tandem still has something to offer you! If only Tandem could open up more file formats.
---
What is Autodesk Forge?
Autodesk is a huge software firm that has hundreds of desktop applications which all share certain requirements, such as the ability to read and write DWG files, print/plot, IFC, render etc. As the company deemed that the cloud was going to replace the desktop, it went about the process of rewriting core functionality as a set of services on the cloud. It called this Autodesk Forge.
As Autodesk ported applications to the cloud, or acquired new software firms, this meant that there were common services which could be accessed via Forge APIs (Application Programming Interfaces).
This Forge backbone has grown to enable access to more complex services, such as a viewer, rendering engines, data translation, document management etc. By not having to reinvent the wheel, Autodesk and its third-party developers can save a lot of development time and all benefit from updates to incorporated web and mobile Forge components.