On 2 November Epic Games will host Build: Architecture 2021, a highly focused and completely free virtual event where leading firms including Zaha Hadid Architects, BIG, and HOK will showcase innovative real-time projects
---
Next month Epic Games is inviting viz artists and visual effects professionals to discover the architects, engineers, latest real-time innovations that are transforming architecture, engineering, and construction.
From cutting-edge digital twins to advancements in immersive design, attendees of Build: Architecture 2021 will hear how Zaha Hadid Architects, HOK, Foster + Partners and other leading AEC firms are spearheading innovative realtime projects.
The event will be split into three acts: act one will focus on design storytelling with architectural visualisation software Twinmotion; act two will showcase innovative projects with Unreal Engine; while act three will expand into the realms of digital twins and collosal open worlds.
There will also be a whole host of focused 'Dev Lounges' where attendees can pick the brains of the industry presenters and Epic Games technology experts on all things real time.
Below are some of the project highlights that will be presented at the event.
---
Global design firm Cannon Design is a 1,200 person architectural firm based in New York. Twinmotion has allowed its design teams to collaborate in digital real-time environments and work closer together on large healthcare projects.
For Mercy Hospital in Phoenix, the team had to quickly create animations and visuals of both indoor and outdoor environments for a project covering over 300,000 sq.ft.
Using Twinmotion's collaborative cloud feature to engage with customers in real-time helped Cannon Design — and its customers — find a common place to work out design issues to make realtime design changes on the project.
---
Global architectural design practice Zaha Hadid used mixed platform design and game engines to bring an interactive design experience to consumers and stakeholders in Beyabu, Honduras.
The modular blocks of buildings, coupled with computational design parameters, have been merged into Unreal Engine to provide a photorealistic, realtime design configurator that allow users to integrate with their designs 'like never before'. The technology extended to working with the manufacturing and production chains to bring the purchaser's design request to reality.
---
The Canadian Parliamentary Precinct in Ottawa, Ontario is undergoing a decades-long renovation to modernise operational infrastructure, improve building performance, and enhance visitor experiences for generations to come.
HOK is leading the architectural design and conservation efforts with technical processes driven by three main principles: all physical conditions — past, present, and future — must be documented; the development projects and outcome must be transparent; and all data streams must be available in real-time.
For the project, HOK harnessed the power of reality capture, leveraging realtime technologies to share the various states of construction/progress to manage scope, and incorporating the data into daily workflows to better illustrate design intent, constraints, and options to the client.
Digital twin platform 3D Repo was instrumental in providing persistent cloud-based storage and model federation for HOK as part of the project.
3D revisions are automatically optimised and made available via APIs, saving months of time whenever a design change happens. By linking the same APIs to third-party business intelligence applications for extended data validation and inspection, 3D Repo is helping to remove risk from the engineering process even further.
---
Danish architecture studio BIG will present Chongqing, the home of a new Hi-Tech Zone, a centre of innovation for China for developing future technologies. The project masterplan will integrate 'artificial intelligence of things', robotics, networking and big data.
Cloud Valley will be the first project milestone. a landmark for science and technology where the barriers between human and artificial intelligence are removed and the focus is on creating a space for technology and nature to thrive together.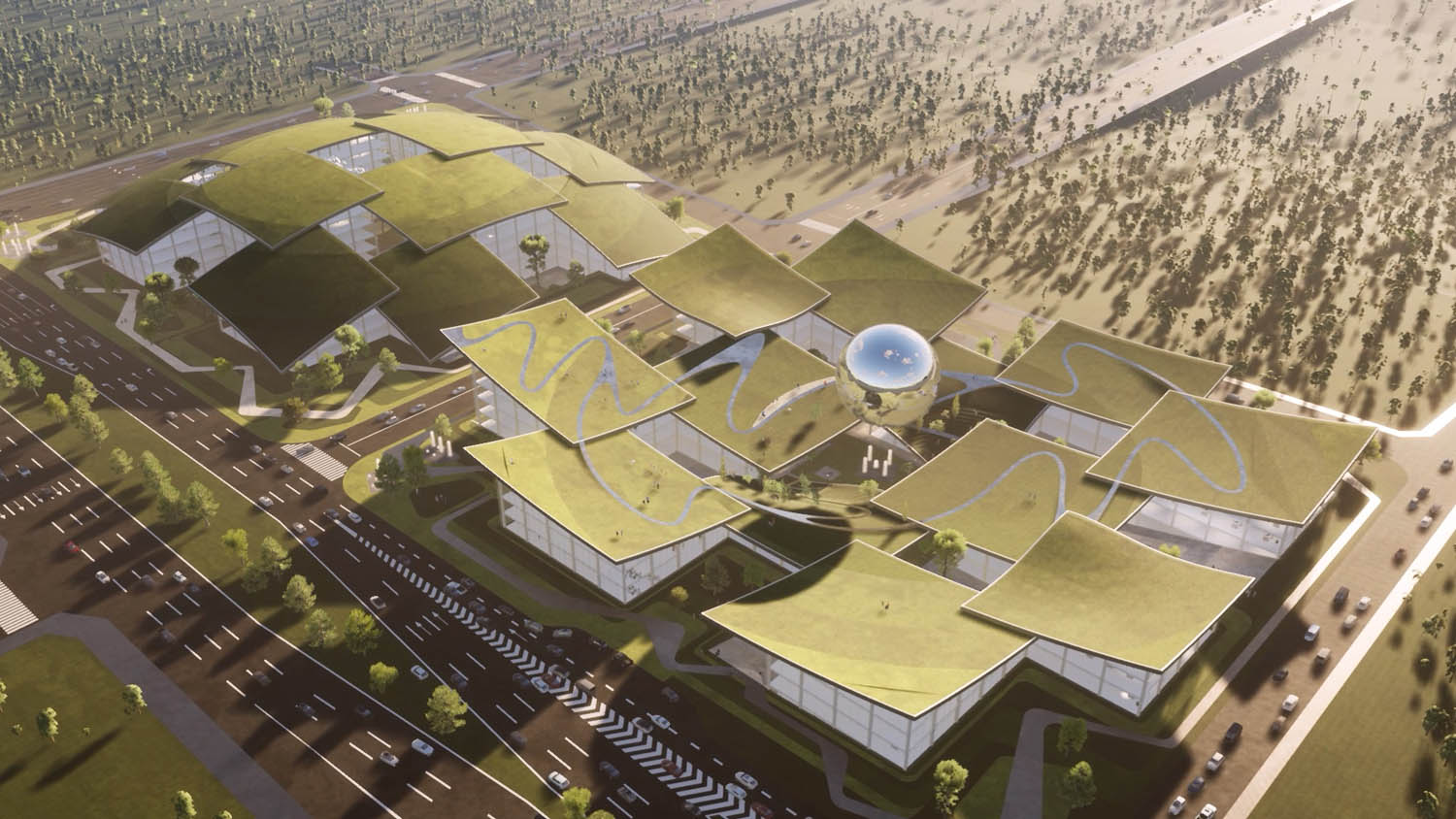 The project is spread across two plots totalling an area of 51,000 m2. Each plot will be covered by a generous and permeable green landscape, beneath which will be a village of transparent buildings. These are shaped to efficiently accommodate the innovative activities planned for the campus, such as sports events, art exhibitions and product fairs.
The porous structure of the urban fabric will create generous green courtyards with natural light and ventilation.
---
Vouse is a Singapore-based cross-technology design consultancy that provides interactive applications development for built environment industries.
Developed within Unreal Engine, the featured use-case at Build: Architecture 2021 — Changi Airport Digital Twin — is an integrated data model that synchronises operational data in real-time.
Together with the Changi Airport Group Terminal 5 planning team, applications were built using game technology to suit different operational needs and users within the airport environment.
---
Creative digital agency PureBlink, together with Elad Real Estate, has created an interactive sales tool for a new development 'Galleria on the Park'.
The master plan consists of eight different buildings on an eight acre park, and the ability to bring users into an immersive experience to explore the urban development helped buyers better understand the vision.
Online sales tools also helped support the launch of 'Galleria on the Park' helping Elad hit its sales goals in a shorter period of time through Covid.
---
Registration to Build:Architecture is completely free and there will be different start times to cater to PDT, EDT, GMT and CET time zones. For more information click here.