This cloud-based DAM is designed specifically to help architecture, engineering and construction firms get more out of their vast collection of assets for marketing, communications, presentations and beyond, writes Greg Corke
---
Most AEC firms have robust processes or systems in place for managing design data from CAD and BIM software. Unfortunately, that same care and attention doesn't always extend to digital assets used for marketing, business development or corporate communication.
JPGs, TIFFs, PDFs, PowerPoints, InDesigns and video files are often stored on various network drives and structured in a way that can make it hard for the average user to find what they're looking for.
So, when it comes to showcasing work for bids or proposals, creating content for presentations or social media, or simply sharing files with third parties, it can often take time to find the right file or the latest revision. It can also be hard to know which assets are approved for external use. In some cases, firms have to rely on a dedicated member of staff to dig out the relevant content.
This content could be anything from concept sketches, renderings or presentation templates to photographs of construction progress, finished projects or physical models.
With its cloud-based repository, OpenAsset not only brings together assets in an easily accessible central location but, more importantly, through careful classification, the system can open up big opportunities for external and internal communication
The obvious solution to this data challenge is a Digital Asset Management (DAM) system. These have been around for years and are designed to make it easier to store, organise, find, select, share and publish digital assets from one central location. Historically, this has been a local server, but more recently – as with many things in IT – it's now in the cloud, accessed via a web browser.
OpenAsset by Axomic is one of many modern DAMs available today. But what makes this cloud-based system different to others is that is it specifically designed for use on AEC projects. The software is used by firms of all sizes, from five to 5,000 employees and everything in between. Customers include Cannon Design, WilkisonEyre, Rogers Stirk Harbour + Partners, Mace, Gensler, BDP, Foster + Partners and others.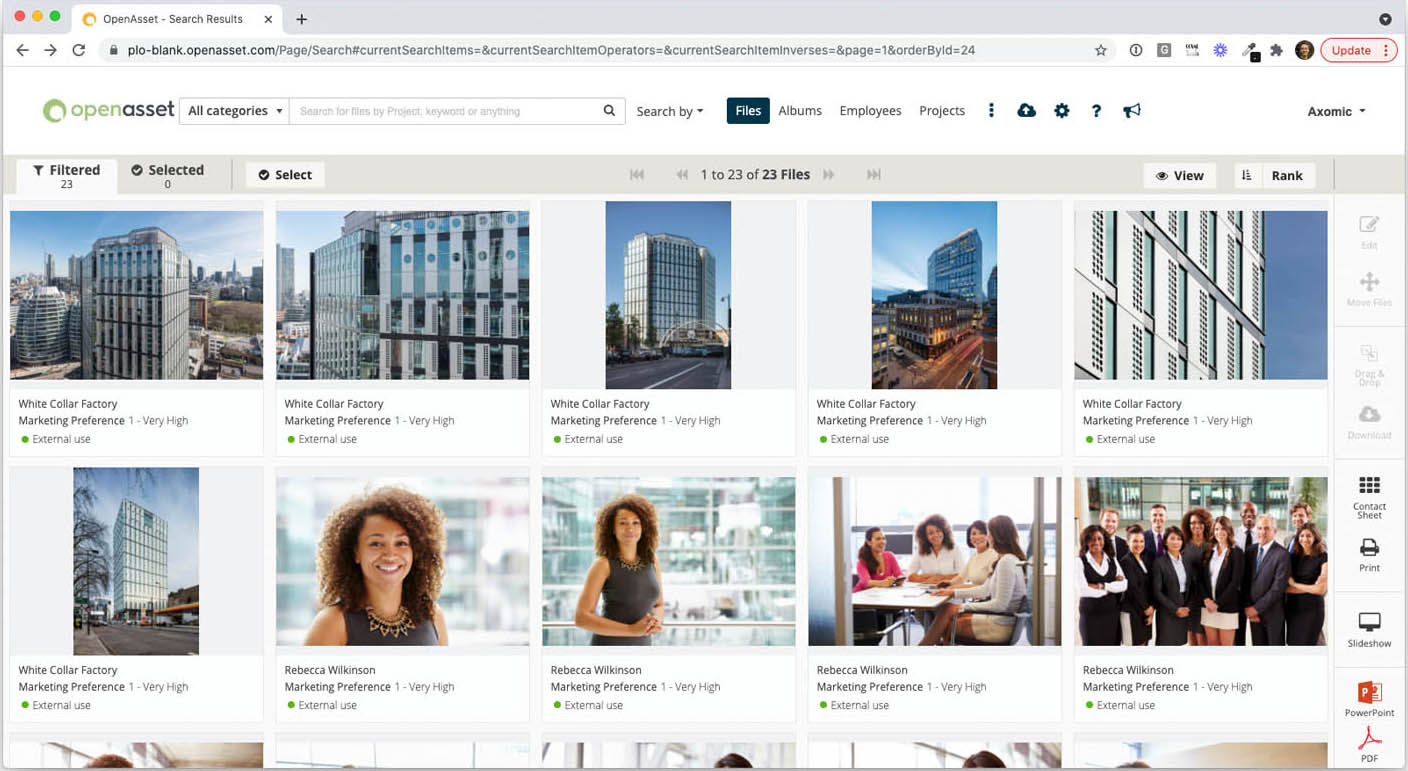 Project-centric
One of the foundations of OpenAsset is that digital assets are primarily stored by project, so a lot of the heavy lifting is done at a project level.
Then, when it comes to adding additional information, the world is your oyster. Assets can be tagged with all manner of fully customisable keywords and metadata. This could be project type, completion date, square footage or status; image type (e.g. interior, building plan, rendering or sketch), building element (e.g. column, door, mezzanine floor or façade); material (e.g. aluminium, brick, steel, timber or wood); or even additional information, such as photographer or copyright holder.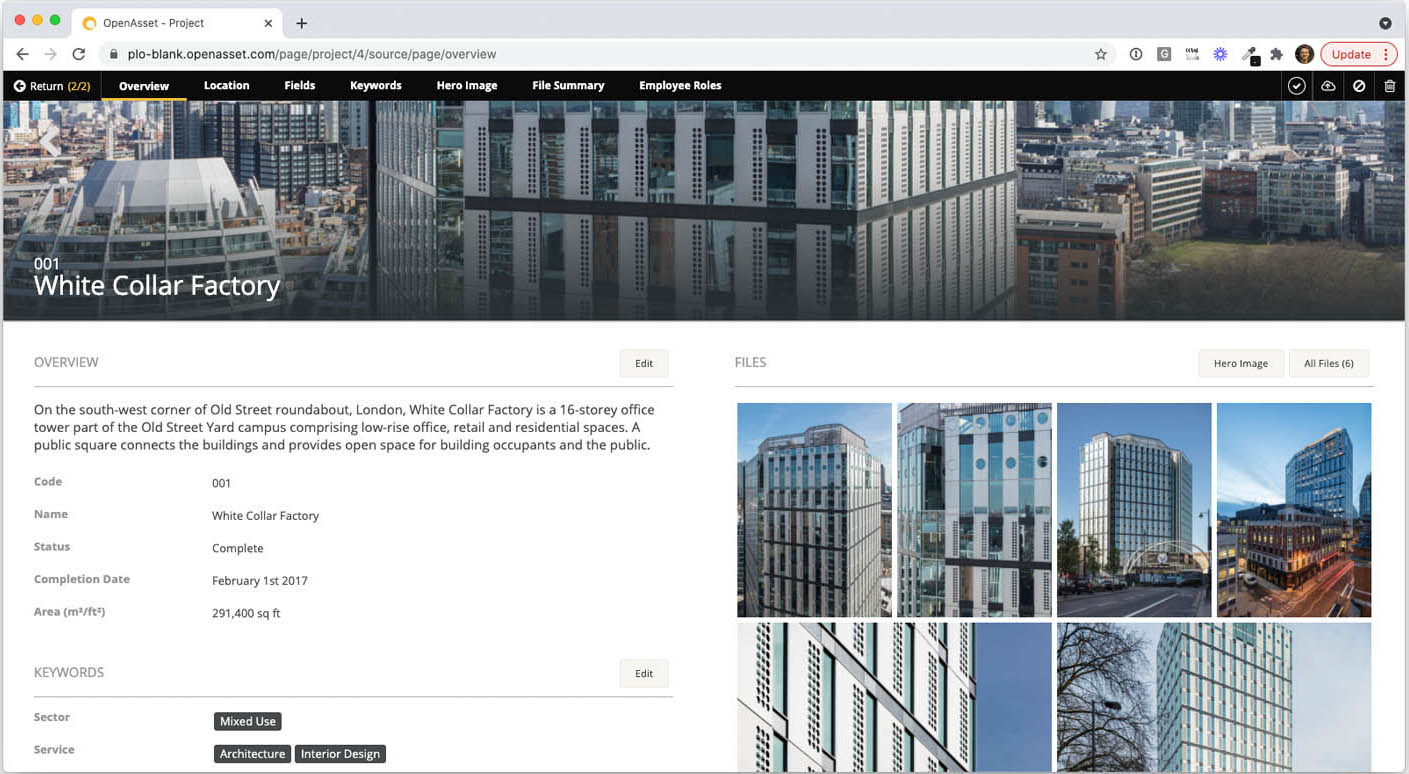 Of course, the success of any DAM system hinges on the quality, consistency and completeness of the data that's fed in. OpenAsset doesn't mandate which fields have to be populated when assets are uploaded, so firms need to have good internal QA processes in place.
You can literally dump a thousand JPGs into the system without any classification, but then there are tools to make it easy to apply common keywords and metadata to multiple assets. It's also possible to control who has access to what, when.
Of course, for some AEC firms, going from zero organisation of digital assets to multi-tiered classification in a DAM is a giant leap. To help advise customers on how best to structure their taxonomies and get their data into shape, OpenAsset has an on-boarding team that can help. They can also assist with migration, taking an existing folder structure on a network drive, for example, and converting into a more flexible taxonomy.
Once the data is in place, users have the power to search on anything, depending on their access rights. OpenAsset can also help users find 'similar images' across the entire database using AI.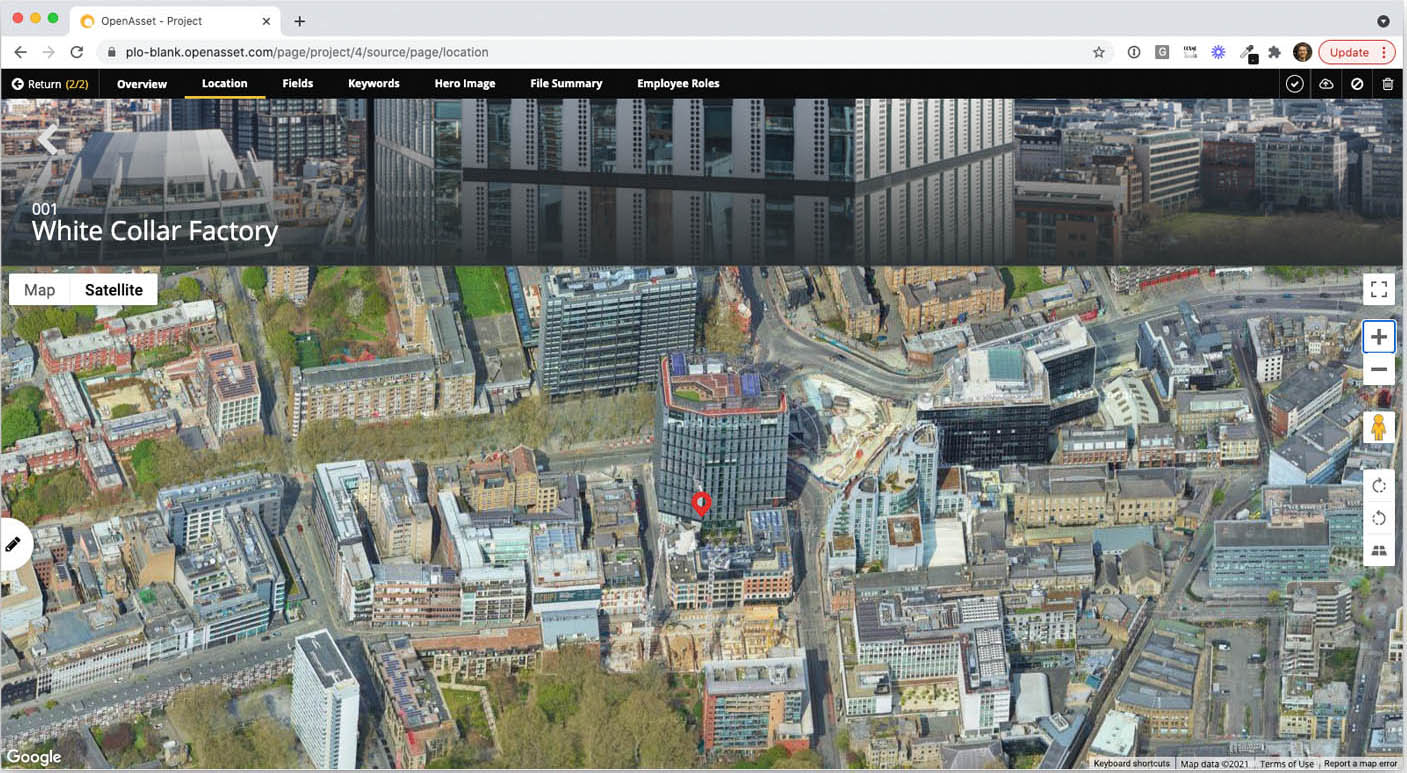 Location, location
OpenAsset comes with a Google Maps integration which allows you to view the locations of projects within the system. You can use the core search functionality to filter projects and then the results can be presented in a single map view.
For example, you could search for all healthcare projects completed in West Coast America over the last ten years, then take a screen grab to drop into a proposal.
The employee module
OpenAsset also includes an optional employee module, which can be populated with all manner of information. This could be which projects individuals have worked on, their role within that project, how much time they spent on the project and lots more.
This information can be useful when pitching for new business with bid proposals, through the automated production of resumes (more on this later).
From image to asset OpenAsset is not just about managing files; it can also help with document workflows. For example, an InDesign plug-in makes it possible to drag and drop images directly from OpenAsset into InDesign without having to store assets locally. Every time the InDesign file is opened, the plug in will automatically draw images direct from the cloud.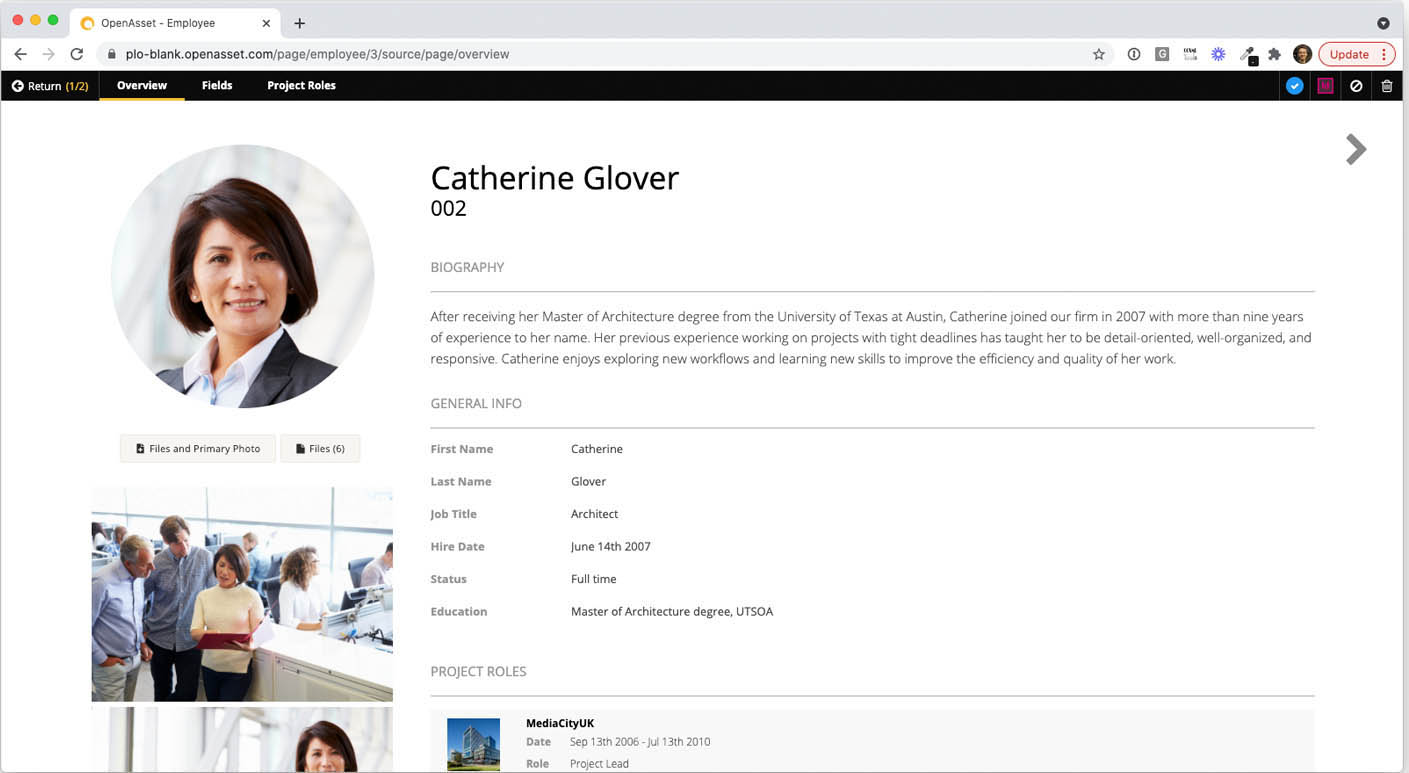 It's also possible to create branded documents or resumes directly from templates. Simply select the required assets and the system can automatically populate the InDesign template complete with captions. Customers can design their own templates in InDesign but these then need to be 'coded' into the system by the OpenAsset team. Similar workflows are available for Word and PowerPoint.
In the future, OpenAsset is looking to develop a new platform that allows its customers to publish their projects directly to a publicly facing website and app.
Data flow
With OpenAsset, it's possible to bring in data from other platforms without resorting to manual import and therefore losing that 'single source of truth.' An integration with construction project management tool Procore, for example, allows for the capture of in-progress project images that are tagged in OpenAsset with searchable keywords. In addition, ERP and CRM integrations with platforms such as Deltek, Rapport3, Unanet, and CMAP allow for project and related employee data to be connected to images.
Other integrations are possible with a wide range of applications like Salesforce and Microsoft Dynamics, with additional integrations on the roadmap.
There's also a mobile app for iOS and Android to make it easy to upload photos or video straight into OpenAsset using a phone or tablet. This could be particularly useful for the construction site.
Of course, data can also flow the other way. With 'Web share' users can bundle up specific images into an album and create a downloadable link that can be shared with anybody. It's also possible to select different sizes of images depending on their intended use.
Order, order
According to OpenAsset, only around half of AEC firms have a dedicated DAM system in place. The others rely on folder-based or SharePoint solutions to manage their digital assets. In the worst cases, files are stored all over the place on various network drives, with little to no structure to folders or file names.
With its cloud-based repository, OpenAsset not only brings together assets in an easily accessible central location but, more importantly, through careful classification, the system can open up big opportunities for external and internal communications.
Not only does it make it easier for all approved staff to find specific or relevant images, but by investing in templates and workflows, firms have the potential to bring new levels of efficiency to their document creation process.
Pricing for OpenAsset is on application, based on a number of variables, including the number of users, storage, and 3rd party integrations.