Stockpile Reports provides onsite inventory management for stockpiles, quarries, building sites, mines and factories using image processing tech. It has recently released a powerful measurement tool for the iPhone
---
How might we use visual imaging to measure how efficiently we blow things up? A strange question, maybe, but it's one that got David Boardman started on an exploration of how much usable material is collected during mining operations. His investigations led to the establishment in 2012 of Stockpile Reports, a company that specialises in stockpile measurement and management.
It had to be possible to find a better and more accurate alternative to the established practice of clambering up a stockpile once a year with a GPS pole in hand, in order to estimate that stockpile's volume. After all, these are valuable assets.
Boardman's photogrammetry-based approach quickly caught on. Today, Stockpile Reports provides technology and services to companies looking to use smartphones and cameras fixed to vehicles, drones and planes to measure stockpiles around the world.
As smartphone technology has evolved, with increasingly high resolution cameras and, in the case of the iPhone, the inclusion of low-density LiDAR capabilities, the application of mobile scanning has exploded.
Stockpile Reports had already built a high degree of expertise in photogrammetry and so the company ended up developing a generic photogrammetry toolkit called Everypoint for the iPhone. Any developer could build on this, in order to take the technology into new market areas.
While Everypoint development happened back in 2021/22, with a number of applications using it, it is only more recently that Stockpile Reports has released its own generic stockpile scanning tool for the iPhone 14. This is called SR Measure and is based on Everypoint.
At-hand capabilities
SR Measure offers on-system processing of 3D scans, with accurate measurement, barcode scanning, data management and 3D-verified post-analysis reports. These can be customised and shared by those with the necessary admin privileges.
It is designed to provide firms with the 'at-hand' ability to monitor and track their onsite inventory and raw materials in real time, according to a defined workflow. An enterprise option also exists, for companies that want to provide every employee with this kit.
To use the application, the user launches the app, and sets up basic definitions, such as location and material type. As a reference, they then set out two orange cones, around 25 feet apart.
To 'scan', they simply walk around the targeted stockpile with the camera pointed at it. Following a single walk-around, the software displays the pile, its contours, the estimated weight of material it contains and the area it covers. The information can then be sent back to base.
Stockpile Reports claims that scans performed using SR Measure provide measurements within 5% of accuracy. And this can be as low as 1.6% if cones are used as a reference point. In tests, more than 90% of measurements have shown scaling errors that fall below 3%, according to company executives.
As iPhone applications go, SR Measure is not the cheapest available, costing $99/£99 per month for an individual, unlimited-use licence. But this is an app designed for professional, not consumer use, and there is a 48-hour free trial available after you conduct your first test scan.
---
NERF and photogrammetry
Jonathan Stephens (Twitter @jonstephens85) is marketing director of Stockpile Reports. He's very hands-on when it comes to mobile scanning technology, not to mention worth following on LinkedIn or Twitter by those interested in this subject.
For example, he regularly posts about tests he has completed using the company's Everypoint photogrammetric application development platform, as well as his experiments with Nvidia's NeRF (Neural Radiance Fields) technology.
Photogrammetry models are built up using multiple overlapping 2D photographs, to create a 3D mesh. NeRF, like photogrammetry, is used to create realistic scenes from 2D images, but does not need all the images to overlap. NeRF creation uses AI in a neural rendering framework to 'fill in the gaps'. It can be used to capture larger areas where it might not be possible to get full photo coverage. In these cases, accuracy may be sacrificed and you might get some NeRF rendered artefacts, but these can be quite magical.
---
Why iPhone 14 only?
While iPhones are becoming very expensive, costing almost the same as a laptop, the onboard sensors and processing capability they now boast make them ideal for reality capture.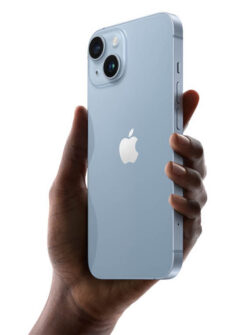 Take, for example, the iPhone 14 Pro; this offers a larger, brighter screen, a bigger battery, LiDAR and image stabilisation capabilities, a dual-frequency GPS for better accuracy, a higher resolution camera and the fastest processor yet. All these components are put through their paces in photogrammetry scanning and come out winning.
By contrast, says Boardman, the problem with Android phones is that there is a huge degree of inconsistency between different brands, in terms of both their capabilities and what's in the box.
The iPhone is more standard, so is far more practical as a target device for software firms intent on writing reality modelling applications.
---
Find this article plus many more in the March / April 2023 Edition of AEC Magazine
---