Who we are
We are construction experts who have increased our efficiency with the help of digital technologies and are ready to help companies worldwide.
SIGNAX is a global IT company with offices in Dubai (UAE) and Boston (USA). The company unites true professionals in construction, clearly understands what the industry needs today, and makes innovations for the future. SIGNAX has a list of implementations in Real Estate and industrial projects, more than 50 iconic buildings, and 3 000 000 total sq.m. that were built with the use of SIGNAX solutions.
We respect and use the "big" vendors' solutions for our projects, but year after year, they improve their products for real construction processes very slowly. We waited a long time and finally decided to do everything ourselves – made a software  product for construction management. It consists of 4 modules – DOCS, INSPECTION, TOOLS, and DASHBOARD. Each module solves a range of tasks. Meet SIGNAX portfolio of services!
---
SIGNAX DOCS
No platform can deal without a common data environment system. You wanted a cloud CDE in the perimeter of the organization (on-premise) – here it is.
SIGNAX DOCS – Common Data Environment for Construction Site (Pic. 1). Issuance of shop drawings for work in electronic form has become possible. Builders can open current drawings directly from a smartphone using a login password or a link. You can choose if you prefer all information to be held in your corporate servers or in a secure public cloud of well-known providers.
---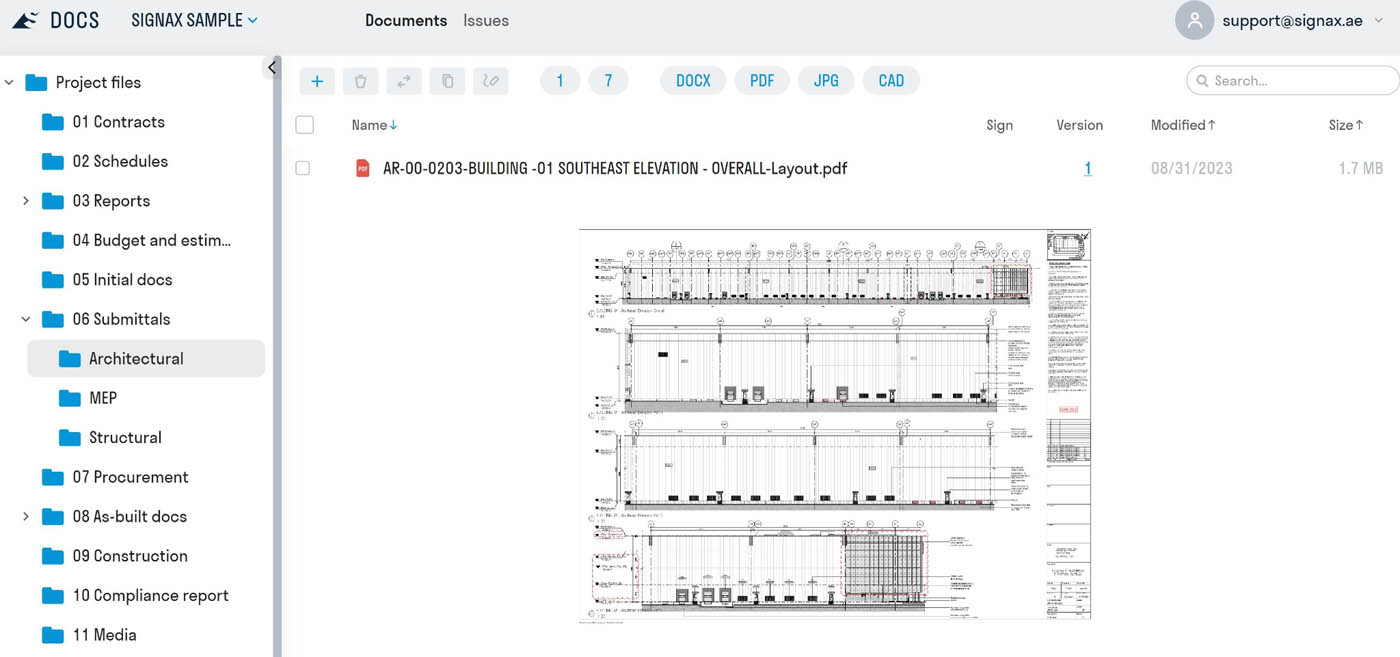 ---
SIGNAX INSPECTION
Everyone is talking about digital collaboration on construction sites. This is also SIGNAX. We have fully implemented remote control. Now you can have a great understanding of what is happening on a construction site while you are in the office.
SIGNAX INSPECTION – interaction project participants on the construction site and confirmation of completion through panoramic 360-photo. The service allows you to photo an object on a daily or weekly basis, compare progress for any dates (Pic. 2), and share 360 photos via a link or on the developer's website.
The service also allows communication between all construction stakeholders, setting tasks, issuing comments directly from a smartphone at the construction site, and indicating a point on the needed floor plan.
---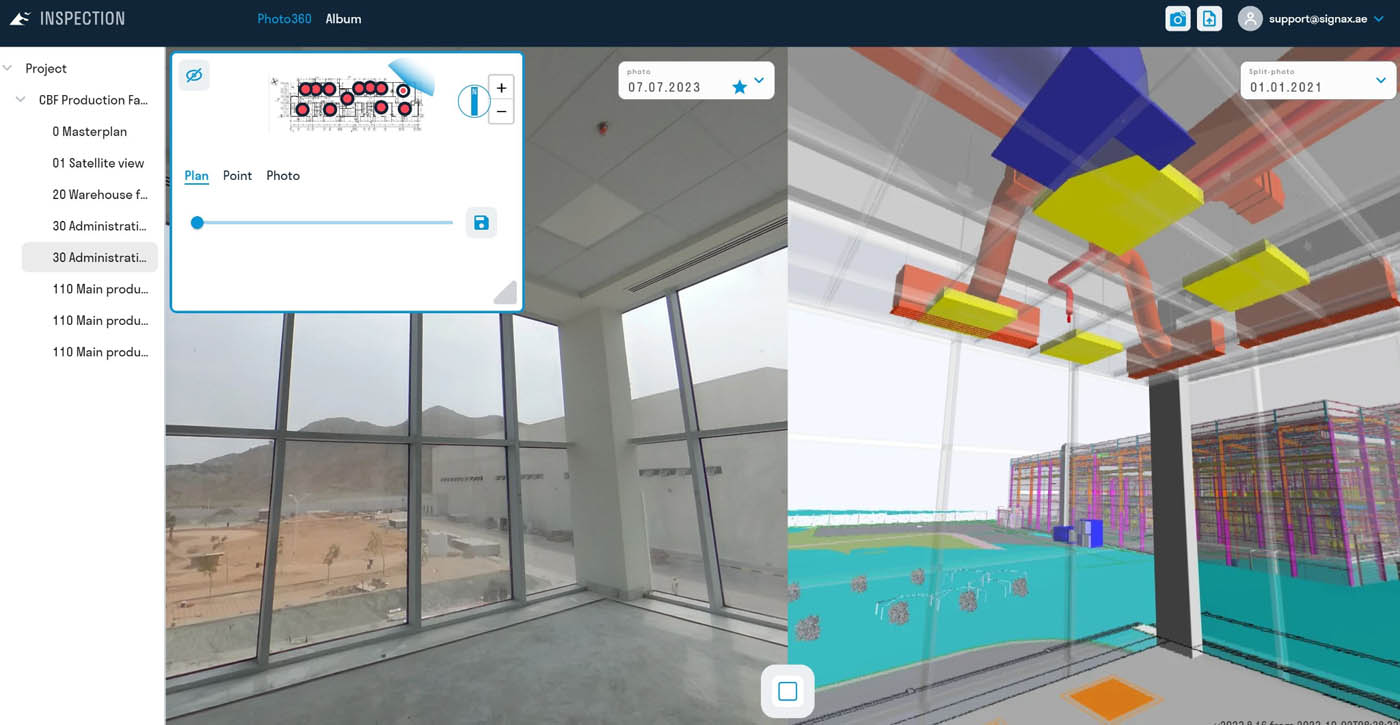 ---
SIGNAX TOOLS
Are you truly using digital data on your construction site? Most likely, you already have BIM models based on the design results. Let them be 100% effective on site.
SIGNAX TOOLS – set of functionality for checking design BIM models, creating and maintaining a construction BIM model (Pic. 3). TOOLS provides linking the model with the construction schedule to obtain 4D and 5D, marking the completion using the model by obtaining all volumes in 2 clicks. TOOLS includes plugins for Autodesk Revit, Navisworks, and AutoCAD, which perfectly fit into the business processes of most modern companies that work in BIM and don't require additional training of employees.
---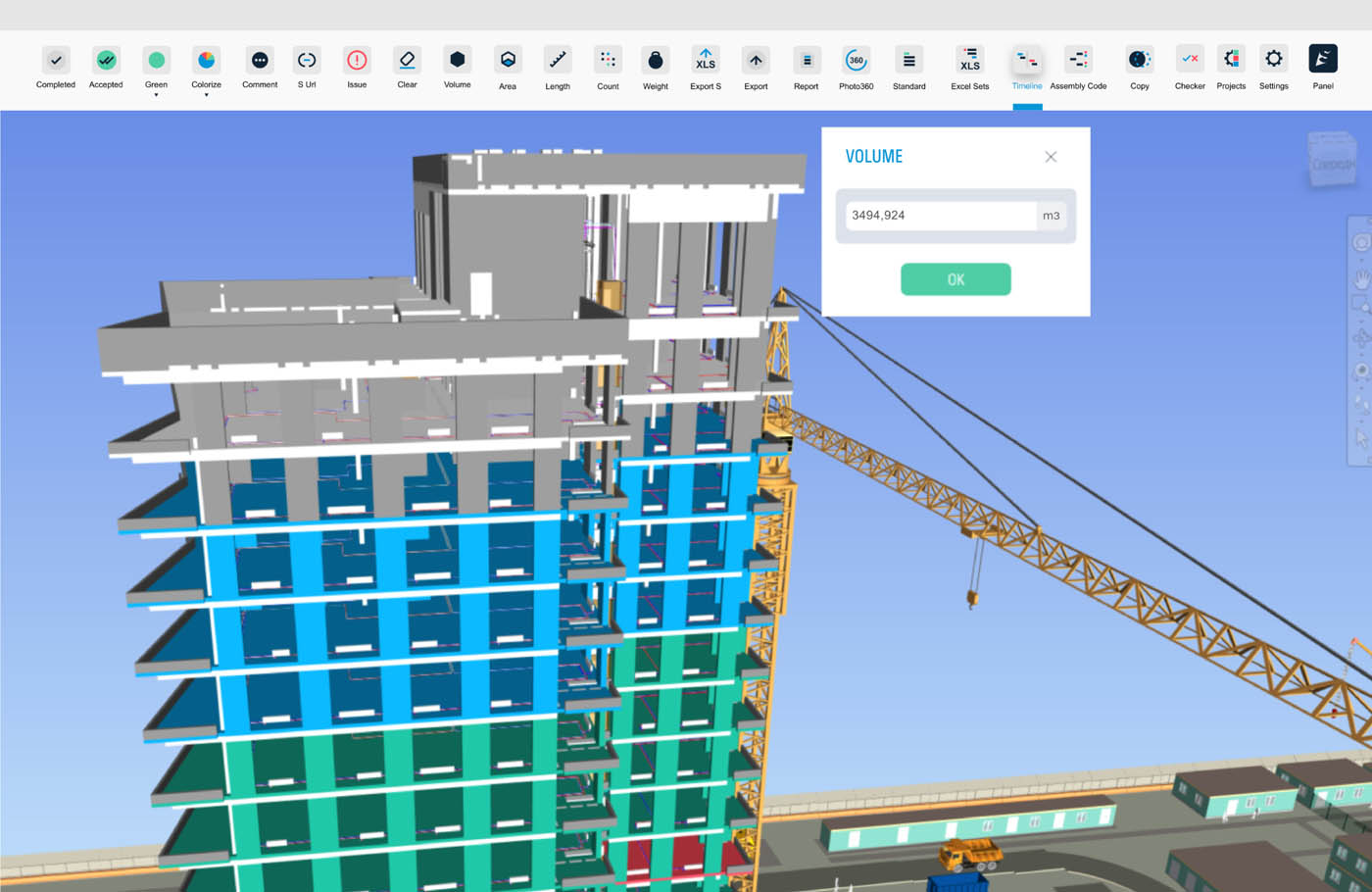 ---
SIGNAX DASHBOARD
Any digital data, as well as construction data, will not work without a solution for managing & operating with it. We want you to always have useful data at your fingertips, anytime, anywhere, without any external systems or the need to generate additional reports.
SIGNAX DASHBOARD – the digital control center of the manager (Pic. 4). Basic information about the project's progress in the smartphone of project managers and company directors. The service allows you to organize a unified reporting standard at all developers' construction sites.
---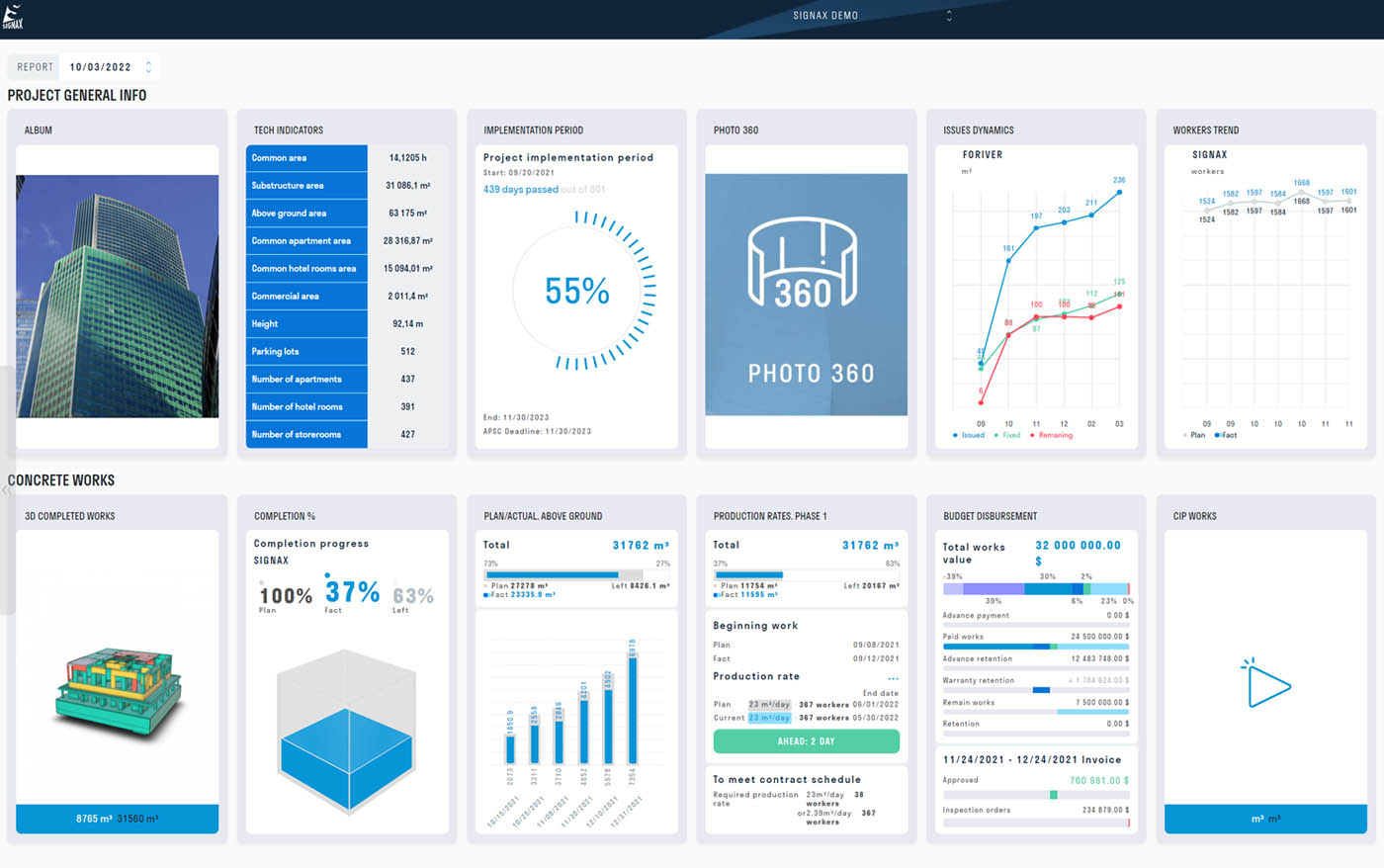 ---
BIM on construction site
Our solutions provide
the opportunity to use BIM models during the construction process, create construction models, visualize the construction process, and confirm the actual project implementation status with 360-photos and photogrammetry using drones and laser scanners.
---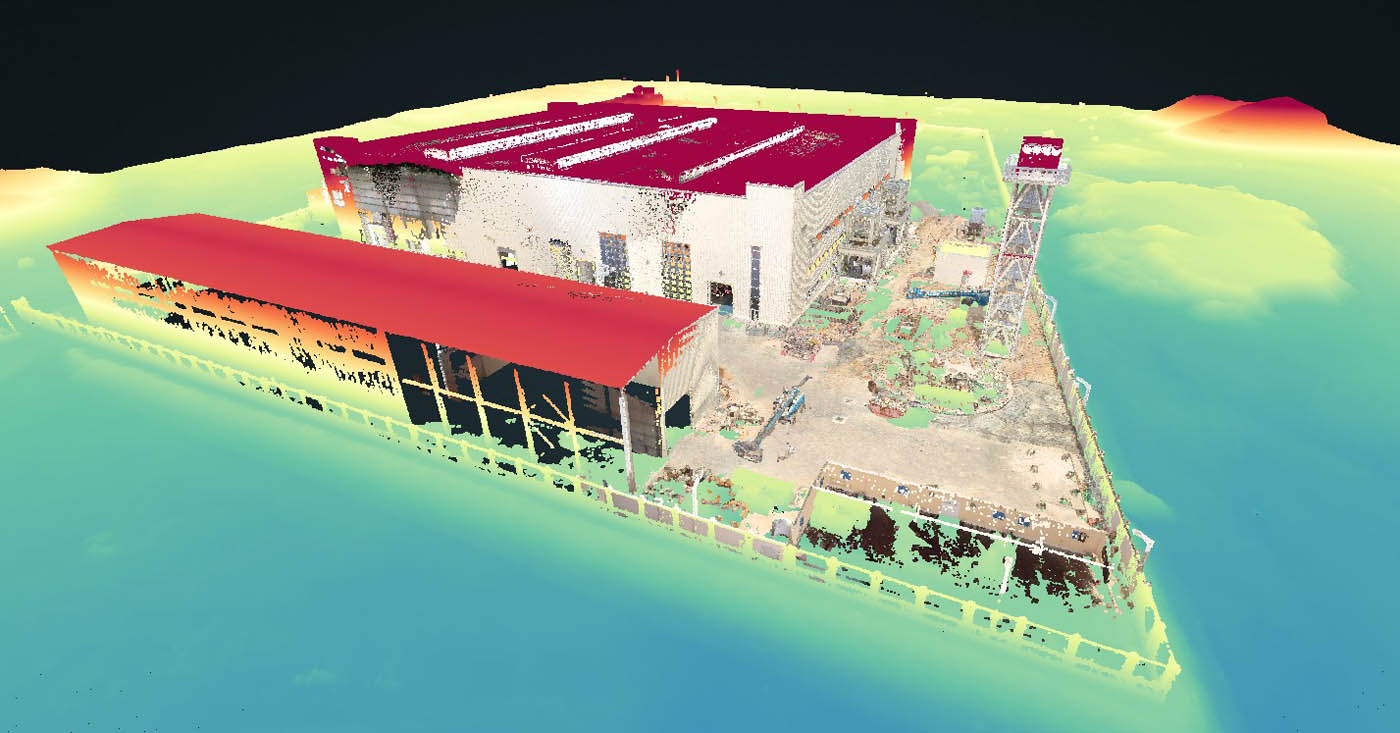 ---
We have solved construction problems associated with the lack of accurate data from the construction site and its untimely collection. One digital/VDC engineer can collect all the information from the project and input this information into the construction model (Pic. 5). If our clients do not have such employees yet, then we are ready to provide digital support services ourselves. All members of our team are professionals in BIM and any digital measurements (UAV, 360-photos, and laser scanning).
---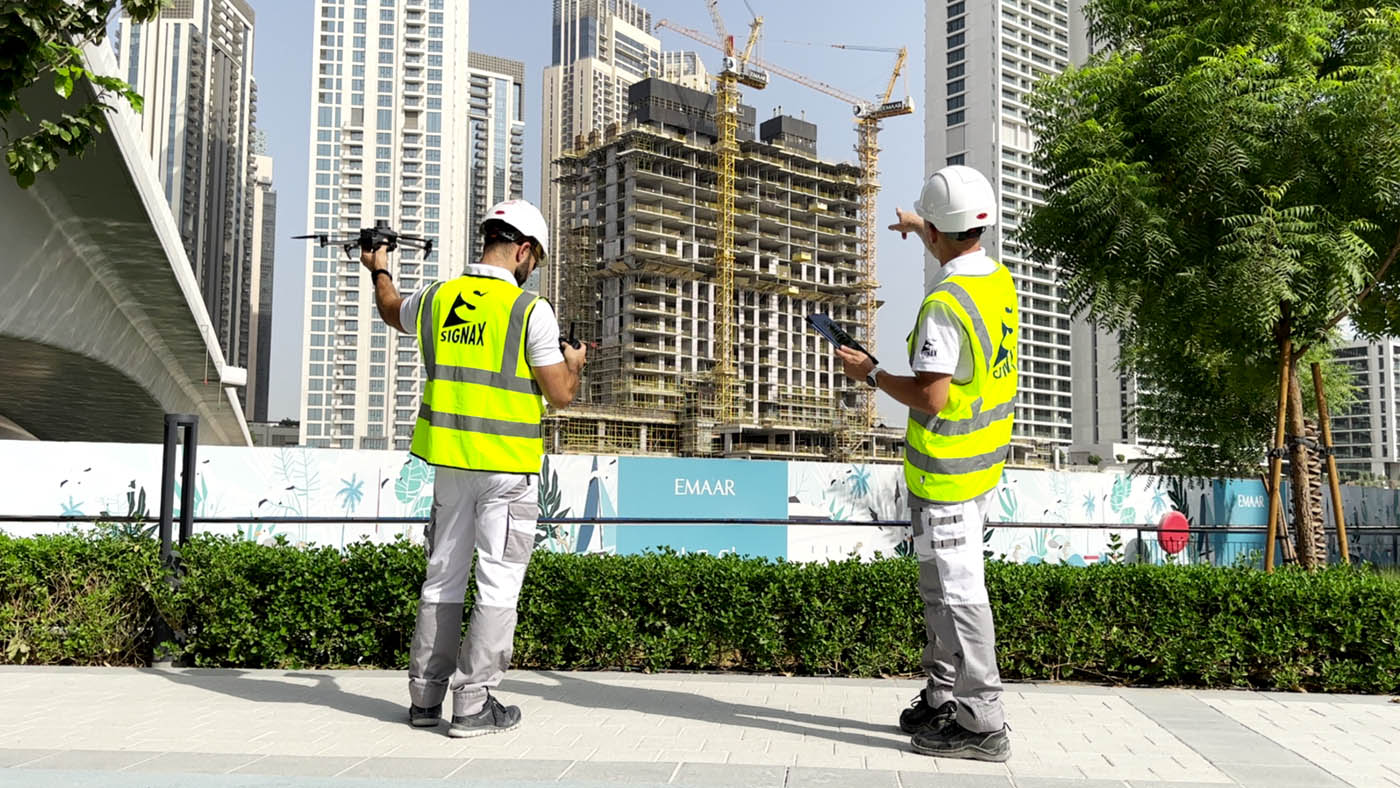 ---
We were able to increase the process efficiency on the construction site through the use of BIM technology, increasing transparency using photo 360 and drones (Pic. 6). Discussions about the scope of completed work disappeared from the weekly meetings, and the numbers became clear and unambiguous for all participants in the process. Finding the necessary information in the system takes a matter of seconds while the overall trust of project participants increases because the data is always precise; risks and possible problems are transparent.
Over 30 projects in different parts of the World have already been successfully implemented using SIGNAX services. You also can join! Just leave a request on the website https://signax.io, and we will contact you to plan the demonstration.
---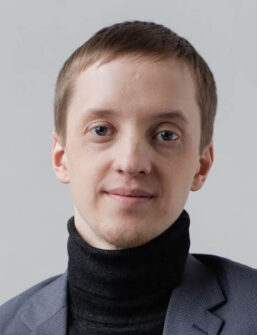 ABOUT THE AUTHOR
Head of Product Development at SIGNAX. Visionary in the field of BIM and digitalization of construction. He graduated from the Faculty of Industrial and Civil Engineering with a degree in CAD. Alex has been involved in implementing BIM technologies in design for many years, where he automated the processes and raised the efficiency of entire projects. For the last four years, he has been developing SIGNAX solutions for BIM application on the construction site. His big idea is to lead the industry to paperless construction. Alex is the author of his own YouTube and TG channels.