We have some incredible stories in the latest edition of AEC Magazine, available to view now, free, along with all of our back issues.
Subscribe here to the digital edition free, or take out a print subscription for $49 per year (free to UK AEC professionals).
We look at the futuristic new Rimac campus, home to the 258 mph electric hypercar; explore four exciting new AEC tools from tech startups, discuss what the metaverse means for architects; review Nvidia's powerful new pro viz GPU; find out what Intel's new desktop CPU means for CAD, plus lots, lots more.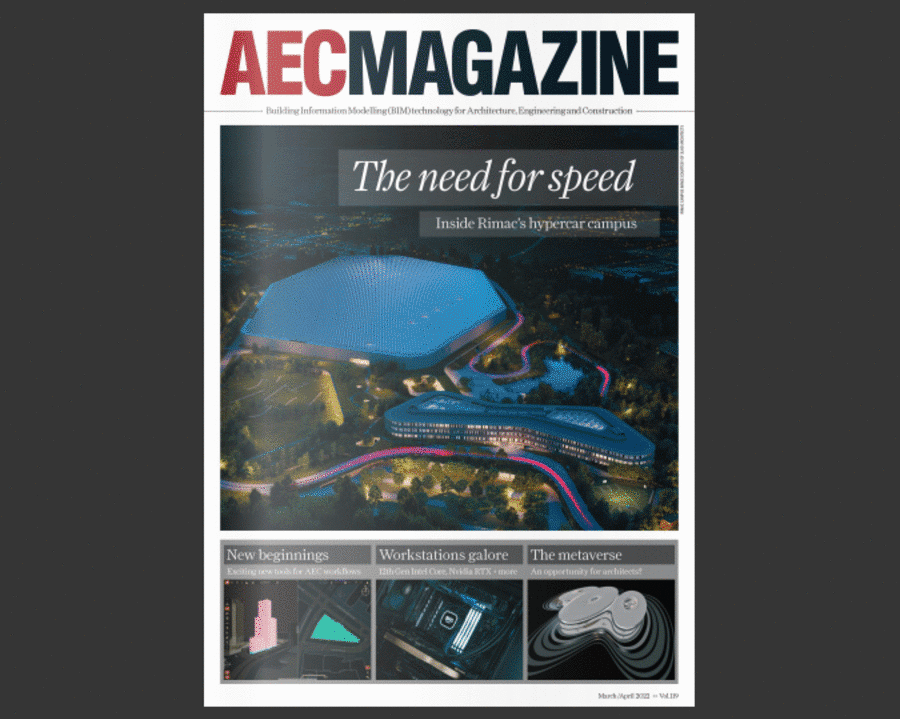 ---
Cover story: the need for speed
3LHD architects was engaged to design the futuristic new production and R&D facility for Croatian electric hypercar innovator Rimac.
Spaces for iPad
Find out why we're impressed by this unique new conceptual sketch and modelling tool for the iPad.
Snaptrude
BIM start-up Snaptrude is looking to take control of conceptual to design development workflows.
Arcol BIM
When a new software tool is backed by ex Autodesk co-CEO, Amar Hanspal, it has to be taken seriously. We look at cloud startup Arcol that aims to simplify BIM.
Toric
This US start-up promises to integrate, transform, visualise and automate project data from multiple sources.
AI in construction
How Artificial Intelligence and Machine Learning can deal with complexity in the building industry.
Towards drawing automation
We talked with Gräbert's CTO about the company's efforts to better link 2D to BIM.
HOK: navigating the metaverse
What role can architects and designers play in shaping this exciting new immersive world?
Zaha Hadid: the metaverse opportunity
ZHA's Patrik Schumacher on the metaverse and the integration of real and virtual communication spaces.
Nvidia RTX A4500 review
We get hands-on with Nvidia's new pro-viz focussed workstation GPU.
12th Gen Intel Core processors
What do Intel's 'Alder Lake' CPUs mean for CAD? We find out in this in-depth review of Scan's new workstation.
Reducing CO2 by AI design and robotics
Tal Friedman on why AI design strategies and automated smart manufacturing will change our industry for good.
The Golden Thread
How effective can the Golden Thread of information be and when? Microdesk's Martin Couling shares his thoughts.
Autodesk to acquire The Wild to boost XR capabilities
To help kick start its XR journey, company is acquiring not one, but two AEC-focused XR tools – The Wild and IrisVR.
Nvidia opens up access to Omniverse through the cloud
Omniverse Cloud services brings design collaboration to teams regardless of hardware.
AMD announces Ryzen Threadripper Pro 5000 WX-Series
New "Zen 3" workstation processors feature higher performance per core and up to 64 cores.