---
The UK Department for Education's Gen Zero project showcases how IFC can be used as the underlying data standard for a large, complex project, from start to finish, writes Rob Jackson, director at Bond Bryan Digital
---
The challenge: a research and development project, involving the design of two schools, one on an urban site and the other on a rural site, in order to investigate the delivery of ultra-low carbon building standards for educational establishments.
That was the mission set for Bond Bryan Digital when it was engaged by the UK Department of Education (DfE), via the Centre for Digital Built Britain (CDBB), on the Gen Zero project.
This prompted the firm to take a fresh look at how BIM and best-practice information management might be applied to support carbon assessment and determine the cost uplift associated with designing these schools, with the aim of developing a set of appointingparty information management resources.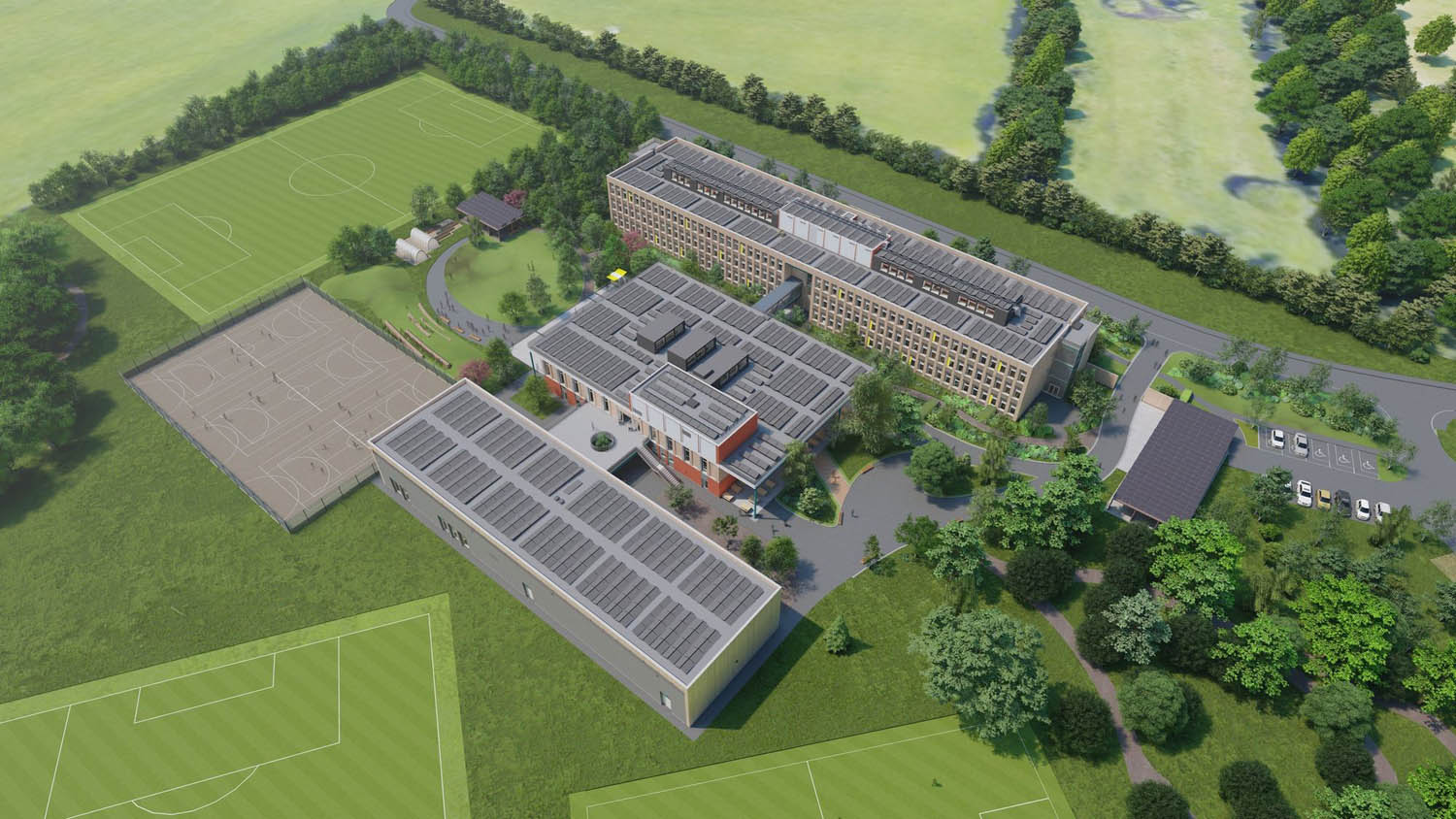 Bond Bryan Digital developed the information requirements collaboratively with the DfE. This included developing and documenting exchange information requirements to support the use cases of carbon analysis, coordination, quantification (to support cost analysis), visualisation and linking to cloud-based specifications. Beyond that, the work also covered data for transfer to the operational phase, using COBie, a filtered view of IFC specifically for operational use cases, so that the buildings could be managed post-handover.
Full alignment
The information management resources were developed in full alignment with the UK BIM Framework and ISO19650 suite of standards in advance of any of the designers being appointed to the scheme. This is still not often the case when a third-party information manager is engaged by clients, but it provided the opportunity to set the project up for success from the very outset and truly follow a compliant ISO19650 process throughout.
While there was an assumption that designers would all use the same authoring tool at the outset of the project, the information requirements were developed by Bond Bryan Digital around open standards – and in particular, IFC.
All information was documented using the IFC2x3 schema (ISO 16739:2005) as the basis for setting out the requirements. This was supplemented with additional properties required by the COBie schema and then further enhanced with additional clientspecific property requirements.
The use of classification references was important. This included Uniclass 2015 as the primary classification, NRM1 to support quantification and costing, and a bespoke classification to allow the DfE to define and assess spatial design information. This was all captured within the structure of IFC.
All information requirements were documented in an information management platform, a combination of technology solutions including Notion, Airtable and Whimsical. Collectively, this approach was referred to as the project's 'information hub'. The information hub integrates with other cloud-based technology, such as 3D Repo (a cloud-based model viewer) and links to other technology used on the project (for example, Asite as the project's common data environment).
Bond Bryan Digital's work also involved developing processes to support the design team's tender process and carrying out capability and capacity assessments of each prospective designer using online forms and reports. This process included an assessment relating to the use of open standards. One key aspect of this was that the assessment was only scored in terms of actually completing the form. Authors were encouraged to answer truthfully, in order to understand where support would be required, and this helped when delivering the project.
On the appointment of the designers to the project, Bond Bryan Digital supported the team to develop the appointment resources, including a BIM Execution Plan, Detailed Responsibility Matrix and Master Information Delivery Plan. These lead appointed party information management resources were then included within the information hub, directly alongside the Department for Education's information management resources. As a result, a single location was provided for all the resources to be stored, accessed and managed throughout the life of the project.
Collaborative approach
As an R&D exercise, this project was unusual, differing from more 'standard' ISO19650 projects in that Bond Bryan Digital supported both the appointing party (in this case, DfE) and lead appointed party (Mott McDonald). This led to a more collaborative approach and provided the DfE with a better understanding of the progress of information delivery throughout the life of the project.
The use of open standards as part of the DfE's Exchange Information Requirements meant that the best designers could be selected to deliver the project, irrespective of their software selection. This resulted in the selection of a design team that used four different authoring tools: Graphisoft Archicad (for architecture); Autodesk Revit (building services, catering, civil engineering and FF&E); Nemetschek Vectorworks (landscape architecture); and Bentley OpenBuildings Designer (structural engineering).
With these four authoring tools at work, it was critical that a consistent, OpenBIM approach was adopted, to provide data that could support the purposes set out in the client's requirements. Bond Bryan Digital directly supported the design team to deliver the information required. This work included providing guidance and support, as well as mapping and template files. The firm also worked collaboratively with designers to address issues with information exchange throughout the commission.
At Bond Bryan Digital, we have over years built up extensive knowledge of robust processes using both Autodesk Revit and Graphisoft Archicad to deliver IFC-SPF (Industry Foundation Classes-STEP Physical File) aligned to client's exchange information requirements. While our work on the Gen Zero project involved more trial-and-error processes with Nemetschek Vectorworks and Bentley OpenBuildings Designer, we largely managed to make these solutions work, too, by collaborating closely with each designer. There were some issues that couldn't be fully resolved during the project (although solutions were found later), but none of these materially affected the information required to meet the purposes of this project.
Emerging scope
Much of the information management scope emerged as the project evolved. As a result, Bond Bryan Digital services included the collation of federated data for carbon analysis to import into the cloud-based carbon assessment solution (One Click LCA), as well as supporting the exchange of information for quantification (iTWO costX). A key tool here was Solibri, used to validate the data requirements to support these processes.
Additionally, we developed an approach to provide cloud-based specifications for some of the designers using our information hub concept, adding no cost to the project or for designers, while satisfying the client's brief. This solution allowed a direct connection between 3D models (IFC-SPF) and the detailed specification for each product.
The development of the information requirements also allowed us to explore the workflow for generating Area Data Sheets (typically referred to as Room Data Sheets). While we documented the alphanumerical requirements for both IFC and COBie early on, we needed to work with the designers on a process between Graphisoft Archicad (architecture) and Autodesk Revit (building services). This process ultimately ended up with data being imported into Airtable (via IFC-SPF, Solibri and COBie), allowing spatial data to be displayed alongside the DfE's requirements for each space in both a spreadsheet and data sheet format. The power of this workflow was that open standards lay at the heart of this approach. As a result, this process can be applied again, using any authoring tool that can generate an IFC-SPF file.
At each information exchange, Bond Bryan Digital produced federated models using the IFC models. This allowed delivered data to be checked against requirements. And because both sets of data were structured using IFC, this could be checked using automated rulesets. Since COBie is a subset of the IFC schema, this data could be extracted and exported as a spreadsheet and information management assurance reports could be produced.
The project successfully met the brief and, as a result of our work, won BIM Project of the Year 2021 at the Construction Computing Awards.
Importantly, a significant aspect of our approach to Gen Zero was subsequently incorporated into the DfE's information management resources for its subsequent £7 billion construction framework, launched in late 2021. Of course, like Gen Zero, these resources are fully aligned with the use of open standards, to allow the best teams to be selected and deliver best value across all school projects.
---
In brief: The Gen Zero Project
Sector: Education
Project period: January 2020-August 2021
Appointing party: The Department for Education (DfE)
Lead appointed party: Mott MacDonald (project manager, cost consultant, acoustic engineering, fire engineering, BREEAM assessor and whole life carbon assessor)
Appointed parties: Lyall Bills and Young (architecture), Cundall (building services engineer), Smith and Wallwork (civil and structural engineer), Ares Landscape Architects (landscape architecture), Chalk Creatives (FF&E consultant) and Garners Food Equipment (catering consultant)
Third-party information manager: Bond Bryan Digital (working alongside both appointing party and lead appointed party)
Tools: 3D Repo, Airtable, Asite, Autodesk Revit, Bentley Systems OpenBuildings Designer, Graphisoft Archicad, iTWO costX, KUBUS BIMcollab ZOOM, Lumion, NBS Chorus, Nemetschek Vectorworks, Notion, One Click LCA, Solibri Office and Whimsical.
---
Click here for more information about buildingSmart UK & Ireland.
---
This article is part of AEC Magazine's

IFC Special Report – Enabling interoperability in the AEC industry.
To read the other articles in this report click on the links below.
Industry convergence
From sustainability to new business models, and from wellness to emerging technologies, IFC can be a force for good, driving the AEC industry to new levels of achievement
Inside buildingSMART
What is buildingSMART and what can it offer industry practitioners?
IFC: what is it and why is it needed
Emma Hooper, Associate Director and Head of R&D at Bond Bryan Digital, provides a useful overview of the IFC data model specification
IFC for Infrastructure
Perhaps the most significant update to the IFC standard is the inclusion of extensions for infrastructure entities in IFC 4.3
Native OpenBIM, and the rise of open source in AEC
OpenBIM can deliver on the promise of a digital world for the built environment where information and data are truly valued
IFC at Hinkley Point C
By Tim Davies, digital engineering manager, BYLOR JV – Hinkley Point C
buildingSMART certification
By Phil Read, program lead at bSUKI and managing director, Man and Machine