A Trojan horse for systemic and cultural change in AEC?
---
When it comes to diversity of thought, technology has created something of a level playing field. In construction, it's getting tougher and tougher to achieve true competitive advantage, in both the design and construction phases and beyond.
The business case for digital twin technology is that intelligence collected, mined and shared in the twinning process translates to reduced risk and greater return on investment. These are clearly desirable outcomes — so why then has the adoption of this technology been so slow in construction, especially when compared to other industries?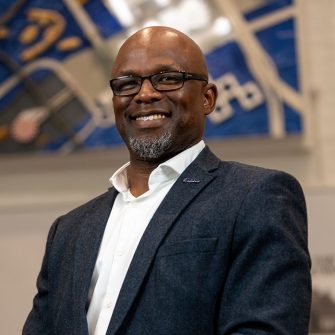 The client-facing decision to construct an asset 'with the end in mind' is based on the idea that it is possible and advantageous to first design and build an asset virtually. But when faced with tight schedules and insufficient time to procure a design team, the level of detail achieved in the traditional design process often falls far short of the goal of 'as-built' information. In other words, we're still not delivering detailed, asset-tagged, data-rich 5D models prior to construction. This objective has never been fully understood and embraced by the industry and remains vastly undervalued by commissioning clients. A full understanding and appreciation of the principles of end-to-end, whole-life cycle, design management must be prioritised by the client if we are ever to achieve a net zero future.
The critical component of a successful project is typically measured across three key pillars: cost, time and quality. During the traditional construction delivery process, it is often difficult to ensure that the right design information is continuously provided acros the entire value chain and acted upon accordingly.
It's a shameless challenge to traditional ways of working, this notion of a digitally enabled, data-driven solution, complete with visualisation, that captures granular detail in real time. The cultural behaviours of project participants typically result in one of two responses across the ecosystem of actors: fear or inspiration.
But here's the thing: while digital twins have been used for years in other sectors — for example, in aviation and manufacturing— the global construction sector continues to push back when it comes to this innovation. The real value to project participants, funders and wider society is gravely misunderstood.
Fit for purpose
A digital twin is a virtual representation of a system, asset or process. It can collect real-time information about the asset via an architecture of sensors and other interdependent technologies. Using advanced analytics, artificial intelligence (AI) and machine-learning (ML) algorithms, it is possible to gain detailed insights into the function of a building during design, construction and on through to occupation. (In the case of Grenfell Tower, for example, this might be the fitness for purpose of a proposed specification.)
In essence, the proposition here is that the value of a physical asset becomes greater thanks to its connection with a virtual twin.
While the global market for digital twin technologies is expected to grow by up to 40% cumulatively year on year, achieving an estimated market value of between $16 billion and $20 billion by 2023, the real challenge remains a cultural one.
For many clients/stakeholders, be they development or investment companies, a better understanding of project constraints is needed in order to determine and expedite project viability, as part of the wider risk-evaluation process. And here, the real challenge is the ability to collaborate closely, openly and seamlessly.
To my mind, there is no better environment than a virtual one in which to undertake this informed and collaborative process. In effect, a digital twin represents the possibility of a 'try before you buy' offer.
Will digital twin technology become the only feasible way to deliver projects that command whole lifecycle metrics on actual performance beyond the construction phase?
In fact, I would go one step further. A digital twin workflow, robustly built on a common data environment (or CDE), can be used to assemble a detailed history of the entire decision-making process, in a way that provides complete confidence for any third parties who seek to acquire the asset in future.
In the UK, the post-pandemic business case for digital twins (an argument fortified by the tragic events at Grenfell Tower) has been further strengthened by the Building Safety Act 2022. We are now looking at the very real prospect of the 'pre-construction' digital twin becoming a day-to-day reality in our industry.
But real questions remain. In a post-Grenfell environment, where cost of capital will be directly correlated with the net carbon intensity of all project-level operations, will digital twin technology become the only feasible way to deliver projects that command whole lifecycle metrics on actual performance beyond the construction phase?
And perhaps more importantly, will the sector be ready and adequately skilled to deliver on this ambition, in a world where accountability for our actions as qualified professionals may become a real indicator of project viability?
---
by Bola Abisogun OBE, digital director, BIM Academy