First shown at Autodesk University last year, Autodesk Tandem is Autodesk's cloud-based digital twin platform for bridge, facility, building, or any other structure
---
Autodesk has announced the availability of the public beta of Autodesk Tandem, its digital twin solution to enable ready-to-go operations to help owners get the most out of their investment.
Autodesk Tandem is a digital twin platform that allows a building project to start digital and stay digital, from design to build to operations, and transforms rich data into business intelligence.
Autodesk Tandem harnesses the building information modelling (BIM) data created throughout the project lifecycle essential to creating a true digital twin of the asset.
At the project's completion, the project team can deliver a comprehensive digital handover to owners of easily accessible and insightful data, accelerating operational readiness and empowering better business decisions.
Disorganized data means loss
Without a digital twin at handover, mounds of disorganised data in varying formats end up buried in electronic folders, rendering useless a treasure trove of valuable data insight. For an owner, that's lost opportunity and money that cannot be recovered.
Autodesk Tandem aims to unlock the treasure by freeing, organising, and standardising data from design and construction, creating a simple and intuitive digital replica of all the components, systems, and spaces in a facility.
Marin Pastar Global Technology Leader of Vertical Information Modelling at Jacobs, a leading design, construction, and consulting firm, was a contributor to the development of Autodesk Tandem beta .
With approximately 80 percent of a facility's total lifecycle cost realized during operations, Pastar says AEC professionals have an enormous opportunity to add value by helping owners reduce costs through tools like Digital Twins.
"Our ability to affect and reduce total cost of ownership drops drastically the farther we progress from design to construction to completion," said Pastar.
"If we consider what an owner will need at handover from the start, we can ensure proper management of assets based on their business goals and processes. We have an obligation to maximize our clients' investment."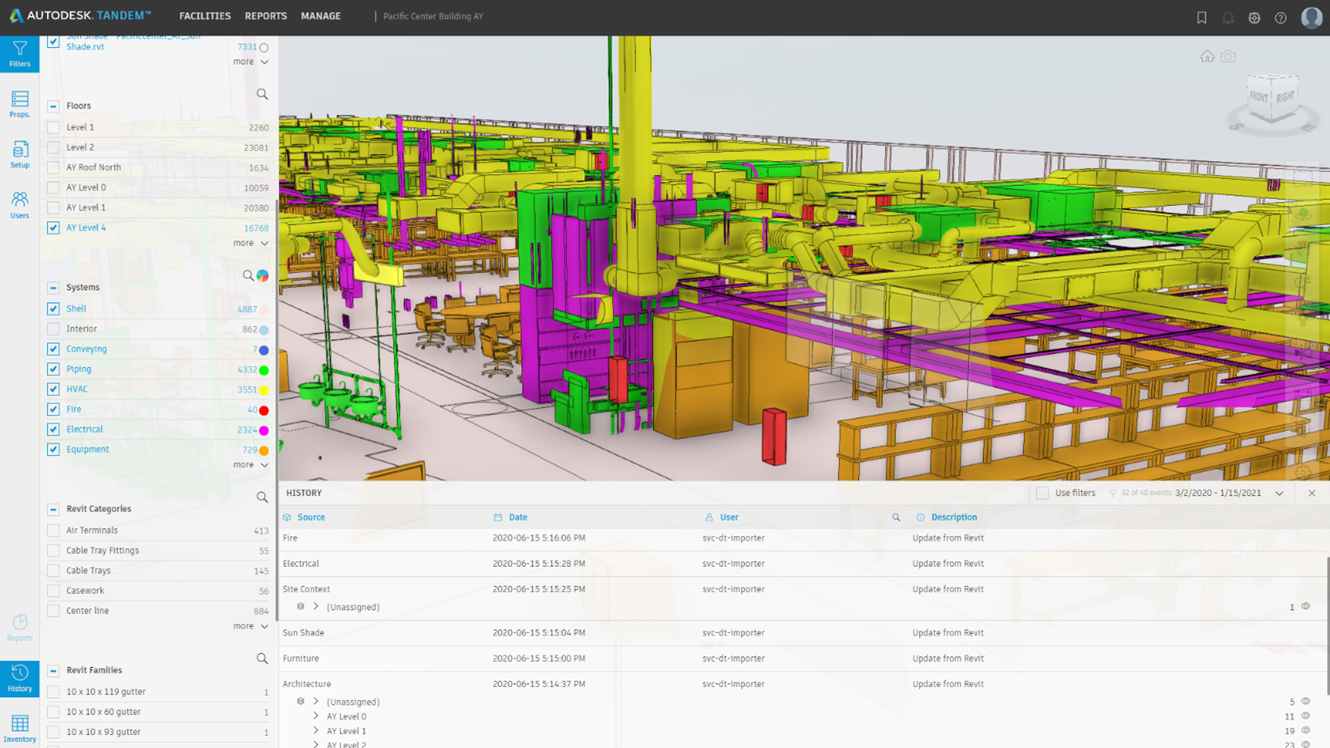 Connecting systems, reducing risk, saving money
Chief Technologist Brian Melton of Black & Veatch, a globally renowned engineering and construction company, is collaborating closely with firm on the direction of Autodesk Tandem's development.
"We see Autodesk Tandem interfacing with data systems like Computerized Maintenance and Management Systems (CMMS) and supervisory control and data acquisition (SCADA) systems. This provides owners and operators access to all information though a connected experience that allows them to proactively reduce risk and increase resiliency," said Melton. "Owners can start asking: Where are all the assets that currently have open maintenance work orders? What are the chances of this asset failing in the next five years? Is safety equipment near work areas? More connected systems and predictive insights that are visually aggregated using modern BIM/design data will be part of the handover package of the future."
Melton sees Autodesk Tandem and digital twins as part of the broader digital transformation, where every system becomes more and more connected as data is generated. In that future, systems learn from one another, share insights, and optimize performance in real-time. 
This data-connected world requires cooperation and openness from the technology community, and Autodesk says it is committed to doing its part.
Last year, Autodesk became a Founding Member of the Digital Twin Consortium, a US-based organisation collaborating on digital twin best practices and standards, and a member of the Open Design Alliance, a non-profit technology consortium that provides support and access to design file formats. 
AEC Magazine thoughts on Autodesk Tandem
Autodesk, as the volume BIM leader is in a strong position to commoditise the digital twin market. With an inexorable drive to provide its solutions and services via the cloud, the core framework for digital twins seem to be yet another possible byproduct from Autodesk's BIM,Civil modelling and digital twin services.
In its current guise, Autodesk Tandem is initially targeted at repurposing customer's existing design data vs incorporating the as-built condition.
Laser scans and real-time sensor feedback support are in the pipeline but not yet included. This puts Autodesk behind its competitors, such as Bentley Systems, but for the whole segment, it's early days and we are sure Autodesk is providing the necessary resources and development to the team to rapidly expand the capabilities.
Autodesk's sheer number of BIM customers will help drive exploration of this new business models for Architects and Construction firms.  It will be interesting to see if digital twin development can make sense for small projects, other than the known key market of process plant, universities and firms with huge property portfolios.
With the drive to deliver digital twins, Autodesk recognises that data needs to flow between all constituent applications and is claiming a focus on being more of an industry open player with regards to Autodesk Tandem.
It has signed up to the ODA to access their IFC toolkit (which also, by the way, saves Autodesk development dollars on its own IFC efforts). It will be interesting to see if competitive digital twin developers get access to Autodesk's cloud APIs and Forge to access user's Revit data.
Autodesk Tandem is on an open beta program today and you can sign up here
AEC Magazine has been examining the Digital Twin market over the last two years and have a number of articles on the topic:
Developed in Newcastle, Space has a powerful digital twin platform, read more here
Read more on how Bentley Systems' CTO, Keith Bentley sees the evolution of this space, here and here