Intel's long awaited discrete graphics family gets its first airing at Siggraph. On paper, these entry-level GPUs look well suited to CAD and BIM workflows – both now and in the future, with hardware ray tracing built-in
---
Intel has made its much-anticipated entry to the world of discrete workstation graphics with the launch of the Intel Arc Pro A-series professional range of GPUs for CAD, AEC and 'creators'.
The first products are the Intel Arc Pro A30M GPU for mobile workstations and the Intel Arc Pro A40 and Intel Arc Pro A50 GPUs for ultra-compact and small form factor (SFF) desktop workstations. All three GPUs appear to be 'entry-level' but include advanced features such as hardware ray tracing and machine learning.
For pro workstations, driver optimisation and certification is important. Intel has stated it is targeting certifications with leading professional software applications within the AEC and design and manufacturing industries but has not specified which ones. In the past, when Intel only offered graphics built into to its CPUs, it focused on certification for only the most popular CAD and BIM tools. With Arc Pro we expect Intel to up its game.
With its first-generation Arc Pro products, Intel is clearly targeting users of CAD and BIM software, for which the graphics requirements are relatively low.
At Siggraph on 8 August, the company showed Intel Arc Pro Graphics Workstation GPUs running Trimble SketchUp with D5 Render to show off the hardware accelerated ray tracing and hardware assisted AI (XeSS) capabilities of the new cards when rendering architectural scenes.
D5 Render's real time rendering software is based on Unreal Engine 4 and Nvidia RTX rendering technology, but the rendering pipeline is based on Microsoft DX12 and DXR, which is supported directly by Intel Arc Pro GPUs. Applications that take advantage of ray tracing using the Vulkan API, should also be compatible.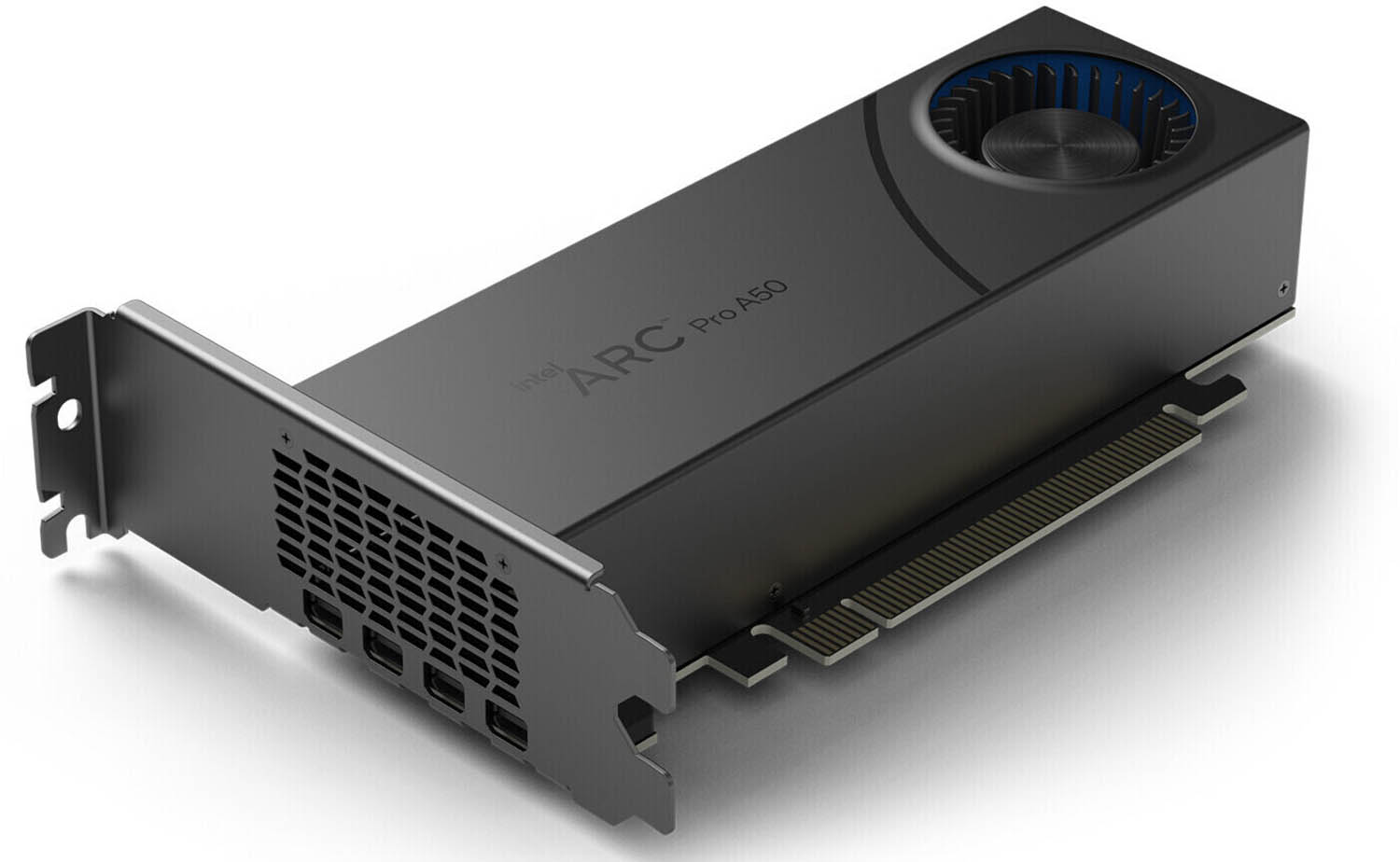 In terms of specifications, the Intel Arc Pro A40 and A50 are very similar. They both feature 6 GB of GDDR6 memory, four mini DisplayPort outputs and offer the same memory bandwidth, plus the same number of Execution Units, Xe-cores, Render Slices, and Ray Tracing Units. The only notable differences are form factor, Thermal Design Power (TDP) and peak performance.
The A40 is single slot with 50W peak power and 3.50 TFLOPs peak performance, while the A50 is dual slot with 75W peak power and 4.8 TFLOPs peak performance. The A30M is virtually identical to the A40, but the number of outputs will be specific to the mobile workstation.
---
What AEC Magazine thinks
This is a significant move from Intel as it looks to boost its graphics capabilities and compete more strongly against AMD and Nvidia, who offer a wide range of discrete workstation GPUs via the AMD Radeon Pro and Nvidia RTX brands.
Prior to the launch, Intel's workstation GPU presence was solely through integrated graphics, where the GPU is built into the CPU, but such processors are only suitable for true entry-level workflows.
With its first-generation Arc Pro products, Intel is clearly targeting users of CAD and BIM software, for which the graphics requirements are relatively low. Such tools are generally 'CPU limited' and, in many cases, you'll see no discernible performance difference between a budget pro GPU and one that costs ten or even twenty times as much.
Intel has not yet released pricing, but we expect the Arc Pro A40 and A50 will be priced competitively with other low-profile professional GPUs. Intel's trump card, like that of the AMD Radeon Pro W6400 [read our review], is that it has hardware ray tracing built in. The Nvidia T600 and T1000 do not. Plus, it has an additional 2 GB of memory, which may prove important for viz centric workflows, especially when next generation graphics engines for CAD come online with ray tracing in the viewport.
However, Intel will have to compete with decades of pro driver development from both AMD and Nvidia in an industry where both performance and stability are valued very highly.
On mobile, Intel arguably faces a bigger challenge in an increasingly competitive entry-level segment.
While the new Intel Arc Pro A30M GPU should slot into existing pro laptops, it will also go up against a new generation of mobile workstations with AMD Ryzen Pro 6000 H-series processors, which come with integrated AMD RDNA 2 graphics and AMD Radeon Pro graphics drivers. This includes the Lenovo ThinkPad P14s Gen3 and ThinkPad P16s Gen3.
---
| | Intel Arc Pro A40 GPU (Desktop) | Intel Arc Pro A50 GPU (Desktop) | Intel Arc Pro A30M GPU (Mobile) |
| --- | --- | --- | --- |
| Peak Performance | 3.50 TFLOPs at Single Precision | 4.80 TFLOPs at Single Precision | 3.50 TFLOPs at Single Precision |
| Xe-core | 8x Ray Trace Cores | 8x Ray Trace Cores | 8x Ray Trace Cores |
| Memory | 6GB GDDR6 | 6GB GDDR6 | 4GB GDDR6 |
| Display Outputs | 4x mini-DP 1.4 with Audio Support | 4x mini-DP 1.4 with Audio Support | Laptop Specific with Support for up to 4x |
| General | 50w Peak Power in a Single Slot Form Factor | 75w Peak Power in a Dual Slot Form Factor | 35-50w Peak Power and ISV Software Certified |